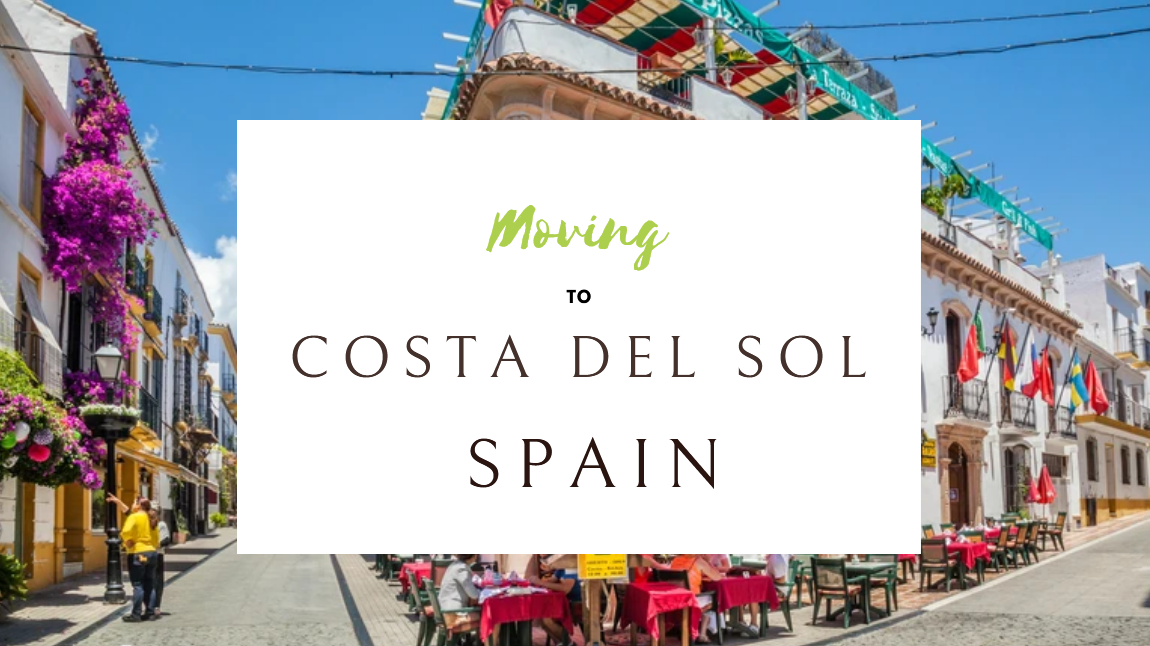 Moving to Costa Del Sol Spain, from the US
Moving from one continent to another is quite the challenge, but it's worth it if a new, better life awaits you on the other side.
Spain is one of the best places for Americans to move to, given its affordable costs of living, excellent healthcare and public transportation, large sunny patches, and much more. So if you've set your sights on Spain, you've got some great options. One of them is Costa del Sol.
Costa del Sol is a Spanish coastal region that spans parts of the provinces of Málaga and Cádiz, but it's primarily associated with Málaga. It's known for its beautiful sights, sunny weather, warm beaches, vibrant gastronomy, and fascinating cultural heritage.
It's a trendy tourist destination but can also be a wonderful place to live.
Whether you're just starting to research a move to Costa Del Sol or you're ready to start packing, this guide will provide you with all the information you need to make your international move successful.
What to expect when moving to Costa Del Sol from the US
Cost of living in Costa Del Sol
Since Costa del Sol spans multiple touristic towns and a few cities, but since it's most associated with the province of Málaga, we'll focus on the city of Málaga, the capital of the region of the same name.
Overall, it is the 12th most expensive city in Spain and is often close to Seville, the most expensive city in southern Spain. That being said, Málaga is still cheaper than 89% of major Western European cities and more than 65% of major cities worldwide.
So if you're coming from a big American city, it'll likely be more affordable than your current cost of living. Some Málaga costs include:
The estimated monthly cost for a family of 4 is €2,914 ($3,059)

The estimated monthly cost for a single person is €1,410 ($1,480)

If you want to buy a home, you'll pay between €1.920 ($2,016) and €2.350 ($2,467) per square meter

Public transport is one of the cheapest in Spain, at €1,35 ($1,41) for an individual fare or €39,95 ($42) for a monthly payment
For comparison with 3 big American cities:
Rent prices in Miami, FL, are 246.63% higher than in Málaga. You'd need around 6,489.42€ (6,908.15$) in Miami, FL, to maintain the same standard of life that you can have with €3,000 ($3,150) in Málaga.
Rent prices in New York City are 392.42% higher than in Málaga. You'd need around 8,515.31€ (9,064.76$) in New York City to maintain the same standard of life that you can have with €3,000 ($3,150) in Málaga.
Rent prices in Los Angeles are 256.36% higher than in Málaga. You would need around 6,436.59€ (6,851.91$) in Los Angeles to maintain the same standard of life that you can have with €3,000 ($3,150) in Malaga.
Keep in mind that all of these prices are for the capital Málaga. Capital cities tend to be more expensive than surrounding regions. If you choose to move to another city or town in the Costa del Sol region, you may find more affordable prices.
Read more: What's the cost of moving to Spain from the US? [2022]
Top International Movers US to Costa del Sol, Spain
Climate
Costa del Sol has a Mediterranean climate, with mild and relatively rainy winters. Summers are hot and sunny. It's also windy. The region used to be named Costa del Viento (Coast of Wind).
During autumn and winter, the winds are stronger, but in spring and summer, it comes as a gentle evening breeze.
Overall, it's a great place to live if you want to be away from cloudy weather.
Culture
Costa del Sol is a treasure trove for those that love exploring cultural heritage and archeological sites.
If you are a sucker for ancient structures, the Citadel of Málaga is what you need. It's a Nasrid palace built between the 14th and 15th centuries when Spain was still under Islamic rule. There's also the Gibralfaro Castle, a 14th-century Arab fortress; the Roman Theater, over 2,000 years old; and the Cathedral, built between the 16th and 18th centuries.
If you'd prefer to admire the plastic arts, you can visit the highly-acclaimed Picasso Museum in Málaga, which is in charge of transmitting the art and culture of this famous artist.
On a more laid-back note, Spain and Costa del Sol are mainly known for their loyal adherence to siestas (afternoon naps or breaks). Don't be surprised if everyone seems to disappear for a couple of hours in the middle of the day!
Spanish is the official language, but you may find more than a few locals who speak English. There are a few foreigners in Málaga, but most are Ukrainian, Chinese, or Moroccan.
Safety
In general, the cities and towns in Costa del Sol are safe.
After the pandemic lockdowns were lifted, concerns were raised due to the rise of overall criminal activity in Spain (as it happened in many other countries). However, the city of Málaga remained below the average increase that other major cities like Madrid or Barcelona suffered.
Marbella, a major city in Costa del Sol, has some of the best video surveillance systems in the world, for example.
If you are in a tourist area, generally, your bigger concern will be pickpockets and other petty crimes.
Cost of moving from the US to Costa Del Sol
The cost of international moving services from the US to Costa Del Sol is between $2,500 to $12,500. The type of container you pick, the seasonality of your move, and the moving services you require will affect the total cost of your move.
To give you an idea of the prices, this is, on average, what it will cost to ship a container to Costa Del Sol for a 20ft container:
These prices might not include pickup charges, port taxes and fees, international charges, etc. To get an idea of the total cost for your move, please request a free quote for a personalized estimate.

How long will my goods arrive in Costa Del Sol, Spain?
There are two ways to ship goods from the U.S. to Costa Del Sol, Spain: via sea or air. Professional international moving companies should offer both options.
If you decide to go with ocean freights, your belongings should reach Costa del Sol in 17-45 days. Choose a 20 or 40-foot container. It can fit a 2-bedroom household. 40-foot containers may fit 4-7 rooms.
A professional international moving company will help you find the perfect container.
Air freights are much faster: your belongings will reach Costa del Sol through the Málaga airport in 2 to 6 days.
It's also much more expensive, and your shipment will be charged based on weight rather than space occupied. Given the extra expenses, air freights are often used for particular, fragile items such as works of art and other delicate valuables, and not so much for a whole home's worth of furniture.

Where to ship when moving to Costa Del Sol, Spain
The Port of Málaga, in Málaga city, is the leading commercial port of Costa del Sol.
In addition to being a commercial port, it is also a passenger, cruiser, sports, and fishing port. Since 1998, it's been undergoing a deep remodeling project, which has turned it into a popular cruiser port that receives some of the largest cruise ships in the world.
A professional international moving company will know the legal requirements to get your belongings safely into the Port of Málaga, from there, to your new home.
Tips to prepare for your move to Costa Del Sol, Spain
Get some Spanish classes: there may be a few English-speaking locals and foreigners, but you'll need Spanish.
Contact an international moving company that offers all the services you need: scour their services and contact them for quotes if you think they have what you need. Get multiple quotes to compare prices.
Downsize: months ahead of time, you should start making lists of the essentials and selling off or giving away everything that isn't on the list.
Get your pets vaccinated: if you are moving with a cat or dog, they'll need valid vaccination documents to travel legally.
Explore your tax obligations: if you are working remotely or are self-employed, you'll probably need to pay taxes after your first year in Spain. Explore your legal obligations beforehand.
Get your passports and visas in order: Make sure your passport will be valid by the time of the move and research which visa works best for you, then take steps to get it.
Get the rest of the legal formalities done: you may need an NIE (foreigner identification number) application, you may need to register your car to the EU if you plan to move your vehicle, and more. Research all the necessary documents and get them done.
Open a bank account: whether an international bank is valid for the transactions you'll be making as you settle or all the paperwork necessary to open one once you are there.
Your family's medical and dental records (or only yours): you may need to offer a record of immunizations to even travel in the first place, and your children will likely need one to start school. There are multiple international schools in Málaga, by the way.
Get a home: explore international methods to get housing beforehand, or have a friend or family member take you in temporarily while you sort out accommodation.
Bottom line
If you are considering a move to Costa Del Sol, Spain, take the time to do your research and plan carefully. With the right preparation, your transition can be smooth and successful.
Our international expert movers are here to help you every step of the way. Request a free quote today to learn more about our international moving services.