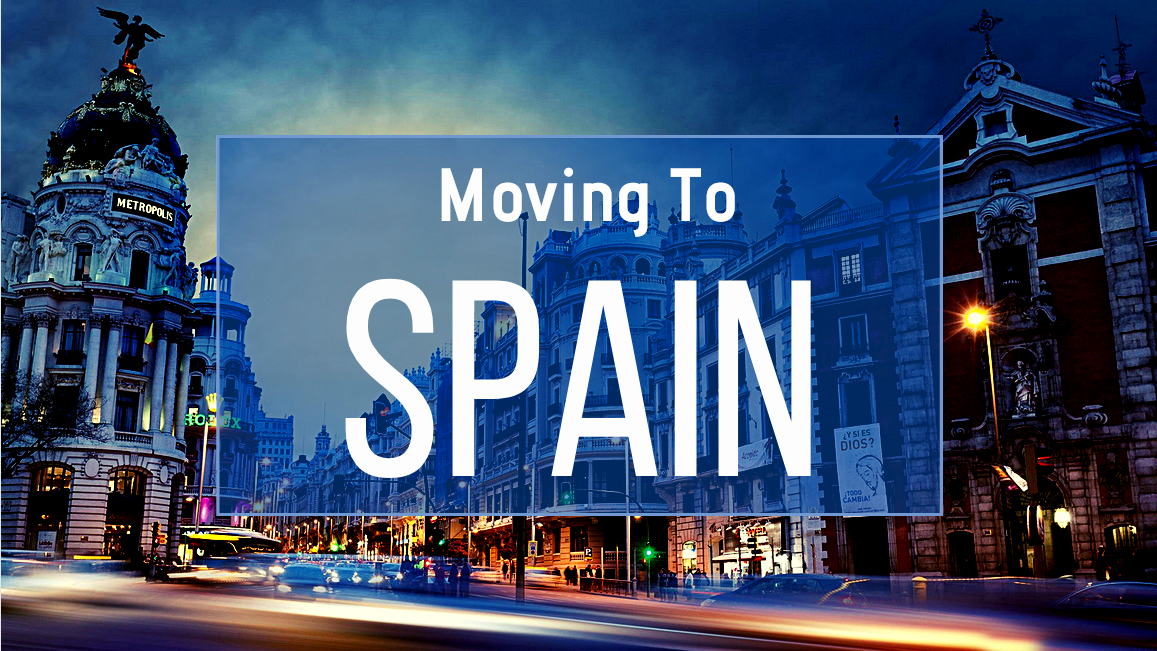 Moving to Spain From the US
Books have been written detailing the fabulous attributes of Spain and the many reasons to visit or move there. Here are a few top reasons for moving to Spain from the US.
Arts, history, and culture – Spain has 49 UNESCO World Heritage Sites, from the Alhambra to the historic city of Toledo.

Spain is a land of stunning natural beauty and hundreds of world-class beaches. From the Pyrenees shared with France to the Canary Islands.

Spanish cuisine is known the world over for its layered flavors and healthy Mediterranean ingredients. Be sure not to miss paella, Jamón Ibérico, patatas bravas, and delicious coffee with churros to satisfy your sweet tooth.

Spanish people love life, value strong relationships, and are welcoming. Frequent gatherings and spending time with family and friends over great wine or coffee translates to a culture where human interaction and experiences are highly cherished.
According to Statitsa, around 47.6 million people call Spain their home. It's projected that by 2027 that number will rise to 49 million.
If you're moving to Spain from the US, you may wonder why so many people relocate to this European country.
The cost of living in Spain is significantly lower than in other popular expats destination such as the United Kingdom or France.
In addition to an affordable lifestyle, the climate, culture, and delectable food also draw US expats to Spain. This article will give you everything you need to set up your international move to Spain.
How to Move to Spain
The key to successfully relocating to Spain requires doing some homework. Expect to spend plenty of time and energy researching your move and strongly consider learning Spanish. Although you can likely get by speaking only English, you'll be better received and understood if you have a fair grasp of the Spanish language.
What is the process for moving to Spain from the US?
Moving overseas can be daunting and challenging, but it is possible to relocate successfully to Spain with careful planning and preparation. You will need to take several vital steps to prepare for your move.
The first step in moving overseas is to assess your current situation and determine exactly why you want to move. Are you looking for new career opportunities? Do you want to experience a different culture? Is there family or other personal reasons behind your decision? Having a clear purpose for moving overseas is essential to set realistic goals and developing an effective action plan.
Once you have determined your motivation for the move, it is time to start researching your destination. It may involve reading guides and blogs on the local culture, speaking with people who have previously moved there, and even making a trip to get first-hand experience.
The next step is to begin planning the logistics of your move. It includes obtaining visas or work permits, finding accommodation in your new location, arranging transport for your belongings, and setting up banking or other financial services in your new country.
Finally, you will need to mentally prepare for the transition by seeking support from friends and family members, learning about any cultural differences you may encounter at your new home, and connecting with people in your new location.
Also check out: What Americans living in Spain should know
How Long Can I Stay in Spain?
Americans who intend to stay in Spain for less than 90 days won't need to worry about meeting visa requirements. Stays of longer than 90 days will need to be accompanied by one of several available visas.
Expats Work Visa
If you plan to relocate to Spain for work and are moving from outside the EU/EEA, apply for a Spanish work visa. There are three main work visas you can apply for:
Entrepreneur Visa: for those intending to start a business
Highly Qualified Worker Visa: is reserved for non-EU citizens in management or other high-salary positions.
Regular Work Permit: for those who have received a job offer in Spain
Retirees
Spain is happy to welcome American retirees. For visits longer than 90 days, you'll need to apply for a visa to stay in the country legally. There are two options for retirement in Spain, a non-lucrative visa or an investors visa, also known as a golden visa.
Students
There are various visas available for international students wishing to study in Spain. The type of visa you need depends on your nationality and your program's duration.
The long-term student visa to Spain allows you to take courses longer than six months.
Submit your Spanish student visa application at the Spanish Embassy/Consulate in your home country
Digital nomads
The primary requirements for the Spain Digital Nomad Visa program are that applicants must be foreigners, who are remote workers and are employed by a non-Spanish company operating outside of Spain.
Remote workers must also meet the government's minimum income requirement to qualify for the Nomad Visa, which equates to twice the national minimum wage in Spain of roughly 1,667 Euros in 2022.
How can I ship household goods to Spain from the US?
Overseas moving takes time and typically involves container shipping or, basically, putting your possessions in a giant metal box and placing it on a cargo ship to be unloaded at a seaport near your new home or transported from there to your new home. The process typically takes four to six weeks from start to finish.
Air freight, although the more costly shipping method, speeds up the moving process to between two and four weeks and can easily get your household items to inland destinations.
Whichever way you choose, your possessions may also require temporary or long-term storage at your destination or in your former location. Using storage solutions is common for persons moving long distances to keep everything simple and organized.
You can use an international moving company to ship household goods and personal effects to Spain from the US. Ocean and air freight are the two transportation methods for shipping furniture overseas.
Ocean shipping is the most common method used to ship household goods, mainly because of the cost. However, if you're in a hurry to get your stuff, you can send it by air freight.
Spain is a popular destination for US expats, so most international moving companies can offer a complete door-to-door move to any city in the country.
How much do international movers cost to Spain from the US?
The average cost of hiring an international moving company to Spain from the US is $2,600 to $11,000. Your move size, destination, and service will be the most significant cost variables.
The primary shipping ports in Spain are Barcelona, Bilbao, Castellon, Valencia, and Algeciras. Most international moving companies offer ocean and air freight transportation to all ports in Spain.
You will have the option to choose the best shipping method that fits your need and budget. If you're moving to Spain from the US, you should speak with the international relocation company of your choice.
You should also check out: How much will it cost to move overseas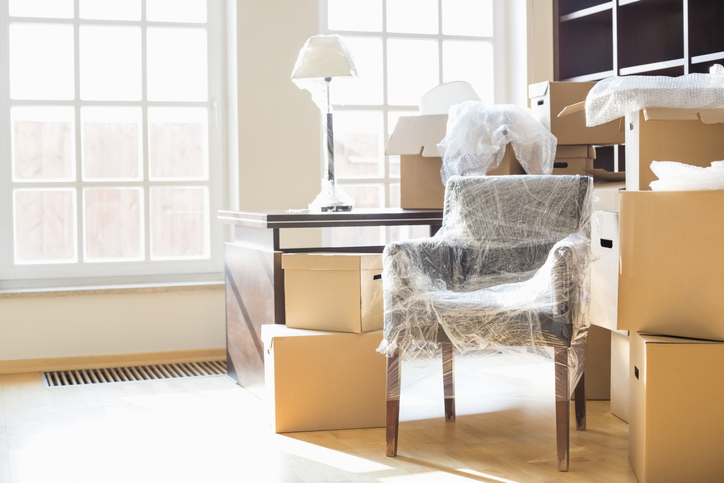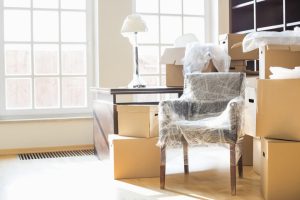 How can I reduce the cost of shipping my household goods to Spain?
You can reduce the cost of your overseas move by decluttering, self-packing, and looking into economic moving services like port-to-port service.
International moving costs are primarily based on the volume of stuff you're moving, so getting rid of unwanted items will significantly reduce the cost of your move.
Additionally, you can consider self-packing. However, weighing the pros and cons of self-packing for an international move is best. Packing boxes can affect your insurance options.
The best international moving companies will work with you on your budget and make recommendations to help you save money.
Can I ship a vehicle to Spain from the US?
Yes, you can certainly ship your car, truck, or motorcycle to Spain. Remember that whatever you bring with you must clear Spanish customs before entry, and you must pay import duty and taxes on the vehicle when it arrives.
If you're moving to Spain from the US with a vehicle, you will have several shipping options. Below are your shipping options from least expensive to most expensive:
Roll-on roll-off (RORO): RORO service is the least expensive way to transport a car to Spain from the US. The average cost is $1000 to $1500. However, you will be responsible for dropping off and picking up your vehicle from both ports.
Consolidation: You can share a container with others shipping to the same destination. The shipping time may take longer than usual, but a consolidated service is a great way to save money.
Container shipping: Getting an exclusive container is the most expensive shipping option. However, you can also use the container to consolidate your household goods.
The import duty in Europe is 10% for passenger cars and 22% for trucks, and the import tax is between 19% and 20% depending on the car's age and the country it left. Also, expect costs for registration, a driving permit, road tax, and any alterations the car may need.
It's best to speak with the international moving company of your choice regarding the details of your move and the moving services they offer.
What is the customs clearance process in Spain?
Spanish customs monitors everything that comes into the country, whether it's a commercial product or your automobile and household possessions. One of the services your international moving company provides as part of your move is assisting you with the paperwork and compliance requirements for wherever you're moving. For the most part, leaving behind cleaners, liquids, food, or hazardous materials will make your experience through Spanish customs a piece of Tarta de Santiago.
Your household goods are shipped to the closest port of entry to your final destination. The main shipping port in Spain is Algeciras, Valencia, Barcelona, Bilbao, and Castellon.
The average time it will take to clear your household goods is 2-5 days from arrival. If you're using an international moving company, they will oversee the customs clearance process.
Upon requesting a free international moving quote, you should ensure that the customs clearance fees and documentation is included in your cost.
Should I move to Spain from the US?
Spain is one of the top destinations for US expats, thanks to its rich culture, vibrant cities, and favorable climate. Moving to Spain from the US involves many considerations, including location, housing options, employment opportunities, and social networks.
If you're thinking about making a move to Spain, there are several factors that you should consider before taking the plunge. One of the first things to think about is location – do you want to live in a bustling urban center like Madrid or Barcelona, or would you prefer a smaller town with a quieter pace of life? Housing options are another important consideration – will you rent an apartment or buy a home?
In addition to these practical considerations, it's also essential to consider employment opportunities in Spain. Many US expats find it difficult to secure a job in Spain without strong local connections or fluency in Spanish, so consider exploring options such as freelance work or remote employment.

Should I get moving insurance?
Your stuff is traveling a long way. Nobody likes to talk about it, but things can happen that can potentially damage your goods. Purchasing additional international or marine insurance costs an average of 3% of your shipment's declared value, a small price to pay for peace of mind.
Can I Take My Pets to Spain?
Your pets are welcome in Spain. However, there are a few things to know before bringing them along. Your pet must meet the following criteria and be older than three months old to enter the Country.
Each pet needs a valid, signed veterinary certificate of health

All animals must be up to date on rabies vaccinations.

Pets must have an identifying tattoo or a microchip

Pets must be accompanied by their owners
How much money do I need to make to live in Spain?
Plan on taking savings of at least three times your monthly expenses. Upfront fees upon your arrival in the country could include a housing deposit equalling up to a few months of rent, insurance, and settling into your new home.
The visa or residency permit you obtain may also have additional financial requirements to meet.
To live in Spain comfortably depends on several factors, such as where you plan to live and your current lifestyle. Depending on these factors, you may need anywhere from $1,000-$5,000 per month to live comfortably in Spain.
Additionally, you should save at least three months' worth of expenses before moving to Spain from the US. It's always best to plan for worst-case scenarios and unexpected expenses that may arise.
Living in Spain
A quick internet search will return numerous results and options to choose from when you start your housing search in Spain. You can go it alone or have a relocation specialist help you. Either way, you can get started while still in the US.
There are no restrictions prohibiting foreign nationals from purchasing real estate in Spain. Residents and non-residents alike can purchase property in Spain, whether residential, commercial, or bare land.
Moving to Spain from the US, you'll realize many similarities between the two. Planning ahead of your arrival and setting up a few connections will pay off when you arrive.
Staying Connected
Before leaving the US, ensure your phone is unlocked. To enjoy public Wi-Fi in numerous places and stay connected as you explore your new home, pick up a SIM card with no contract.
Finding a Job in Spain
As with job searches in the US, many employment opportunities can be found online in Spain as well. Internet job search platforms provide lists of job openings and let you know which languages are needed for the positions.
Another excellent option is to contact a recruitment agency service. They can walk you through the process and identify opportunities that match your skills and strengths.
How can I live in Spain as a US citizen?
If you're planning to move permanently to Spain from the US, you'll need to obtain a long-term visa. The requirements for this depend on your reason for moving – whether for work or family reasons.
Generally, the requirements for getting a long-term visa in Spain are relatively straightforward, although you'll need to provide plenty of documentation. To be eligible for a long-term visa, you must prove that you have adequate financial resources and a suitable place to live.
You'll also need a criminal background check in your home country before submitting your application. US citizens can apply for a long-term visa either through the Spanish embassy or consulate in their home country or at a Spanish diplomatic mission abroad.
Permanent residency visa
If you're planning on moving to Spain from the US, several different visa options are available, depending on your situation and purpose for moving. The first step in determining which permanent residency visa option is best for you is to research the requirements and application process for each type of visa.
Some common types of Spanish visas include the student visa, the work visa, and the retirement visa. Each of these visas has different requirements and application processes to be followed to be granted residency.
What is a golden visa?
A golden visa is an excellent option if you're moving to Spain from the US. It's a type of residency permit that allows you to live and work in Spain for an extended period. The Spanish Government grants permission to foreign nationals who meet the requirements.
There are several types of golden visas, each with its eligibility criteria. Some require a significant investment in real estate or property development, while others require you to start or invest in a business that will create jobs for Spanish nationals.
You can also apply if you have specific skills considered valuable to the Spanish economy, such as science or technology.
How can I get a student visa?
To study in Spain as a student, you must apply for a Student Visa. To be eligible for this visa, you must have been accepted into an accredited Spanish university or educational program and be able to show proof of sufficient funds to cover your living expenses while in Spain.
You must also obtain an appropriate residence permit before entering the country. The Student Visa is a long-term, nonimmigrant visa that allows you to remain in Spain for your studies. It can be anywhere from three months to four years, depending on the program and length of your studies.

What are my health insurance options in Spain?
Although moving to Spain from the US can be a complex task, there are many things you need to do before leaving, such as ensuring you have international health insurance.
In Spain, it is your employer's responsibility to provide group health insurance or private health care through an independent company if they employ more than 50 employees or if they meet specific other criteria set by Spanish law.
If your job doesn't offer health insurance and you're self-employed, here's some information on how to find additional coverage in Spain.
Global health options when moving to Spain from the US
Spain's healthcare system has both public and private options. Public healthcare is mainly free and high-quality, with excellent preventive care. If you're living and working legally in Spain, you can take advantage of public healthcare, and this includes expats and digital nomads.
However, some inconveniences of using the public healthcare system are long wait times to see specialists or schedule surgery and the fact that the available services vary throughout the country.
Choosing private healthcare will significantly shorten wait times. Other benefits include greater comfort and privacy and better access to multilingual medical staff. Private health insurance also includes dental coverage and many prescriptions, whereas public healthcare doesn't.
One option for getting international health insurance in Spain is with an organization called Cigna Global Health Options (CGHO). This program provides comprehensive medical coverage for individuals living outside their home country and includes doctor visits, hospitalization, wellness checks, emergency medical evacuation, and other services.
To qualify for this coverage, applicants must be between the ages of 18-64 and have spent at least five years living outside their home country or have traveled abroad for work or study for a minimum of three months each year for the last five years.
Private Insurance Companies in Spain
A second option is private insurance companies in Spain. For example, Mapfre Global Risks offers various health care packages and travel medical insurance plans designed to protect while traveling internationally. To purchase private health insurance in Spain through this company, you'll need to fill out an application form that asks questions about your current health status and any pre-existing medical conditions.
MediCare International is a private healthcare company in Spain that provides numerous services and benefits to its clients, including emergency evacuation and repatriation services.
Although moving to Spain can be challenging, especially if you need the right international health insurance, several options are available to help you get the coverage you need while living abroad.
What are the population and demographics of Spain?
Spain is a diverse and vibrant country with a population of over 47 million people. Most of the population is concentrated in large cities such as Madrid, Barcelona, Valencia, and Seville, although more small towns and rural areas are also home to significant populations.
Like many other European countries, Spain has experienced rapid growth in recent years due to high levels of immigration from different parts of the world. Moving to Spain from the US can be an exciting opportunity to experience a new culture while enjoying all the beautiful country offers.
Education in Spain
Spain's higher education system is well-structured and well-funded. There are tons of bilateral programs in which US students can study in Spain for the same tuition and maintain all credits at their home university. A quick online check can determine if your school participates in such a program.
You can also pursue an American degree, entirely in English, while living in sunny Spain.
International Moving FAQ
Who are the best international moving companies?
According to Forbes, US News and News Week, International Van Lines, Allied Van Lines, and Atlas Van Lines are the best international moving companies in the US.
Should I get moving insurance?
If you're moving household goods overseas, you should consider moving insurance. The average cost is 3% of your item's declared value.
How do I get an international moving quote to Spain?
You will need to speak with a licensed international mover who can walk you through the process. Let's start by requesting a visual or virtual tour of your home. It will help with accuracy and a smoother transition.
What are the payment methods for international movers?
Most international moving companies will accept all forms of payment. However, it would be best if you spoke with the mover of your choice regarding the details of your move.
How long does a move take to Spain from the US?
The average shipping time for ocean freight is 4 to 6 weeks, and for air freight 2- to 4 weeks. The size of your move, the destination, and the company you choose will be the most significant factors when moving to Spain from the US.
People also ask:
What's the most affordable city in Spain?
Spain is a beautiful country with plenty of fascinating cities to explore. But if you're looking for the most affordable place to live, the clear winner is Malaga.
Located on Spain's sunny Costa del Sol, Malaga has all the elements of a perfect Mediterranean city: gorgeous beaches, delicious food and wine, great weather, and a thriving cultural scene.
What is the best time of year to move to Spain?
The best time of year to move to Spain in winter, when travel and shipping costs are more affordable. The summertime is the peak season for international moving.
Should I open a bank account in Spain before I move?
If you want to open a bank account in Spain, there are several things that you need to do:
You will need to find a bank that will accept you as a customer, depending on your nationality and the purpose of opening an account.

Most banks in Spain will require you to have a valid Spanish tax identification number.

You will need to complete the account opening forms and provide identification for your bank account.
Summary
Moving to Spain from the US can appear to be daunting. However, starting the process early will help you organize and look for the best travel and moving costs deals.
We recommend giving yourself at least three months to start the moving process. You can speak with an international moving company who can help you organize the process and answer any outstanding questions.
International Van Lines is an international moving company that offers various moving services to Spain from the US. Whether you're moving an entire house or just boxes, we provide shipping solutions.
You can get an international moving quote by filling out an online form or calling one of our professional relocation coordinators.