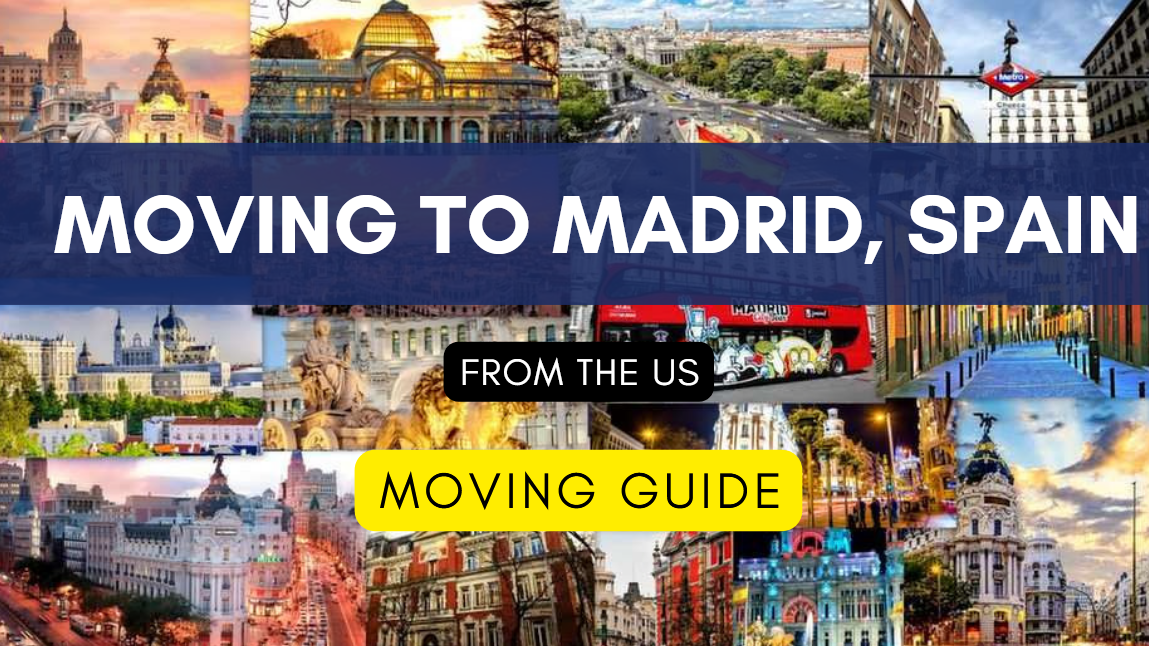 Moving to Madrid Spain from the US
Moving to Madrid Spain from the US is a big decision, and it can be overwhelming to consider all the details involved with such a move. While many benefits come with moving abroad, you want to ensure you have all the facts before making rash decisions or signing any contracts. In this post, we'll cover some essential aspects of moving to Spain that will help better prepare you for your new life abroad.

Cost of moving from the US to Madrid Spain
Moving your household goods from the US to Spain costs between $2,500 to $10,500. However, the final price depends on factors such as the size of your home, the season you plan to move, and your current location. In addition, because there are no ports in Madrid, you'll have to account for pickup services at the nearest port and transportation services to your final destination.
What to expect when budgeting for the cost of moving from the US to Madrid:
$4,926 for a small 20ft container from Miami to Madrid
$8,787 for a small 20ft container from Texas to Madrid
$12,648 for a small 20ft container from Los Angeles to Madrid
Be mindful that these are average prices. The best way to obtain precise estimates is to request a personalized quote from an international moving company. They'll be able to look at your current needs and create a comprehensive assessment that includes all the moving services you'll need.
Read More: What's the Cost of Moving to Spain from the US?
Top International Movers to Madrid Spain from US

How long will it take for my household goods to arrive in Madrid?
It takes between 14-77 days to ship a container from the US to Spain. The exact timeline depends on the carrier you work with, the availability, and your current location. For example, it might take longer for your goods to arrive from Texas than they would from Miami.
There's also an option to expedite shipping your items via sea freight. Shipping something via air to Spain from the US takes between 2-6 days. However, this option is much more expensive and usually reserved for clothes or fragile items.
Read more: Shipping Furniture to Europe from the US: How It Works.

What to expect when moving from the US to Madrid, Spain
Moving to Spain from the US is a big decision you must approach with caution. It's important that you understand all aspects of the moving process, including the costs involved and the changes in your life.
Cost of living in Madrid vs. the US
Madrid is one of the most expensive Spanish cities. Most of these expenses come from housing or rent and transport. On average, the cost of living in Spain is 123% cheaper than in the US. According to Numbeo, rent prices in Madrid are 59% lower than in Miami. So are restaurants, groceries, and average consumer prices. You would need $3,800 in Madrid to maintain the same standard of living as $6,900 in Miami, assuming you rent in both cities.
Climate
Madrid enjoys a Mediterranean climate, with hot summers and cold winters. Still, the skies remain clear throughout the year. In spring, rain is expected in the early weeks of April before temperatures rise in May to an average of 69F.
In June, summer arrives, and temperatures soar to an average of 77F that month. July and August are even hotter, with an average high of 77F.
Autumn is mild in October but becomes cooler as November progresses, with rainfall increasing to its annual maximum in December.
The average temperature drops from 59ºF in October to 44ºF in December; however, it rarely snows in Madrid, and it can snow at the end of December or January. January is the coldest month, with an average temperature of 42ºF; clear days are still common during this period.
Culture
The first thing you will notice when you arrive in Madrid is the language barrier. While most people speak English, it's not universal, and a lot of Spanish words are difficult for native English speakers to pronounce correctly. Try learning Spanish before moving to Madrid to make your relocation easier.
With 3 million inhabitants, Madrid's culture is vibrant and alive. The city flourishes with art, architecture, and gastronomy thanks to the diversity of people that call it home.
Madrid is known as an art capital. It has impressive museums and galleries, some of the most celebrated in Europe. Some top tourist destinations include the Prado Museum, the Reina Sofía Art Center, the Royal Palace, and the Royal Theater.
Safety
Madrid is generally considered a very safe place to live. Like in any major city, crime is present, but it's not something to worry about. One thing to be mindful of is pickpockets. Although uncommon, they exist, and you should keep an eye on your things when taking public transportation or visiting major tourist attractions.
Read more: What Americans Living in Spain Should Know.
Where to ship when moving to Madrid, Spain
Madrid is approximately 190 miles from the sea, so your shipment will only reach Madrid by air. It will likely dock at major Spanish ports like Valencia, Barcelona, or Seville. The closest one to Madrid is Valencia's.
Because of Madrid's location, you must ask your international moving company about land transportation services. Not all moving companies work with agents overseas to move your items from port to door. Make sure they include pickup and delivery when calculating your quote.
Read: Questions to Ask International Moving Companies.
Tips to prepare for your move to Madrid, Spain
A move to Spain can be a dream come true, but it's essential to understand all aspects of the moving process. From getting ready at least a year in advance to finding the right international moving company to handle your move, here are some tips to get you started.
As you prepare to move
Save money upfront: You should budget for your flight to Madrid and rent, besides your moving expenses. You should budget for at least two months of rent upfront. Also, keep track of utilities such as electricity, as some landlords might not include them in your rent prices.
Make an inventory of your house: To get accurate pricing for your international move, you need to know precisely what you're planning to bring. Make an inventory of the oversized items you'll be bringing, such as sofas, beds, TVs, tables, and so forth. Try to have an estimate of how many boxes you'll move. This will help you better understand the container size you'll need. Knowing this beforehand can help you save tons of money down the line.
Make sure your paperwork is in order before leaving the US: There are many things to consider when you're moving to another country. Make sure all your paperwork is in order before you leave the U.S. If anything is missing when crossing into Spain in terms of visas or proof of residence, then there could be major delays at customs which could cause even more problems down the line. You need your passport and visa, as well as your work permit and social security number. It's also essential to get a driver's license in Spain if that's something you want to do (some ex-pats opt not to get one).
Read More: Best Timeline to Start Planning Your International Packing.
When looking for a moving company
Be cautious when hiring an international moving company: Check the company's reputation online. If they have open complaints, ask them about them. Also, verify their insurance coverage and credentials before hiring them. If possible, ask for references from past clients who have used them before to move abroad from the US to Madrid.
Work with a company with overseas moving experience: Not all companies have experience with international moves. Ask about these services and ensure they have experience handling any issues with customs. Ideally, you should hire an international moving company that partners with agents in Spain to help sort out any hiccups that might occur during your move.
Find door-to-door moving companies: While you search for the right moving company to help you relocate to Madrid from the US, try to work with one that provides door-to-door services. You don't have to work with multiple companies to complete your move. Instead, this company will pick up your items in the US, ship them overseas, receive them at the port in Spain, and then ship them directly to your door in Madrid.
Read More: How to Choose the Right International Moving Service.

Useful information for people moving from US to Madrid Spain
Complutense University of Madris, Spain
Government of the Community of Madrid
Bottom line
At International Van Lines, we are here to help you through every step of your moving process. We can help you figure out how much it will cost to ship all your belongings overseas. You should also remember that many other factors determine how much it will cost for your move, so it's important not just to look at price but also to consider quality and reliability when choosing a service provider.
If you're ready to start, contact our team of experts today or request a personalized quote to start planning your move from the US to Madrid, Spain.