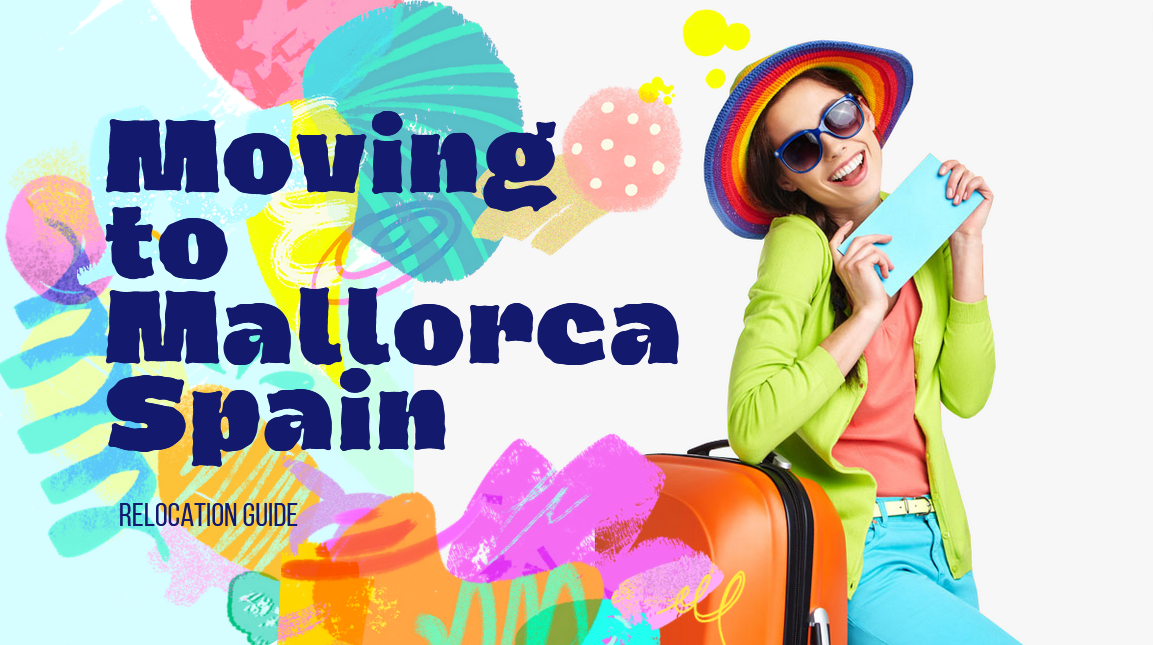 Moving to Mallorca Spain from the US
If you're a U.S. citizen and thinking about moving to Mallorca Spain from the US, then rest assured that it is a beautiful place with plenty to offer. There are many reasons to move to Mallorca. The climate is perfect year-round, and the scenery is stunning, especially if you're lucky enough to live in or near one of the many small towns off the coast where beaches are abundant and views are spectacular at all times.
There's also plenty of history here: Roman ruins dot the landscape, medieval castles stand guard over rustic villages full of charm, and culture abounds in small cities like Palma de Mallorca (the island's capital city).
Whether you're looking for a new home or just want to try something new, we have lots of information about relocating from the US. We've highlighted some common questions you may have when moving to Mallorca Spain from the US and included links with more detailed information on how to move here and what it costs.
CLICK HERE FOR INTERNATIONAL MOVING COSTS BREAKDOWN
Cost of moving from the US to Mallorca, Spain
The average cost of moving from the US to Spain is between $2,500 to $10,500. Factors such as the size of your move, other services, and transportation fees will directly affect the total cost of your move. To give you an idea, here are some examples of what a 20ft container will cost:
From Miami to Port Las Palmas in Spain: $3,735.
From Texas to Port Las Palmas in Spain: $6,629.
From Los Angeles to Port Las Palmas in Spain: $7,339.
These prices are only averages. You might also have to account for pickup and drop-off fees and other moving services. The best way to get accurate pricing is to request a free quote from a licensed and accredited international moving company.
Read More: What's the cost of moving to Spain from the US?
Timeline for shipping your household goods from the US to Mallorca Spain
It is possible to send your household goods and belongings to Spain via air freight or sea. Both options are available when you work with an international moving company.
Ocean freight takes between 17 to 45 days.
Ocean freight is the most affordable option to ship your belongings to Spain. A 20ft container can fit up to 2 bedroom households, while a bigger home might need a 40ft container. At International Van Lines, we can help you find the best container for your belongings.
Air freight takes between 2 to 6 days.
Air freight is the fastest way to ship your belongings to Spain. However, it's also significantly more expensive than other options. Due to its cost, we often recommend only sending fragile items and valuable goods such as fine art or family heirloom items via air freight.
Read More: The Ultimate Guide to International Moving Services.
What to expect when moving to Mallorca from the US
There are many things to do in Mallorca, and it is easy to find information online about what you can see and do when visiting. Before you move to Mallorca, it's essential to understand the culture and be prepared for a slower pace of life. In general, people in Mallorca are very friendly and open-minded. They will help you feel at home with them quickly.
Cost of living in Mallorca vs. the US
Overall, the US is almost 50% more expensive than Mallorca. You only need $3,565 in Palma de Mallorca to maintain the same lifestyle you would living in Miami with $6,900, according to Numbeo. Rent prices in Palma de Mallorca (the island's city) are 66% lower than in Miami, restaurant prices are 39% cheaper than in Miami, and groceries are 48% lower than in Miami, FL.
The cost of living on the island can vary greatly depending on where and which part of the island you choose to live in. For example, if you move into an apartment with all utilities included in one flat rate (such as electricity and water), your monthly expenses will be much lower than someone who pays for everything separately (like gas/electricity separately from water).
Climate
The Mallorcan climate is Mediterranean. Temperatures are high in summer (over 86 °F) and moderate to low in winter (but rarely dropping below 41 °F). During winter, snow is not common throughout the island but is common in the highest peaks like Sierra de Tramuntana. Humidity is also relatively high, given that it's an island.
Culture
The official languages of Mallorca are Spanish and the Mallorcan dialect of Catalan. Many locals and migrants also use other European languages, mainly English and German, but also Italian, Norwegian, and Swedish to a lesser degree.
People in Mallorca don't go out as often as Americans do; therefore, it is common for them to spend time at home instead of going out every night or weekend. If you're new in town, this may seem strange at first but will soon become familiar to you.
It may sound cliché, but before moving to Mallorca, prepare to slow down and relax. You will be tempted to take advantage of the island's long summer days and explore as much of it as possible. But don't forget that time spent sitting by the pool or at a café reading your favorite book is just as valuable as exploring the island's medieval towns or hiking through its rugged mountains.
Safety
The crime rate is very low. Mallorca is a safe island, with minor thefts being the most significant security concern for most locals, tourists, and migrants. Also, Spain has one of the lowest crime rates in Europe. Given that Mallorca is an island, you can expect these rates to be even lower.
Also Read: What Americans Living in Spain Should Know.
Where to ship when moving to Mallorca Spain
Port de Palma is the main commercial port on the island of Mallorca. An experienced international moving company will know the route and the on-site procedures to get your goods safe and sound across the Atlantic and Mediterranean and into Port de Palma for the final delivery to your new home.
Other non-commercial ports in Mallorca include the marina section of Port de Palma, Port d'Pollenҫa for sports and marina, and the natural Port d'Andratx for sports.
When you work with an accredited international moving company, they'll know the best way to transport your goods to the correct ports to meet your timeline and budget. At International Van Lines, we offer door-to-door services to help make this process even more accessible.
Tips to prepare for your move to MallorcaSpain
Before moving to Mallorca Spain, you should consider a few things. First and foremost, how much will it cost? You want to be prepared for anything that may come up during your time in Mallorca. You should have enough money saved up to support yourself for at least six months after moving.
Getting your visa: U.S. citizens can visit Spain for up to 90 days without a visa. If you want to stay longer than that, you'll need to apply for a residence permit. You can do this at your local Spanish Consulate or in person at the Instituto Nacional de Estadística (INE). If possible, work with an attorney to help you look at the different visa options available.
Consider getting healthcare: Healthcare in Mallorca is among the best in Spain. While it's free for residents, you might still want to consider obtaining private medical insurance while you wait for your residence.
Organize your finances: This includes paying all bills in full so that no outstanding debts are left behind when moving abroad. If there are any outstanding debts back home, it is best not to leave them unpaid as this will affect your credit rating upon returning home again or, even worse, cause problems in the future.
Downsize as much as possible: Before you get started, try to downsize for an international move. This involves getting rid of items that you might not need overseas. This will save you money in the long run.
Organizing your documents: As you prepare for your move, don't forget to organize all your documents. This includes getting certified copies of important documents like birth certificates, marriage licenses, identification, professional licenses, divorces, etc. While you can always obtain such documents abroad, bringing them with you is best.
Find a full-service moving company: Planning an international move involves many steps and requires expertise in customs and other procedures. The best thing to do is hire a full-service moving company offering door-to-door services to help you navigate every step.
Also, check out: Moving to Spain from the US.
Bottom line
If you're planning to move to Mallorca from the United States, you must know exactly what documents and other things you'll need. That's why you need a company that understands the process and has the solutions you need for it. Our international expert movers are here to help you with every step. Request a free quote today or contact our team to learn more about our international moving services.