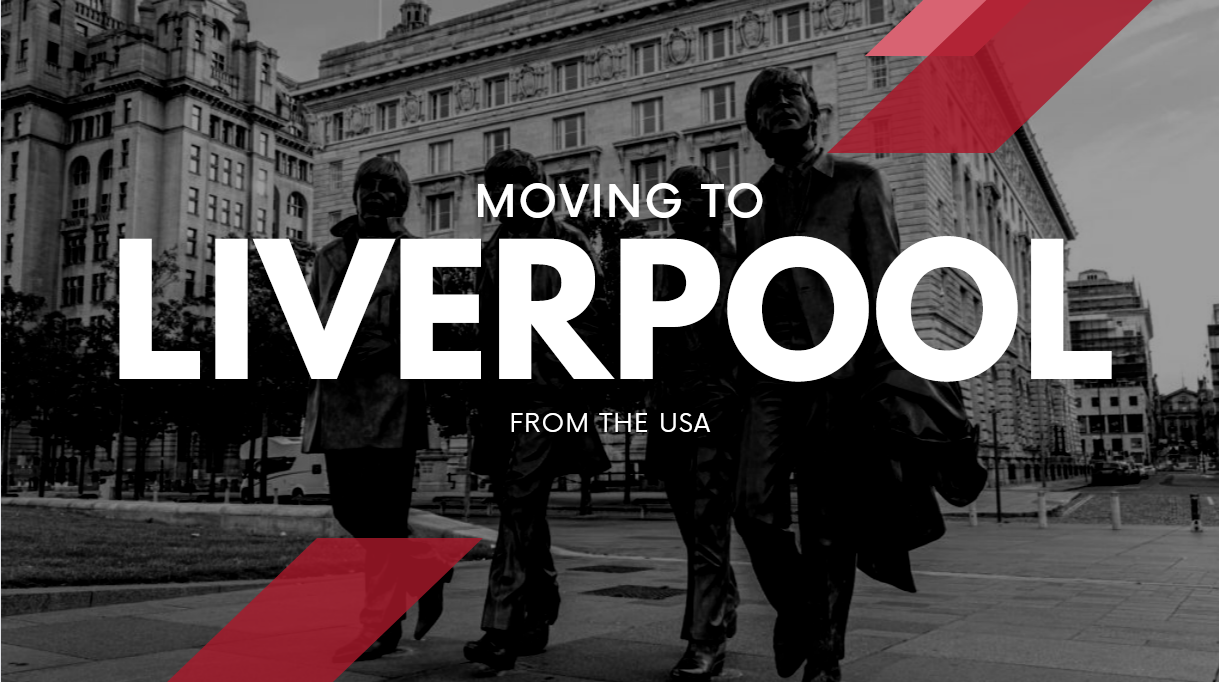 Moving to Liverpool in 2023 from the US? Here you will find everything that you need to know when moving from the USA.
Moving to Liverpool, England, from the US
Liverpool is the capital of the Merseyside metropolitan borough in the North West region of England. It's home to a very mild 500,000 people, and it's been the birthplace of brilliant musicians, writers, poets, and sportspeople.
As an American, not only will you be moving to a city with a great, rich history. Additionally, it's also incredibly cost-effective for renting and buying properties compared to other major British cities like London and Cardiff.
Other great reasons to move to Liverpool from the USA include:
A sense of community among the population.

A cultural powerhouse constantly on the cutting edge of art.

Beautiful architecture.

Proximity to the beach.

One of the most active nightlives in the country.

It's a great place for innovative independent businesses.
If all of that sounds good to you, accompany us as we explore the ins and outs of moving to Liverpool from the US.

Cost of moving to Liverpool, England
The average cost of moving from the US to the UK is $3,800 to $6,850. However, many international relocations can cost up to $10,000 or more. Shipping costs are often the highest, right up there with the cost of securing your home.
Read Here: Best International Shipping Companies to Europe
For shipping, there are two main options: sea or air.
Sea freighters take longer but are more affordable. Air freighters are faster but cost significantly more.
For sea freighters, you will be charged based on the volume of your move and how many containers it occupies. There are 20 and 40-foot containers. Here's what you can fit into each:
20-foot container has a capacity of 32.6m3. Enough to fit every piece of furniture and appliance in an 80m2 apartment (861 square feet), plus a motorcycle.
40-foot container has a capacity of 67.6m3. Enough to fit every piece of furniture and appliance in a 100m2 apartment (1076 square feet), plus a car and a motorcycle.
Air freighters usually charge you depending on how much your move weighs. Given the more limited space and the higher rates, air freighters are generally reserved for works of art, family heirlooms, and other fragile, valuable objects, not for full moves.
Shipping costs vary depending on various factors, such as shipping origin and destination, the packages' weight, dimensions, and the expected delivery time. Factors like the traveling medium (air or sea), the season, packing and unpacking fees, and others will also influence the final price of your move to Liverpool, England.
Know More: Air Freight vs Truck Freight
Here are some estimates to consider:
A 20ft container from Miami to Liverpool averages $3,420.
A 20 ft container from New York to Liverpool averages $3,879.
A 20ft container from Los Angeles to Liverpool averages $4,620.
Top International Movers USA to Liverpool, England
Visa fees
Visas are documents that allow you to legally live or work in a country as a foreign citizen. There are many types of visas for many purposes, such as visas for children or spousal visits, work visas, and more.
That's why getting the correct visa for your needs is essential. If you don't get a work-related visa, you can't work. If you don't get a work-related visa, you can't work. Research the relevant permits for you and your family before applying. There are even lawyers specialized in helping you.
The process of getting a visa usually goes like this:
Research the correct visa for your purposes.

Apply for it and get started with your visa application.

Pay visa fees – the costs range from a little over $100 to over $1,000.

Book the appointment. Choose a visa center and make the appointment.

Upload the necessary documents in advance.

Attend your appointment.

Track the progress of your application and stay informed.

Finally, receive your visa.
Remember that visa processing times can range from a few weeks to several months.
You'll likely have to pay the Immigration Healthcare Surcharge and visa fees. The Immigration Healthcare Surcharge gives you access to the British public health network, the NHS. The fee is around £470 or $575 per year.
Read Here: How Shipping Furniture to England from USA works
Securing a home in Liverpool, England when moving

Liverpool rent prices range from £789 ($969) to about £1,152 ($1,415), with the median rent being around £750 ($921).
However, many more costs will be associated with securing a home in Liverpool before moving in from the other side of the pond. You need to consider the cost of flights to Liverpool to house hunt for several days, hotel stays, food, transportation, and more.
You also need to consider the security deposit for your new home (usually five weeks' rent) and the costs associated with the relocation agency you contract.
The costs may ascend to over $5,000, making it one of the most significant costs associated with your international move.
Furnishing your new home in Liverpool

If you manage to move over most of your belongings by air or sea, the costs of furnishing your new home will be significantly reduced. Therefore, furnishing costs could range from a few hundred dollars if you only need to replace a few appliances to several thousand if you leave a lot behind.
Miscellaneous costs
These are the various costs you'll have to pay in handling essential moving processes, such as courier services for your visas, extra luggage during your final trip to Liverpool, import taxes, and more.
Some of the most common unexpected expenses associated with international moves include:
Replacing appliances you sold, gave away, or left behind.

Pet transportation.

Customs taxes and duties.

Car rentals.
Read Here: Moving to England from the USA
What to expect when moving to Liverpool, England, from the US
Cost of living in Liverpool

Liverpool is a relatively inexpensive city to live in compared to other major British cities like London, Southampton, Cambridge, and Oxford. It's not among the cities with the highest rent or the most expensive British cities overall.

When buying a home, though, Liverpool is in the UK's top 20 most expensive cities. But considering that the average Liverpool home costs £152,300 as of late 2022 (a quarter of the London average), it puts things into perspective.
The following costs will give you an idea of what you'll spend every month once you're settled in Liverpool (source: Expatistan and Rentoo):
The average monthly cost of a family of four is £2,764 ($3,370) without rent.

The average cost of living for a single person is £1,364 ($1,664) without rent.

The average rent price is £789 monthly ($942). The area of Liverpool with the highest rent average is Allerton, at £1,148 ($1,406). The area with the lowest average is Anfield, at £620 ($759).

The price of 1 liter (1/4 gallon) of gas is £1.49 ($1.82).

The cost of monthly public transport is £56 ($68).
Comparison
Here are a few comparisons between Liverpool, London, and a few big American cities (source: Numbeo). In all cases, Liverpool is more affordable.
You would need around $4,141 (£3,394) in Liverpool to maintain the same standard of life that you can have with $6,466 (£5,300) in London.
You would need around $4,140 (£3,393) in Liverpool to maintain the same standard of life that you can have with $6,900 in Miami.
You would need around $4,157 (£3,407) in Liverpool to maintain the same standard of life that you can have with $9,100 in New York.
You would need around $4,151 (£3,402) in Liverpool to maintain the same standard of life that you can have with $7,000 in Los Angeles.
Know More Here: How to Compare International Moving Quotes
Climate – Understanding the weather in Liverpool before moving

Liverpool has an oceanic climate. Winters are cold, and summers are mild. There are frequent rains throughout the year.
Winter is not as cold as in other cities in the UK, Wales, and Northern Ireland, but the skies are often cloudy. Humidity is high, and winds can be strong. It rains frequently. Snow is not very common due to Liverpool's location on the west coast. The coldest nights generally don't drop -5 °C (23 °F) but may drop lower occasionally.
Read Here: Moving Guide to the UK
Summers run from June to August. Temperatures are mild, wet, and also cloudy. It may also rain frequently. The daily averages tend to range from 64°F (17°C) to 67°F (19°C). However, some occasional hot periods can unexpectedly appear. The highest temperature recorded was 97°F (36°C) in July 2022.

Culture
Liverpool's culture is very vibrant and has been internationally recognized. In 2008, it was selected as the European Capital For Culture, along with Stavanger, Norway.
Liverpool has a long history of active music scenes, classical and pop. It's home to the Beatles, the most famous musical act of all time, the Royal Philharmonic. Liverpool has also been home to many writers and poets.
If all of that wasn't enough for you, Liverpool is also recognized as a UNESCO World Heritage Site for the major role it played as a maritime mercantile city during the 18th and 19th centuries. It's also the English city with the most museums and galleries outside London.
Some of Liverpool's finest cultural and heritage sites include:
The Beatles Story: a museum dedicated to the lives and music of the Fab Four: Ringo, McCartney, Harrison, and Lennon.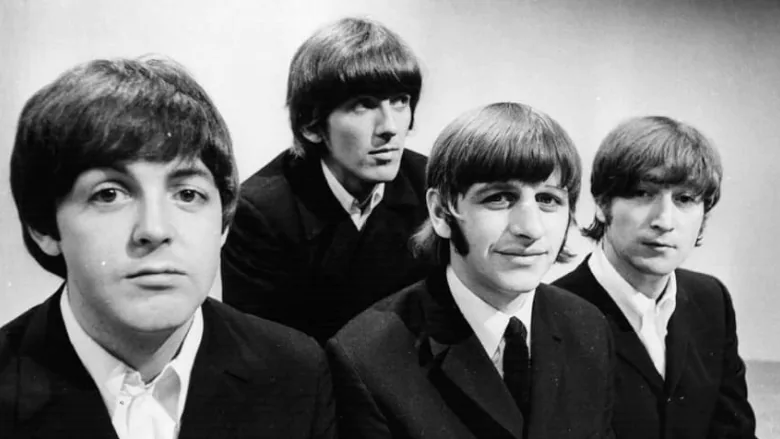 John Lennon, Paul McCartney, George Harrison and Ringo Starr, with John and Ringo playing the guitar, Paul on bass guitar and Ringo on the drums
The Cavern Club: a club where the Beatles used to play that's still active today.
The Bluecoat Arts Center: the hub of Liverpool's contemporary art scene, presenting world-class performances in visual art, literature, music, dance, and live art.
Tate Liverpool: one of the most prestigious art museums and galleries in the UK.
Liverpool World Museum: a museum that relives the history of humanity and planet Earth through its exhibitions.
Safety in Liverpool when moving

Liverpool can be an unsafe city in certain areas. Overall, Liverpool's crime rate in 2021 was 128 crimes per 1,000 people. That's higher than the average crime rate for the metropolitan borough of Merseyside (of which Liverpool is the capital), the North West region, and the UK, Wales, and Northern Ireland.
The most dangerous areas in Liverpool are Waterfront, Baltic Triangle, Sefton Park, Toxteth, Wavertree, and St. Michael's Hamlet.
The safest areas of Liverpool are Walton, Anfield, Sefton Park, Merseyside, River Mersey, and Breckfield.

How long does it take to ship my household goods to Liverpool, England?
Sea freighters tend to take the most time delivering their goods. Depending on the port of origin, the total load, and the vessel's speed, it can take about 9 to 20 days to get your household items from Miami to Liverpool.
From New York, it would take between 10 and 15 days. Finally, from Los Angeles, one of the farthest major American ports from Liverpool, it can take between 20 and 28 days.
Additional factors that affect delivery time include:
Equipment handling at the origin and destination port.
Weather.
Blank sailing (canceling one or more shipments in a trading route).
Port congestion.
Air freighters are much faster, likely arriving in Liverpool in 1 to 3 days. They may also be affected by weather and other hindering conditions.
Moving Your Car?
Read Here: Best International Car Shipping Companies
Bottom line for Moving to Liverpool

A lot of planning needs to happen before you get on the plane to your new home, but our experts are here to help every step of the way. We hope this article has provided a helpful overview of the exciting changes that await you as a new citizen of Liverpool.
If you decide to move, our international expert movers can guide you during your transition from the US to Liverpool, England. Click here to get a quote from our team to learn more about our services.