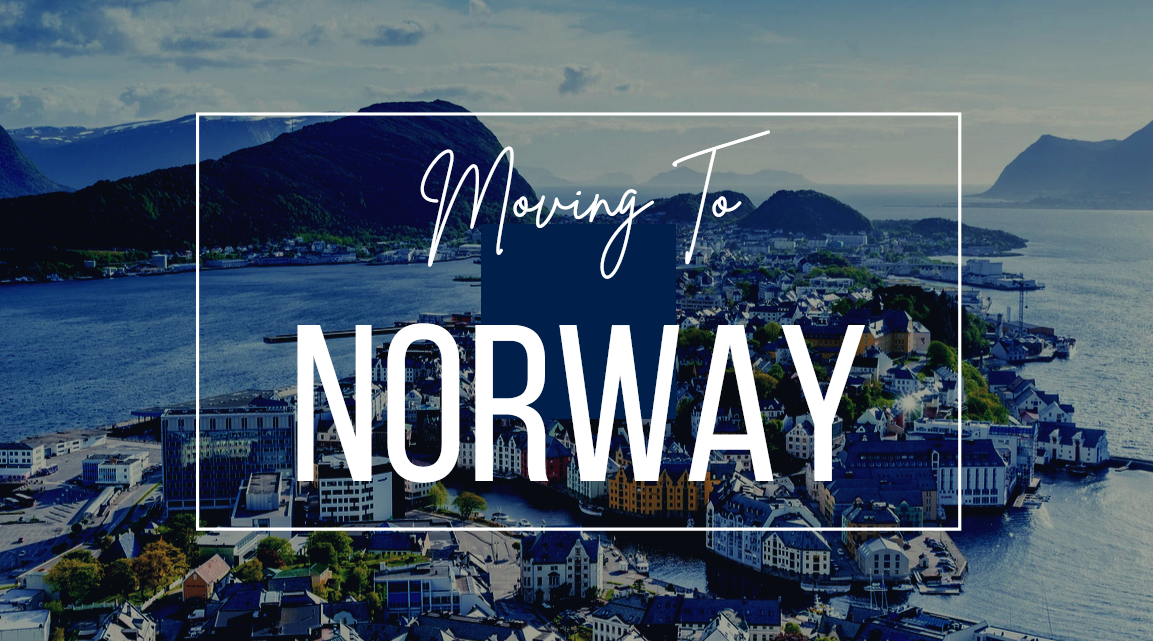 Moving to Norway From the US
Norway is one of the most beautiful places on earth. Unparalleled fjords, polar bears, wild reindeer, northern lights, and the midnight sun are just the start of the adventure when moving to Norway from the US.
On top of its incredible natural beauty, Norway is one of the safest and happiest countries in the world.
Enjoy skiing, exploring some of their 240,000 islands, or enjoying Aquavit in a pub in Oslo.
Fancy some fishing? Pick up a fishing card permit at one of the lake lodges and try Hornindalsvatnet Lake. At 514 meters, it's the deepest lake in Europe besides being the clearest. Despite the cool temps, Norway will warm your heart.
How to Move to Norway
The key to successfully relocating to Norway requires doing some homework. Expect to spend plenty of time and energy researching your move, especially if your move will include getting a work permit and obtaining either temporary or permanent residency status. English is spoken everywhere, but learning enough Norwegian to have a conversation will help when handling governmental or legal matters.
Read Here: How to move overseas on a budget from experts
What is the Process for Moving to Norway?
Moving to Norway engages many moving parts. An essential first step is to create an international moving checklist. Keeping track of all the tasks that lay ahead and staying organized can reduce the impact of unwelcome surprises. It may also be beneficial to keep your checklist near your moving calendar to stay on top of activities in a timely manner.
Remember to delegate whatever tasks you can. The best international moving companies are ready to help you every step of the way. Let them handle the complex jobs and guide you through the process. The process of moving to Norway looks something like the steps below.
Choose your destination. Good luck with this one. Norway has everything. Large bustling cities, beaches, Fjords, and tranquil country villages are all within easy reach.

Create a moving budget and hold on to a few months' savings beyond the money you'll need to establish a place to live to spend getting settled in your new home once you arrive.

Learn about residency requirements in Norway and choose the permit or visa that fits your needs.

Purchase travel insurance to cover your initial healthcare needs while you wait to become eligible for Norwegian healthcare.

Make a detailed inventory of all the items you're taking to Norway, including household goods and vehicles.

Organize your cell phone service, financial accounts, driver's license, and other must-haves before moving to Norway.

Pack and move to Norway.
Best International movers to Norway
How Long Can I Stay in Norway?
Americans who intend to stay in Norway for less than 90 days don't need to worry about visa requirements. However, you must obtain a residence permit to stay in Norway longer than 90 days.
Expats
Getting a work visa approved can be time-consuming and challenging. Start preparations for obtaining one early in your move.
Highly skilled workers and self-employed people looking to work and live in the Nordic country can apply for a residence permit for work. With this permit, workers are allowed to work and bring their immediate family members to Norway.
The Norwegian visa application process begins at the Norwegian Directorate of Immigration website, where you'll find specific information on the requirements that apply to your situation.
Retirees
Unlike some European countries, Norway has no specific retirement permit available. To live in Norway without working, you must already have permanent residency status or proof of monetary resources to sustain yourself under a residency permit.
Student
Study permits are available for students wishing to study in Norway. You'll need to obtain proof of admission from a Norwegian university and meet several criteria, including housing and funding requirements.
Digital nomads
Digital Nomad visas don't exist in Norway. In fact, working remotely in Norway is prohibited even if you're just visiting or are self-employed outside of Norway. To work in Norway in a remote fashion, you must meet the requirements of the residence permit for work.
Getting Your Stuff to Norway
Preparing yourself for your move to Norway is one thing. Getting your possessions ready for the adventure is quite another. Remember that your relocation company is on your team as you plan, organize, and execute everything necessary to make your move as smooth as possible.

How do I Ship My Household Items to Norway?
Most overseas moving takes time and involves container shipping or, basically, putting your possessions in a large metal box and placing it on a cargo ship to be unloaded at a seaport near your new home or transported from there to your new home. The process typically takes four to six weeks from start to finish.
Air freight, although the more costly shipping method, speeds up the moving process to between two and four weeks and can easily get your household items to inland destinations.
Whichever way you choose, your possessions may also opt for temporary or long-term storage at your destination or in your former location. Using storage solutions is common for persons moving long distances to keep everything simple and organized.
How Much Does it Cost to Move My Belongings to Norway?
Moving overseas typically costs between $1,500 and $12,000. The cost of moving to Norway or other European destinations depends on how much you take and where you're going.
How Can I Save Money Moving to Norway?
International moving is a significant investment. However, you can take several steps to lessen the stress on your wallet.
Less is more. The adage of pack light is crucial for any move and doubly so when moving internationally. Purging and downsizing are the rules if you need to meet a limited moving budget.
Your mover should offer professional packing services. However, they should also offer you the opportunity to save money by packing your own possessions.
Unloading your own container at your destination can save cash over having your mover perform the task.

If your moving date is flexible, let your mover know in exchange for a discounted rate.

Use an international moving cost calculator to discover where else you can save a few dollars.

Compare individual moving companies based on price and the services they can provide.

Don't be shy about asking for discounts from your mover. A good moving company understands that flexibility on its part is good for business.
Can I Ship my Car to Norway?
You can ship your vehicle to Norway. Remember, though, whatever you bring with you must clear Norwegian customs before entry. To do that, your car will need proof of insurance, a vognkort or registration certificate, an inspection, and Norwegian license plates after 30 days of residency. A flat tax called VAT or value-added tax is due when your car arrives, payable to the Norwegian Tax Administration.
Navigating Norwegian Customs
Italian customs monitor everything that comes into the country, whether it's a commercial product or your best bunad for only the most special occasions. One of the services your international moving company provides as part of your move is assisting you with the paperwork and compliance requirements for wherever you're moving. For the most part, leaving behind cleaners, liquids, food, or hazardous materials will make your experience through Norwegian customs more pleasant.
Should I get moving insurance?
Your stuff is traveling a long way. Nobody likes to talk about it, but things can happen that could damage your goods. Purchasing additional international or marine insurance costs an average of 3% of your shipment's declared value, a small price to pay for peace of mind.
Read here: Do You Need International Shipping Insurance?
Can I Take My Pets to Norway?
If you're moving to Norway with pets, you'll want to ensure it's microchipped and compliant with the current ISO standard. If you're arriving with your pet from outside the EU/EEA, plan on providing 48-hours notice to the Norwegian District Office to be allowed entry.
How Much Money Should I Take to Norway?
Plan on taking a dollar amount of at least three to five times your monthly expenses. Upfront fees upon your arrival in the country could include a housing deposit equalling up to six months of rent plus the cost of insurance and setting up your new home.
Stay Connected
Before leaving the US, ensure your phone is unlocked. Once in Norway, purchase a SIM card to install without a contract attached. Wi-Fi in Norway is nearly everywhere, from high-speed trains to intercity buses and public areas like restaurants, airports, and cafes, and is often free of charge. A Norwegian SIM card in your phone will allow you to find everything you need online.
Living in Norway
Norway is an extremely open, accepting, kind, tolerant, and welcoming nation. Expats from all over the world should feel right at home here. Norwegians value humility, respect, simplicity, and equality.
Keep in mind that punctuality is essential in Norway. If you're invited to someone's home, be on time and bring a hostess gift.
Finding a Place to Live in Norway
Norway is an expensive place to live. Pack plenty of winter gear and money for high rents in the city and heating costs that aren't always included in the rent. Renting a house in Norway requires a hefty security deposit equalling three to six months' rent.
The most expensive place to live in Norway is Oslo. Cheaper rent can be found in the suburbs if you're willing to shop around and can be flexible. Utilities may or may not be included in the rent, so be sure to clarify with the landlord.
If you're looking to buy a house in Norway as a foreign national, you'll be happy to learn that you can purchase a home or apartment without meeting any requirements often reserved for foreigners in other countries.
Finding a Job in Norway
Start your job hunt very early. Finding employment is doable and common, but it usually takes time and effort to accomplish. You'll be competing for jobs against a highly educated workforce with near-native English language ability. There's also a large influx of job seekers from neighboring countries who already know Norwegian, whom you must compete against for the best jobs.
Getting Around in Norway
If you have access to an automobile, seeing Norway's 18 scenic routes free of a timetable is pure bliss. Mountains, coasts, and incredible landscapes abound in the Country.
If public transportation is more your style, a reliable and efficient system of trains and buses can get you where you need to go in the cities. For longer distances, airplane travel to and from any of Norway's 90 airports is typical.
Healthcare in Norway
Norway's public healthcare system is of such high quality that just 9% of the population chooses to purchase private healthcare. Finding a doctor is simple and straightforward. Once you're a part of the National Registry, you can select your primary doctor from an approved government-provided list and, if necessary, switch doctors up to twice a year.
Education in Norway
While tuition for international students has been free until now, the Norwegian government has proposed the introduction of tuition fees for students outside of the EU and Switzerland starting in the fall semester of 2023.

How do I Find an International Moving Company?
Finding the right international moving company for you is crucial for making the adventure to your new home as seamless and straightforward as possible. Ensure your mover is up to the task by meeting the following criteria.
The company is listed and in compliance with FMCSA
Listed and in compliance with the Federal Maritime Commission

Is appropriately licensed and insured

Offer additional moving insurance protection

Can provide checkable referrals from past customers
Get an International Moving Quote to Norway
Contact your international moving company and request a moving quote. You'll have the opportunity to speak with a professional who'll provide you with the information you need to start your journey today.