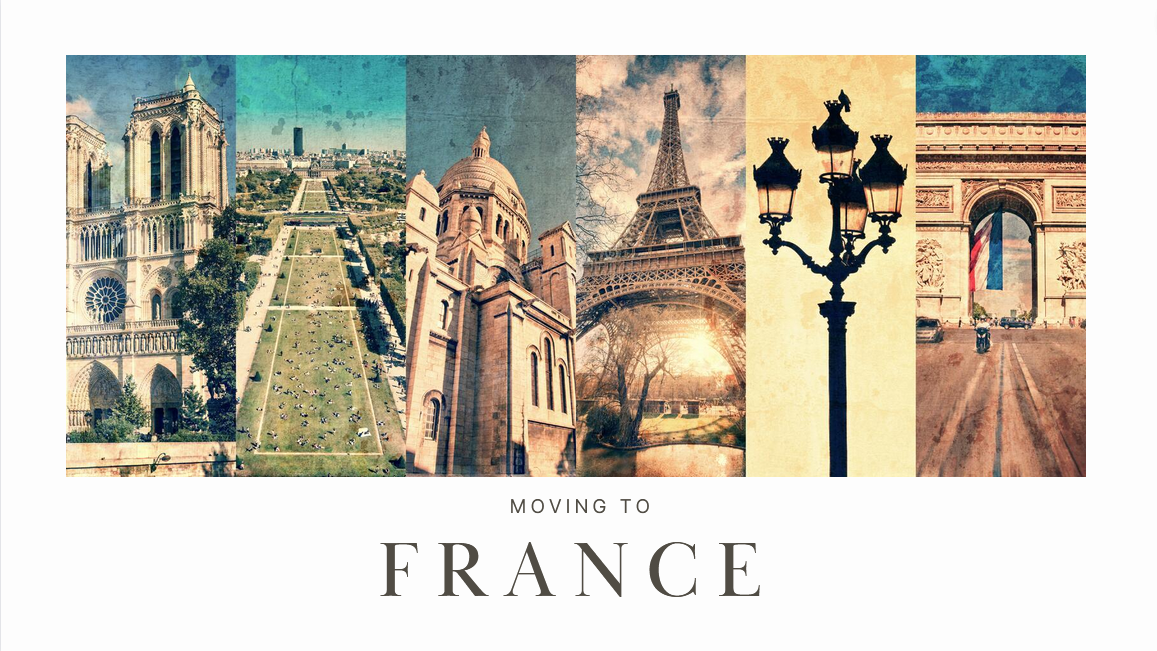 Moving to France From the US
Moving to France From the US – All you need to know!
Images of the Eiffel Tower, the Cannes Film Festival, and the French Riviera could conjure up the belief that France is only for the rich and famous. While living a high life in France is possible, you'll be happy to hear that most of the country is incredibly affordable.
France, as a whole, is laid back and easygoing. Residents savor long lunches with exquisite French wine, talking for hours with friends and family, or strolling the markets among domestic cheeses and pastries.
France is home to 49 UNESCO World Heritage sites. The sites range from the iconic Palace and Park of Versailles and the spectacular medieval town of Provins to the far-flung Lagoons of New Caledonia and iconic Pyrénées.
Moving to France from the US allows you to experience all the country has to offer—mountains, beaches, and countryside—within a few hours by train.
How to Move to France from the USA
The key to successfully relocating to France requires doing some homework. Expect to spend plenty of time and energy researching your move and strongly consider learning the French language. Although you can likely get by speaking only English, you'll be better received and understood if you have a fair grasp of the French language.
What is the Process for Moving to France from the USA?
Moving to France engages many moving parts. An essential first step is to create an international moving checklist. Keeping track of all the tasks that lay ahead and staying organized can minimize unwelcome surprises.
Remember to delegate. The best international moving companies are ready to help you every step of the way. Let them shoulder some of the burdens. The process of moving to France follows the steps below.
Choose your destination. France has everything from large, bustling cities to serene rural landscapes.

Create a moving budget and hold on to a few months' savings to spend getting settled once you arrive.

Learn about residency requirements in France .

Purchase travel insurance to cover your initial healthcare needs while you wait to become eligible for PUMA—France's national healthcare system. France requires all long-term residents to have health insurance.

Make a detailed inventory of all the items you're taking to France, including household goods and vehicles.

Organize your cell phone service, financial accounts, driver's license, and other must-haves before moving to France.

Pack and move to France.
Top International Movers USA to France
How Long Can I Stay in France?
France offers several types of visas. The one you obtain will determine the length of time you can stay legally, from 90 days to one year on a long-stay visa or up to ten years as a permanent resident when you'll need to renew your status.
French Visas and Requirements when moving from USA
Acquiring a visa of some sort is necessary for hopeful residents of France. The country has set up a visa processing website called France-Visas to expedite information regarding coming to the country, allow you to start the application process, and help you determine which visa you'll need. From there, anyone moving to France long-term will need to visit one of several visa processing locations to apply in person.
Expats
Most Americans moving to France will require a work visa. If employed, your work contract must receive approval from the French Labor Ministry and the French Office of Immigration and Integration. Visas are also available for self-employed individuals through a similar process.
Retirees
Yes, Americans can retire in France. For visits longer than 90 days, you'll need to apply for a visa de séjour temporaire (residence visa) in person at a visa processing center in the US.
Student
Student visas are available at French consulates in the US or through Campus France, an official institution promoting higher education in France. The site offers a wealth of information and student guidelines and is an excellent place to start your journey.
Digital nomads
Digital nomad visas don't exist in France in forms to which you may be accustomed. A possible workaround is the freelance visa. You may also be able to work remotely on a long-stay visa as long as you work for a company outside of France and the contract meets approval requirements by the Labor Industry and Immigration offices.

Getting Your Stuff to France from USA

Preparing yourself for your move to France is one thing. Getting your possessions ready for the adventure is quite another. Remember that your relocation company is on your team as you plan, organize, and execute everything necessary to make your move as seamless as possible.
How do I Ship My Household Items to France?
Most overseas moving takes time and involves container shipping or, basically, putting your possessions in a large metal box and placing it on a cargo ship to be unloaded at a seaport near your new home or transported from there to your new home. The process typically takes four to six weeks from start to finish.
Air freight, although the more costly shipping method, speeds up the moving process to between two and four weeks and can easily get your household items to inland destinations.
Whichever way you choose, your possessions may also require temporary or long-term storage at your destination or in your former location. Using storage solutions is common for persons moving long distances to keep everything simple and organized.
How Much Does it Cost to Move to France from the USA?
Moving to France from the USA costs between $1,500 and $12,000. The cost of moving to France or other European destinations depends on how much you take and where you're going.
How Can I Save Money Moving to France?
International moving is a significant investment. However, you can take several steps to lessen the stress on your moving budget.
Less is more. The adage of pack light is crucial for any move and doubly so when moving internationally. Purging and downsizing are the rules if you need to meet a limited moving budget.
Your mover should offer professional packing services. However, they should also offer you the opportunity to save money by packing your own possessions.
Unloading your own container at your destination can save cash over having your mover perform the task.

If your moving date is flexible, let your mover know in exchange for a discounted rate.

Use an international moving cost calculator to discover where else you can save a few dollars.

Compare individual moving companies based on price and the services they can provide.

Don't be shy about asking for discounts from your mover. A good moving company understands that flexibility on its part is good for business.
Can I Ship my Car to France?
It's certainly possible to ship your car, truck, or motorcycle to France. Remember that whatever you bring with you must clear French customs before entry. You'll need to acquire a certificate of conformity stating that your vehicle is in good condition and meets European driving standards and a registration document called a carte grise or grey card.
Navigating French Customs when moving from the USA

French customs monitor everything that comes into the country, whether it's a commercial product or your automobile and household possessions. One of the services your international moving company provides as part of your move is assisting you with the paperwork and compliance requirements for wherever you're moving. For the most part, leaving behind cleansers, liquids, food, or hazardous materials will make your experience through French customs a painless experience.
Should I get moving insurance?
Your stuff is traveling a long way. Nobody likes to talk about it, but things can happen that damage your goods. Purchasing additional international or marine insurance costs an average of 3% of your shipment's declared value, a small price to pay for peace of mind.
Can I Take My Pets to France?
Your pets are welcome in France. However, there are a few things to know before bringing them along.
Several breeds of dogs are considered dangerous by the French government and are only allowed into the county in a few cases. Pet relocation also requires your pet to be fully vaccinated and up to date for rabies, have had a blood test within the last three months, and have a general health certificate.
How Much Does it Cost to Live in France?
Your lifestyle and where you choose to live will determine how much you'll spend while living in France. Costs in Paris are comparable to living in New York City. Choosing a quieter and smaller city will be much gentler on your wallet. Utilities, entertainment, groceries, and phone service share approximate costs to what you're used to in the US.
Housing costs offer a budget advantage, averaging 25% to 50% less than what you'd pay in the US for a similar property.
How Much Money Should I Take to France?
Plan on taking savings of at least three times your monthly expenses. Upfront fees upon your arrival in the country could include a housing deposit equalling up to a few months of rent, insurance, and setting up your new place.
The visa or residency permit you obtain may also have additional financial requirements to meet.
Living in France
Living in France has many similarities to living in the US and some things that are quite, well, foreign. However, you're sure to find that the basic necessities and luxuries are readily available.
Finding a Place to Live in France
If you plan to rent a home in France, we recommend preparing a personal account packet that includes passport and visa copies, recent payslips, or a copy of your employment contract. You may also need to supply details of a guarantor or someone who can guarantee your rent payments.
Employers or banks can usually be listed as guarantors. Additionally, a real estate agent who specializes in finding homes for expats may be able to line up some listings which do not require guarantors.
Finding a Job in France
Employment is available for expats in France. Job posting sites where you can upload your resume and cover letter are excellent resources for finding work in the country. English-speaking tourist and teaching jobs are always in demand.
Getting Around in France
Private vehicle ownership is popular in France. However, the rail network is excellent and will often get you to your destination faster than a car. Bus travel is also available as a budget-friendly option that allows you to relax and take in the scenery.
Healthcare in France
If you're going to live in France, you'll be required to have healthcare. The country offers universal healthcare for all residents legally living and working there, regardless of financial status or citizenship.
After three months of living in France, you'll be eligible to receive standard healthcare that covers 70% of your medical bills. The remaining amount is payable through private insurance or out of pocket.
Education in France
The French higher education system is one of the best and most accessible in the world. Low tuition fees and world-class education make France an excellent choice for higher learning. The country's education system is a top-rated option for those choosing to study business-related subjects.
France has 71 government-funded public universities, all with excellent programs for both domestic and international students that are available from under $250 to around $460, depending on your education level.
How do I Find an International Moving Company to France?
Finding the right international moving company for you is crucial for making the adventure to your new home as seamless and straightforward as possible. Ensure your mover is up to the task by meeting the following criteria.
The company is listed and in compliance with FMCSA
Listed and in compliance with the Federal Maritime Commission

Is appropriately licensed and insured

Offer additional moving insurance protection

Can provide checkable referrals from past customers
Get an International Moving Quote to France
Contact your international moving company and request a moving quote. You'll have the opportunity to speak with a professional who'll provide you with the information you need to start your journey today.