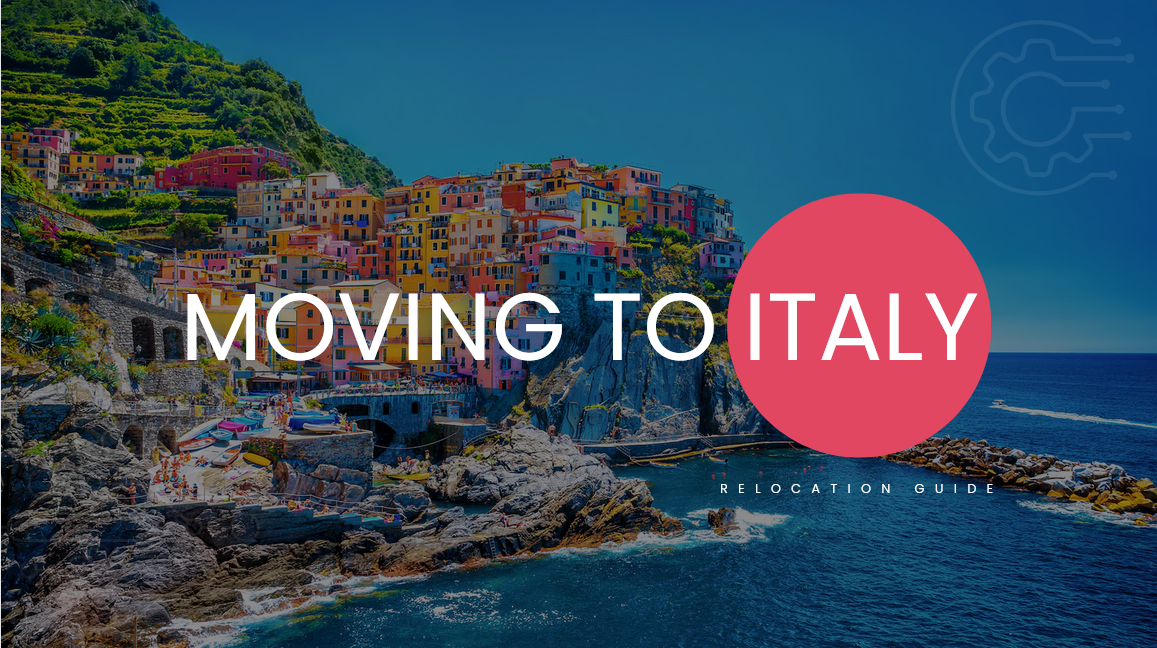 Moving to Italy From the US
You won't find any expats living in Italy that fit into a single category. The beauty of Italy, besides its natural beauty, of course, is the simple fact that there's something there for everyone. Moving to Italy from the US promises amazing things and places to explore.
Whether you're a foodie, romantic, history buff, jet setter, or whatever you choose to call yourself, Italy is sure to deliver. Here are just a few things that set life in Italy apart from everywhere else.
Deep, rich culture with an extensive history

Amazing food, wine, & coffee

Slow pace of life

Friendly, life-loving people

World-renowned art galleries & museums

Varied geography and climates

Food. Italian food. Need we say more?
How to Move to Italy
The key to successfully relocating to Italy requires plenty of preparation. Expect to spend a lot of time and energy researching your move and strongly consider learning Italian. Although you can likely get by speaking only English, you'll be better received and understood if you have a fair grasp of the native language.
Read Here: The Best Timeline to Start Planning Your International Packing
What is the Process for Moving to Italy?
Deciding to move to Italy involves many moving steps. An essential first step is to create an international moving checklist. Keeping track of all the tasks that lay ahead and staying organized can minimize unwelcome surprises.
Remember to delegate tasks when possible. The best international moving companies are ready to help you every step of the way. Let them handle the heavy stuff. The process of moving to Italy follows the steps below.
Choose your destination. Italy has everything, large bustling cities, beaches, mountains, and tranquil country villages.

Create a moving budget and hold on to a few months' savings to spend getting settled once you arrive.

Learn about residency requirements in Italy and decide what requirements you'll need to satisfy.

Purchase travel insurance to cover your initial healthcare needs while you wait to become eligible for public or private Italian healthcare.

Make a detailed inventory of all the items you're taking to Italy, including household goods and vehicles.

Organize your cell phone service, financial accounts, driver's license, and other must-haves before moving to Italy.

Pack and move to Italy.
Best International Movers from the US to Italy
How Long Can I Stay in Italy?
Americans intending to stay in Italy for less than 90 days won't need to worry about visas. However, staying longer than that will require you to obtain a visa or residency permit.
Italian Residency Permits
There are two types of residency permits to consider when moving to Italy.
Permesso di Soggiorno is a temporary, renewable residence permit with varying validity durations.
Carta di Soggiorno is a permanent residence permit issued for an indefinite period.
Expats Work Visa
Work visas can be tricky and time-consuming to obtain. Start preparations well in advance of your move. Italian work visas are typically valid for two years or less. However, you can often renew them for up to five years.
Your employer must initiate a work visa on your behalf by acquiring a permit from the Immigration Department. There are annual caps on the number of work permits granted by the government. However, foreign nationals typically qualify for a work visa upon receiving an offer from an Italian company.
Retirees
Yes, Americans can retire in Italy. For visits longer than 90 days, apply for an Elective or Italian Retirement visa. Retirement visas are intended for retirees who can prove a passive income to support themselves without working in Italy.
Student
Student visas are for those applying to an Italian university. They're valid for one year and renewable until you finish your education. Start the visa application process as soon as you receive your acceptance letter from an Italian university. Expect an invitation to the Italian Consulate after you submit your application.
Digital nomads
Digital nomads can apply for a self-employment visa for freelancers. The self-employment visa is typically valid for two years. However, it bears mentioning that a self-employment visa is challenging and time-consuming to obtain. Additionally, Italy only offers limited quantities of them each year. Start your application process early and assume that the process will take a while.
Getting Your Items to Italy
Preparing yourself for your move to Italy is one thing. Getting your possessions ready for the adventure is quite another. Remember that your relocation company is on your team as you plan, organize, and execute everything necessary to make your move as seamless as possible.
Talk to your mover about Italy's standing offer to allow duty-free importation of your possessions within six months of receiving your residency certificate.

How do I Ship My Household Items to Italy?
Overseas moving takes time and involves container shipping or, essentially, putting your possessions in a large metal box and placing it on a cargo ship to be unloaded at a seaport near your new home or transported from there to your new home. The process typically takes four to six weeks to accomplish.
Sending your possessions by air freight is the more costly shipping method. But, it speeds up the moving process to between two and four weeks and can easily get your household items to inland destinations.
Whichever way you choose, your possessions may also require temporary or long-term storage at your destination or in your former location. Using storage solutions is common for persons moving long distances to keep everything simple and organized.
How Much Does it Cost to Move My Belongings to Italy?
Moving to Italy typically costs between $1,500 and $12,000. The cost of moving to other European destinations depends on how much you take and your destination.
How Can I Save Money Moving to Italy?
International moving is a significant investment. However, you can take several steps to lessen the stress on your wallet.
Less is more. The adage of pack light is crucial for any move and doubly so when moving internationally. Purging and downsizing are rule number one for satisfying a limited moving budget.
Your mover should offer professional packing services. However, they should also offer you the opportunity to save money by packing your own possessions.
Unloading your own container at your destination can save cash over having your mover perform the task.

If your moving date is flexible, let your mover know in exchange for a discounted rate.

Use an international moving cost calculator to discover where else you can save a few dollars.

Compare individual moving companies based on price and the services they can provide.

Don't be shy about asking for discounts from your mover. A good moving company understands that flexibility on its part is good for business.
Calculate your moving cost to Italy
Can I Ship my Car to Italy?
It's certainly possible to ship your car, truck, or motorcycle to Italy. Remember that whatever you bring with you must clear Italian customs before entry. You can import a vehicle duty-free within six months of receiving your residency certificate. You must have owned the automobile for more than one year and must obtain Italian license plates.
Navigating Italian Customs
Italian customs monitors everything that comes into the country, whether it's a commercial product, your automobile, or household possessions. One of the services your international moving company provides as part of your move is assisting you with the paperwork and compliance requirements for wherever you're moving. For the most part, having an excellent moving company in your corner and leaving behind cleaners, liquids, food, or hazardous materials will make your experience with Italian customs like strolling through a small town piazza.
Should I get moving insurance?
Your stuff is traveling a long way. Nobody likes to talk about it, but things can happen that damage your possessions. Purchasing additional international or marine insurance costs an average of 3% of your shipment's declared value, a small price to pay for peace of mind.
Can I Take My Pets to Italy?
Your pets are welcome in Italy, up to five of them, in fact. However, there are some requirements you must establish before bringing them along. To get your pet to Italy, provide them with the following items, and know that your pet must be older than three months to come with you.
Signed and valid Veterinary Certificate

Current and valid rabies vaccine record.

Tattoo or microchip identification device

A cage or carrier labeled with your name and contact number in Italy.
How Much Does it Cost to Live in Italy?
Italy is roughly 40-50% less expensive than the US. In fact, Italy is one of the least expensive countries in western Europe. That's good news for expats and retirees looking to stretch their nest eggs. However, if you plan on working in Italy, expect lower pay to coincide with the lower cost of living.
How Much Money Should I Take to Italy?
Plan on taking savings of at least three times your monthly expenses. Upfront fees upon your arrival in the country could include a housing deposit equalling up to a few months' rent, insurance, and setting up your new place.
The visa or residency permit you obtain may also have additional financial requirements to meet.
Living in Italy
Life generally seems to move slower in Italy. Italians prioritize family, slow, fresh meals, and great wine or coffee over lengthy conversations. Although Italians are widely known as friendly people, expect the need to adapt to their culture instead of the other way around.
Finding a Place to Live in Italy
Choosing just one place to live in Italy will likely be one of the most challenging aspects you'll face when moving there. Will it be mountains, a metropolis, or a sleepy village? Wherever you choose will be stunning.
Start your house or apartment search from the US. A quick internet search can give you a host of results and options. Consider using social media rental groups or referrals to aid your search.
Finding a Job in Italy
The unemployment rate in Italy is high, and many specific jobs are only available to locals. However, English-speaking tourist and teaching jobs are often available. Online job search sites offer many opportunities and let you know which languages you'll need to know and understand for the position.
Recruitment agency services can also be helpful. They can walk you through the process and identify opportunities matching your skills and strengths.
Getting Around in Italy
There's little that you won't want to see and experience in Italy. Roads there are generally in good condition. However, guard rails and other safety considerations are often absent. Beyond driving yourself, there's no lack of transportation methods. Planes, trains, private drivers, buses, taxis, ride-sharing apps, boats, and ferries are all popular means of travel.
Healthcare in Italy
A crucial distinction between Italy and many other European countries is that the Italian public healthcare system is managed regionally, not nationally. Due to that fact, service and care levels vary from region to region. Be prepared for long waiting times in Italy to see a professional when using the public healthcare system.
If you're not staying long, consider obtaining an international healthcare plan. If you're staying more than a few months, you can enroll in the regional care system by paying a fee based on your income or obtain private health insurance.
Education in Italy
Bilateral education programs in which US students can study in Italy are plentiful. For the same tuition, you can study abroad and maintain all of your credits at your home university. Search for your school's participation in such a program.
If you would like to study for your entire bachelor's or master's degree in Italy, start very early, as you'll need to meet a long list of requirements to make it happen.
Remember, however, that outside of the bilateral exchange programs, most university classes are taught in Italian, and, to enroll in them, you must prove proficiency in the language.
How do I Find an International Moving Company?
Finding the right international moving company for you is crucial for making the adventure to your new home as seamless and straightforward as possible. Ensure your mover is up to the task by meeting the following criteria.
Company is listed and in compliance with FMCSA
Listed and in compliance with the Federal Maritime Commission

Is appropriately licensed and insured

Offer additional moving insurance protection

Can provide checkable referrals from past customers
Get an International Moving Quote to Italy
Contact your international moving company and request a moving quote to Italy. You'll have the opportunity to speak with a professional who'll provide you with the information you need to start your journey today.