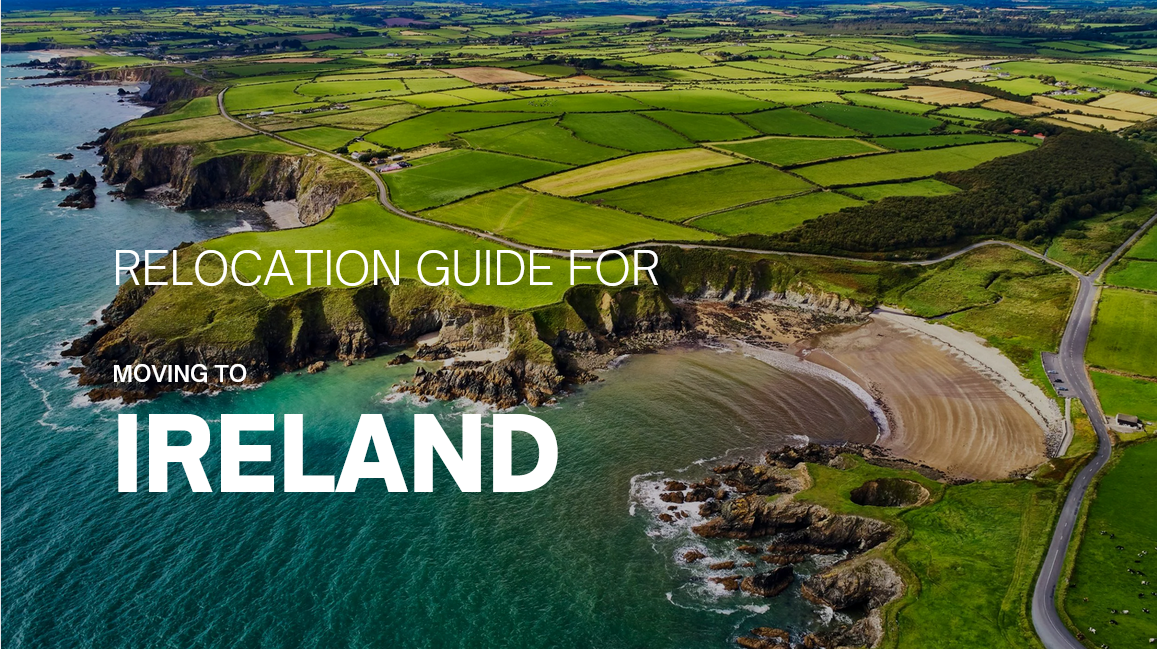 Moving to Ireland From the US
Being a small country with tons to offer, we're not surprised you're considering moving to Ireland from the US. Known as the Emerald Isle for its intense shades of green and breathtaking coastlines, Ireland will take your breath away while hiking Killarney National Park, sipping the good life on a whiskey tour, or strolling the cobbled stoned streets of Galway.
Its location is ideal for exploring the rest of Europe, as Dublin is an international hub from where you can connect to even more distant cities. Ireland is safe, and the people are friendly, making attending the many festivals and historical sites a blissful experience.
Read Here: Cost of Moving to Dublin
How to Move to Ireland
The key to successfully relocating to Ireland requires doing a lot of homework. Expect to spend plenty of time and energy researching your move.
What's the Process for Moving to Ireland?
Moving to Ireland involves setting many parts in motion. A crucial first step is to create an international moving checklist. Keeping track of all the upcoming tasks and staying organized will minimize unwelcome surprises.
Remember to delegate when possible. The best international moving companies are ready to help you every step of the way. Let them handle the tough stuff for you. Moving to Ireland is possible by following the steps below.
Choose your destination. Ireland has everything from large bustling cities to staggering cliffs, castles, beaches, and tranquil country villages.

Create a moving budget and include a few months' savings to spend for getting settled once you arrive.

Learn about residency requirements in Ireland to get an idea of what you may need and how to qualify.

Purchase travel insurance to cover your initial healthcare needs while you wait to become eligible for public or private Irish healthcare.

Make a detailed inventory of all the items you're taking to Ireland, including household goods and vehicles.

Organize your cell phone service, financial accounts, driver's license, and other must-haves before moving to Ireland.

Pack and move to Ireland.
How Long Can I Stay in Ireland?
Americans who intend to stay in Ireland for less than 90 days don't need to worry about visa restrictions. However, If you plan to stay longer than 90 days, you have three options: going to work, studying, or retiring.
A long-term, single-entry visa, called the D-visa, will allow you to travel to Ireland to search for a job, a course of study, or join an immediate family member already living there.
The Irish Immigration Service can guide you on whichever route you choose. Regardless, there are three steps to the process, including obtaining permission, submitting a visa request, and registering your intention by formally applying.
Expat Work Visa
Work visas can be tricky and time-consuming to obtain. Be sure to start the prep work long before you intend to move. You must have a job secured before applying for the visa, and be aware that EU citizens receive preference over foreigners in most instances.
Retirees
Americans can retire in Ireland, but there are procedures to follow and financial conditions to be met. To be eligible for retirement in Ireland, you must be able to support yourself financially. Your stay won't entitle you to access State benefits while living there, and you must be considered a person of independent means.
To qualify as a person of independent means, you'll need proof of income totaling €50,000 per year. Additionally, you must have access to a lump sum of money to cover unexpected major expenses. The sum must be at least equal to the purchase price of a residential dwelling. Your documentation needs to be certified by an Irish accountancy firm and presented in the appropriate form.
Students
To study for longer than 90 days in Ireland, you'll need to obtain an Irish Residence Permit once you are physically in Ireland. Documentation from your university, including an acceptance letter, is necessary to apply for the permit. You'll also need to register with the local immigration office once you arrive in your host city.
Digital nomads
Although there aren't any programs specifically designed for digital nomads in Ireland, Those who wish to work independently in the Country can apply for a Self-employment Visa in addition to a Temporary Resident Permit. Obtaining the visa requires you to meet specific income guidelines.
After three months of living in Ireland, you'll need to prove one of the following criteria to satisfy your temporary residency.
You're employed or self-employed

You have enough money and health insurance coverage that you won't burden the social service of the Country.

You're enrolled in study or working as a vocational trainee.

You have an EU citizen family member that meets one of the above requirements.
Ages 18-35
Ireland and the US share a program called the Ireland Working Holiday Visa which allows people aged 18 to 35 to work in Ireland for a year. Spots are limited, and you must not currently be in Ireland when you apply.
Getting Your Stuff to Ireland
Preparing yourself for your move to Ireland is one thing. Getting your possessions ready for your new life is quite another. Remember that your relocation company is on your team as you plan, organize, and execute everything necessary to make your move as seamless as possible.
Best International Movers to Ireland
How do I Ship My Household Items to Ireland?
Overseas moving takes time. Container shipping, or putting your possessions in a large metal box and placing it on a cargo ship, is the most common method of getting your stuff to your destination. The process typically takes four to six weeks to complete.
Air freight, although the more costly shipping method, speeds up the moving process to between two and four weeks and can more easily get your household items to inland destinations.
Whichever method you choose, your stuff may also need temporary or long-term storage at your destination or in the location you're leaving behind. Employing storage solutions is common for persons moving long distances to keep things simple and organized.
How Much Does it Cost to Move My Belongings to Ireland?
Moving overseas typically costs between $1,500 and $12,000. The cost of moving to Ireland or other European destinations depends on how much you take and where you're going.
How Can I Save Money Moving to Ireland?
International moving is a significant investment. However, there are several things you can do to reduce the stress on your moving budget.
Less is more. The adage of pack light is crucial for any move and doubly so when moving internationally. Purging and downsizing are the rules if you need to meet a limited moving budget.
Your mover should offer professional packing services. However, they should also offer you the opportunity to save money by packing your own possessions.
Unloading your own container at your destination can save cash over having your mover perform the task.

If your moving date is flexible, let your mover know in exchange for a discounted rate.

Use an international moving cost calculator to discover where else you can save a few dollars.

Compare individual moving companies based on price and the services they can provide.

Don't be shy about asking for discounts from your mover. A good moving company understands that flexibility on its part is good for business.
Can I Ship my Car to Ireland?
It's possible to ship your car, truck, or motorcycle to Ireland. Remember that whatever you bring with you must clear Irish customs before it enters the country. Your moving company can direct you through the details. All cars in Ireland need to be insured as well.
Navigating Irish Customs
Irish customs monitors everything that comes into the country, regardless of why or how it gets there. One of the services your international moving company provides as part of your move is assisting you with the paperwork and compliance requirements for wherever you're moving. For the most part, leaving behind cleaners, liquids, food, or hazardous materials will make your experience through Irish customs pleasant and painless.
Should I get moving insurance?
Moving insurance is strongly recommended for international moving, if only for your own peace of mind. Your stuff is traveling a long way. Nobody likes to talk about it, but things can happen that damage your goods. Purchasing additional international or marine insurance costs around 3% of your shipment's declared value. It's not required but is highly beneficial on the rare occasion that something goes awry.
Can I Take My Pets to Ireland?
Your pets are welcome in Ireland, up to five of them, in fact. However, there are a few things to know before bringing them along. First, your pet must arrive with you or someone you know within five days before or after your arrival. You must prove with original paperwork, not copies, that your pet has a valid, vet-completed EU Health Certificate, current rabies vaccination, an identifying tattoo or microchip, and is more than three months old.

How Much Does it Cost to Live in Ireland?
Overall, Ireland's cost of living is more than that of the US. However, If you come from a city with a high cost of living in the US and move to a smaller town in Ireland, you'll find it quite affordable.
How Much Money Should I Take to Ireland?
Plan on taking savings of at least three times your monthly expenses. Upfront fees upon your arrival in the country could include a housing deposit equalling up to three months of rent, insurance, and setting up your new place.
The visa or residency permit you obtain may also have additional financial requirements to meet.
Living in Ireland
Expats will feel right at home in an Irish conversation. Although Ireland has its own language, English is universally accepted for everyday communication. You won't need to become fluent in Irish to get by during your stay.
Establish Communication
You won't need to learn the Irish language when you move to Ireland. However, communication is crucial. Perhaps the first item of business should be to acquire an Irish phone number. Before leaving the US, ensure your phone is unlocked. Once in Ireland, buy a SIM card to install in your phone to access the internet and make calls.
Finding a Place to Live in Ireland
Housing in Ireland is in high demand and low supply, causing prices to be higher than expected. However, scouring online rental and real estate sites often yields adequate results. When looking for accommodations, consider your proximity to work or school, your kids' schools, and shopping if you'll rely on public transportation.
Finding a Job in Ireland
Finding a job in Ireland is tricky but not impossible. The best tip is to start networking through online job search platforms and reaching out directly to potential employers in Ireland.
Another choice is to contact a recruitment agency service. They can help walk you through the process and identify opportunities that best match your skills and strengths.
Getting Around in Ireland
You won't be able to use a ride-sharing app in Ireland. Private taxi service is prohibited. However, public transportation in the Country is adequate to get you to most places. Private and public buses are economical. Remember to book your trips early for the best fares. Trains, bicycles, and boats offer a unique way to see the country, and ferries allow you to relax and experience Ireland's beauty while getting to your destination.
If you choose to drive an automobile, remember that Ireland's roads are driven on the left side, you must be insured, and speed limit signs only indicate kilometers per hour.
Healthcare in Ireland
Healthcare in Ireland is high quality, and facilities are modern. Americans living in Ireland may be eligible for government-funded public health services, which are either free or subsidized. The Irish healthcare system is a two-tier system in which public or private healthcare facilities can be accessed depending on the needs of an individual's specific circumstances.
Education in Ireland
Ireland is one of the most popular destinations for US students studying abroad. Ireland welcomes international students and provides a life-changing experience, offering each student a well-rounded educational perspective.
The Irish Embassy works closely with universities and colleges to create a clear path for American students to study on the Emerald Isle.
How do I Find an International Moving Company?
Finding the right international moving company for you is crucial for making the adventure to your new home as seamless and straightforward as possible. Ensure your mover is up to the task by meeting the following criteria.
Company is listed and in compliance with FMCSA
Listed and in compliance with the Federal Maritime Commission

Is appropriately licensed and insured

Offer additional moving insurance protection

Can provide checkable referrals from past customers

Get an International Moving Quote to Ireland
Contact your international moving company and request a moving quote. You'll have the opportunity to speak with a professional who'll provide you with the information you need to start your journey today.