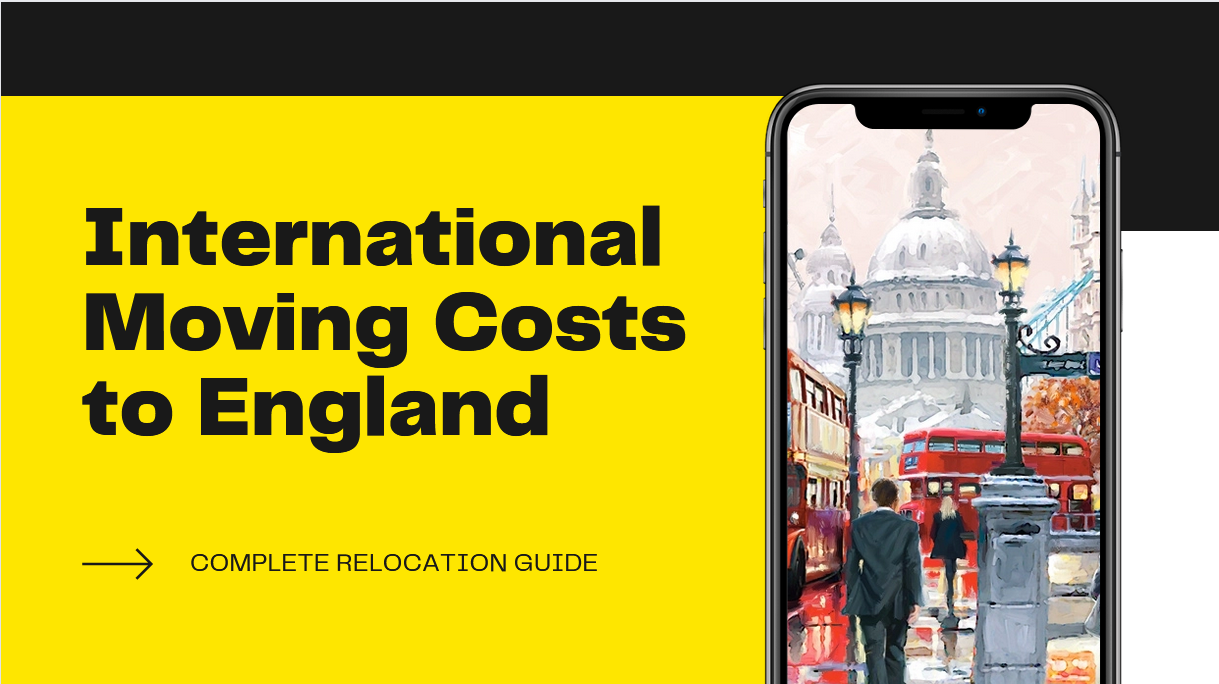 International Moving Costs when moving to England – All you need to know in 2023
Is it your dream to start over in a new country but need help figuring out where to start? Knowing the international moving cost to England can get you one step closer (or shatter your dreams); it depends on your expectations.
Many factors can affect the cost of moving overseas, but the good news is we will lay them all out for you so you can make a sound decision on hiring an international mover.
Okay, so let's get started.
How much will it cost me to move to England?
The cost of moving to England is $2000 to $9500 on average. The amount of stuff you ship, along with service, will be the most significant factor that will affect costs. Look for an international moving company that exports to England often, and you will find the most affordable pricing.

Learn more about: Moving to England from the US
How are international moving costs calculated?
Your move's volume, destination, and service make up your international moving costs. Other factors affecting price are the time of year and your international mover's experience with your destination country. Find the breakdown below of how charges are calculated for overseas moves:
Volume: The size of your move will be the most significant factor affecting costs. The more you have, the higher the price. Consider getting rid of items you don't use to save money.
Service: The service you choose can also impact your cost. Ocean shipping is the most common and least expensive shipping method. Additionally, you can select to self-pack your household goods or hire a professional.
Destination: Cities in England located by a seaport will be less expensive due to the distance for delivery. For Example, moving to London will be less costly than going to Cambridge.
Time of year: Sometimes we can't control our moving dates, but if you can move during the winter months when moving costs are less expensive.
Look for an international moving company who ships to England often. Their pricing will be more competitive than a mover with less experience or connections.
Read Here: How to Save Money on an International Move
What's the cheapest international moving service?
Due to cost, ocean freight is the most widely used shipping method. You can have your household items delivered door-to-door or pick up your stuff at a port warehouse in London, for Example. Below are the different international moving services:
Ocean Freight

Air Freight

Professional Packing

Crating (Pool Tables, Pianos, Paintings, etc.)

Customs Clearance

Delivery

Off-loading and Removal of Packing Debris

Storage (Short & Long-Term)

International car shipping

Insurance Coverage
If you need help with the best international moving services, you can speak to a relocation company that will walk you through the process and makes suggestions.
Read Here: 12 Tips to moving overseas cheaply
Top International Movers USA to England
Ways to ship your stuff overseas
You may be confused about how to get your stuff from A to Z. Below is a breakdown of the different international shipping options:
Door-to-door: An international mover will pick you up from your origin and deliver you to your final destination.
Door-to-port: If you're moving to a city located by a major port like Felixstowe. You can pick it up from the port warehouse, but ensure all port-related charges are covered.
Port-to-Door: If you have a small move and live nearby a port, you can drop your stuff off and save money. However, you can only arrive at the dock with a smaller shipment.
Port-to-port: This is the cheapest shipping option, but you must drop off and pick up your household goods.
Your budget and circumstances best indicate what international moving service to choose. Ask your overseas mover for various estimates for comparison.

What are the best ways to save money on an overseas move?
We all want to save money, but sometimes it's worth spending it for peace of mind and convenience. Below are tips on how to reduce the cost of your international move so you can decide:
Declutter: Reducing your move size will have the biggest impact on the cost of your move.
Self-pack: Although self-packing is a sure way to save a few bucks, you should consider the pros and cons before committing.,
Service: Dropping off or picking up household goods at the port significantly reduces international moving costs.
Your mover: Look for a reputable international moving company with experience in shipping to England. It will help you save money.
Move in the winter: Winter is off-season for relocation companies. It will be about 20% cheaper than in the summer.
Ask your international mover about other money-saving options when requesting a shipping quote.
Should I self-pack for an international move?
Packing is a way to save money, but it can also be daunting – getting the right packing supplies and the time and labor can distract you from organizing yourself for the big move. Here are a few things to consider when packing for an overseas move:
The suitable packing material: Unlike a domestic move, international moving involves more modes of transportation, especially on a door-to-door move. Finding the right supplies and packing correctly is essential to ensure no damage.
It can be time-consuming: Leave the packing up to the pros if you're in a time crunch. Self-packing for an international move can take time and a lot of planning.
Knowledge of packing: An overseas move can be tricky. Items need to be packed in a way that they will avoid damage through rough terrain.
It will affect insurance: packed by owner moves can get total loss insurance coverage covering the shipment as a whole, not individual items.
With that said, self-packing can save you money. However, weigh the pros and cons before deciding the best route.
Read Here: Do you need International Moving Insurance?

Moving insurance is something to consider
If you're moving overseas with furniture, then moving insurance is something you should consider. Although insurance claims aren't common, they can happen, so it's better to be safe than sorry.
Insurance costs range from 2% to 4% of your good's declared value. Speaking with your choice international moving company about their insurance policies and costs is best.
How much does it cost to ship a car to England?
Shipping a single car to England will cost $1000 to $3500 – service, year, make, and model will be the most significant cost factors. Below is a list of international car shipping services from least to most expensive:
Roll-on Roll-off (RORO): if you're on a budget, then RORO may be your best option. It's the least expensive shipping method to England.
Shared container: Sharing a container with others or using a consolidation service is a great way to save money while having your vehicle in a container.
Sole Container: An exclusive container is best if you have a classic car or you're shipping household goods and a vehicle.
Air freight: Shipping by air can be costly, but there's no better way if you're in a hurry.
International moving costs to England will vary from mover to move. Additionally, Shipping a car overseas requires some documents, so it's best to speak with an international car shipping company about the details.

Storage
Sometimes we need to store items for a while while we get settled into our new digs. Costs for storage vary from mover to mover but average 50 cents to $1 per cubic foot per month. Below are the different storage options you'll have to choose from:
Short-term storage: Short-term storage is the answer if you want to store your goods for weeks or days. You can have them stored in England and deliveries once you're ready.
Long-term Storage: If you need a few months or more of storage, consider storing your items at the place of origin, which may help reduce storage costs. However, it would help if you also enquired about an air-conditioned temperature-controlled unit.
You must ask your international relocation company about their insurance policies while storing your goods.
Is international air freight expensive?
International moving costs to England by air can be pricey. However, if you're in a hurry to get your stuff and your budget is no concern, shipping by air freight is a good option. Air transport is the most expensive way to ship overseas and can run anywhere from $2500 to $14,000. The size of your move and service will be the most significant cost factor.
How much will it cost to transport my pet to England?
If you're hopping on a flight with your pet as baggage, it will cost $200 to $400. Transporting your animal to England as a stand-alone service can cost $1500 to $3000. Here is what you need to know:
The documents necessary for transporting animals abroad vary, but some of the main ones include proof of up-to-date vaccinations, health certificates, export permits, and pet passports. You can contact a company like Air Animal, who will provide step-by-step instructions.

Additional costs to consider when moving to England
Visas and legal fees
The visa cost will depend on the length of stay or reasons for moving to England, but you can expect to pay around $2000. Visas fees will naturally increase by adding additional family members.
If you're moving to England for work or study, you'll pay less, but these visas have specific parameters regarding the purpose and length of your stay in England.
Also, consult a lawyer if you need help navigating the paperwork and legalities. An immigration attorney can charge up to $200 per hour.
Transportation and housing
When calculating international moving costs to England, transportation and housing are something to consider. You must book flights, hotels, and transportation around the city. You should set aside a few thousand dollars for these additional expenses.
Healthcare in England
In England, healthcare is free at the point of use for all UK residents. It means that no one should be turned away from essential medical treatment due to an inability to pay. The NHS (National Health Service) provides services such as GP visits, hospital care, mental health support, and some social care free of charge.
However, some treatments, such as dental care and prescription medications, incur a charge. The cost of these services will vary depending on individual circumstances.
In addition, private healthcare options are available for those who wish to pay for their care. These can provide faster access to specific treatments and more choices for doctors and hospitals.
How much is Childcare in England?
The cost of childcare in England can vary greatly depending on the type of childcare you need. According to figures from the Family and Childcare Trust, full-time nursery care for a child aged two or over costs an average of £7,549 per year in England. For those under two, it's even more expensive at £9,619 per year.
Childminders are usually cheaper than nursery care, with an average cost of £5,711 per year for a child aged two or over and £7,477 for those under two. Other types of childcare, such as after-school clubs, also vary in cost depending on the activities offered and the time the child spends there.
When looking for childcare in England, it's important to remember that prices vary widely between providers. It can be helpful to shop around to see what deals are available and compare prices from different nurseries or childminders.
Resources:
How to choose the right international moving company
Finding the right international moving company can feel like a daunting task. But with a few simple steps, you can ensure that your company is reputable and your household goods are in good hands. First, research companies, read online reviews, and ensure they're properly licensed.
Next, consider your budget, find an overseas mover who can work with you, and find the most economical route for your household items. Although international moving costs to England should be a factor, they should not determine who you choose to work with. Always go with a mover who makes you feel comfortable and answers all your questions. Follow these simple steps, and you'll find the right company.
Conclusion
England is one of the most common routes for US expats making international moving costs to England less than most destinations.
You must look for an international moving company with experience shipping to England. You will find that costs are cheaper and you will have a better overall experience.
International van Lines is a lisenced international moving company that offers ocean and air shipping services to and from England. Please fill out an online form or call us for a quick quote.
We wish you the best of luck with your new venture and look forward to helping you.
Know More About International Van Lines