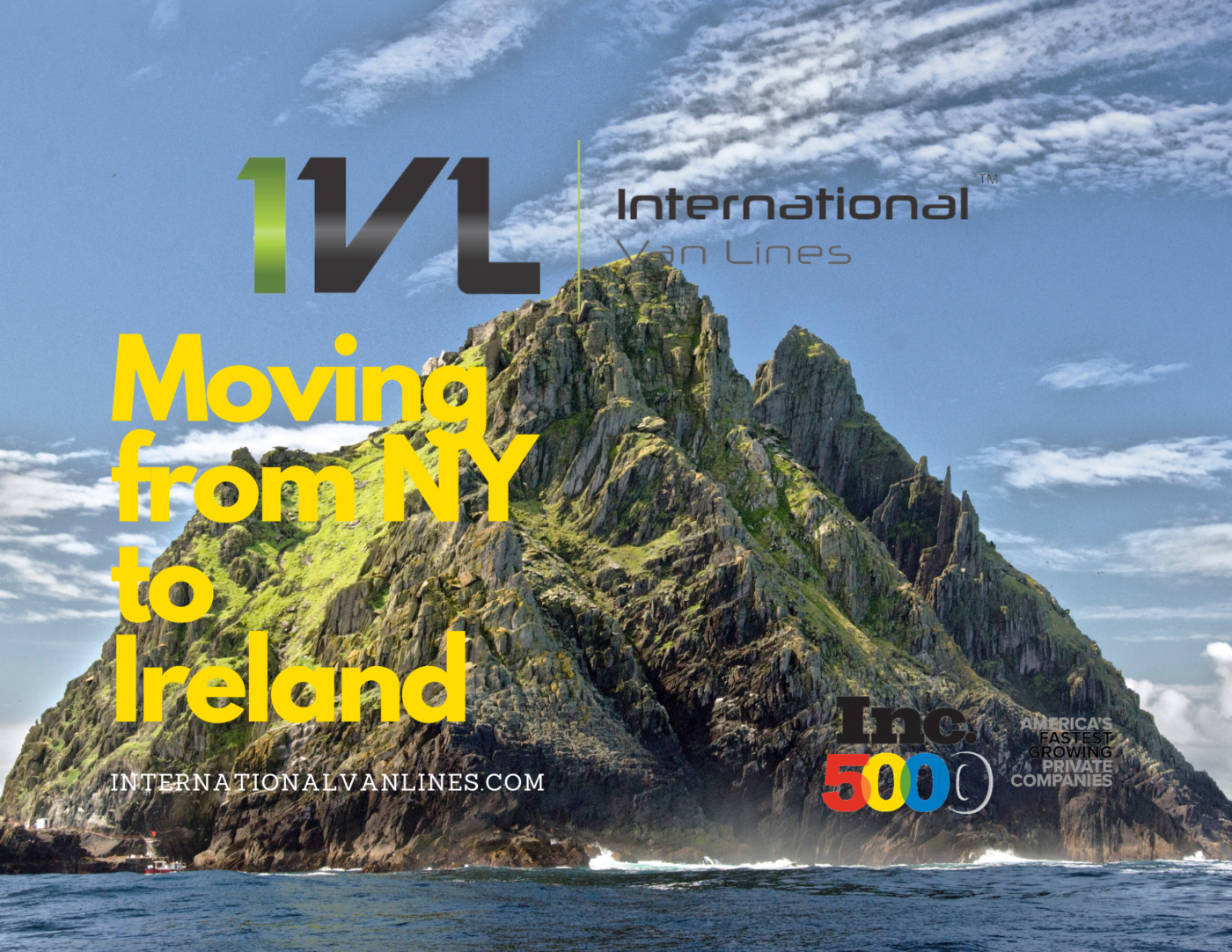 Start your research here if you're moving from NY to Ireland
Is moving from NY to Ireland your dream? If so, the good news is it's easier then most people think. Although moving to a new country requires a lot, it's quite simple. The most challenging part for an American citizen is getting a visa. The best place to start is with your nearest Irish embassy. The Irish Naturalisation and Immigration Service (INIS) is the best place to start. Established in 2005, INIS is a one-stop-shop concerning immigration, citizenship, and visas. Additionally, US citizens can travel to Ireland for three months without a permit. However, if you plan to stay longer, you will have a couple of options: go to work, study, or retire.
The D-visa is a one-time entry long-term visa which allows you to travel there to pursue a course of study or settle permanently with a family member that's an Ireland residence. Moving from NY to Ireland may appear challenging. However, we can provide you will all the tools and tips you need to not only move there but get your household goods to Ireland safely.
Moving household goods from NY to Ireland
Getting your household goods from NY to Ireland is simple. It is a matter of finding the right mover, getting a quote, and filling out the shipping forms. The method most commonly used for moving to Ireland is ocean freight transportation. It's the least expensive and most comfortable to manage. The typical transit time for ocean shipping is approximately 25-35 days door to door. The transit time is based on the time of year, company, and how much stuff you're moving. The more you have, the quicker it will be.
Additionally, movers can offer you full packing, loading, and customs clearance. The service type should be based on your budget, volume, and knowledge. As an example, port to port service would be the most economical. However, you'd be responsible for dropping off at the port and picking up at the port in Ireland, where you handle customs documentation.
Smaller moves from NY to Ireland
If you're moving from NY to Ireland and have a minimal amount of stuff, then consolidation service is your best option. Consolidation service is set up to group your goods with others that are also moving to Ireland. The main port of entry is Dublin, where your goods will be delivered to your final destination. A full door to door service includes all fees, customs, and delivery. The typical transit time on a consolidation service in between 25-35 days, but can vary based on volume.
To get a moving quote for a consolidation, create an inventory list of what you're moving and provide it to the relocation coordinator. It's essential to be as accurate as possible because the final cost is based on volume. International Van Lines also offers a virtual survey if you need assistance. Remember, consolidations are meant for smaller moves. If you're shipping an entire household, it would be best to get a closed container.
Sample Pricing
| VOLUME | PICK UP | OCEAN/DELIVERY |
| --- | --- | --- |
| 100-200 CFT | $200-$400 | $900-$1200 |
| 300-400 CFT | $550-$800 | $1500-$2100 |
| 500-600 CFT | $900-$1300 | $2200-$3800 |
*** RATES ARE SUBJECT TO CHANGE BASED ON WHAT YOU HAVE. THE RATES ABOVE ARE SAMPLE PRICES ONLY***
Moving a household from NY to Ireland
Full container loads (FCL) are used for transporting homes that are 2+ bedrooms. The container size is dependant on how much you have. However, generally speaking, if you have a 2 or 3 bedroom residence, a 20′ container would be sufficient. If you have more then a 40′ container would be ideal. The best way to calculate your volume is by getting a virtual survey. It can be done on your smartphone and will figure everything you have in cubic feet.
Additionally, you will have the option of a few services. Packing, loading, door to door, or door to port are just a few. It's always best to speak with a relocation coordinator to get more information about the different shipping options.
Movers that ship overseas
Unlike domestic moving, a company must have a valid license with the Federal Maritime Commission. However, when searching for movers, you will find that many claims to offer overseas moving services. It's illegal to operate an international moving company without the proper licensing.
Additionally, unlicensed movers will not be held liable in case of loss or damages. Companies like International Van Lines, Mayflower and United Van Lines are licensed companies that can offer you moving from NY to Ireland. It's essential to deal with a company that will handle your move from A to Z.
How to get a moving quote
Getting a quote for an international move takes minutes. We suggest creating an inventory list of what you're moving before you start calling. Some companies will offer you an in-home survey where others can provide a virtual review. IVL offers a virtual review which is more accurate than a human coming to your home. It's also less time-consuming. All you need is a smartphone, and we can walk you through the rest.
Ocean freight transportation is based on volume. The more you have, the more the cost will be. Now is an excellent time to start purging. Get rid of unwanted items that you don't need to help lighten the load. Speaking with a relocation professional is your best option to ensure accuracy and get all the different shipping options. We wish you the best with your move to Ireland and feel free to contact us if you have any questions.