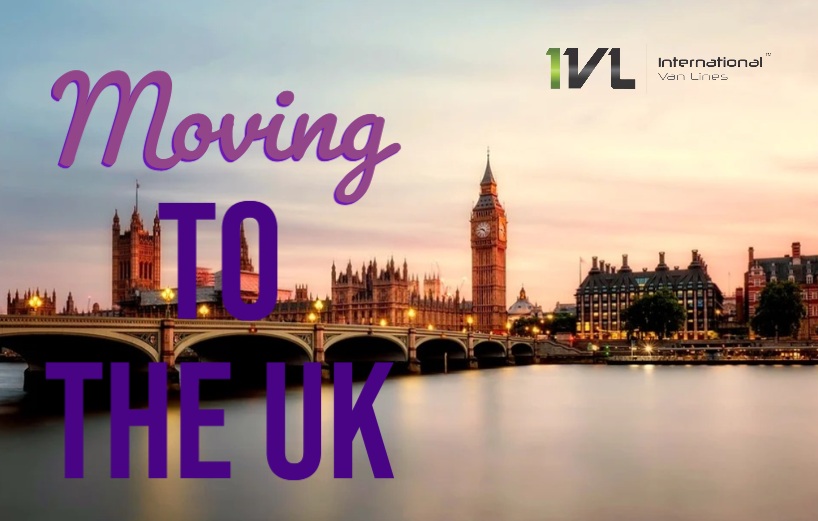 Moving to the UK
Considering its rich history, multicultural society, diverse cuisine, and lots more, moving to the UK can surely bring a lot of excitement into your life.
After all, the United Kingdom has long been a popular destination among people looking for new beginnings. It's not only full of opportunities but also boasts some of the most welcoming and vibrant cities in the world. London alone is home to more than 3 million foreign-born residents!
Given the various commonalities between the UK and the US, it makes it all the more easier for Americans to start a new life in this part of the world. However, don't let the thought of exploring castles and sipping tea in quaint gardens fool you.
Yes, you will be able to enjoy all that. But not before you have dealt with all the intricacies of international relocation.
From getting your documents ready to finding a reliable international moving service and tons of other things in between, moving abroad requires careful planning and proper forethought.
This comprehensive guide discusses everything you need to know before moving to the UK. The tips provided here will not only prepare you for the upcoming relocation, but also make the transition smooth, easy, and even enjoyable!
Visa and Work Permits
This is only obvious – but just in case you were having any fancy thoughts, know that all US citizens need a visa to live in the UK.
While you can live there for months on a tourist visa, you cannot go job hunting in the UK without obtaining a resident visa or a work permit first. Even digital nomads from foreign countries are prohibited to work in the UK without a visa.
If you are a national of any European Union country currently residing in the US, there's some bad news. The visa application process for citizens of any country affected by Brexit has become a bit more complex.
For Americans, the general guidelines are the same as before. Nonetheless, the process itself has become more detailed as the UK has tightened the laws on immigration.
Make sure you are well informed about the ways to get a visa. The earlier you apply, the better.
The Main Pathways into the UK


People who wish to move to the UK have a wide range of options to get there. For instance, you may be eligible for citizenship if you are enrolled in a college or university in the UK, marry a UK national, or get hired by a company based in the UK.
Similarly, if you work for an international organization that has an operation base in the UK, you can request an intra-company transfer.
Keep in mind though that each visa type has its own requirements and limitations. For example, a Tier 4 Student Visa or Tier 2 Intra-Company Transfer Visa do not open the door for permanent residency in the country.
Also, the cost of visa differs from type to type as well as the application method. For example, if you apply for a general visa from your home country, it will cost you around 1,500 USD. But if you apply for the same visa while you are in the UK on tourism or any other type of visa, it will cost you considerably lesser – roughly 900 USD!
Housing Options
Finding accommodation in the UK must not be taken lightly. With an incredibly fast-paced housing market, you need to be quick and think ahead of yourself in order to secure a decent living space.
For many people, the job dictates where they should find a house or an apartment.
However, if you have complete liberty to choose, think about your lifestyle preferences and of course, budget. Despite all the opportunities that is offers, London is notorious for its high cost of living. Many other large towns and cities in the UK have similarly high-priced residential units.
If you can forgo nighttime economies and urban spaces, you can easily find affordable housing options in the relatively remote areas.
Healthcare
Healthcare in the UK is anything but cheap – not for Americans though.
If you have burned a hole in your pocket on medical services in the US, then the healthcare system in the UK will seem like a big blessing.
The country's National Healthcare System (NHS) is known as one of the best in the world. In reality, it's far from perfect but it offers great services at incredibly affordable rates. And by affordable, we mean almost free!
What's more, expats are allowed to avail all the services regardless of their employment status. You will get nearly all medical services and treatments for free. Prescriptions and dental procedures, however, are generally excluded from these benefits.
Nonetheless, as the age-old saying goes, all that glitters is not gold. You should expect long waiting times and be prepared to pay the immigration health surcharge when you apply for a visa.
While it's mandatory to pay the health surcharge, it's possible to avoid the long queues when you need to see a doctor. For faster access and better facilities, consider investing in private medical insurance.
Finances
When relocating internationally, it's important to get your finances sorted. This ensures you can support yourself and your family members in a foreign place.
Ideally, you should research your banking options and even open an account before you arrive in the UK. The high-street banks tend to take forever to process information and new applications. Thus, apply as soon as you can.
Additionally, you should consider using a mobile banking app as it will help you manage your finances on the go.
Moreover, try to develop a know-how of transferring money between the two countries, local tax systems, investment options and so on.
Tax Obligations When You Move
One more bad news for Americans who wish to move abroad – you won't be able to cut ties with Uncle Sam.
Yes, you read that right!
All US citizens are obligated to file a tax return even when they move to the UK or any other country for that matter.
Every cloud has a silver lining. The good news here is that the two countries have signed a tax treaty. This means that you can deduct taxes in your new country from what you would owe in your homeland.
It's not as simple as it sounds though. Many expats are forced to hire a professional to handle their tax returns. If you are not very well-versed in finance, it would help to start saving for that tax preparation bill. Expert attorney and financial advisor charge thousands of dollars after all.
Moving to the UK
Once you have done all the preliminary work, it's time to start packing your boxes.
Moving your stuff overseas will require the help of an international moving company. Generally, it's better if you ask for recommendations from your friends and relatives who may have hired a service in the past.
Their experience with an international mover can allow you to leverage the services of the same company if the performed up to the mark.
Alternatively, you can do a quick online search for the best international moving services in the US.
Here are some tips that will help you find the right moving company for your international relocation:
Reputation Matters – Focus on how long they have been in business, the countries that they serve, and the facilities that they offer (packing, transporting, shipping, storage etc.). Carefully read through reviews from previous customers. You can even contact them to learn more about their experience.
Services Offered – The best option is to hire a company that can not only help you pack and unpack all the stuff, but also carry it from your doorstep and deliver it at the new house abroad. Hiring different companies for packing, shipping and port to house transport can pile up costs. Plus, there's a risk of everything going haywire due to poor communication or even a minor mistake on anyone's part.
Customs Expertise – Customs clearance can be a nightmare for people moving internationally. Make sure that the service you choose promises to deal with customs and the tons of paperwork involved in the process. A good company will be familiar with the customs formalities and regulations of moving goods to the UK. They also know the anticipated charges such as port fees which allows you to allocate your budget accordingly.
As for the mode of transportation, shipping your belongings via sea is always the preferable option. Ocean freight is cheaper and more dependable than air freight. Also, it's much more flexible than air freight will little restrictions on what type of items can be shipped.
If you are looking for an experienced and reliable international moving company to help you in relocating to the UK, look no further than International Van Lines.
We are an award-winning moving company dedicated to making international relocation virtually hassle-free for our clients.
Get in touch now to see how we can help.