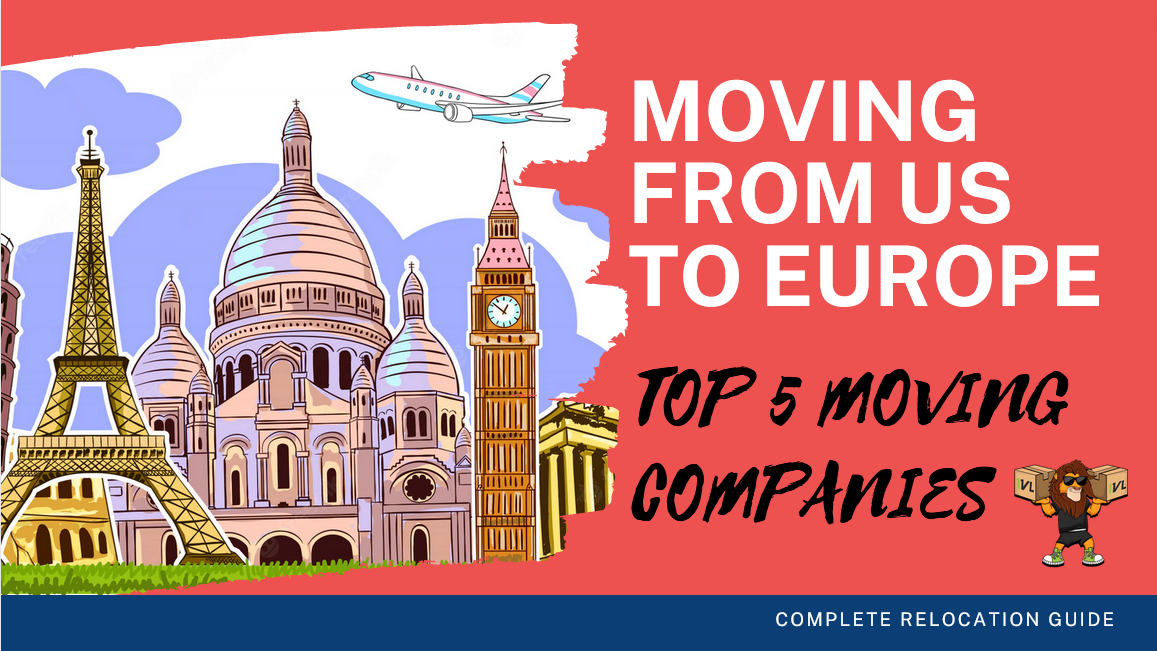 Best International Moving Companies US to Europe
Finding the best international moving companies to move from the US to Europe can take time and effort, especially with so many different companies claiming to be the quickest and most efficient. To help you start the process, we've put together a list of some of the top international moving companies with several years of experience moving people from the US to Europe.
1. International Van Lines – Most Comprehensive Services

International Van Lines is considered the best international moving company operating in the US at the moment. Groups such as Forbes, US News, and Newsweek rate International Van Lines as the country's number one national moving company. They are incredibly familiar with overseas licensing and customs requirements, have a network of international movers and partners, have experienced international movers that speak your language, and provide the highest level of service in the US and abroad.
Pros
Local, long-distance, cross-country, and international moves

Freight and air moving solutions

Domestic and international insurance

Operates in 180 countries

Great customer service

Free quotes

Sets you up relocation coordinators to help you plan your move ahead of time

Brokering services for places they don't cover

If your move is canceled, International Van Lines refunds one of the deposits paid up to 48 hours before the moving date
Cons
No simple pricing online. You have to call them to get a free quote

A 25% upfront deposit required

Some customers have reported inconsistent quotes

Unless you live close to an IVL office, you'll be working with subcontractors
Services
Local, long-distance, cross-country, and international moves in 180 countries

Auto Transport

Corporate relocations and office moves (commercial moves)

Ocean and air freight for international moves

Access to vetted subcontractors

Storage solutions

Online move calculator
2. JK Moving Services – Best for Corporate Relocation

Established in 1979, JK Moving Services has a lot of experience in the moving industry. They are based in Virginia but have Washington, DC, and Maryland offices. However, they specialize in corporate relocation for the most part. They're well-known for relocating furniture, equipment, and files in a safe and secure environment. They make their way to the list of Best International Moving Companies US to Europe.
Pros
Easy booking process

Received a FAIM Certification from FIDI, the federation of international movers

Community and eco-friendly

Exceptional corporate relocation services
Cons
Not recommended for tight budgets or local moves outside of DC and surrounding areas

Might not offer complete door-to-door services for residential moves
Services
Local (in Washington, DC, and some cities in Maryland and Virginia), long-distance, and international moves

Residential, government, commercial, and military moves

Corporate relocation services: office furniture disassembly and reassembly, cubicle disassembly and rebuilding, IT infrastructure removal and replacement, and more

Commercial storage solutions like data and records storage

Vehicle Moving

Move to finance

Online estimates
3. Rainier Overseas Movers – Great Reputation

Founded in 1979, Rainier Overseas Mover is a very experienced and well-respected international moving company based out of Newcastle, WA. The company has helped over 50,000 families move to their new homes worldwide. The company has an excellent reputation and experience with forms and customs needed for overseas relocation.
Pros
Quick quotes via phone, online or in-person

Attention to detail and excellent customer service
Cons
No fleet of their own. They subcontract their drivers, trucks, and trailers
Services
Local, long-distance, and international moves

Residential and corporate moves

Furniture disassembly and reassembly

Packing and unpacking

Online tracking
4. Allied Van Lines – Best Availability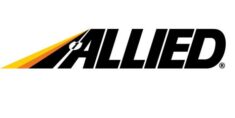 Allied Van Lines is a large moving and transportation company headquartered in Chicago that operates nationally. They have about 400 hundred North American agents and serve 45 countries. They transport household goods, cars, boats, and motorcycles between countries. Additionally, thanks to its large network of partners, Allied Van Lines has extensive availability no matter when you are moving. While an excellent overall moving company, their specialty is commercial moving. This makes them a key player among the Best International Moving Companies US to Europe.
Pros
Established in 1928. Almost 100 years of experience

Easy quote process

Wide availability across the US.
Cons
No 24/7 claims number

High costs for local moves

Quotes tend to be on the higher end
Services
Local, long-distance, and international moving

Short and long-term storage

Online tracking

Packing and unpacking

Furniture disassembly and reassembly

Auto and boat transport

Brokering services

Basic or full-coverage insurance
5. North American Van Lines – Best Experience

North American Van Lines offer a wide range of moving options to Europe. Specialized in long-distance and international moves but also provides local services for residential, commercial, and military clients. They stand out for the add-ons such as packing and unpacking, temporary storage, and furniture disassembly. North American Van Lines has experience with expats relocating, moving goods overseas, and company relocation services, so they can offer guidance in many areas.
Pros
Accurate estimations and quotes

29 years of experience
Cons
Not recommended if your budget is tight

No instant pricing services
Services
Local, long-distance, and international moves

Residential, corporate, and military relocations

Packing and unpacking

Storage

Installation and assembly

Full-value insurance coverage

24/7 tracking for your shipment

20-minute In-home estimation
What's the cost of moving from the US to Europe?
It's hard to give an estimate without details about each case. However, the cost of international moves ranges from $1,000 to $10,000. But, for example, a move between New York and Europe is between $3,000 to $10,000.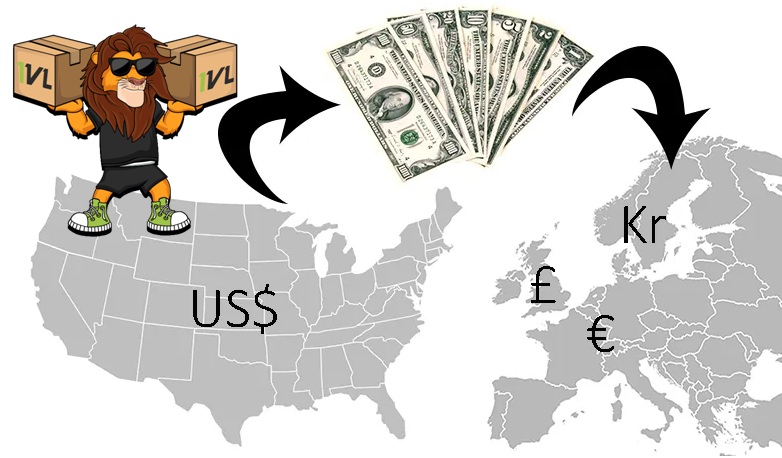 The factors that will determine the final cost are:
Final destination

Customs and taxes

Container size

Moving services needed

Shipping costs

Logistics
International moving services from the US to Europe
Not all carriers offer an international moving service, and of those that do, not many provide the same services. If you're planning to move, you'll want to find reliable international moving companies that can provide the best services at an affordable price. Here are some of the top services requested for moving to Europe:
Auto Transport
International moving companies can ship your car or motorcycle via sea or air. The cost of shipping a vehicle to Europe may range from $900 to about $2,000 in a 20ft container. Ask about customs and paperwork, as some cars need to pass certain specifications to get imported to Europe.
Read More: How Much Does It Cost to Ship a Car Internationally?
Ocean Freight
For the most part, you'll be looking at shipping your belongings via sea freight. It's the most affordable and secure way to send your goods overseas. For a 1-2 bedroom household, you can choose a 20ft container. For 3-4+ bedroom households, a 40ft container might be best. Ask your international moving company to help you figure out the container size that's best for you.
Read More: How Does Container Shipping Work
Air Freight
Air freights may be your best option if your international move has a strict deadline since air freights are the fastest way to move internationally. However, air freights are significantly more expensive, though. A $195 maritime move may cost $1,000 by air. But when you need fast, safe, and reliable international moving, nothing tops air freights.
Read More: Air Freight Services Explained.
How long does a move take from the US to Europe?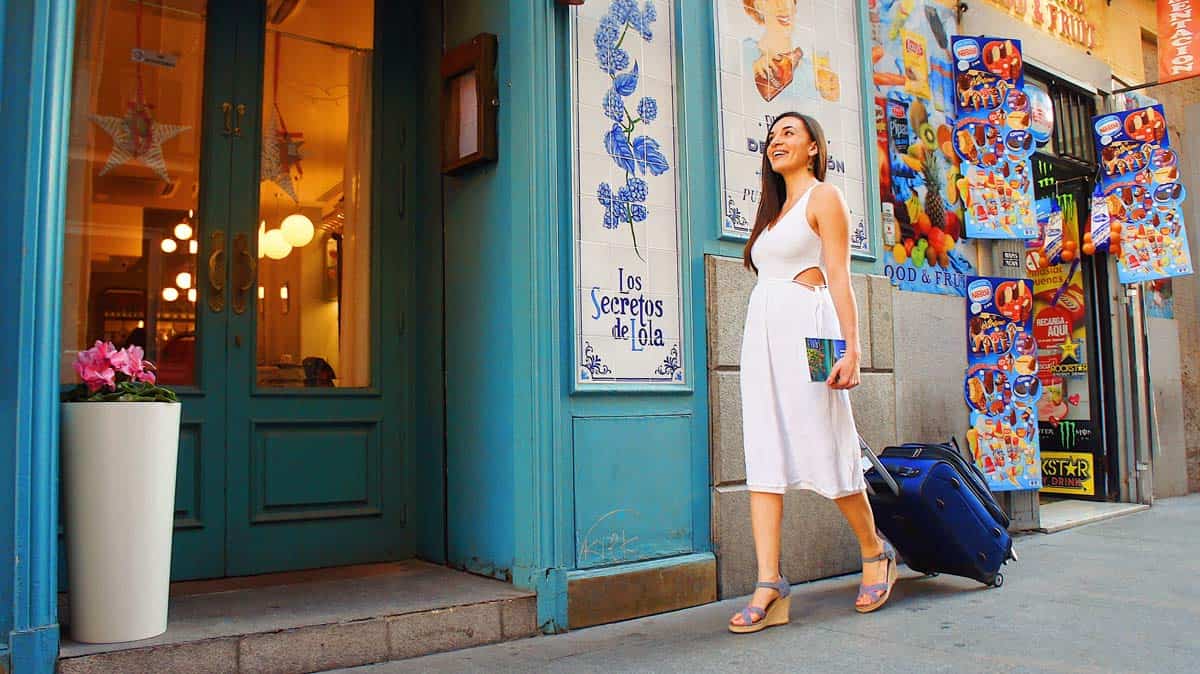 If you're moving from the US to Europe, it might take a few weeks for your belongings to arrive. Many factors need to be taken into account, including the distance between your home in the US and your new place in Europe. Moving your belongings may take between 15 and 20 days, on average. The amount of time spent in transit also depends on when you decide to move — during peak months or off-peak season.
Read here on How to prepare for a peak season move.
However, the process of making an international move from the US to Europe can take one month to three months. So consider this timeline when making your plans.
Top European Countries To Move
As you can imagine, there are a lot of different places you can live in Europe. Whether you want a relaxing holiday home in the countryside, a spacious flat in the city, or a family house somewhere in between, these are some of the best European countries to move from and why.

1. Germany
Every year, tens of thousands of American expats move to Europe, and a huge part of those expats choose Germany as their new home. Here are some things that make Germany a great option for Americans:
Lots of people in Germany speak English, and some companies, especially international ones speak primarily German in their offices

It has a high quality of life

It's one of the safest countries in the world

Very developed infrastructure

Demand for highly-skilled workers creates many opportunities for American workers

Accessible healthcare
2. Portugal
Portugal is one of the best European countries for Americans to move to. It offers a good year-round climate, low living costs, and a great quality of life. Here are some of the things that make Portugal so popular among Americans:
It's not hard for Americans to get visas

Public, affordable healthcare

It's the 6th safest country in the world

Politically stable

Strict sanitary standards for food

Generous temporary tax breaks

You can cash out cryptocurrency without paying taxes

You only need to live there for five years to access the EU citizenship
3. Spain
Spain attracts a lot of expats. It offers a cheaper cost of living and easy access to other EU countries, and most cities have diverse demographics with people from all walks of life. Here are some things that make Spain a great option for Americans:
Affordable cost of living and high quality of life

Sunny weather

Excellent work-life balance

Great healthcare system

Popular tourist destinations

Extensive bus and metro system
4. Luxembourg
Although not as popular as other European countries, Luxembourg has one of the highest quality of living worldwide. It offers small-town flair, political and economic stability, and beautiful European-like sights. Here are some of the things that make Luxemburg a new option for Americans:
High quality of life

High-quality education

Solid job market and low unemployment

High-quality healthcare

Easy access to the rest of Europe

Citizenship after five years, provided you can pass a Luxembourgish language test

Children of non-citizens can become citizens when they turn 18 if they've lived in the country for five consecutive years
5. The United Kingdom
The UK appeals to many Americans, mostly because it's closer than other European countries. The UK offers free healthcare and has extensive job opportunities available to expats. Here are some of the things that make the UK is so popular for Americans:
No language barriers

Public, high-quality healthcare for legal residents

It's a geographic hub where you can travel almost everywhere.

One of the best education systems in the world

Diverse immigrants from all over the world call the UK their home

Welcoming people

Good opportunities for skilled workers

Generous employee benefits
Frequently Asked Questions (FAQs)
Should I get international moving insurance?
Even the most reputable international moving companies can't guarantee that nothing will be lost or broken. If you can afford it, explore international moving insurance with your company and choose the best option.
Should I self-pack for an overseas move?
Packing yourself may save you some money, but it's incredibly time-consuming. You could pack the smaller belongings into your moving company. However, pianos will always need specialized packing and moving.
Here are some tips for Moving Overseas Cheaply.
How do I move my belongings from the US to Europe?
To safely and securely move your belongings to Europe, you need to work with an international moving company. While many container shipment services might advertise such services, they don't help with the paperwork and legal process of exporting your goods to Europe. Find a company that offers comprehensive services such as packing, crating, disassembling and reassembling furniture, and more, in addition to the actual moving process via sea or air freight.
Who is the best international moving company?
International Van Lines, having decades of experience, has taken the top spot in the list of the best international moving companies in recent years. The one that solves your needs the most thoroughly. Explore multiple international moving companies, get numerous quotes, and extensively explore their services and insurance policies. Choose the one that solves all of your needs.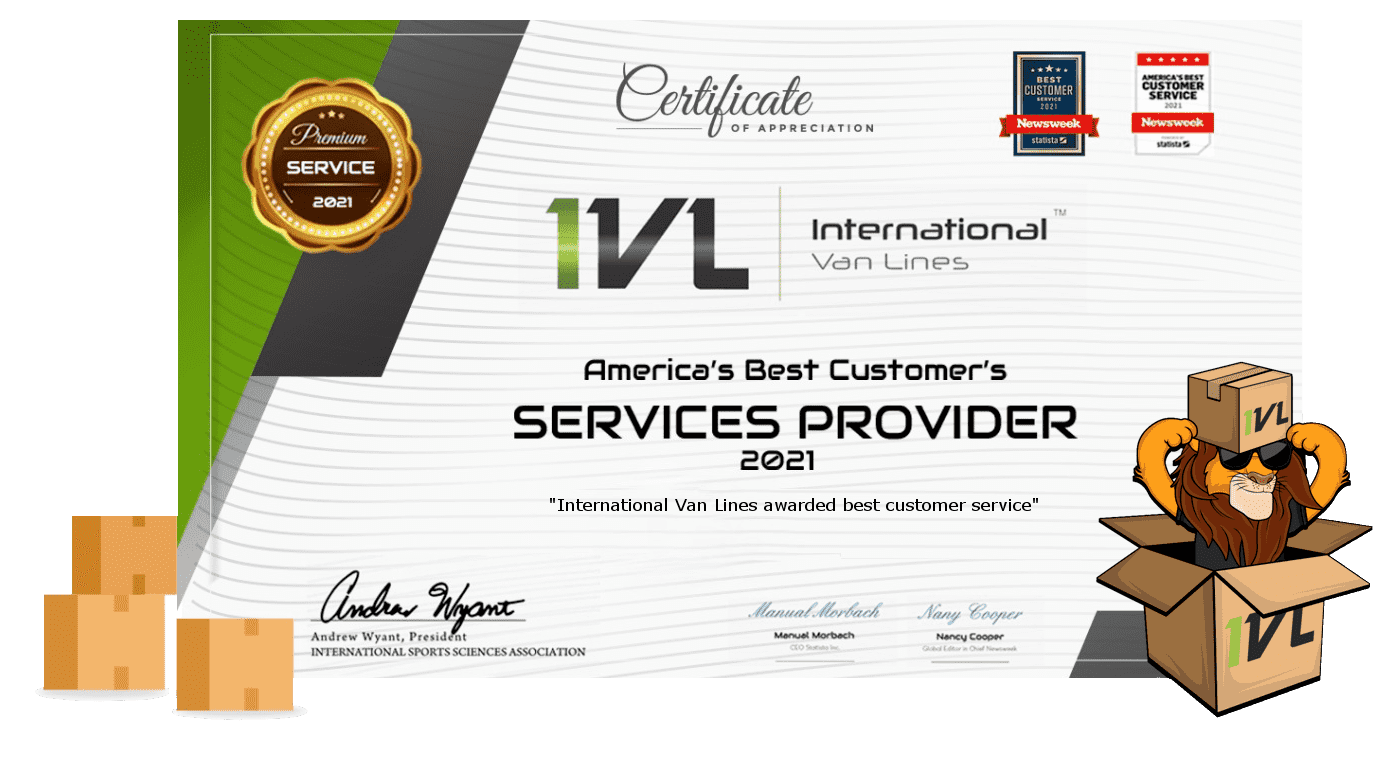 Moving to Europe? Hire Reputable International Movers!
If you live in the US and want to move to Europe, these are 5 of the best international moving companies around. Be sure to explore their services, certifications, and quotes to decide on the best choice for your needs. You can explore our services and contact us for a quote if you want. It's free, and we're always grateful for your interest.