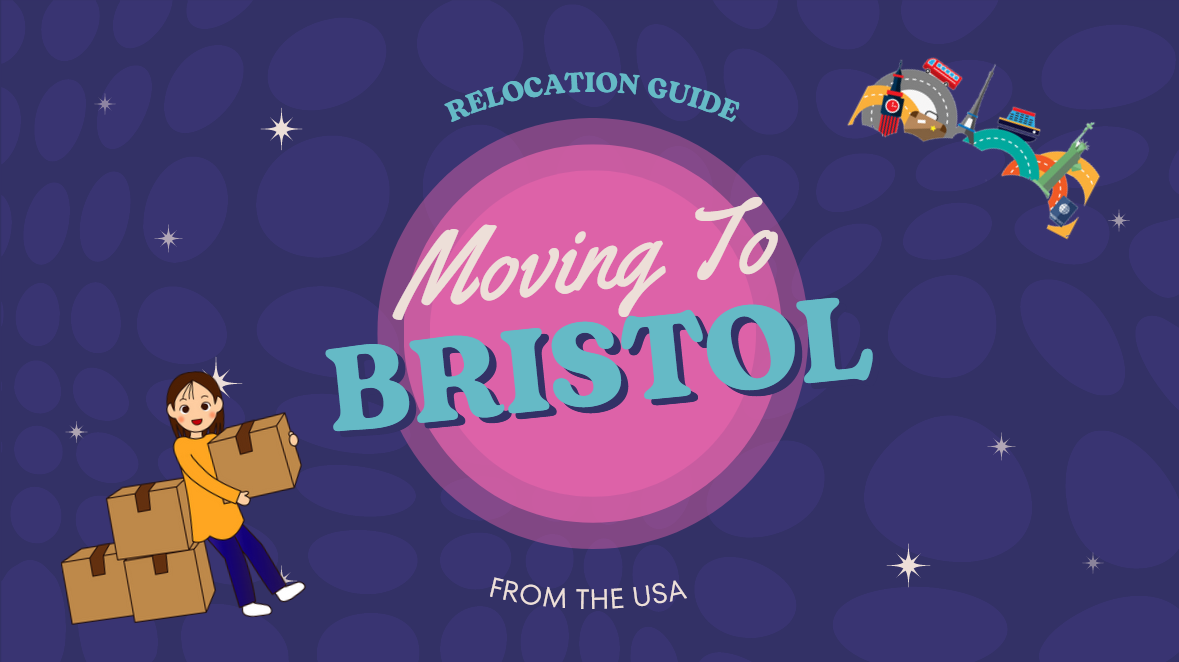 Moving to Bristol, from the US – All you need to know!

Bristol is definitely a city to consider if you're one of the many Americans thinking about moving to the UK (with 200,000 reportedly already there).
It's both a city and a county in South West England, in the UK. With about 500,000 inhabitants, it's a mildly-populated region known for being considerably sunnier than the rest of the UK for its mild climate and historically high standard of living.
Bristol's government is also notable for its dedication to green spaces, winning the European Green Capital Award in 2015.
Overall, with a stable economy, excellent education system, profound cultural heritage dating back to the 12th century, iconic landmarks, vibrant life, and fantastic food, it's harder to find a reason not to want to move to Bristol!
This article will explore the ins and outs of moving to Bristol: the costs, the shipping logistics, the legal requirements, and more!
Cost of moving to Bristol, England
The average cost of an international move ranges from $1,000 to $10,000. However, transport is the bulk of the cost. Shipping costs from the US to the UK range from $3,800 to $6,850 but could be slightly higher or way lower depending on the size of your move and the city of origin.
You have two main options for shipping your belongings: sea or air freighters.
Sea freighters take longer but are more affordable. Costs are based on the volume of your move and the size of the container you'll be using. There are 20 and 40-foot containers.
If you're considering air freighters, expect to pay at least 45% more for shipping than sea freight. Shipping your belongings by air, while faster, can be extremely expensive. We often recommend this transportation method only for clothes, family heirlooms, and valuable items.
To get an accurate estimate of how much shipping your household goods will cost, it's best to reach out to a moving company.
Read More: How Much Will It Cost to Move Overseas
Top International to Bristol, England

What to expect when moving to Bristol from the US
As you prepare to move to England from the US, you want to learn as much as possible about the process, the cultural differences, and a couple of things you should know to make your relocation as painless as possible.
Cost of living in Bristol vs. the US
Bristol has often been among the most expensive cities in the UK. However, when you put Bristol's cost of living in the context of other big cities such as London, Bristol is much more affordable. For example, in 2022, the average cost of renting a three-bedroom apartment inside London's center was $4,228), while Bristol's was $2,057 – less than half.
Bristol is also often among the most expensive British cities to buy a house in. In 2022, it came 5th.
The following costs will give you an idea of what you'll spend every month once you're settled in Bristol (source: Expatistan):
The average monthly cost of a family of four is $4,835 without rent.

A single person's average living cost is $2,854 without rent.

The average monthly rent is $1,784.

The price of 1 liter (1/4 gallon) of gas is $2,02.

The monthly cost of using public transportation is $91.
Bristol is still relatively affordable compared to some US cities:
You would need around $4,667 in Bristol to maintain the same standard of life that you can have with $9,000 in New York.
You would need around $4,720 in Bristol to maintain the same standard of life that you can have with $7,000 in Miami.
You would need around $4,711 in Bristol to maintain the same standard of life that you can have with $7,000 in Los Angeles.

Climate In Bristol

Bristol has an oceanic climate, milder than most places in the UK. It's also one of the warmest and sunniest cities in the UK. The yearly temperature average is 50.9 °F. It's considerably less cloudy than most UK cities, accumulating much more hours of sunshine every year.
Summers are mild and partly cloudy. During the warmer months, the average daily high is above 65°F. The hottest month of the year is July, with an average daily high of 69°F.
Winters are long, very cold, windy, and mostly cloudy. During the colder months, the average daily high is below 50°F. The coldest month is February, with an average low of 37°F.
Culture in Bristol



Bristol is a city with a thriving contemporary and historical art scene.
If you're a culture buff, one of its major attractions is its theaters. Two, in particular, stand out, the Bristol Old Vic and the Royal Theater, the oldest continuously-operating theater in England.
If architecture is your thing, Bristol's got you covered, too, with thousands of exciting historic buildings ranging from medieval to modern times. During the mid-19th century, architects developed a style unique to the city, Bristol Byzantine. Multiple Bristol Byzantine buildings have survived, and efforts are in place to preserve them.
Bristol building walls also serve as the canvas for many of Banksy's works.
Bristol's artistic legacy has been recognized multiple times. In 2008, Bristol was a European Capital of Culture finalist, surpassed only by Liverpool. And in 2017, it was recognized as a City of Film by UNESCO for its rich cinematographic history.
Safety
Bristol has a higher crime rate than the UK average. The UK's average crime rate for 2021-2022 is 79.52 per 1,000 people, while Bristol's 2021 crime rate was 94 per 1,000.
The Bristol City Center neighborhood, in particular, tends to have a higher crime rate than most other neighborhoods in the city. The Temple Meads and Kingsdown & Stokes Croft also have higher crime rates.
Clifton and Leigh Woods are often considered the safest neighborhoods in Bristol.

How long does it take to ship my household goods to Bristol, England
Sea freighters
Sea freighters take the most time. Depending on origin and destination, sea freighters traveling from the US to the UK usually take between 9 and 30 days. Distance is the most significant factor in shipping time.
For cities closer to the UK, like New York, it could take between 10 and 15 days, but it could be between 25 and 41 from Los Angeles.
Air freighters
Air freighters are much faster, likely arriving in Bristol in 1 to 3 days, depending on the origin. They may also be affected by weather and other hindering conditions.
Read More: Transit Times for Moving 101
Tips to prepare for your move to Bristol, England
Inform your American bank: call your bank and tell them you're moving overseas since they'll likely halt your account if they see unexpected charges from another country. Also, print out a recent bank statement for UK customs, just in case they ask.
Seek financial advice for taxes: You may be required to file taxes in the US, even though you're living in the UK. Seek financial advice to avoid being taxed twice.
Get your passports and visas in order: We can't stress enough how important it is to research, seek legal advice, and apply for the appropriate visa. I'll save all sorts of trouble.
Notify the U.S. Postal Center: the USPS change of address form doesn't have an option for countries, so you will have to visit its online service. You can choose a third-party service like the US Global Mail or Mailbox Forwarding to forward your mail. A friend or family member could also receive mail on your behalf and forward it to your new UK address.
Get the necessary immunizations: such as measles, rubella, mumps, tetanus, and influenza.
Get copies of your medical records: you may need to offer a history of immunizations to even travel in the first place. Also, your children will likely need one to start school.
Get international insurance: determine whether the Immigration Healthcare Surcharge will insure you during the move. If it won't, contract temporary international insurance during the settling-in period.
Downsize: months ahead of time, you should start making lists of the essentials and selling off or giving away everything that isn't on the list.
Hire an international moving company offering all the services you need: scour them and contact them for quotes if you think they have what you need. Get multiple quotes to compare prices.
Read More: Moving FAQs
Bottom line
Moving internationally can be a big step, but it doesn't have to be scary if you've got the proper support. We're here to take all the stress out of the packing, unpacking, and shipping parts of your move. This way, you can stay focused on what matters most: the adventure waiting for you on the other side of your relocation.

As a full-service international moving company, we can help you plan your move and organize your relocation, so the process is as stress-free as possible.
We offer a simple quote process and flexible scheduling so you can get your quote and book your move in minutes. Plus, our movers are friendly, professional, and experienced. They've helped thousands of people like you move safely and securely worldwide!
Are you ready to move internationally? Click here to get a quote from our team and have a stress-free move abroad.
Related Articles
Relocating to Teesside, England
All about moving to Nottingham
Moving to Manchester from the USA
Shipping furniture to Liverpool