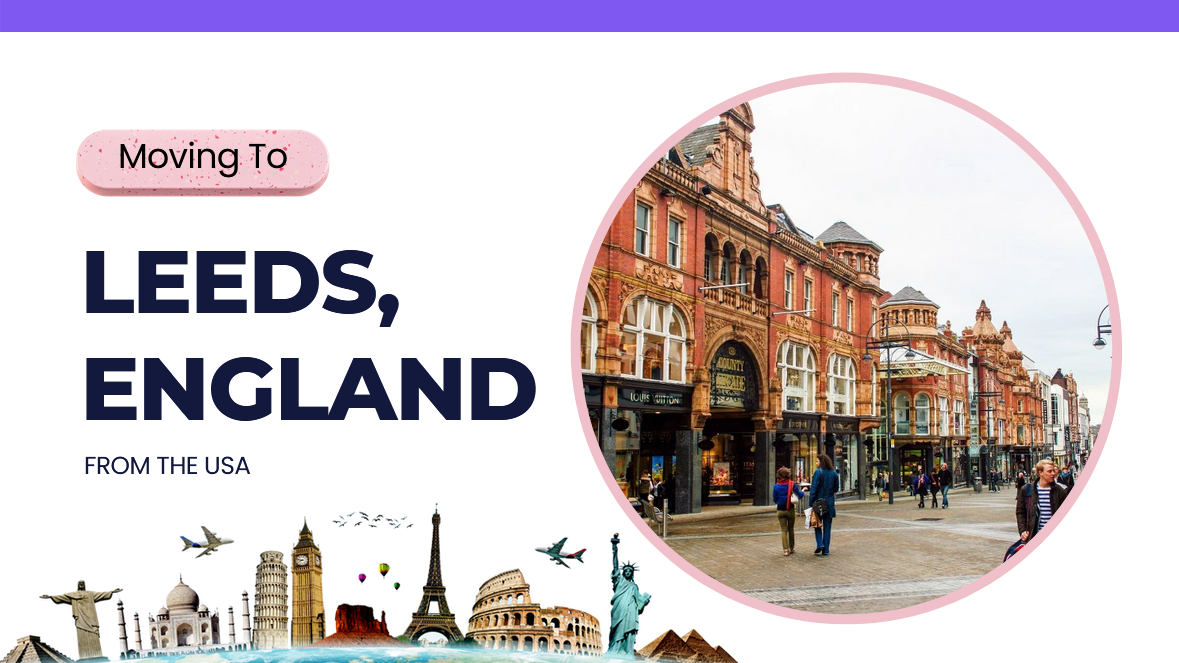 How to move to Leeds, England, from the US – Complete Relocation Guide

Whether for work, school, or a new life adventure, an estimated 504,000 people immigrated to the UK in 2022. If you're considering moving too, you're probably wondering which city would be the best.
This article will explore Leeds, a city with a rich history known for its ancient ruins, Victorian shopping arcades, proud artistic heritage, fashionable bars, and open green spaces. If that wasn't enough for you, Leeds is also a very affordable city compared to other British cities such as Southampton and London.
If that sounds interesting, stay and read about this exciting city, which at a little over 800,000 residents, offers much more than its medium-sized population would let you in on.
Let's dive into why Leeds is an excellent option for Americans trying to move to the UK.
Cost of moving to Leeds, England
Moving costs from the US to the UK range from $3,800 to $6,850, but they could be slightly higher or way lower, depending on the size of your move.
As mentioned before, shipping costs vary depending on various factors. The following are some of the most important:
Shipping origin and destination.

Type of transportation.

Container size.

Expected delivery time.

Seasons (summer is generally more expensive than winter).

Additional moving fees.

International moving insurance.
You have two main options for shipping your belongings: sea or air freighters. Sea freighters take longer but are more affordable. Costs are based on the volume of your move and the size of the container you'll be using. There are 20 and 40-foot containers. Here's what you can fit into each:
20-foot container: Ideal for 1-2 bedrooms. You can also share a larger container with others if you don't have enough items to fill a 20ft container.
40-foot container: Ideal for 3-5 bedrooms. In this case, you'll likely need enough items to fill the container, and your belongings will travel alone.

The other option is to send your items via air freight. This means shipping your items via air through a cargo plane. While this is a faster option, it's also more expensive, almost 45% more expensive. This is because the price of air shipping depends on weight and volume.
Planning ahead and getting an accurate estimate for your international move is essential to avoid surprises and overspending. A reputable moving company will provide you with a free quote based on the information you provide about your move.
We recommend exploring multiple international moving companies and choosing the one that's best for you. The most reputable ones have online moving calculators that will provide a rough estimate for the cost of your move.
Top International Movers to Leeds
What to expect when moving to Leeds from the US
The transition from living in the US to moving to the UK is significantly different. The more time you spend planning and learning about life in Leeds, the better.

Cost of living
Leeds is often among the top 20 most expensive UK cities and around the top 15 most expensive UK cities to buy a house. However, compared to cities near the top of the list, such as London, Leeds is much more affordable.
The following costs will give you an idea of what you'll spend every month once you're settled in Leeds (source: Expatistan):
The average monthly cost of a family of four is $3,987 without rent.
The average cost of living for a single person is $2,233 without rent.
On average the monthly rent is $1,719.
The price of 1 liter (1/4 gallon) of gas is $1,85.
The monthly cost of using public transportation is $92.
Still, the cost of living in Leeds versus the US is significantly cheaper. Here's a comparison between Leeds and major US cities (source: Numbeo):
You would need around $4,183 in Leeds to maintain the same standard of life that you can have with 9,000$ in New York.
Around $4,176 would be needed in Leeds to maintain the same standard of life that you can have with 6,900$ in Miami.
Expect to spend about $4,223 in Leeds to maintain the same standard of life that you can have with $7,000 in Los Angeles.
Climate in Leeds



In Leeds, summers are mild and partly cloudy. Average daily highs during summer reach above 63°F. The hottest month is July, with an average high of 67°F and a low of 54°F.
The winters are long, very cold, windy, and mostly cloudy. During the cold season, the average daily high is below 48°F. The coldest month of the year is January, with an average low of 36°F and a high of 44°F.
The city's weather is influenced by its proximity to the Pennines, a series of low mountains that run through England from north to south like a backbone. The mountains partially block the wet air currents from the Irish Sea, which results in less rain than in other parts of England.
Read Here: Who are the Best International Movers to Europe
Culture in Leeds



Leeds is a city of art, architecture, music, sport, film, and television. Being the largest city in the Yorkshire area, it's the center of contemporary culture and the base of its television networks and newspapers.
Leeds is home to one of the longest-running West Indian carnivals in Europe, the Leeds Carnival (also known as the Leeds West Indian Carnival or the Chapeltown Carnival). It's held in August in the Chapeltown and Harehills parts of Leeds and receives thousands of yearly attendees.
Some of the most famous cultural attractions in Leeds include:
The Grand Theater:
Kirkstall Abbey:
The Victorian Shopping Arcades:
Temple Newsam:
Safety in Leeds



Some people know Leeds for having a reputation as a potentially dangerous city. There's merit to this reputation: in 2021, Leeds was the most dangerous major city in West Yorkshire. Additionally, it was the second most dangerous overall out of West Yorkshire's 118 towns, villages, and cities.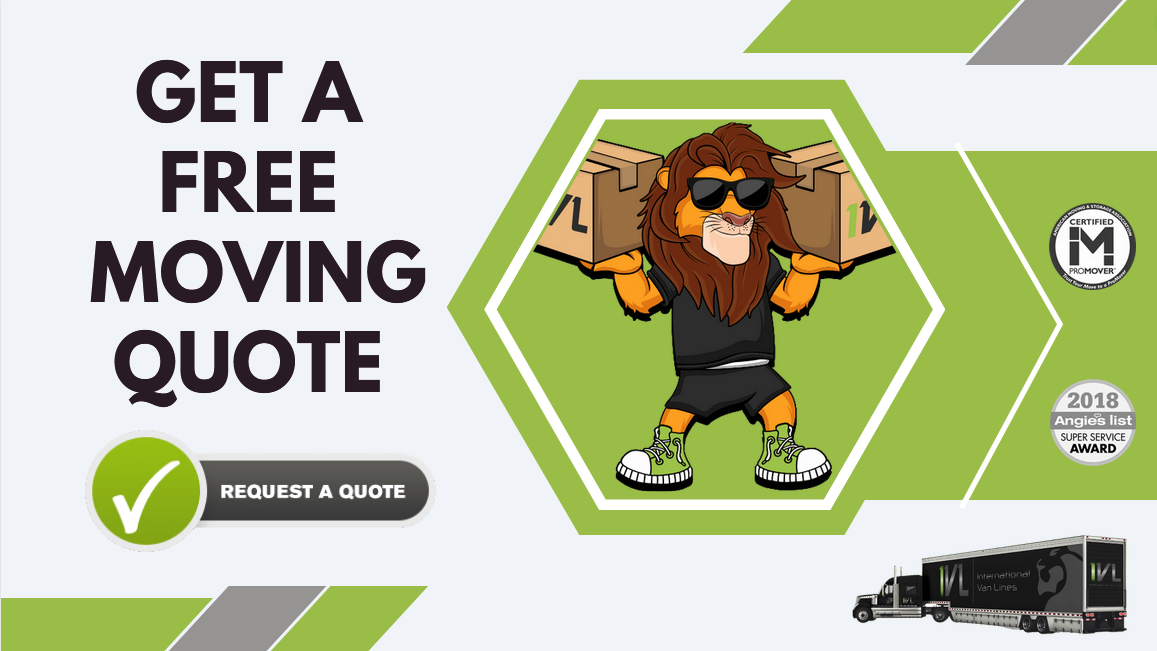 Leeds' 2021 crime rate was 153 crimes per 1,000 people, higher than West Yorkshire's 113 per 1,000 residents. Leeds often has some of the highest crime rates in the UK, Wales, and Northern Ireland for major cities.
The city center tends to concentrate most of the crime, but there are Leeds neighborhoods that are safer than the UK average. The best Leeds areas are Horsforth, Roundhay Park, Headingley, Chapel Allerton, and Leeds Waterfront.
How long does it take to move to Leeds, England
Sea freighters take the most time. Depending on the origin and destination, it could take between 9 and 30 days for your cargo to arrive.
For cities closer to the UK, like New York, it could take between 10 and 15, but it could be between 20 and 30 from Los Angeles.
In addition to distance, various factors affect delivery time, including the following:
Vessel speed.

Equipment handling at the origin and destination port.

Weather.

Blank sailing (canceling one or more shipments in a trading route).

Port congestion.
Air freighters are much faster, likely arriving in Leeds in 1 to 3 days. They may also be affected by weather and other hindering conditions.
Tips to prepare for your move to Leeds, England
Ideally, you want to start planning for your move to Leeds at least one year before. This timeline should give you enough time to sort your affairs, downsize your belongings and request any immigration paperwork required for your relocation.
Here are some tips to help you get ready for your move to Leeds:
Consider what to do with your bank account: if this is a permanent relocation, consider canceling your bank account and other credit cards to avoid fees.
Sort your financial affairs: talk to your accountant about the best way to handle your finances and taxes. While you might relocate to the UK, you will still need to report your taxes back in the US.
Organize your passports and visas: start renovating your passport and reach out to an immigration attorney to help you obtain the necessary visas for you and your family. Because timelines for these processes vary so much, you should start this as soon as you decide to relocate.
Collect the right paperwork: make an effort to collect all the paperwork you'll need for most processes in the UK, such as opening a bank account, enrolling in school, getting healthcare coverage, etc.
Notify USPS of your relocation plans: you can schedule a date for the USPS to redirect your mail to another address. You can choose a third-party service provider who will forward your mail to the UK or ask a friend or family member to receive mail on your behalf.
Visit your medical provider: get copies of all your medical records and ask them about any immunizations you should get before your travels. Request a copy of all your prescriptions and ask them for alternatives in case you don't find the same medications overseas.
Get international insurance: before you can access the free healthcare available in the UK, you'll have to find private insurance. Consider obtaining international travel and health insurance for you and your family.
Know More Here: Do you need Shipping Insurance?
Bottom line on how to move to Leeds, England

Moving to Leeds from the US is an exciting opportunity, but it requires preparation and advice from professionals. Our team of experts is ready to guide you through every step of your move. We offer a simple quote process and flexible scheduling, so you can get your quote and book your move in minutes. Plus, our movers are friendly, professional, and experienced. They've helped thousands of people move safely and securely worldwide!
Are you ready to move internationally? Click here to get a quote from our team and have a stress-free move abroad.
Related Articles
Relocating to Teesside, England
All about moving to Nottingham
Moving to Manchester from the USA
Shipping furniture to Liverpool
More Info about International Van Lines