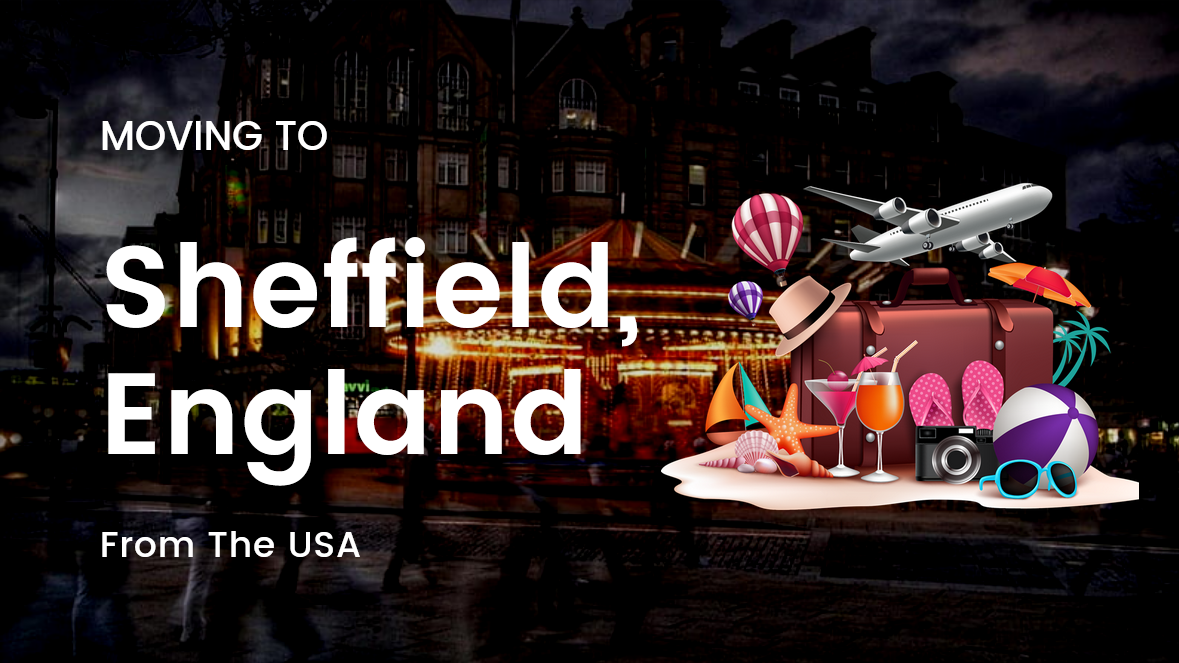 How to Move to Sheffield, England, from the US – All you need to know!

You've set your sights on Sheffield; we're here to help you get there. Sheffield is a medium-sized English city home to 580,000 people. It's part of the South Yorkshire metropolitan county in England's Yorkshire and Humber region.
Famously built around five rivers (the Don, Loxley, Rivelin, Sheaf, and Porter), it's known as a city of arts and culture but also respected for its industrial history.
With low crime rates (the lowest out of all major British cities), a high standard of living, and affordable house prices compared to other major cities in the UK, Sheffield is an excellent city for Americans to start anew in the British Isles.
Let's explore everything you need to know if you plan to move to Sheffield from the US.
Cost of moving to Sheffield, England
The average cost of moving from the US to the UK is between $3,800 to $6,850. Nonetheless, an international move can cost up to $10,000 or more.
Shipping costs
The following prices correspond to an average move from New York to the UK and are approximates. Cities that are farther from the UK will represent higher international moving costs.
One-bedroom home:
By air: $4,740 – $5,800.
By sea: $2,760 – $3,050.
Three-bedroom home:
By sea: $4,500 – $6,000.
By air: Not recommended.
Four-bedroom home:
By sea: $6500-$8500.
By air: Not recommended.

Visas fees when moving to Sheffield



Depending on the type of visa you need for yourself or your family members, you'll have to budget differently. A short-term visa for the UK is $127 for up to 6 months. Longer-term visas for 2-10 years vary between $478 and $1,063.
Reach out to the UK embassy to learn more about the type of visa you need and the timeline for this process.
International Movers to Sheffield England
Securing a home in Sheffield, England
The average monthly rent in Sheffield is $1,377. Keep in mind that many more costs will be associated with securing a home in Sheffield when moving in internationally, especially if you decide to visit beforehand.
Legally, these are all the costs associated with renting a home in Sheffield:
Rent

A security deposit can't be more than five weeks' rent.

A refundable holding deposit (to reserve the property), which can't exceed one week's rent.

Fees for terminating the contract early if you were to request it.

Roughly $61 for a tenancy contract's variation, assignment, or substitution.

Utilities, communication services, TV license, and Council Tax.

Additional fees associated with late rent payments and replacement of lost keys/security devices.
Read Here: Shipping furniture to Europe
Miscellaneous costs
These are the various costs you'll have to pay in handling essential moving processes, such as courier services for your visas, extra luggage during your final trip to Sheffield, import taxes, and more.
Some of the most common unexpected expenses associated with international moves include:
Read More: Understanding Your Moving Estimate

What to expect when moving to Sheffield, England, from the US
Overall, many people moving to the United Kingdom from the US do so for lower costs of living. Nonetheless, planning an international relocation involves many steps. Here are some to consider.
Cost of living
Sheffield is a relatively inexpensive city compared to other major British cities. You won't find it among the cities with the highest rent or the most expensive overall, making it a good alternative for an American with a solid income.
But when buying a home, Sheffield is among the top 20 most expensive. It's currently 15th in the UK. The average cost of a home in Sheffield is $208,422. However, it is still considerably lower than in London, at $646,215.
The following costs will give you an idea of what you'll spend every month once you're settled in Sheffield (source: Expatistan):
The average monthly cost of a family of four is $2,907 – rent not included.

The average cost of living for a single person is $856 – rent not included.

The average rent price is $1,371 per month.

The price of 1 liter (1/4 gallon) of gas is $1,77.

The cost of monthly public transport is $81.
To give you a better idea, this is how much it costs to live in Sheffield versus major US cities (source: Numbeo).
You would need around $3,938 in Sheffield to maintain the same standard of life that you can have with $6,900 in Miami.
Around $3,970 would be needed in Sheffield to maintain the same standard of life that you can have with $9,100 in New York.
You will need around $3,969 in Sheffield to maintain the same standard of life that you can have with $7,000 in Los

Angeles

.
Climate in Sheffield



The climate of Sheffield is oceanic. It has cold and rainy winters. Summers are mild and relatively rainy.
Winter is not very cold compared to the rest of the UK. The sky is often cloudy, humidity is high, and sometimes winds are strong. It rains often. On the coldest nights, the temperature generally doesn't go below 19-21 °F.
Summers are mild or cool. It's rainy too, but less than in winter. Temperatures vary from 35°F to 69°F. On rare occasions, they go below 27°F or above 78°F.
Read Here: Best International Moving Companies – US to Europe

Culture in Sheffield



Sheffield is a city with a rich cultural life. About 7.2% of Sheffield's working population is employed in the creative industries, which is way above the national average of 4%. Sheffield also has the largest theater complex outside London, so if you're into theater, you will love Sheffield.
Some of the main cultural attractions of Sheffield include:
Safety in Sheffield
Sheffield is one of the safest large cities in the UK. In fact, 2021 data shows that Sheffield is the safest large city in the UK, Wales, and Northern Ireland.
The overall crime rate in Sheffield in 2021 was 91 crimes per 1,000 residents. This rate is better than South Yorkshire county's overall crime rate, 94 per 1,000 residents.
That being said, given the big city status, much of the crime in South Yorkshire concentrates on Sheffield. However, Sheffield is still only the 44th most dangerous overall out of South Yorkshire's 109 towns, villages, and cities.
How long does it take to move to Sheffield?
While transit times vary tremendously, expect to wait between 9 to 30 days for your household goods to move from the US to Sheffield.
Sea freighters take the most time. Depending on the origin and destination, it could take between 9 and 30 days for your cargo to arrive. For cities closer to the UK, like New York, it could take between 10 and 15, but it could be between 20 and 30 from Los Angeles.
Immingham and Liverpool are the two closest important ports to Sheffield. If, for some reason, the freighter were to dock at a different port; this could also extend the delivery time.
Air freighters are much faster, likely arriving in Sheffield in 1 to 3 days. However, cargo flight times can also vary depending on availability, climate, and the company you work with.
Read More: Transit Times for Moving
Recommended timeline for your international move to Sheffield
Relocating overseas takes time and with so many things to consider, the sooner you start planning, the better. Here's a suggested timeline that will give you plenty of time to organize your affairs and have everything you'll need for a successful relocation.
1 year before
Apply for all required visas.

Determine whether you'll need to sell your home, rent it out, or end the lease prematurely.

Start researching international moving companies.

Start researching pet import fees and processes if you have pets you plan to carry with you.

Start considering your moving date.

Consider whether or not you will also transport your car.
6 Months before
Research neighborhoods and determine where you'll live.

Research and get the necessary insurance for the move.

Hire an international moving company.

Buy your flight tickets.

Start downsizing and selling unnecessary items.

Visit your doctor and get your latest medical records and prescription copies.

Obtain copies of important documents such as birth certificates, marriage licenses, etc.
2 Months before
Secure the home you'll be living in once you get there.

Confirm the final moving date with your international moving company.

Sell or give away what you won't be moving to Sheffield.
1 Month before
Start packing everything you can.

Cancel all subscriptions you won't be using anymore.

Make arrangements with the US Postal Service.

Close your bank account if necessary.

Get an international credit card.

Finalize arrangements with your accountant.
1 week before the flight to Sheffield
Deep clean your home and fridge.

Finalize packing everything you can.

Schedule a date to shut off your utilities.

Make your suitcases.

Organize your transportation to the airport.
Read More: How to Prepare for an Overseas Move
The bottom line on how to move to Sheffield

A lot of planning needs to happen before you get on the plane to your new home, but our experts are here to help every step of the way. If you decide to move, our international expert movers can guide you during your transition from the US to Sheffield, England.
Click here to get a quote from our team to learn more about our services.
More about International Van Lines
Related Articles
Relocating to Teesside, England
All about moving to Nottingham
Moving to Manchester from the USA
Shipping furniture to Liverpool