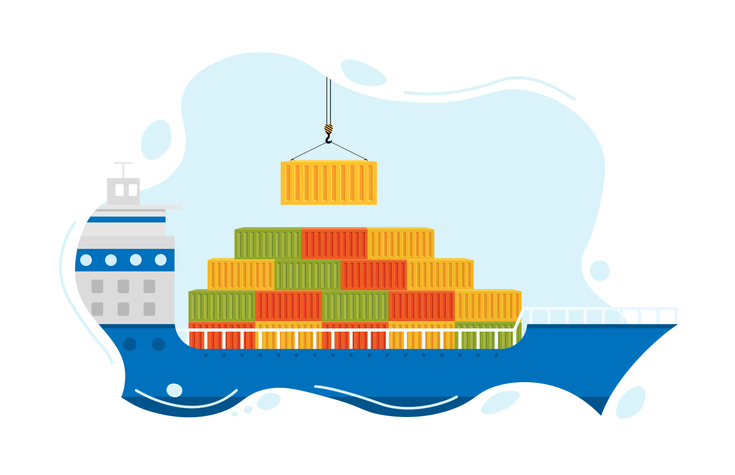 A guide to international moving can help with planning and staying on task. You must prepare documentation, start packing, find the right international moving services, etc. The list keeps growing every day. We created this guide explaining the high-level aspects you must consider when planning an international move.
Understanding international moves
First, an international move means shipping items from one country to another. But, when it comes to moving overseas, moving involves much more than shipping items.
Individual international relocation guidelines indicate that the sender of the shipment at source must also be the one receiving it at delivery or have an assigned consignee at destination. You'll have to show that you've relocated to and are residing in the nation and receiving your household goods.
The best international moving companies can walk you through the shipping process. Don't get discouraged. It's rather easy, and with a guide to international moves, you will have a smooth experience.
What is considered an international move?
An international move is when a family or an individual relocates to another country, typically on other continents. They send their personal effects by ocean freight or air freight if they are moving with household goods. Objects such as vehicles, furniture, household goods, and motorbikes are loaded into containers and delivered to different ports worldwide.
Basic terminology to understand:
Air freight:

The process of moving cargo by air. This shipment method is generally more expensive, but it's the fastest way to ship items abroad.

Sea freight:

Items ferried by sea. This shipment method is more affordable, yet it requires waiting between 8-14 weeks for items to arrive.

Full container load (FCL):

The optimum cargo weight permissible in a ship. It is a packed container only transporting your items from source to destination.

Less than container load (LCL):

It applies to situations where the cargo has modest quantities or measurements that do not require the entire space of a container.

Customs clearance:

The formal approval demanded by a nation's customs authority to permit imports or exported items to leave or enter the country. A shipping company receives customs clearance to affirm payment of all taxes and approval of exit/entry.
Types of international movers
There are many shipping options for your overseas relocation, based on whether your things will be picked up and delivered at a warehouse, a home address, or a port. The best international movers will provide a detailed description of all services and options.
Door-to-door international movers
The key feature of a door-to-door international relocation is the pick-up and conveyance of your valuables from your previous house to your new residence.
The transporter delivers the cargo to your door, unpacks, and removes debris. Door-to-door international movers don't require that you employ an agent at the destination. The shipping company arranging your relocation will handle customs procedures at both source and destination.
Most of the time, door-to-door international movers will offer full-service moves. These packages include loading and unloading all container items from your door in the United States to your door abroad.
Door-to-port international movers
When your things reach the port of destination, your door-to-port international mover ceases offering you services beyond that point. You will need to arrange customs clearance and delivery to your door.
At this stage, your agent at the target location will need to settle the applicable levies and taxes and present the relevant paperwork for clearance. After that, you may pick up your personal belongings at the dock.
Door-to-port services are often more affordable but require additional organization. You must find another company to help you retrieve your items from the port abroad, or you can do it yourself. A guide to international moving can help, but it's always best to speak with your choice international moving company.
Choosing the best shipping method
You'll need to determine how you'd like your possessions delivered once you've chosen an international mover that can send them to your target country. For example, a car would need an auto transport firm proficient in moving vehicles.
When you need to move internationally, we suggest you search for a mover three months earlier and commit at least eight weeks in advance. It allows the movers to learn about your preferences, analyze your needs, and assist you with determining what is ideal for your time and budget.
Air freight (1-3 weeks)
With this option, your belongings are loaded into a freight airplane. All your belongings are inspected at the airport before being delivered to your new place. You may also cut costs by personally picking up your things from the airport.
Because air transport is the most costly shipping method, you should not transport all your things this way. But, it is far quicker than ocean freight, making it the ideal route to send items swiftly. Most people send basic essentials this way, arriving when they have their move scheduled.
Ocean freight (8-14 weeks)
The most popular and cost-effective method for shipping household goods abroad. Ocean freight transportation fees are everyday expenditures connected with marine freight moving. They might differ significantly based on the size and weight of your things.
International moving companies will transport a container to your residence. Once the vessel is loaded, a lorry will bring it to the dock. Most international movers provide door-to-port and door-to-door services where an agent manages the customs.
Full (FCL) or Partial (LCL) Container: You'll have to decide between a full container or less than container load. You will ship in a shared container if you have 600 cubic feet or less.
Less than Container Load (LCL):

Usually a 20 ft container. Ideal for small homes (1-2 bedrooms) that won't need an entire container to fit all belongings.
Full Container Load (FCL):

Most likely a 40 ft container. Ideal for bigger homes (3-4 bedrooms) that need plenty of space to accommodate your belongings. An FCL container is also advised for people transporting fragile items.
Required Documents for International Moves
When you reserve your overseas move date, your shipping company will request you to complete and present specific paperwork required for customs clearance. It is critical to understand the purpose of these papers, so you need to fill them correctly.
Minor mistakes can differentiate between seamless shipping and annoying delays, significantly increasing your overall international moving costs.
Before relocating overseas, the following papers must be printed, renewed, or applied for:
Work permits

Passports and records of citizenship

Visas for students

Certificates of birth

Financial bank statements and others relating to finance

Cards for Social Security
You may have to submit extra papers based on your target country. However, most moving companies will also require:
Terms and conditions

Form of Power of Attorney

Certificate of exemption/import permission

Salvage or Original title

Packing list or inventory
Planning a smooth international move
As you probably already know, international relocation services are pretty complex. You wouldn't want problems to occur. The slightest setback might quickly escalate and become worse, thus increasing your international relocation costs.
Be sure the international mover has a FIDI certification to be in control, enjoy better flexibility, and have the most satisfactory experience. All movers are screened by the Federal Maritime Commission (FMC) in the United States. A credible international moving company will take charge of your relocation and be your primary contact throughout the process.
When you identify the perfect mover, you will notice that the moving process becomes much smoother. We can help you enjoy a smooth international move!