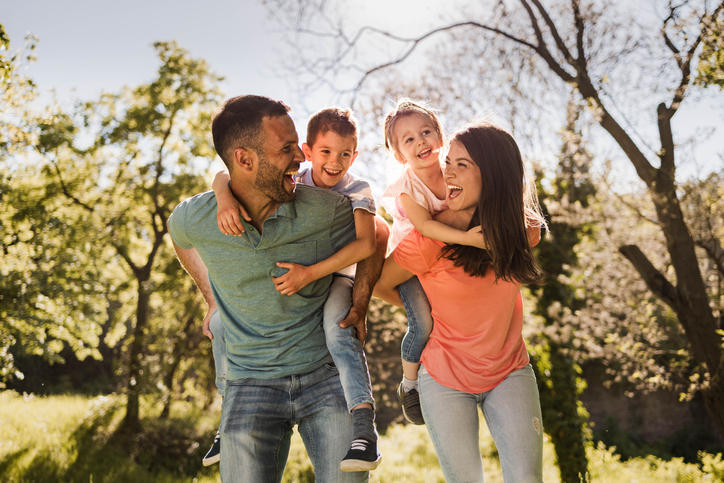 So, you're moving abroad? Moving can be a very rewarding and exciting experience. However, navigating a new life overseas unlocks a new level of challenges. Now add children, and you're playing at the high-stakes table. You might feel overwhelmed, but extraordinary things worth doing are rarely easy! This article will provide the best tips for moving overseas with children.
Where to start?
You might be thinking: "where do I even begin?"
Start by betting on you, believing that you will succeed, and DECLARING that you will have a great moving experience! Easier said than done? Well, okay, fine, we hear you. Let's start breaking it down.
Considering how this move will involve the entire family, start with an open conversation. It can be a good time for you to explain why this international move is happening. Maybe it's time for your family to explore a new culture or a new climate. Whatever the reason, it will become the foundation for your family's life will change.
An open dialogue will also allow you to hear what your kids think and feel. Most kids are not usually happy about leaving a comfort zone of friends and family, so involving them early might help.
Now that the whole family has been informed, you have shuffled the deck and given everyone a seat at the table. It is time to put your game face on! Moving day will be here before you know it, and you have to be prepared if you want to succeed! Starting to plan as early as possible will allow you to consider possible outcomes in advance. It will also help to split up the tasks and responsibilities over a longer period of time. No one likes a procrastinator! Waiting for the last minute will only produce more stress on an already nerve-shaking decision.
1. Choosing a school:
Choosing your children's school first might help narrow your search for which new city you will be relocating to. A family-oriented city with international school options could help ease your child's transition into their new life abroad by allowing them to interact with other children that might be experiencing the same kind of change. Not to mention that international schools will also have other international parents, which can help you gain new friends simultaneously!
Don't forget that you will also leave your friends and family members in this move, so new friends are needed for the whole family! Connecting with other expat families (families that reside outside their native country) in your new area can also be a great way to get the inside scoop! Other expats can share their insights on local amenities, the local community, schools, and doctors in the area and give you general advice from their own time abroad.
Exploring which languages are taught in the local schools will be important. Depending on your kids' age group, you might need to consider how a new language will affect their social circle. Moving overseas with children can be tough, but with the right approach, you will have a good experience.
If you have older children, learning a new language might not be so easy at first. That said, it might be easier for them to make new friends at a new school if they also share the same language. On the other hand, if you have younger children, they might be able to learn the local language much easier at a local school while preserving their native language at home. This could allow them to enter their new environment a little easier with a wider social net and a potentially easier social life.
2. Exploring your new location:
The ace up your sleeve will be Google maps! Google maps will allow your family to explore life overseas from the convenience of your couch before you move. It can help you check commute times between your possible new home, your kids' new school, your new job, and much more!
We all know kids love their screen time, so this can be a great tool to have your children spend time getting to know their new country and can help them get used to the idea of moving abroad.
Through Google street view, you can even take a free virtual tour of your new location! This can create excitement among your family as they see their new school and new house waiting for them. As well as exploring which restaurants, shops, parks, and adventures are waiting around each corner.
This can also be a useful tool to help pinpoint a place for your family when they are feeling a little homesick in your new country. Finding a little piece of home that can offer some American classics such as hamburgers, fries, chicken nuggets, or something similar might be just what the doctor ordered when your family starts feeling the overseas blues.
Speaking of doctors, what happens if one of your kids gets sick on your journey overseas? The last thing you need to derail your master plan for a successful move overseas is scrambling to find your sick child adequate health care in a new country. No one wants that! It will benefit you to shop for international health insurance ahead of time. Browsing the area around your new home and finding a new family doctor before you physically arrive in your new country will provide much-needed peace of mind if any unexpected illness occurs.
3. Packing it all up:
Let's tackle the biggest elephant in the room, your stuff! When moving overseas with children, the second hot topic will probably be how to move everything!?
Luckily every family member can have a role in this task. Some children might think that their things are being taken from them if they are suddenly in boxes. Involving them in the packing process where they help decide which stuffed animals made the cut to live overseas and which might need to find a new home with an old friend can allow your children to feel more comfortable and in control when packing up.
Turning packing into a game can allow your kids to enjoy the process. Fun colored or patterned tape can help label different room contents and keep your packing more organized while letting your children have a little fun! Check out how to pack boxes for an overseas move and Packing for an International Move for some more handy packing tips. You can also check out Is self-packing for a move worth it if your to-do list gets overwhelmingly long?
4. Leaving on the right foot:
No great move is complete without a going away party! You gotta go out with a BANG! This is the time to finally lay your cards on the table and win this high-stakes game with a full house! We know what you are thinking: "So I'm moving overseas with a seemingly never-ending list of tasks to complete, and now I have to plan a party too?" YES! Exactly.
5. Saying Bye:
Your children will be emotionally affected by leaving a support system of friends and family. Not to mention, your children are not the only ones that need to say those sweet goodbyes. This goodbye party will be just as much for you and your entire family as it is for that family member and friend who will miss you after you leave. If you have younger kids, this will be the last time your friends and family will see that child that little. This party can allow them to make that memory last a little longer before moving overseas with children.
This will also allow your family to say goodbye to important people and their soon-to-be old house. Which is much more than a house, but a home that has helped create many memories for your children. Having them start to explore the idea of leaving this house and also having this celebration to thank this home for the memories it shared with your family could allow them to start looking forward to their new home and to all the new adventures and new memories that are waiting to be explored in your new country.
6. Good-byes don't have to be sad:
What better way to say goodbye than by making it a fun and rewarding experience for your family and YOU? Sadness has likely made one too many unannounced visits throughout the planning process of this move. That probably leads to negative moments; this party will allow you to leave on a positive one!
7. Time for a refresh:
This will be a fun opportunity for you to stop packing, stop worrying, and stop analyzing. NO REGRETS! Just music, laughs, hugs, kisses, and a great memory that will surely make you smile in your new life overseas.
This party could even help cross some things off your packing to-do list. Less for you to have to figure out or pack later on! Win-win all around!
Don't forget the camera! Photos are a great tool for a quick reminder of home when you feel a little homesick. This will also be a great time to see how you will keep in touch with everyone. How often can you facetime or zoom? When will you be ready for visitors? Will you be back for the holidays? All that good stuff. Having those plans to look forward to can help give a little positive reinforcement.
Final Thoughts:
Although a move overseas with children might seem like a very risky game to play at times, it's not! You now have the tips for moving abroad with children making you ready to win that jackpot! So, what are you waiting for?! Life overseas is just a plan away for you and your family!
Need a little more help planning? We got you! Be sure to also check out :