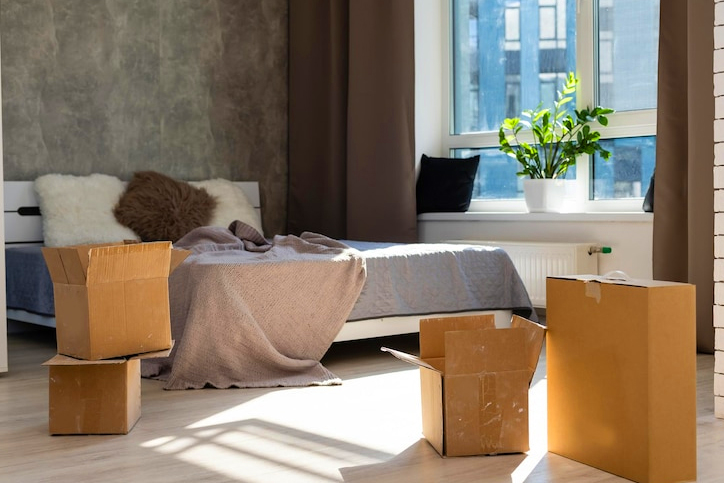 Moving is among the most stressful life events we experience, and with good reason: you're uprooting your life, bidding friends farewell, and starting over in a foreign location. This is called Post Relocation Stress and knowing how to handle the stress of relocating to a new house can be difficult.
Here at International Van Lines, we relocate many people, and our priority is always to make relocating virtually enjoyable. However, you may also act to make this trying situation productive. Here are some pointers to help you settle into your new neighbourhood and reduce post-relocation stress.
Tips to Overcome Post Relocation Stress Like a Boss
Embrace A Positive Spirit
Simple fact: Your happiness may be determined by your mentality. Moving will probably be extremely stressful and unpleasant if you approach it. However, it may be really productive and therapeutic if you approach it positively.
Moving allows you to evaluate your priorities and eliminate outdated, pointless belongings. It's an opportunity to organize your home and make a clean start. Although moving can be stressful, a breakdown is not necessarily the result. You may modify the entire experience by altering your thinking.
Find Out About Your New Town
Post Relocation Stress is greatly reduced by pre-studying some amazing places to eat and shop. Find a gym or some running paths close to your new residence. Do you typically stop for coffee en route to work? Check to see whether your new commute passes by a café.
Relocation will be far less stressful if you can easily reestablish some of your former habits. Prepare in advance so that you'll already feel at home when you arrive in town.
Continue To Be Organized To Lessen Moving Stress
Organization is your best weapon for reducing stress during a move because it requires a lot of time and effort. Get the necessary things early, so you have time to pack. Make a list of everything you're bringing, then dispose of the rest—label boxes with the appropriate categories and categories. Plan a vehicle and professional movers well before moving if you're employing them.
And keep in mind that relocating to a new house involves more than just shifting your belongings. In addition, you need to change your address, stop your subscriptions and services, and clean your house so that the new owners may move in before you. With proper preparation and organization, your relocation will go off without a hitch.
Use The Right Supplies If Uncertain, Use Professionals
The security of your belongings should be your last concern while relocating. Furniture and boxes frequently sustain damage during even straightforward transfers; the danger is increased for long-distance removals.
Take extra precautions both before and during the relocation to prevent harm. To preserve your belongings, use the right tools (such as robust boxes, moving blankets, and bubble wrap). Make sure you have a capable staff on moving day, whether it's your family, friends, or a seasoned workforce like International Van Lines.
Moving alters your life, and you'll unavoidably go through many emotions. Beginning a new chapter is exciting, but there is also a certain amount of trepidation. Saying farewell to friends, coworkers, and neighbors can be difficult.
Try not to hold onto unpleasant emotions to lessen their weight. You'll feel more overwhelmed if you suppress your feelings. Instead, focus on your friends and family for support and embrace your emotions. You'll be able to handle the stress of relocating better if you do this.
Say Your Hellos And Goodbyes.
Although it will be one of the most challenging aspects of the move, this is also one of the most crucial. Gaining closure requires saying goodbye. Making firm arrangements to see your friends and family in the future is also an opportunity.
You should take the time to introduce yourself to your neighbors and coworkers once you've settled in your new area. Check to see whether your workplace or the neighborhood has any clubs you may join. The sooner you start interacting with others, the more quickly you'll feel at home in your new environment.
Unpack Quickly To Easily Set Up Your New Life
When you get there, your new house will be a jumble of boxes, furnishings, and feelings. Do not skip unpacking since it will take time to rearrange and become comfortable in a strange environment. Moving causes disruption to your daily routine, which is stressful. You'll feel anchored and prepared to begin your next chapter the sooner you unpack and establish yourself in your new home, career, and neighborhood.