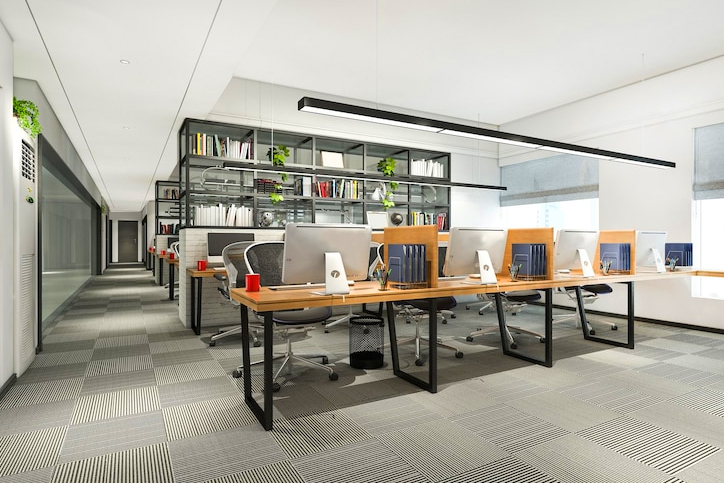 You will probably exceed your existing area as your company expands. Moving your workplace to a bigger or different location is a challenging but exciting endeavour. It indicates that your company is performing well enough to justify further investment. Having a strategy when relocating to a bigger workplace is crucial to ensure everything goes as planned. Reliable commercial office movers are needed to manage the relocation works.
Common reasons businesses relocate their offices include:
Growing to accommodate more customers and businesses.

Simplifying processes for efficiency.

Simply having a lease about to expire.
The transition time in the business can maximize the risk. Along with the worry of declining sales and disgruntled clients, there is also the possibility that delicate office supplies like hard drives, laptops, files, data servers, etc., will be harmed in transportation.
Moving your workplace to a new state might be stressful if you don't have adequate preparation and management. However, if you are preparing to move, there is no reason for concern. You just read some of our greatest advice, which will come in handy when relocating.
10 Steps to Relocate your Office Effortlessly
Employ movers and packers for the office
If you have doubts or lack faith in your team's ability to execute your changing mission flawlessly. So, stop worrying, contact reputable packers and movers who can relocate your workplace, and make the moving procedure simple. However, the issue is locating the greatest packers and movers who can relocate your large workplace. When needed, a skilled moving and packing crew may assist with maintaining the upkeep of the business.
Make a plan
While changing, you first think ahead and establish a plan of action. Therefore, you must create a reasonable schedule and arrange your activities around it because a large office needs six months to relocate. In contrast, a small office may take three months entirely. Therefore, it is best to create a strategy in advance so that you can prevent these kinds of issues. With the decision made, you can work on the planning and the term analysis. Always go with the flow and adhere to the precise parameters while creating your ideas.
Create a Timeline
Once you've decided on your moving date, make a timeline for the remaining activities leading up to the relocation. During the moving process, timelines are essential since they keep you on track with local moving services. Make sure you give the timeframe to the staff members that require it. Additionally, to guarantee that you can continue to give them quality service, it's crucial to base your timeframe on your present consumer load and demand. Creating a timeline may be wise. Moving forward with the right planning is required to handle the real analysis.
Hire Commercial Office Movers
Hire a moving company to assist you with your relocation once you have planned your move and are ready to go. Moving offices and commercial buildings are International Van Lines's areas of expertise. Commercial office movers treat each piece of office equipment you provide us with extreme care, utilizing specialized tools to ensure nothing is harmed. You may lessen your worry on moving day by hiring us.
Hire Security
Hiring a security company or guard may be required to watch critical or classified papers when moving them. People frequently push doors open when moving to minimize the number of times you would have to open the door, which makes it simpler for uninvited guests to access your home.
The presence of security will greatly reduce the chances of hazards. Make sure that the security guard manages a list of approved workers so they may enter the new facility to finish the relocation promptly and safely. Always remember that safety and security are crucial and focus on the phrases' analysis and the fundamental components. Commercial Office Movers give utmost importance to security, thus making sure all goods are safe from onboarding to unloading. Your entire office is shifted intact with their help.
Check all items
During the move, you must inspect all office equipment, including printers, computers, and other devices. If your workplace equipment is dated, sell it. During the loading process, carefully hold onto any office supplies. To ensure that the determination is not unstable, you should examine everything following your needs and analysis.
Give your IT team enough time to prepare
At least three months before the relocation, let your IT staff know about it. They must take care of phone connections, internet plans, and other issues. They might also need to review the new workplace to see if equipment upgrades are necessary. It is simple to adjust to the size of the IT staff and the key concepts included in the planning.
Schedule your move wisely
.
Consider your essential client meetings and project deadlines as you plan your workplace transfer. You don't want to find yourself having client meetings while the documents, computers, and equipment are still being unpacked. That would appear amateurish. Expecting your workers to function effectively in such a setting is unfair. Give everyone at least three days to get acclimated.
Order new equipment in advance
You can order new furniture and equipment well in advance after you've evaluated the new location. Additionally, work with your suppliers to deliver everything to your new office before moving in. It will be easier for you to become settled.
Clean your new office
Whether the workspace is currently clean or not, you must clean it when you move in, as well as the furnishings. You have to keep in mind the helpful person who is with you. Keeping everything in the workplace in great condition will aid in office cleaning. If you believe any office supplies are outdated, sell them or donate them to a worthy cause.
Final Thoughts
Regarding the significant path, it is easy to work on the analysis based on the functionalities of global moving companies. If a reliable company is hired, you won't face any issues regarding office relocation with the shifting plan.