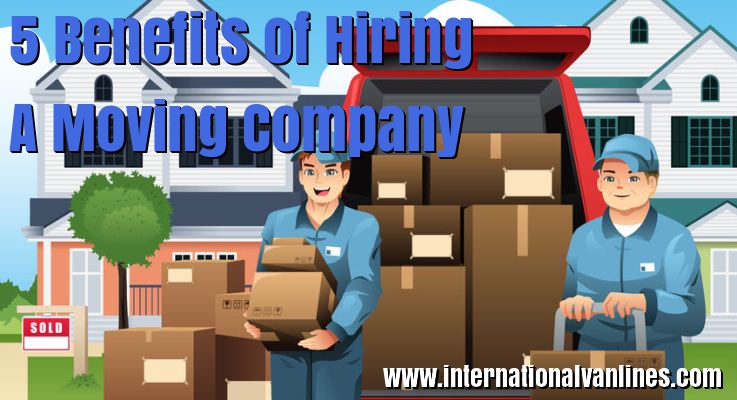 Here are 5 Benefits of Hiring a Moving Company
Moving in general can be very stressful, in fact it's been ranked as one of the top 5 most stressful events that can take place in your life. It requires a lot of time, effort and of course money. Things can go wrong such as damage, lost items and overpaying. Hiring a professional to handle your move can help eliminate a lot of those issues. Below are 5 benefits of hiring a moving company to take care of the move for you.
The Safety of Your Items
This is perhaps one of the most important benefits of hiring a moving company. Moving and packing furniture can be a daunting task for anyone. When hiring a professional mover they will pack everything properly and move all of your heavy furniture to your new location. Moving companies also offer insurance in case of damage and/or loss. If you've ever moved by yourself you can appriciate the hard work of movers. Avoiding damage can also help you save money in the long run.
Save Money
Although this may not sound logical, hiring a moving company can help save money in the long run. Statistics show that homeowners that attempt to move their possessions on their own experience damage. This can add expenses such as having to buy new furniture, fix damaged property or hiring someone to fix furniture. When you hire a moving company you have comfort knowing that they will professionally handle your move as well as offer insurance in case of damage. Please also keep in mind the expense of renting a truck, fuel etc.
The Right Equipment
A professional moving company will provide the right equipment and man power to make sure your move is done properly and efficiently. Moving companies can provide the correct size truck for your move. They can also provide services such as crating, hoisting, and shuttle service. If you've ever done a move yourself then you can appriciate a professional moving company.
Quick and efficient
Moving o another place requires a lot of time and energy. It can even take few weeks given the amount of items to be transferred. Packing boxes can also be a daunting task. A moving company can move all your stuff in less time and in a more efficient manner. A moving company will send a crew to handle your move which means it will get done in less time.
Personal Safety
Safety is not always about your possessions getting damaged. A moving company will send an experienced crew to pack and lift heavy furniture for you. They will have the right equipment to insure it's done in a professional manner. Moving large items yourself can lead to back injuries, cuts and bruises. This is a major benefit of hiring a moving company.
Thank you for visiting International Van Lines. You can read more about us here.