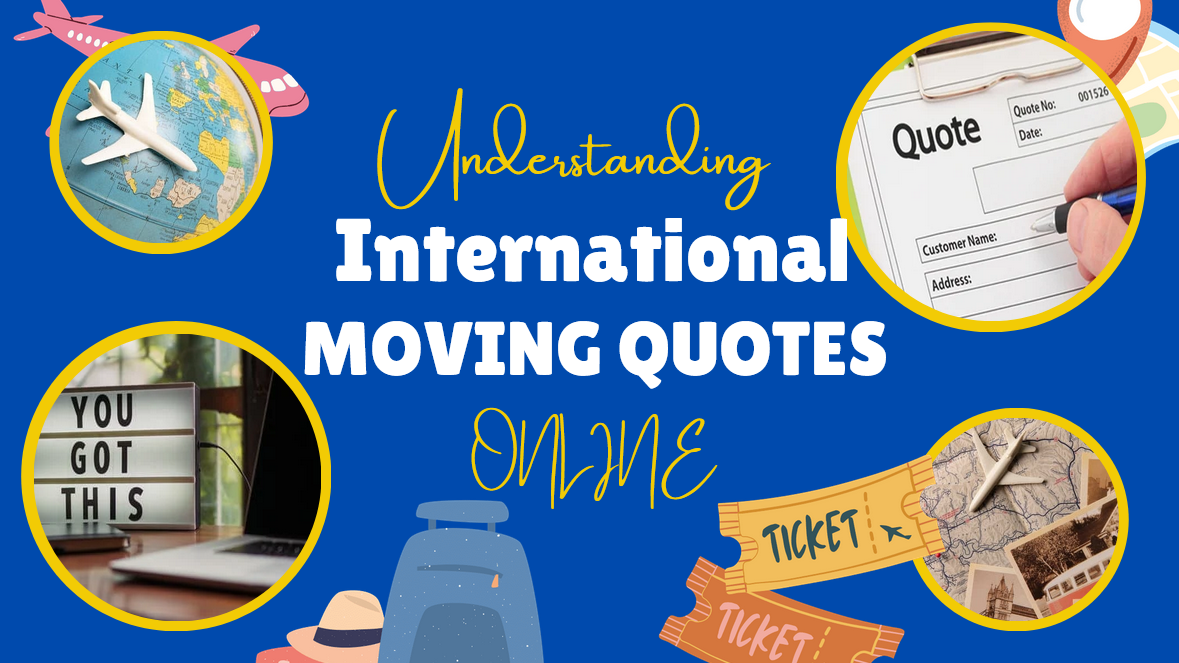 Understanding international moving quotes online
Moving to another country can be exciting yet challenging at the same time. With countless things to consider, selecting the right international moving company is crucial to ensure a smooth transition.
This article will provide a step-by-step guide on effectively comparing international moving quotes online. By following the steps outlined in this article, you'll be able to find the best international moving quote suited to your needs.

Start by checking licensing
The Federal Maritime Commission (FMC) is the regulatory agency that oversees ocean shipping and maritime law. An international moving company can't legally offer international moving services with an FMC license.
Reputable international movers will typically have their license information listed at the bottom of their website, and you can cross-reference the FMC website to confirm.
Additionally, international moving companies must maintain a bond of $75,000. It's risky to consider a company that needs the proper licensing because it will assume no liability if issues arise.
Read Here: How to Save Money when moving overseas
Top International Moving Companies

Here is a table of the top International Movers in the US. Ratings are based on Years in Business, Reputation, and Customer Reviews.
Request a visual or virtual survey
If you're moving a household of furniture and personal belongings overseas, you should ask about a visual or virtual survey. Here is why requesting a survey makes sense:
a. Accuracy: Phone estimates can work for smaller international moves; however, if you're moving a household worth of stuff, you'll want a global mover to assess the volume accurately.
b Packing & Supplies: If you've opted for professional packing, a virtual or visual survey will assist a company in estimating the number of supplies you'll need.
c. Property check: A survey can assist international movers in assessing the property to ensure they bring the right equipment. Having surprises on a moving day can be a stressful experience.
Most international moving companies offer virtual tours. A virtual tour is done via a mobile device and takes a few minutes.

Compare international moving quotes
The first step in comparing international moving quotes online is gathering at least three quotes from reputable companies. It will allow you to assess the range of prices and services offered. You can obtain quotes through the following:
a. Online research: Use search engines to find reputable international moving companies and request quotes through their websites or call them for more details. You should request up to three international moving quotes.
b. Recommendations: Ask friends, family, or colleagues who have moved internationally for recommendations on which companies to contact. Referrals are the best way to find the right international moving company.
c. Third-party websites: Utilize quote comparison websites that allow you to input your details and receive multiple quotes from different companies. You can use websites like Forbes and other trusted publications.
d. Read the fine print: Examining the exclusions in an international moving quote is essential. Ensure that each company you compare covers all international moving services you need.
Follow these steps, and you'll be on your way to locating the right international mover for your specific needs.

Compare Services Offered
When comparing international moving quotes online, it's essential to take into account the services each company offers. Below are some tips to ensure you get what you're looking for:
a. Packing services: Some companies provide packing services, while others may charge extra or not offer them. Consider whether you need professional help with packing or can handle it yourself.
b. Storage facilities: If you require storage for your belongings, check whether the moving company offers this service and the associated costs. It's essential to understand if you'll need storage at the point of pickup or destination.
c. Custom clearance assistance: Navigating customs can be complicated, so inquire about the customs clearance process and what's covered.
d. Insurance coverage: Determine what type of insurance coverage you'll have in the quote and whether additional coverage is available for purchase. International moving insurance is something that should be considered.
f. Port charges: Some companies may not include charges from the port of entry. It's essential to ask about port-related fees and if they're included in your international moving estimate.

Assess the Company's Reputation
The reputation of an international moving company plays a significant role in ensuring a successful move. To assess a company's reputation, consider the following:
a. Online reviews: Read customer reviews on websites such as Google, Yelp, or Trustpilot to get an idea of the quality of service provided. Online reviews can be a helpful tool when comparing overseas moving companies.
b. Industry accreditations: Check if the moving company is a member of international moving organizations, such as FIDI or IAM, which require strict adherence to quality standards.
c. Experience: Opt for a company with a proven track record and extensive experience in international moves. Additionally, seek an overseas mover with experience shipping household goods to your destination country.
Know More Here: How to ship household goods overseas
Analyze and understand the Price Structure
Understanding the price structure of each quote is crucial in making an informed decision. Consider the following when comparing quotes:
a. Base price: Compare the base prices of each quote, but remember that the cheapest option may not always be the best choice. Some international relocation companies don't include certain charges like port or customs charges.
b. Additional charges: Look for any additional fees or charges that may apply, such as packing materials, customs clearance fees, or extra services.
c. Currency fluctuations: If you're moving to a country with a different currency, be aware that currency fluctuations can impact the final cost of your move. It's rare, but something to consider when comparing international moving quotes.
d. Payment terms: Review each quote's payment terms and conditions, including the deposit required and accepted payment methods. Some international relocation companies accept credit cards, and some don't.
More about International Van Lines
Evaluate Customer Support
A moving company's quality of customer support can significantly improve your experience. Moving to a new country requires a lot of planning, and good customer service is essential to a positive outcome. Consider the following factors:
a. Communication: Assess the responsiveness and professionalism of the company's representatives when requesting quotes or seeking clarification. Ensure that all of your questions are answered in a timely fashion.
b. Language support: If you're moving to a country where English is not the primary language, choosing a moving company that can communicate effectively in both languages is essential.
c. Problem-solving: Inquire about the company's process for handling disputes or resolving problems. It's not uncommon for unexpected issues to arise when moving overseas.
d. Country guides: The best international moving companies will offer country guides to help you navigate the international moving process.
Confirm availability
Different companies may have different timeframes for completing your move. Ask about their estimated delivery window and choose a company that meets your schedule.
An international mover can provide you with shipping dates and details through the quoting process. If a mover can't offer accurate shipping dates, you should look for another company that can.
Read Here: 12 Tips to Choose Best International Movers
Compare insurance coverage
Most international moving companies offer insurance through third parties. International moving insurance is essential and should be discussed with movers. Remember that your household goods are handled multiple times and on the ocean for a lengthy period. Below are the two standard insurance options:
a. Total loss insurance: Self-packing is a great way to save money, but it will affect your insurance coverage options. Total loss insurance is for self-packed customers and covers the value of the complete loss of your shipment. It will not cover individual items.
b. All-risk insurance: All-risk insurance is the best option if you require complete coverage. It is based on your good's declared value.
If you don't get insurance, you're not covered. An international moving company legally can't be held liable for damage, so it's best to discuss the insurance options with your mover of choice.

Ask about additional fees
As your international mover, if there are additional fees. Some moving companies charge extra for services like disassembling/reassembling furniture, shuttle service, stairs, or difficult access.
Before signing the dotted line, you should understand the services included and excluded from your international moving quote.
Keep communication in writing
Once you've compared international moving quotes and chosen a company, ensure you get a written agreement outlining everything you discussed. It's essential to keep everything in writing if an expected issue arises.
Who are the best international moving companies?
According to Forbes and US News, International Van Lines, Allied Van Lines, JK Moving Services, Atlas Van Lines, North American Van Lines, and United Van Lines are the best international moving companies in the US.
Their ratings are on years in business, reputation, services, and cost. It's always best to conduct research, but you can feel confident in any international moving company.
How to compare international moving quotes online: Conclusion
Moving to a new country is exciting but, at the same time, overwhelming. With everything to think about, the last issue anyone wants to deal with is hiring the wrong international mover. Use the tips in this article to compare international moving quotes and avoid a headache.
International Van Lines is an international moving company offering global ocean and air shipping. We offer comprehensive international moving quotes with no hidden charges.
To request a free quote, complete an online form or call us today!