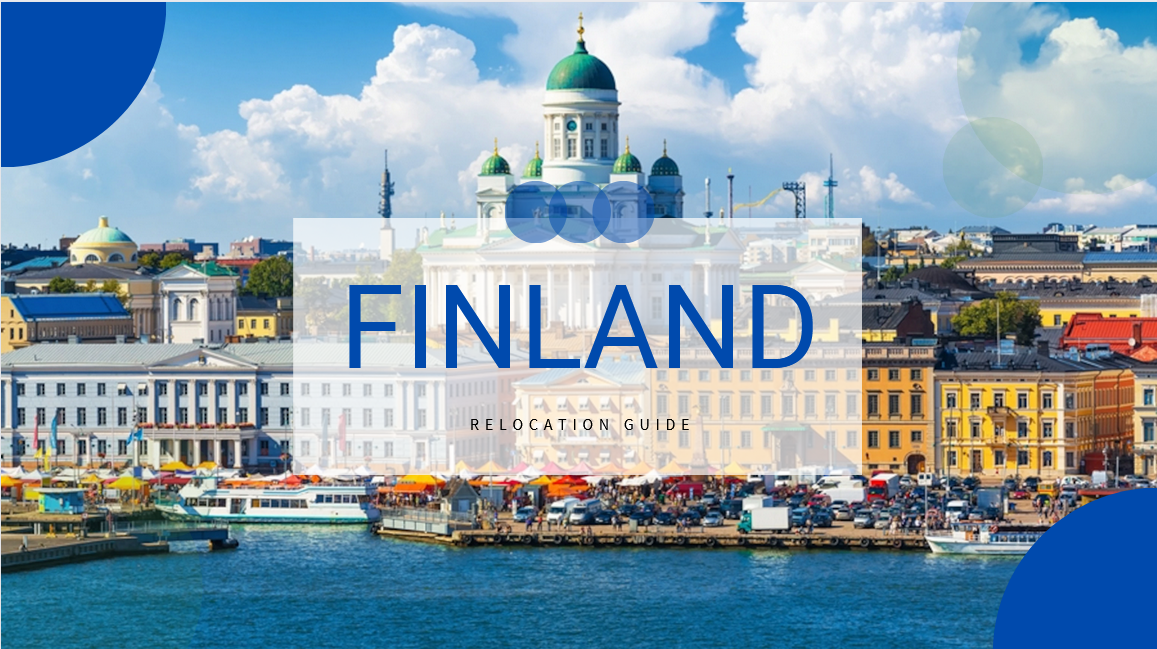 Moving to Finland From the US
Finland is known as the "Land of a thousand lakes," which is quite an understatement. After moving to Finland, feel free to relax, enjoy the midnight sun, and get a taste of mökkielämä or cottage life, at one of a half-million mökki cottages surrounding over 180,000 lakes.
If you can get out of the sauna long enough, you'll experience the country's fabulous mix of wild beauty, culinary excellence, modern design, and an egalitarian mindset.
Simply put, things work well in Finland. Public services run smoothly, there are low levels of crime and corruption, and there's an earned trust between the government and the public. All of these things work together to create a high-functioning society and a culture of looking out for everyone.
How to Move to Finland
The key to successfully relocating to Finland requires doing a fair amount of homework. Expect to spend plenty of time and energy researching the steps of your move.
What's the Process for Moving to Finland?
Moving to Finland, though exciting, engages many moving elements. An essential first step is to create an international moving checklist. Keeping track of all the tasks ahead and staying organized can minimize unwelcome surprises.
Remember to delegate. The best international moving companies are ready to help you every step of the way. Let them take care of the more complex issues. The process of moving to Finland follows the steps below.
Choose your destination. Finland has everything from bustling cities to beaches, mountains, forests, and tranquil country villages.

Create a moving budget and reserve a few months' savings for spending to get settled once you arrive.

Learn about residency requirements in Finland and choose to obtain the permit that fits your needs. .

Purchase travel insurance to cover your initial healthcare needs while you wait to become eligible for Finnish healthcare.

Make a detailed inventory of all the items you're taking to Finland, including household goods and vehicles.

Organize your cell phone service, financial accounts, international driver's license, and other must-haves before moving to Finland.

Pack and move to Finland.
How Long Can I Stay in Finland?
Americans arriving in Finland to stay less than 90 days won't need any special visas. Staying longer than that will require obtaining a temporary residence permit first, followed by a permanent or extended residence permit if you choose to remain in Finland for more than a few years. A qualifier for reaching permanent residence status includes staying in the country on a temporary permit for four or more years before applying.
Expat Work Permits
Get started early in your plans if you plan on working in Finland. Work permits can be challenging and time-consuming to obtain. You'll need one to work at a Finnish company or work on contract in the country. Employment or a working contract is required to qualify for this type of permit, which is typically valid for a year but can also qualify you for as long as your contractual agreement remains valid.
Retirees
There is no retiree permit as such in Finland. However, getting a Temporary Residence Permit will allow you to do just that.
Student Permits
If your studies are shorter than two years, your student residence permit will be valid for the duration of your program. If you choose to find employment afterward and wish to stay in Finland, you can switch to a work permit or apply for a job-seeker visa.
Digital nomads
Finland doesn't offer a visa or program designed to attract digital nomads. Instead, you can apply for a self-employment permit, which will allow you to stay in the country for up to six months at a time.
Best International Movers – US to Finland
Getting Your Stuff to Finland
Mentally, preparing yourself for your move to Finland is one thing. Getting your possessions ready for the travel is quite another. Remember that your relocation company is on your team as you plan, organize, and execute everything necessary to make your move as seamless as possible.
How do I Ship My Household Items to Finland?
Overseas moving takes time and involves container shipping, in other words, putting your possessions in a large metal box and placing it on a cargo ship to be delivered to a seaport near your new home or transported from there to your new home. The process typically takes four to six weeks to complete.
Air freight, although the more costly shipping method, speeds up the moving process to between two and four weeks and can easily get your household items to destinations farther inland.
Whichever method you choose, you may also require temporary or long-term storage at your destination or in your former location. Using storage solutions is common for persons moving long distances to keep everything simple and manageable.
How Much Does it Cost to Move My Belongings to Finland?
Moving overseas typically costs between $1,500 and $12,000. The cost of moving to Finland or other European destinations depends on how much you take and where you're going.
How Can I Save Money Moving to Finland?
International moving is a significant investment. However, you can take one or more of the following steps to lighten the load on your moving budget.
Less is more. The adage of pack light is crucial for any move and doubly so when moving internationally. Purging and downsizing are the rules if you need to meet a limited moving budget.
Your mover should offer professional packing services. However, they should also offer you the opportunity to save money by packing your own possessions.
Unloading your own container at your destination can save cash over having your mover perform the task.

If your moving date is flexible, let your mover know in exchange for a discounted rate.

Use an international moving cost calculator to discover where else you can save a few dollars.

Compare individual moving companies based on price and the services they can provide.

Don't be shy about asking for discounts from your mover. A good moving company understands that flexibility on its part is good for business.
Calculate Moving Cost to Finland

Can I Ship my Car to Finland?
Yes, you can ship your vehicle to Finland. Keep in mind that whatever you bring with you to Finland must clear customs. However, some rules and regulations must be followed, such as obtaining a Certificate of Conformity and submitting a declaration to the Finnish Tax Administration.
Navigating Finnish Customs
Finnish customs monitors everything that comes into the country, whether it's a commercial product or your box of sauna towels. One of the services your international moving company provides as part of your move is assisting you with the paperwork and compliance requirements for wherever you're moving. For the most part, leaving behind cleaners, liquids, food, or hazardous materials will make your experience through Finnish customs a piece of Toscakakku.
Should I get moving insurance?
Your stuff is traveling a long way. Nobody likes to talk about it, but things can happen that can damage your goods. Purchasing additional international or marine insurance costs an average of 3% of your shipment's declared value and is a small price to pay for peace of mind.
Can I Take My Pets to Finland?
Your pets are welcome in Finland. However, there are a few things to know and steps to take. Most of them are identical to other European Countries' requirements, with the notable exception of having your pet examined by a vet within 24 hours of departure if they're arriving unaccompanied. Other requirements include providing:
A valid veterinary certificate of health

Valid and current rabies vaccination records

A tattoo or a microchip identification tag
How Much Money Should I Take to Finland?
Plan on taking liquid money off at least three times your monthly expenses. Upfront fees upon your arrival in the country could include a housing deposit equalling up to three months' rent, insurance, and the cost of setting up your new place.
Before you arrive in Finland, ensure that you have a plan for accessing your money. You can use credit cards, traveler's cheques, and debit cards in the country until you obtain a Finnish bank account.
The visa or residency permit you receive may also have additional financial requirements to meet.
Living in Finland
In Finland, there are 3 million saunas for a population of just over 5 million. This plethora of saunas results from Finnish sauna culture and qualifies as a phenomenon that's even made it onto the UNESCO Intangible Cultural Heritage list. To start to understand more about Finnish culture and happiness, start with a sauna.
Stay Connected
To take advantage of public Wi-Fi and stay connected with friends, relatives, and potential employers, ensure that you unlock your phone before leaving the US and install a new SIM card with a Finnish phone number when you arrive in the country.
Finding a Place to Live in Finland
There's no way to sugar-coat the fact that finding affordable housing in Finland is challenging. Places to live are high in demand and low in supply, which drives the cost up. Apartment rentals are most common in the city. If you're looking for a yard to call your own, finding one on the outskirts of town is your best bet.
Finding a Job in Finland
It is not unusual for Finnish employers to look abroad to recruit employees to fill specific jobs. The high-tech sectors have experienced the most significant increase in job openings in recent years. In the coming years, manufacturing and service sectors will also see an upturn and need workers. Online job search platforms are an excellent place to start making connections for employment.
Getting Around in Finland
If you don't have access to a private vehicle to explore the numerous scenic roadways, you can take advantage of Finland's excellent public transport system all across the country. Trains are mostly on time, even when facing the worst winter weather. The entire country is also linked by an extensive bus and rail network.
Ferries to Estonia and Sweden are multi-story, floating palaces with numerous restaurants, bars, nightclubs, and shops. They combine the luxury of cruise ships with the practicality of high-capacity vehicle decks to meet the needs of any adventure.
Healthcare in Finland
Public healthcare in Finland is not free, though the cost is very reasonable. Public healthcare is the responsibility of individual municipalities and is primarily funded by taxes and patient fees.
Public healthcare is available to all permanent residents in Finland regardless of their financial situation or country of origin. Primary health care services are provided by municipal health centers or terveysasemat, and specialized medical care is handled by district hospitals or sairaalat.
Plan on using your private or travel health insurance at first. You can choose Finnish care once you've established permanent residency status.
Education in Finland
Finland has invested heavily in its education system since the 1970s, earning the country a designation as one of the best educational systems in the world. Many universities in Finland offer English-language courses.
Non-EU/EEA students enrolling in English-taught degree programs must pay tuition fees. Yet, study programs taught in Finnish or Swedish are free for all international students.
How do I Find an International Moving Company to Finland?
Finding the right international moving company for you is crucial for making the adventure to your new home as seamless and straightforward as possible. Ensure your mover is up to the task by meeting the following criteria.
Company is listed and in compliance with FMCSA
Listed and in compliance with the Federal Maritime Commission

Is appropriately licensed and insured

Offer additional moving insurance protection

Can provide checkable referrals from past customers
Get an International Moving Quote to Finland
Contact your international moving company and request a moving quote. You'll have the opportunity to speak with a professional who'll provide you with the information you need to start your journey today.