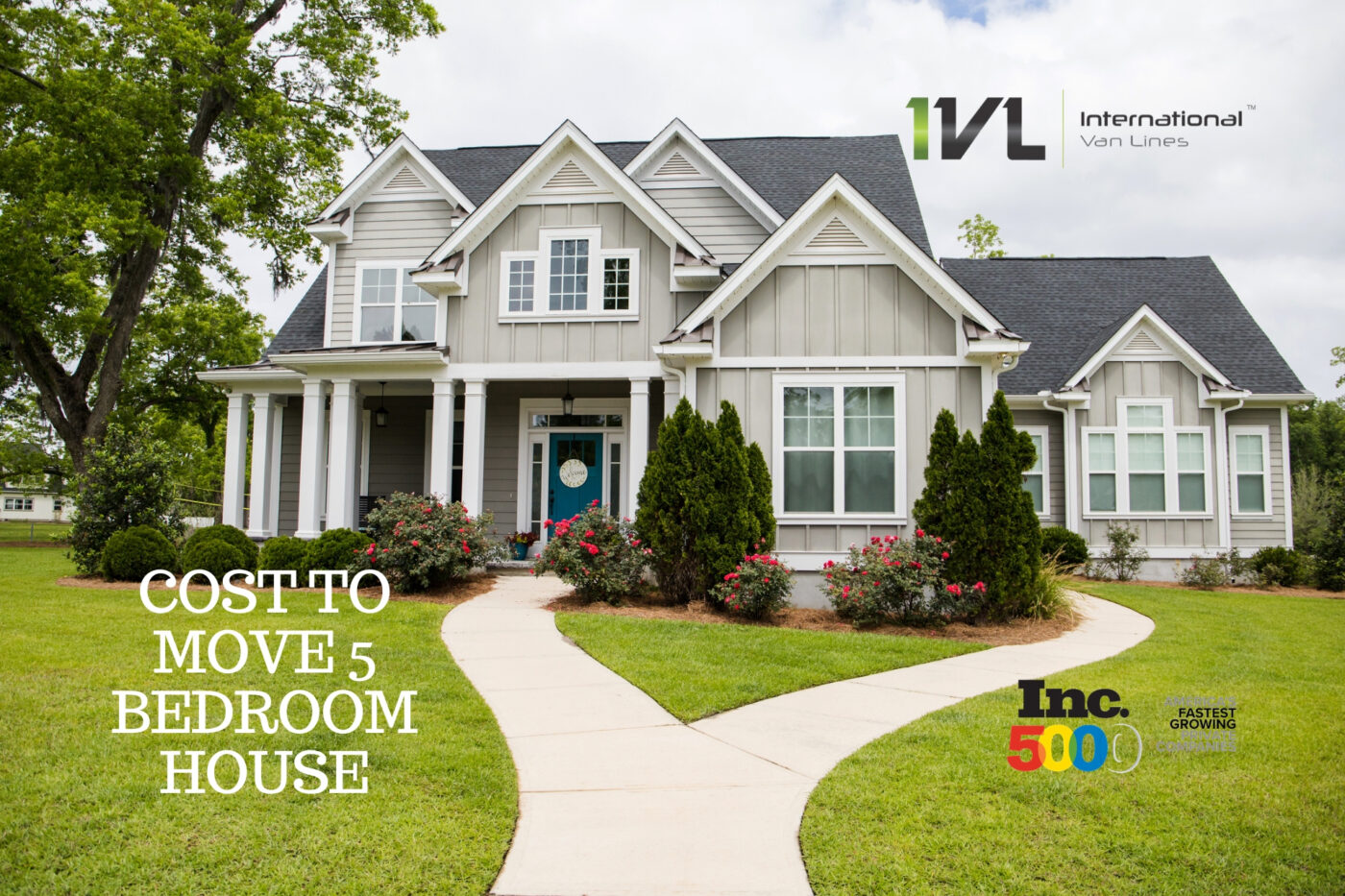 The Average Cost to Move 5 Bedroom House
We often get the question, "what's the cost to move 5 bedroom house?". Although it would make life easy to offer a quick over the phone quote, it doesn't work like that. Out of state, moving costs vary based on zip codes. Also, the services required and the time of year you're moving will affect the price. To make life easy, we've put together the complete breakdown and all costs associated with moving a 5 bedroom house. However, please remember, it's always best to speak with a relocation professional to get more accurate pricing.
Packing Cost to Move 5 bedroom house
Moving is a daunting task, and hiring a professional to pack can help eliminate some of the stress. When hiring a professional mover, you will have an option to have them come out and wrap everything. They'll send a team of 4 to 6 men who will bring all the supplies and pack everything for you, including your clothes, books, and shoes. Below is an outline of what you can expect. However, it's always best to speak with a relocation coordinator.
Packing charges do not vary based on your zip code, so no matter where you're moving from, the rates below will apply. Keep in mind that the prices listed below are for a full-pack. However, you will have the option to partial pack if you'd like. All furniture is always wrapped and protected at no additional cost. If you require special crating for painting or a piano, it will be an additional charge.
| Volume | Full Packing Cost | Supplies and Labor |
| --- | --- | --- |
| 1000-1150 cubic feet | $1500-$1800 | All-Inclusive |
| 1200-1400 cubic feet | $1150-$2000 | All-Inclusive |
| 1500-1800 cubic feet | $1650-$2200 | All-Inclusive |
Trucking, Delivery, and Off-Loading Costs
The cost to move a 5 bedroom house will vary based on zip code, time of year, and the final weight or volume. Also, we recommend that you speak with a relocation coordinator about final pricing and do not base your decision on the estimates provided. Many variables can cause a price to go up or down. However, you can use the below as a guideline to help you plan and budget. If you have any questions, please feel free to contact us at any time.
Cross Country Move: An example of a cross country move would be CA to New York or Florida to Washington state.
Long-Distance Move: A long-distance move is any move that crosses state lines. An example would be TX to IL or NY to GA.
Short Distance Out of State Move: A quicker out of state move would be FL to GA or NY to NJ. Although the distance is short, it's still considered a long-distance move.
| Move Type | Peak Season (Summer) | Off-Season (Winter) |
| --- | --- | --- |
| Cross Country | $5000-$6000 | $4000-$5000 |
| Long-Distance | $4000-$5000 | $3200-$4000 |
| Short Distance | $3000-$4000 | $2500-$3500 |
Moving Insurance
Before you start your search for long-distance movers, checks the DOT SAFER website for license information. Insurance is something that should'nt be overlooked. Damage is a common occurrence on out of state moves. Every moving company offers different types of insurance, but below is what International Van Lines can provide you with.
All Risk Coverage: All risk insurance coverage is full protection in case of a claim. However, you would be required to fill out an insurance form stating the item and values. If an item is not listed, it will not be insured. The coverage will be 4% of the declared value. Please keep in mind that a professional mover would need to pack everything for you in order to get insurance.
Total Loss Insurance: Total loss will only cover a complete damage. The insurance is used for catastrophic situations only.
Full Value Protection: This is not insurance, but coverage paid directly by the mover in case of a claim. It's costly, and you will receive about $6 per lbs per an article in case of a claim.
Limited Liability Coverage: If you opt-out of purchasing insurance, you will automatically have LLC, which will only cover up to 60 cents per lbs per article.
Bottom Line
If you're looking for the cost to move 5 bedroom house, you can expect to pay anywhere from $6000-$10,000 on an average. To receive a proper moving quote, you should contact a lisenced mover who will either send a representative to your home or offer a virtual survey. Please feel free to contact us if you have any questions in the meantime.