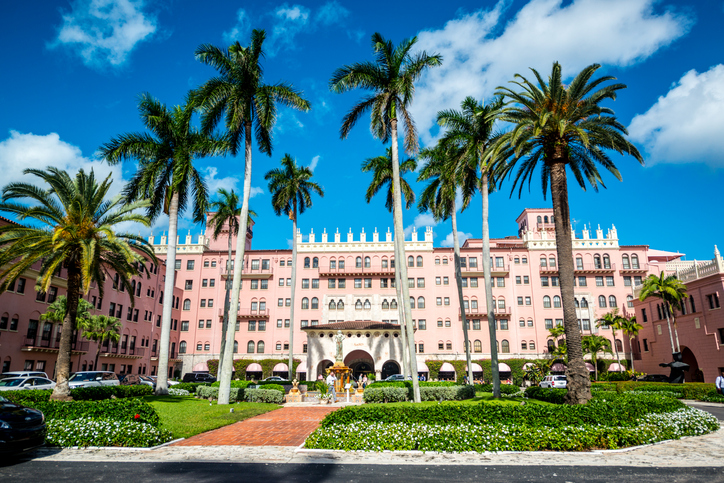 Everything you need to know about moving from New York to Boca Raton, Florida
Boca Raton is one of Florida's most beautiful and elegant cities. Known as one of the state's world-famous Palm Beaches, Boca has a lot to offer. From the Boca Raton Art Museum, Mizner Park, and world-class golf, Boca is a prime location any way you slice it. If you're one of the many moving or retiring in Boca Raton, FL, you will find everything you need to know here.
Is Boca Raton, FL, a good place to live?
Boca Raton is one of the most desired places to live in all of Florida. It's home to world-class dining, manicured golf courses, and some of the most beautiful homes in all of Florida. Boca also has a nice mix of young professionals and retirees, which makes it attractive to most. Yes, Boca Raton is a great place to live.
Niche.com gave Boca schools an overall grade of an "A," making it a desirable place for young families. It also has magnificent properties overlooking the water or some of the most beautiful golf courses in the country. After interviewing 100 Boca residence that moved from New York, they rated Boca a 10 out of 10. You can't go wrong moving from New York to Boca Raton, Fl.
Is it expensive to live in Boca Raton?
Living in New York is 53% more expensive than in Boca Raton. The national median home value in Boca is $217,500. Boca's median home value is $458,600, making it one of the more expensive cities in the country. However, compared to New York, Boca is still relatively less expensive. Moving from New York to Boca Raton has become a prevalent route amongst movers.
Boca Raton population and demographics
According to the United States Census Bureau, Boca Raton has a population of 98,805 residence. The population has increased by 18.2% since 2010. Boca has been and will continue to be one of the most prominent cities in Florida.
Race and Hispanic Origin
White
88.6%
Black or African American
4.5%
American Indian and Alaskan Native
0.1%
Asian
2.9%
Native Hawaiian
0.0%
Two or More Races
2.1%
Hispanic or Latino
14.5%
White alone, not Hispanic or Latino
75.5%
How much does it cost to hire a mover from New York to Boca?
The average cost of hiring a mover from New York to Boca is $4500 to $6000. The standard transit time is 6 to 9 days. However, the time of year, mover, and the weight of your move can affect the moving cost.
The weight or size of your move will have the most significant impact on cost. Moving is a great time to get rid of unwanted items. Create an inventory list of what you're moving and put aside things that are no longer needed. You can arrange a pickup from a non-profit organization or sell them on OfferUp.
Additionally, if you're moving during peak season, you can expect moving costs to be 25% higher than in the winter. Although you may not control your moving date, if you can move in the winter, you should consider it. It also may remind you why moving from New York to Boca Raton is a good idea.
| Bedrooms | Full Packing | Self-Packing |
| --- | --- | --- |
| 1 bedroom | $2400-$3000 | $2200-$2700 |
| 2 bedroom | $4500-$5200 | $4000-$4900 |
| 3 bedroom | $8200-$9000 | $7600-$8500 |
| 4 bedroom | $10,000-$12,000 | $9000-$11,000 |
| 5 bedroom | $14,000-$16,500 | $12,500-$15,000 |
| 6 bedroom | $17,500-$20,000 | $15,500-$18,000 |
Are all moving companies the same?
No, there are moving companies and moving brokers. A moving company is responsible for the movement of your household goods in their trucks with their crews. A moving broker arranges your move with a national moving company and assumes no liability if something goes wrong. You can search the SAFER website for license information before choosing a moving company.
Moving from New York to Boca Raton is considered a long-distance move. Moving out of state is a big deal and should be treated as such. Over 7000 registered moving companies in the country, with only a handful that maintain a good reputation. We all know someone that has been scammed, so make sure you do your research.
Is Boca Raton snobby?
There's a lot of old wealth in Boca Raton, and with that comes some snobbiness. However, the vast majority of Boca is not snobby. Many young families want to raise their children in a safe environment with good schools. Boca is a great place to raise a family, so many people will agree that it's worth the few that are snobby.
Additionally, moving from New York to Boca Raton will not be much different in terms of attitude. However, in Boca, it's not as expected, and you will be surrounded by beautiful Palm Trees, so. You have to weigh the pros and cons of living in Boca Raton, but that's a minor issue in the grand scheme of things.
How much money do I need to live in Boca Raton comfortably?
The average cost to rent a one-bedroom in Boca is $1275, and the average price to rent a three-bedroom is $2121. The average income of Boca Raton residence is $85,000 per year, allowing you to live comfortably. However, Palm Beach is the most expensive place to live in Florida, so you may have to settle for a lower-income neighborhood.