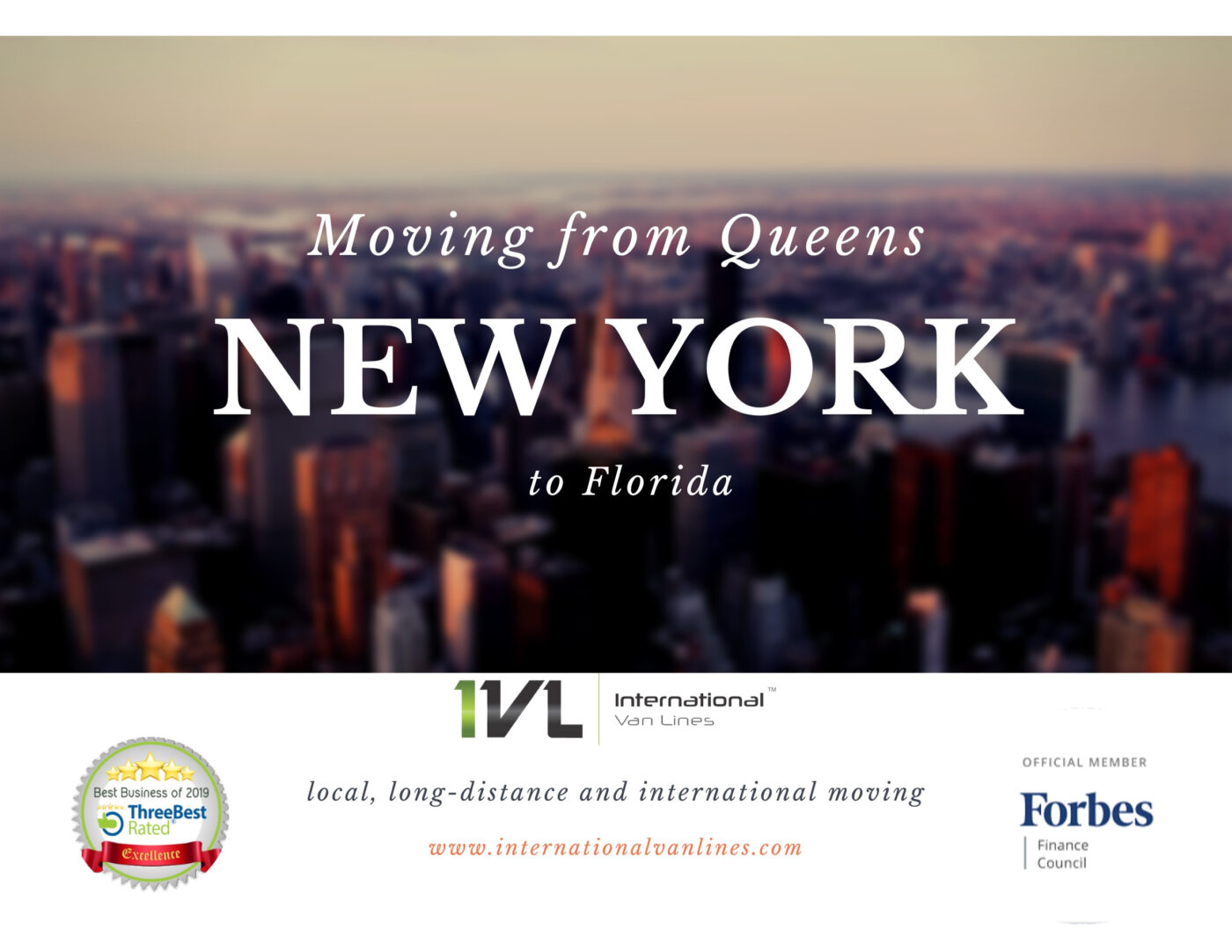 Cost of moving from Queens, NY to Florida
Moving from Queens, NY to Florida is an exciting venture. As one of the nation's top moving companies, we experience more people moving into Florida than any other state, and there are good reasons why. For one, Florida has beautiful weather, which is obvious. But many people don't know that business in Florida is booming. There are many opportunities for growth, and some of the largest corporations in the world call the Sunshine State home.
Undoudtabley, there are many great outdoor activities, beautiful attractions and of course, Disney word. If you are one of the thousands of people moving from Queens, NY to Florida, we can help. This article will provide the cost associated with moving from NY to FL. We will give different cost scenarios that will help you budget and make an educated decision.
Cost of Moving with International Van Lines
You can use the below price grid to get an estimate for your move. However, please keep in mind that moving costs can vary based on move date, size, and the overall size of your move. Below you will find five different prices for moving from Queens, NY to Florida. We also recommend speaking with a relocation coordinator to get a more accurate estimate of what you're moving. We also recommend reading this article on how to pack for a move. Self-packing can help reduce moving expenses.
| Weight/Size | Full Packing/Materials | Trucking/Delivery |
| --- | --- | --- |
| 2000lbs/285cuft | $356 | $1425 |
| 4000lbs/571cuft | $713 | $2855 |
| 6000lbs/857cuft | $1017 | $4070 |
| 8000lbs/1142cuft | $1427 | $4853 |
| 10,000lbs/1428cuft | $1785 | $5997 |
What to expect
Moving from Queens, NY to Florida is a straightforward process. Luckily it's the most common move, so our trucks are always going back and forth. The standard transit time is about five days door to door, and we also offer storage, both short and long term. As a result of the volume of moves, we handle consolidations are a great option to save money.
On the day of the mover, our crew will show up and get to work. Whether you're packing or require full packing we will make sure all furniture is disassembled and reassembled at the destination. Getting a quote for moving from Queens NY to Florida is simple. Give us a call and we will offer you a quick and easy virtual survey. The whole process takes about twenty minutes. We thank you for considering International Van Lines and we look forward to helping you with your move.