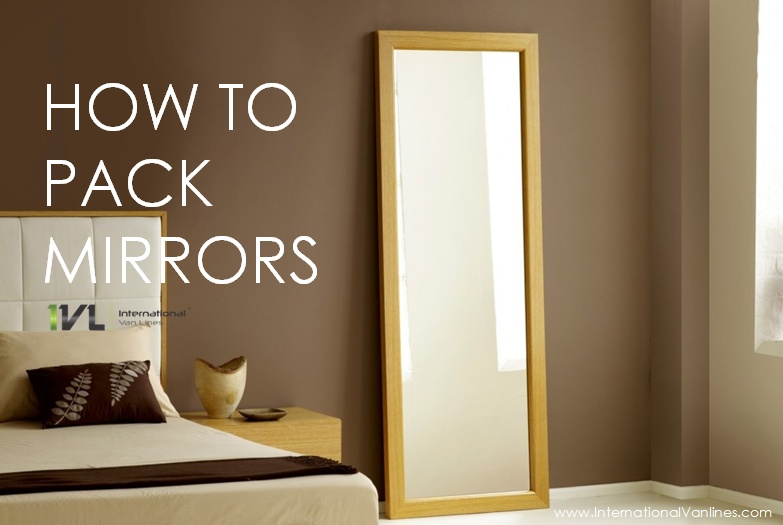 Mirrors are the most brittle and delicate possessions about which people worry when they are about to move.
Here are some easy tips to keep your mirrors safe while you move:
Stick tapes across the frontal side of the mirror in the shape of the alphabet "X". This would ensure that in case the glass breaks or cracks, the pieces would stay in place.
Wrap every individual mirror in "bubble wraps" sheets or in old newspapers.
Make a picture box kind of a thing for your precious mirror by stuffing wadded newspapers at the bottom of the box.
You can also use specially padded boxes for safe transportation of your mirrors.
Minimizing the risk of your mirror getting damaged during transit:
Find a box that is sized perfectly for your mirror. This box should be a must-buy for you when you shop for the moving supplies. You can get in touch with your IVL moving coordinator in case you have problems finding a suitable box.
Stuff every edge of the box with crumpled and crushed newspapers or thick layers of shredded papers for creating a considerably fat cushion on which the mirror can rest.
Before you place the mirror in the box, make sure that it's is completely wrapped in padded paper or "bubble wrap" and secured tightly enough with tapes.
Look for gaps after you have placed the mirror in the box. Fill every gap with crumpled newspapers.
Never pack more than one mirror per box.
Packing large and heavy mirrors and glass table tops:
These should always be packed with professional assistance. Customized wooden crates should be used for added protection. We recommend that you seek help from your IVL's moving coordinator.
If your mirror does not have a decorative frame and has 4 simple 90 degree corners, you can buy corner protectors from IVL's moving team or from your local frame shop.
We wish you a safe & secure relocation
Call us Today for a Free Moving Quote!
Toll Free – 855 674 7447