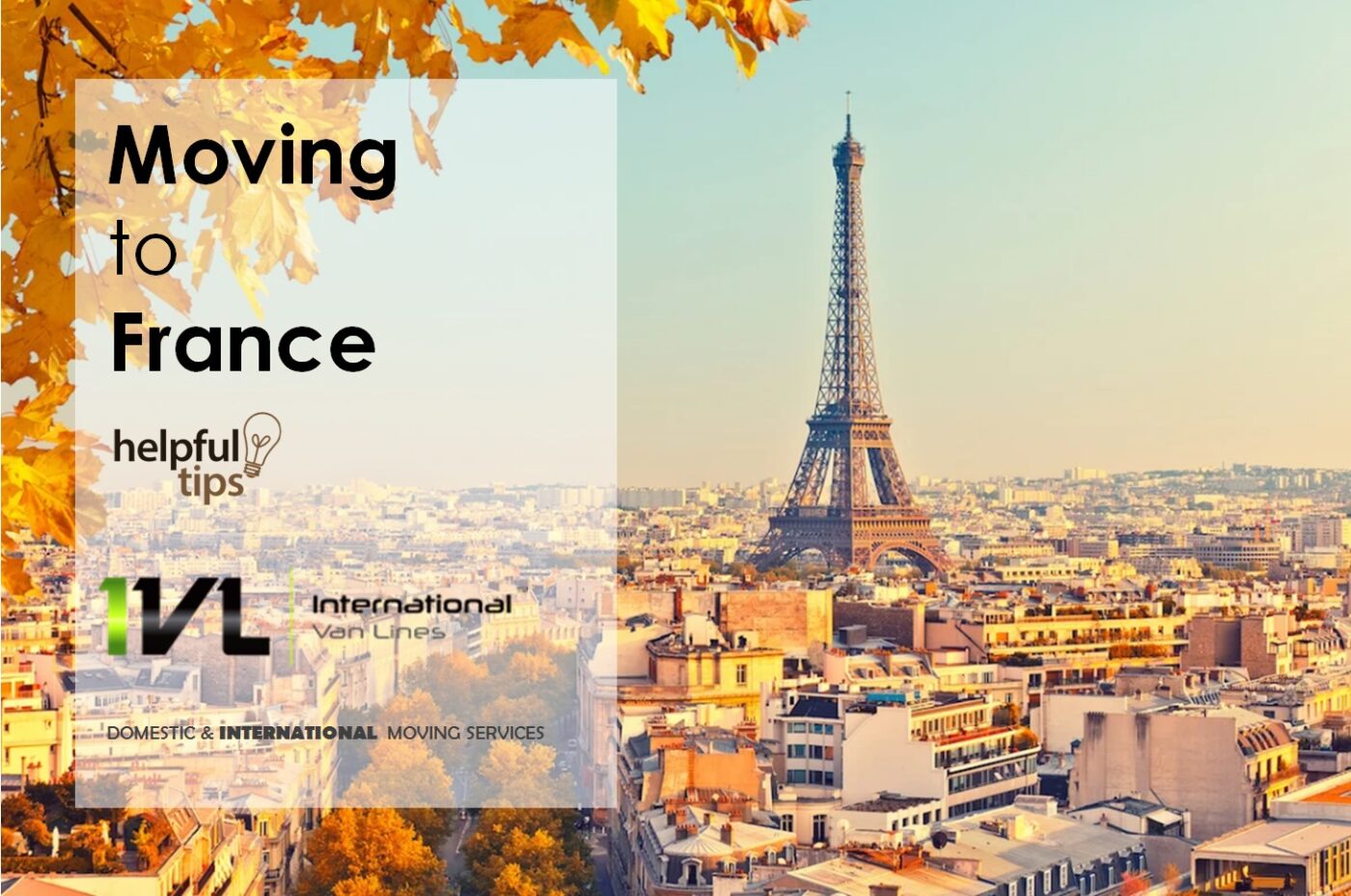 5 Tips for Moving to France
In this article, we will provide 5 tips for moving to France. When you think of France, the first thing that is likely to come to mind is the ever-beautiful, the popular, and the true architectural wonder, the Eiffel Tower, which is the highlight of a trip to this magnificent country. This 1000-foot tall wrought-iron tower is an iconic establishment that truly represents Paris, the capital of France.
Once the image of the tower disappears, it is immediately replaced by pictures of white sandy beaches, delectable French cuisine, and delicacies such as many varieties of cheese, freshly baked croissants, and silky smooth crepes. Lastly, France conjures up images of fashion like you've never experienced before.
If you are thinking of moving to France and are in the middle of planning your move, there are a few important things that you need to bear in mind in order to make it a smooth, successful journey. You can also learn about customs of France.
The French bakeries and wine shops are surely waiting for you, but there many more essential things that you need to prepare in advance in order to make the move easy and hassle-free.
Here are a few useful tips that'll help you move to France. You can also visit our main website internationalvanlines.com
1. Finding Your Dream Home
France is one of the most beautiful countries in the world and offers some amazing living opportunities in terms of houses and apartments.
Finding your dream home is one of the most essential aspects of moving to France, and it majorly depends on the kind of lifestyle that you are looking for.
For instance, if you are an adventure seeker and are really fond of winter sports, you would absolutely love living in a home in the French Alps, an area in France which is a part of the Alps mountain range.
On the other hand, if you wish to bask under year-round sunshine with warm weather throughout the year, areas like the French Riviera are ideal for you.
In order to find the right home, you need to consult a buyer's agent who will not only help you narrow down your choices but will also guide you at each step in terms of location, the cost of living, buying property in France, and so many other things.
2. Register with the French Authorities
Moving to France or any other country in the world isn't an overnight process; you need to have a residence permit and even a French visa if you are going to be living there for more than three months.
However, that greatly depends on which country you are from (your home country) and your nationality. Also, if you live in the EU at the moment, you won't require a visa when moving to France.
In case you need a long-stay visa, which is also known as the visa de long séjour, you have to register with the (OFII), an acronym for Office Francais de l'Immigration et de l'Intégration.
Once you do that and buy a home in the country, the next thing to do is to register with the French authorities, whatever your nationality may be.
It is best to do all your homework beforehand and get the necessary information to make the move trouble-free.
3. The Language Barrier
Since you are moving to France, you will obviously need a job there as well. It is important to note here that you must know how to speak fluent French if you wish to land a reputable job in the country.
It's not just for the job and work; it is essential to know the French language for daily life in France, too. You are likely to face serious difficulties and language barriers if you don't know how to speak French. So, before you relocate, make sure that you learn how to speak the language.
You can join online classes, download language applications, or get help from numerous audio resources that you will find in great abundance online.
4. Learn about the French Way of Life
When moving to a place like France, one must always be prepared to experience a culture shock because integrating into a new culture can be quite a complex process.
If you are moving to France from the United States, for instance, you will find yourself in a whole other world, and it will take quite a while for you to settle there and become familiar with your surroundings.
It is best to read up, ask around, and do your research on the French way of life. From the type of people and diverse communities to the daily way of life and long lunches, for instance, you are in for an amazing learning experience.
5. Have All Your Paperwork Ready
For those who might know, the French bureaucracy is really big on paperwork – to the point of serious obsession. From getting a visa to setting up a bank account in France, everything requires proper paperwork and documents.
The key is to be meticulous, know exactly what you need, organize all the documents and paperwork beforehand, and do your research.
6. Hire a Professional Mover
One of the most important things you need to consider when moving to France is how you're going to get your stuff there.
Moving to a new country is truly an exciting thing, and many people end up taking the entire move into their own hands due to this excitement. However, it is ideal to let the professionals do the job. Hire a professional moving company to facilitate the move and make this transition for you super easy and stress-free for you.
Here are some reasons why hiring an international relocation service is the best thing to do to.
· They Have All the Experience
When it comes to international moving, the most vital element is experience. If it's your first time moving to a new country, you are probably confused about the whole thing and aren't sure where to start.
Professional international movers have all the experience in this field with thorough training on how to ship goods from one country to another. It is also important to note here that moving internationally is a lot more complicated and different than moving locally. These movers know how to pack goods, move them, and handle all your personal belongings with great care and caution.
Additionally, you will also be able to avoid extra costs include damages, owing to their years of experience in international relocation processes.
Pro Tip: Search for a list of reputable professional moving companies so that you know who to hire based on their experience, quality of work, moving fees, etc.
· They Will Do The Heavy Lifting
Imagine moving to France and having to load and unload all those heavy and massive boxes – doesn't sound like an ideal, hassle-free move, does it?
That's where a professional mover comes in; they will do all the heavy lifting for you and take care of everything without you having to lift the boxes yourself and transport them all the way to France.
You can focus on other things that are important for the move while the company takes care of the luggage and lifting.
Pro Tip: Make sure to update the movers regarding the bulk and weight of your belongings so that they know exactly what to expect.
· Increased Efficiency
Movers move at an enviable speed when it comes to loading and unloading all your things, which is why they are so efficient at their work. They have proper training in maximizing each load and taking care of your move in the best and the fastest way possible.
If you are looking for a reputable and professional moving company to help you with your move, look no further than International Van Lines. This award-winning company has been providing excellent domestic & international relocation services since 2000.
Get in touch today and get all the information you need and make your move to France a beautiful journey.
Final Word
As excited and thrilled as you might be about moving to France, know that it is very important to follow each and every step required for the move properly. If you miss out on any step, you may encounter serious problems and challenges.
So, always make sure to do thorough research and do all your homework. Join online help and support groups and get in touch with someone who has successfully relocated to France. This will help you with the minutest of things and will ensure that you have everything ready and perfectly organized.
After all, you are moving to France, a place that most people dream about and wish to visit at least once in life. Make sure you make the most of it!