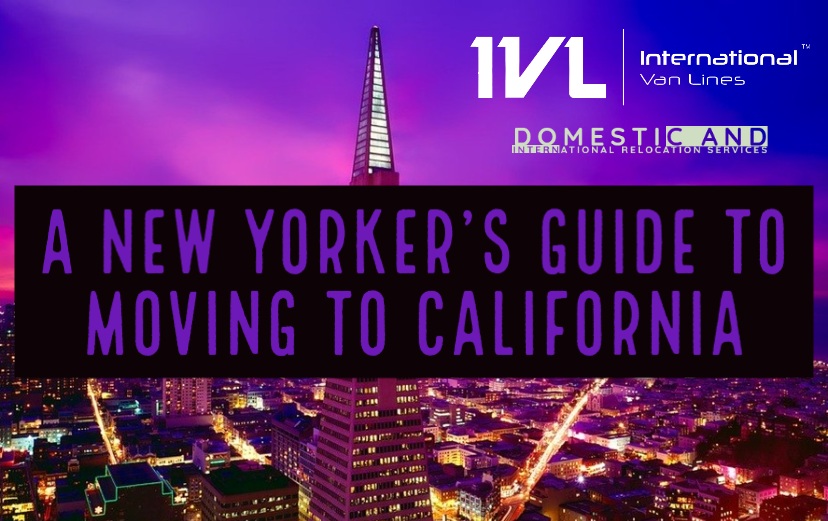 A New Yorker's Guide to Moving to California
A New Yorker's Guide to Moving to California. There is no doubt that New York has a lot of charm. However, if you have spent your life in the hustle and bustle of the Empire State, you may be craving the warmth. The culture, and diversity of a place like California.
The third-largest state according to landmass, California boasts the most population in the country – and there is ample reason for that: the sunny climate, the gorgeous coastlines, and endless job opportunities, especially in the tech industry are just a few things that attract thousands of people to the Golden State.
However, making a cross country move is not easy. If you plan on moving from New York to California, here are some things that you need to consider if you want to have a successful relocation experience.
Cost of Moving From New York to California
The cost of moving from New York to California depends on several factors, including how much stuff you will be taking with you, the distance from a city in New York to a city in California, special handling for fragile or valuable items, and packing and unpacking services.
For example, if you lived in a 1-bedroom apartment in New York, this means there are fewer things to relocate and hence the average cost of your move from New York to California should be about $2,500 to $3,000. However, if you are moving a 3- or 4-bedroom apartment, the cost can be anywhere from $7,000 to $10,000. A New Yorker's Guide to Moving to California will help you navigate.
However, you can get a more accurate moving estimate from the International Van Lines free moving quote.
Be Minimalistic
If you were a true minimalist, you would sell or donate all of your belongings, hop into your car, and coast to California. However, this is not always practical and you would need at least some essential stuff when you are moving from New York to California.
However, you can still downsize as much as possible. Keeping your stuff to the minimum will ensure that you keep within your budget when making a cross country move and it will be much easier to set up your new home.
In order to downsize, sort through all your belongings and pick out only those things which you cannot do without. Hold a garage or yard sale to sell out as much stuff as you can and generate some cash in the process, which you can put towards your moving expenses. What you are not able to sell, you can donate to a local charity and do your good deed of the day.
Also remember that the weather of New York and California is wildly different so you won't need as much winter clothes. If you have fur-lined boots or parkas, you can give them away to your friends and just keep a few essential jackets, scarves and gloves for the few chilly winter nights in California.
Also take note that doing all of this can take a lot of time so make sure you start months before you have to make the actual move.
Pack for the Long Haul
Hiring a professional moving company is a very wise decision when making a state-to-state journey. However, you need to keep in mind that eve the fastest relocation services won't be able to transport all of your belongings in a single night.
On average, it takes a long distance relocation company anywhere between one to four weeks (depending on a variety of conditions like distance, accessibility, and weather) to deliver all of your belongings to you. A New Yorker's Guide to Moving to California is meant to help you with your move.
Hence, you will need to pack away some things for yourself. You would take with you rather than give to the movers for transporting. This means you should bring a lot of clothes which will tide you over for several days until your stuff is delivered.
Other things that you need to pack are toiletries, dishes and glasses, some bed linens, and a few pieces of smaller furniture. Also make sure to keep all your important personal documentation with you. Although International Van Lines keeps immaculate care of your belongings, it is wise decision to transport these critical items with you.
Also remember that your stuff will experience a lot of shifting, bumping, and shaking while it is on the back of the moving trucks, so take care to pack it securely, use sturdy boxes and bubble wrap, and not to be stingy when it comes to padding.
Your movers can also rent out special crates for moving, which can help secure your stuff.
Do The Packing Yourself
It is very convenient and easy to hire the services of your moving company to pack and unpack your stuff as well. However, if you are on a tight budget, it is also a good idea to forego additional services like packing and unpacking stuff and do it all by yourself.
Start packing your stuff at least one month in advance so that you don't have to rush and risk forgetting to pack important items. By packing all the boxes yourself, you will be paying less to a professional relocation service.
You can also save money through packing by stocking up on boxes every time you visit a department store. Some of the best-sized boxes are ones that hold diapers. They are large enough to hold a lot of your stuff but also small enough that they can be carried.
You can also load up on newspapers which are a good way to pad up your boxes and wrapping your fragile things in. Towels and linens can also be used to wrap items in and keep them secure.
Cutting Down on Gas Cost When Moving
Driving their own car cross-country works for some people. Although a lot of people are terrified of the prospect of hours and hours of monotonous driving and would rather just book an airplane ticket, for others a state-to-state road trip can be a once-in-a-lifetime opportunity to enjoy some of the most breathtaking sights in the country.
Therefore, if you are driving from New York to California, make the most of your time. Additionally, you may be accustomed to yellow cabs and buses in New York, but when you come to California, you can expect to drive a lot, so you might as well get some practice while you can.
To cut down on the cost of your fuel, redeem grocery shopping and credit card rewards to reduce the cost at the gas station. Another good way to cut down on cost is to fill your tank in small towns where gas prices are usually lower than what they are in big cities.
Avoid traffic jams by not driving during peak hours and drive at a steady and consistent pace to reserve your fuel.
Cost of Living in California
When you think of California, perhaps the first things that come into your mind are Los Angeles and Silicon Valley and sky-high cost of living. Of course, there are several places that exclusively cater to the rich and affluent in California; however, overall, the cost of living in the Golden State is nowhere as high as it is in New York.
The median rent in New York City for a 1-bedroom apartment is $2,980. In contrast, San Gabriel located on the east of Los Angeles has an overall median rental price of $1,798 (as compared to New York City's $3,475). This means that if you were living in a matchbox apartment in New York, you can easily find a two-bedroom place in California for the same price.
In fact, housing in California is not the only thing that is more affordable than New York. Clothes, groceries, utilities, and public transportation are all less expensive than the ones in the Empire State.
Finding an Experienced Moving Company
The distance between New York and California is almost 4000 miles. Moving such a long distance can be pretty intimidating and for a first-time mover, downright terrifying.
International Van Lines are a leading moving company that has decades of experience in helping people relocate over long distance, both locally and internationally. We can help you find the most cost-effective way to make your move from New York to California, make sure you have the appropriate insurance coverage, help you safely pack and unpack your belongings, load and unload your possessions, and handle all the intricacies of the moving process with you.
Since the cost associated with moving cross-country is hardly a trivial matter. we make sure we give you the best shipping quotes in the industry without compromising on service quality.
Relocating from New York to California can be a very stressful experience but having the services of International Van Lines can save you time, energy, resources, and money while giving you some much-needed peace of mind.
Once you have successfully relocated to California, don't forget to have the time of your life.