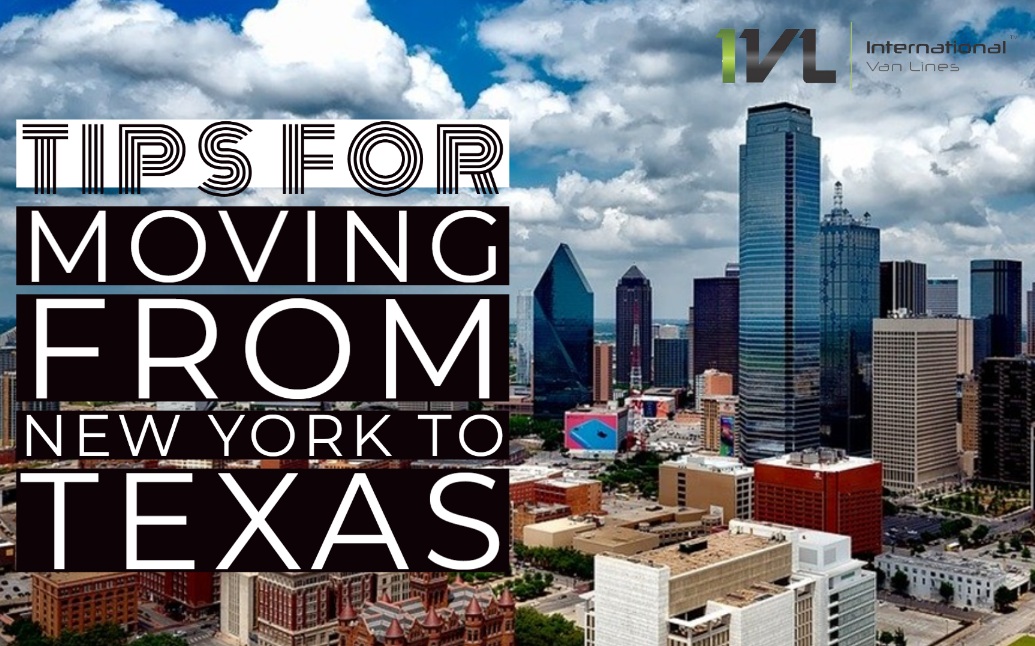 Moving from New York to Texas
Moving from New York to Texas – All you need to know. If you are bored of the traffic jam, the noise, the high cost of living, and the icy cold winters of New Yorks, perhaps it is time to consider moving to greener pastures like Texas.
The Lone Star state is one of the most popular places for people who are looking for great job opportunities, cultural diversity, low cost of living, bigger and more affordable housing and pleasant weather all year round.
Of course, moving 1,558 miles is no mean feat and it will definitely come with several expenses. So if you have decided that moving from New York to Texas is in your best interest, here are some things that you need to consider to make your shift as smooth as possible.
DIY tips for Moving from New York to Texas


DIY moving may seem like a good idea at the time of your relocation; however, experts do not recommend that you try to move on your own. Not only will your road trip be fraught with unexpected surprises included blocked roads and inclement weather, but — contrary to popular belief — it may also end up costing you thousands of dollars.
Here is a breakdown of the things that will add to your moving expense when Moving from New York to Texas.
Truck Rentals
You will need to rent out a commercial truck if you want to go the DIY route. Some things you will need to consider is their one-way and round-trip fee or if they charge by mileage. All of these options can be pretty expensive and long-distance traveling can easily run into excess of a thousand grand. Additionally, if you face delays on the road, you will need to pay extra fees that could be anywhere between $50 and $100 for each additional day the truck is with you.
Fuel
Aside from the high cost of renting a truck, you will also have to pay for the fuel for the 1500+ mile drive to Texas. Large trucks that exceed 20 feet typically get only 4 to 6 miles per gallon. If you take the average price of gallon as $3, and calculate the cost, it will be another grand just to keep your truck moving.
Insurance
Your homeowners' insurance and credit card companies cover the damages to your belonging during the relocation process. You can check whether they also cover the damages to your moving rental truck, if not, then you will have to buy a moving insurance in case your rental truck is in an accident.
Extra Equipment
Since you will be making your move all alone, you will need to rent out additional equipment like loading ramp, a dolly, and truck covers to ensure your item is safely loaded and transported on the truck.
Considering that maneuvering a huge truck can be very difficult, particularly in high-traffic area, not to mention very exhausting, it is a better idea to rent the services of a moving company.
Cost of Using a Professional Moving Service
It is true that any kind of moving service in New York is pretty expensive. The average cost of moving from New York to Texas is about $4,000 and some companies will charge you as much as $800 extra if they are picking your stuff from New York City.
That is why it is very important that you hire a reliable, experienced and affordable long-distance relocation service that gives you a lot of value for your money.
There are many factors that will determine the cost of hiring long-distance movers in New York. These include:
The base fees of the cross-country moving service
Additional insurance for valuable and antique items that a moving company won't insure.
Extra services like packing and unpacking your belongings.
Whether you require short-term or long-term storage
Disassembly of furniture at the pickup point and reassembly at the reassembly at the drop off location.
Crating your stuff
Payment of shuttle service if the moving company needs to shuttle your belongings to their off-site moving vans.
All of these factors can result in a hefty cost; however, if you use an experienced relocation service, the peace of mind will be worth it.
All about Typical Moving Expenses – Read Here
Packing Up
As we mentioned above, some moving companies will pack and unpack your belongings for you for an additional cost. However, if you do not want a moving company to handle certain items like fragile or antique pieces, you will need packaging material to transport them securely.
Packaging material includes boxes, clean paper, bubble wrap, markers, tapes, and moving blankets.
Make sure you schedule your packaging well ahead of time. It can take quite a lot of time to package the possessions of your entire house, especially if you have a large family and live in a big place.
Minimizing
Cross-country movers also factor weight into their moving cost, so this is one big incentive for you to get rid of any extra baggage. The best thing to make your move to Texas easier is to get rid of all but the most essential things (or things that have sentimental value) and take these with you to your new home.
If you are like most people, you probably own way too much stuff, particularly furniture. In this case, doing a yard or garage sale can help you get rid of unwanted stuff and get you some extra cash in hand. If you live in the City and cannot hold such a sale, you can always sell your furniture, clothes, and decorations on eBay, Craigslist, Facebook, and Instagram.
This is also a great time to consider some charity and donate your stuff like clothes, toys, and home accessories to non-profit organizations.
Calculating Your Traveling Budget when Moving from New York to Texas


Besides the expenses of moving your belongings, there are other costs associated with relocating, like how you will transport yourself to your new home.
Mode of Transport: If you want to keep things simple, just hop on an airplane in New York and land in Texas.
However, if you would rather not miss an opportunity of a lifetime for an inter-state road trip, you will also have to calculate the cost of fuel your car will need to make the journey.
Lodgings: A journey of 1,500 miles won't be covered in a day, so make sure you factor in your cost of lodgings into your moving budget. Book your hotels in advance so that you won't have problems in finding a place to stay overnight.
Meals: Meals on the road can be pretty expensive so you need to budget for that too. You can also pack some rations with you that won't go back during your road trip to save up some money.
Vehicle Moving: If you have opted to fly to your destination, you will need the relocation service to move your car too. You should include the cost for that in your budget.
Once you have calculated all of these costs, you now need to multiple the total amount by 5 percent. This is a contingency amount that will help you weather unexpected events and road surprises.
Need to Calculate your Moving Cost? CLICK HERE
Finding the Most Experienced and Reliable Moving Service
Now that you know what things to do if you are considering moving from New York to Texas, you will need to find a trusted moving service. International Van Lines specializes in long-distance and international moving and averages about 15,000 moves every year.
We have an experienced and certified staff for operating moving vans which makes sure your belongings reach you safely and on time.
Furthermore, you don't have to do oodles of Googling to find out how much renting a moving service will cost you. We offer you a price estimator calculator which will give you the exact pricing quote based on where you are moving to and how much stuff you are taking.
The Best Time for Moving from New York to Texas
Figuring out the best time to move from New York to Texas is also just as important as other considerations.
Ideally, the best time to move to Texas is in September and October when the summer heat is going down and there are less chances of you running into a tornado. Additionally, you will avoid the bad weather and hazardous driving conditions associated with winter in New York. If you have chosen this time to leave New York, it is a good idea to book International Van Lines services by July.
Another thing that you need to understand is that the time of the year can also influence the moving cost. The fall and spring seasons are typically the easiest seasons to make your move since the weather is pleasant. However, since a lot of people move around that time, it can add up to 40 percent more cost than if you were traveling in winter.
You also have popular days of the week for moving. For most people, Friday, Saturday, and Sunday are the most popular days to make a move since it's the weekend. Moving during these days mean you will need less time off work. Even though it won't add as much cost as seasons do, these days will still add a considerable amount of money.
Bottom Line
When you are moving from New York to Texas, working with a long distance relocation company is definitely something you need to consider. Since you won't be able to make multiple trips back and forth, a professional moving company can help you make sure that you make your move in an organized way right from the get-go.
Relocating can be quite stressful, so let International Van Lines handle all your moving needs.