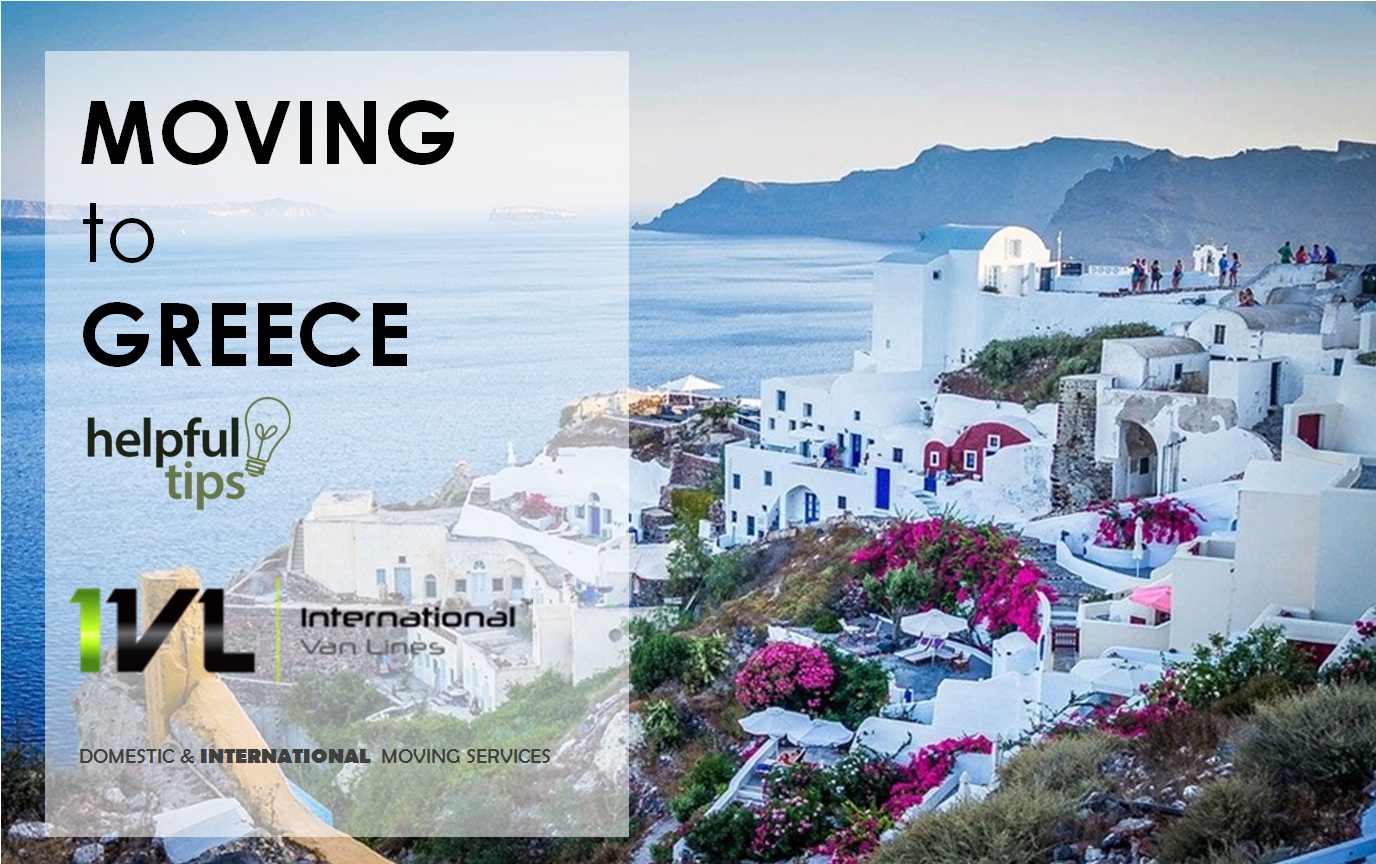 10 Tips for Moving to Greece
Moving to Greece sounds like a dream come true. The mere mention of it conjures up images of sipping coffee in quaint villages, soaking up the genial sun on picturesque islands, and spending long summer nights dancing and chatting with the friendly locals. If you have even so much as seen the scenic pictures of the country, you get the appeal.
Whether you are looking for remote work opportunities, a relaxing retirement retreat, or just an extended getaway, Greece offers an ideal environment for all. The weather is amiable all-round the year, the food is great, the locals are hospitable, and the cost of living is fairly low. Put simply, moving to Greece can be a great decision.
However, international relocation is never easy, and you should most definitely never try to do it on your own. To ensure that your overseas movement into Greece is smooth and hassle-free, you must hire a good international moving company. They understand the basics as well as the finer details of relocation and offer the essential services to make the transfer easy for you. Professional movers can assist you in packing and unpacking, storing, transporting, and moving your goods to your new abode overseas. This can give you a head start in adjusting to life abroad.
Here are the top tips that you need to consider when hiring a service for facilitating your international relocation:
1. Get References on Movers
Ask your friends or family members for reliable movers whom they may have worked with in the past. If they don't have any recommendations, do a quick online search for moving companies that have an impeccable track record.
Check out their reviews and ratings, paying attention to the types of moves that they handle. If a moving company deals with small- and large-scale moves, local as well as international moves you can rest assured that they can do a good job at meeting your specific requirements.
Make sure that they have a valid license with the Federal Maritime Commission. This not only establishes their credibility but also protects you as a customer because unlicensed movers cannot be held accountable in case of any loss or damage to the items being shipped.
2. Packing Costs and Materials
When it comes to transporting their household goods and other accessories from one place to another, many people prefer packing the items themselves. Generally, this isn't a smart idea, especially if it's a cross-country transfer.
DIY packing means that in case of any damages sustained to the items during transportation, you will have to bear the cost alone.
Letting a professional mover handle the packing may mean a few extra dollars out of your pocket. But in the long-term, this is actually a much more cost-effective option. Professional movers know all the tricks of the trade and can pack your items in a way that virtually eliminates all risk of damage during transportation. Even if there's a mishap by any chance, they might cushion you from the blow by paying a certain amount of money as compensation.
Moreover, opting for professional packing services saves you time and labor as well.
Moving to a new neighborhood, let alone a new country can be stressful enough on its own. The last thing you want is for your moving company to hand you a ridiculously huge bill where you are charged for services you never knew you were paying for.
For example, if you live in or are moving to a two-story house or say, an apartment on the tenth floor, you might have to pay for special equipment your mover requires to carry the items over the stairs and elevators.
In various parts of Greece, the streets and alleyways are rather narrow. A typical moving van might not fit which means that you should expect a surcharge for arranging for and transferring your belongings to a smaller delivery truck.
The best way to avoid unwanted surprises is to carefully discuss the total bill with your company before moving to Greece.
4. Choose Sea Freight Over Air Freight
Choosing between sea and air freight can prove to be one of the biggest dilemmas of international relocation. But the answer is usually quite simple.
Unless you are pressed for time, using sea transportation to transport your goods is the best option.
Container ships should be your first port of call not only because sea shipment is very reasonably priced (it's more than ten times cheaper than air freight), but also because there are low to almost no restrictions on what you can transport.
Plus, watercrafts are a more environment-friendly option than the alternative because ships have a lower carbon footprint as compared to airplanes.
5. FCL or LCL?
If you decide to go with ocean freight, the next step would be to choose between Full Container Load (FCL) and Less Than Container Load (LCL).
FCL, as the name suggests, means that you pay a flat rate for the full use of a whole container. The rate would depend on the container size which is typically either 20ft or 40ft long.
LCL, on the other hand, means that you share the container with other users. It is the ideal option if you want to ship only a small amount of cargo. FCL is more suitable for families as it gives you a large amount of space at a more affordable rate.
This may seem counterintuitive as FCL means booking a whole container for yourself but its rate are lower because unlike LCL, the goods in a FCL can be delivered seamlessly from one door to another without having to be kept in a warehouse until the items from shared users arrive.
6. Lighten the Load
You may have heard before that the key to a hassle-free relocation is to travel as light as possible. The fewer items you want to carry abroad with you, the easier your move becomes.
Sort through your stuff and make a list of items that you will need to take with you. No matter how deeply attached you are to your belongings, try to look at it from a logical perspective.
Moving furniture and other similar heavy household items like kitchen appliances is usually not recommended because you can easily buy their replacements in your destination country at roughly the same cost or even lower than the cost incurred in shipping them overseas.
Also, when moving to Greece, make sure to do a thorough wardrobe check. Sell or donate the clothes that aren't appropriate for the Mediterranean climate.
7. Duties When Relocating to Greece
If you have lived abroad for at least the past two years and had no financial ties to the country during the said duration, you might be eligible for a duty exemption.
However, when moving from the U.S to Greece, you will still have to pay a value-added tax on all the goods that you import.
Regardless of the main purpose behind relocating to Greece, ex-pats are allowed to bring their vehicles in the country. But this can only be done under tourist status and on a temporary basis. That is, you can keep and use the vehicle for up to six months without having to pay duties.
Keep in mind though that the criteria for determining which cars can be brought in from abroad are rather long and complex.
Custom clearance can prove to a nightmare for people moving internationally. Thus, make sure to hire a company that will handle it all on your behalf.
8. Paperwork and Documentation
When relocating to Greece, you must file documentation for any and all the good that you are shipping abroad. This includes a Residence Permit and your VAT ID number.
You will be required to apply for an Economic Operator Registration and Identification (EORI) number along with filling out various other forms for inventory and the likes.
If you are shipping your car overseas too, the paperwork is even more complex.
It's best to talk to customs before moving to Greece as it can help you avoid and unexpected issues during the journey.
9. Make Copies of Important Documents
Be it your passport, driver's license, national identity card, or work permit, make hard copies of all the documents and keep it in a safe place. Make sure to have it handy on a moving day.
Additionally, it would help to make soft copies as well. Save it in your phone as you never know when the need may arise.
10. Request an Estimate Quote
If you have made an inventory list, getting an estimated quote from a renowned international moving company will only be a matter of a few minutes. Most movers offer an in-home survey but try to look for those that provide a virtual review. It's much faster and more convenient as you get the estimated quote merely by answering a few questions on your smartphone.
International Van Lines is an award-winning moving company that has been providing top-notch domestic & international relocation services since 2000.
If you are moving to Greece and looking for dependable movers to ship your goods, get in touch with us today.