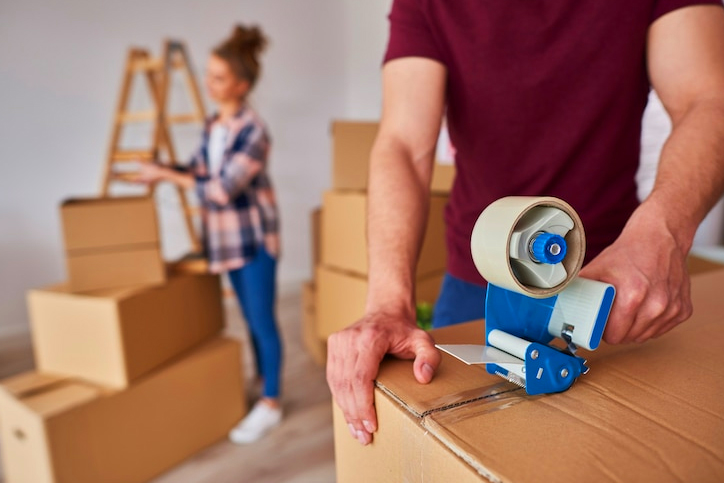 Do you need to relocate to a new destination due to a job or education, or do you wish to live in another country? No matter the reason, if you need to relocate, you should start the process with the help of international relocation services. Relocating to another country means experiencing a massive transition in life. Transition can be extremely smooth and easy if you let the moving companies handle everything from the very start. Thousands of people are highly satisfied with the services of international moving companies. You should continue reading this blog if you are still reluctant about hiring a moving company. In the end, you will easily make an informed decision. So, let's continue the discussion-
Reasons for taking International Relocation Services
Less stress throughout the process
The effect on your mental health and wellness is the most convincing justification for hiring a professional moving company. It's a nightmare to pack everything away while managing address changes, utility changes, and your daily obligations. The encounter may harm your relationships, employment, and kids. A new survey ranked relocating as the life event most stressful, surpassing breakups and divorces. It is advisable to outsource this enormous work because moving is highly stressful, even without physically packing and moving furniture and boxes.
Expert services from experienced people
Experience is a vital aspect when it comes to handling international moving. You know well that professional packers and movers are extensively and thoroughly trained. They can pack all types of items accordingly and ship via air or ship freight. It would help if you also accepted that international moving is very different from local moving. Professionals from leading moving firms like International Van Lines have mastered packing and moving stuff overseas. You will get plenty of strong reasons to trust their experience and expertise. They ensure safety and security and mitigate any damage during transit. In this way, you can easily avoid additional costs and damage.
Less time-consuming & more efficient
The best international moving companies know well how to maximize each load and the correct way to keep your valuables safe during the long-distance moving process. Professional movers will take the right care of your international move the fastest way. When they take care of everything, automatically, you will get more time to concentrate on your official duties and other personal relocation factors. You can easily take care of the personal relocation factors, and expert professionals will handle the entire packing and shipping. They will take care of your every aspect in the fastest way possible and many other important relocation factors.
There will be no heavy lifting for you.
You are packing all types of items, moving boxes, and unloading them is not easy if you try to move things internationally. Heavy lifting is something that no amateur can handle. Even if you try to handle it, you cannot ensure the safety of your valuable items. It makes sense that you would have a busy work schedule and wouldn't need to take any days off. While relocating abroad, you can keep going to work while your chosen international moving company handles the logistics. You will be pleased with the outcomes and perform everything accordingly.
All belongings will remain safe and secure.
Whether it is a local move or you are moving things internationally, we know you are always concerned about the safety and security of your belongings. You know that moving from one country to another includes various factors. It would help if you valued all those factors to keep your belongings properly safe and secure. When you hire an international moving company like International Van Lines, you can stay assured that all your belongings will be kept safe and you will get their shapes and sizes in your new destination.
Many complain that while shipping stuff from one country to another, their stuff gets damaged. You should contact the best moving company to avoid these damages and keep your belongings safe.
Professional skills will keep everything protected
.
It takes time to develop a skill set for packing and arranging. A reputable moving company knows the most effective ways to pack your possessions to avoid breakage and make items simpler to locate. Many moving companies use inventory software to track where certain items are placed. With this value-added service, you can carefully unpack at your new residence and guard against misplacing items. Yes, you may manage the organization and creation of a thorough inventory yourself. However, completing this process requires extra time devoted to the relocation and careful attention to detail.
Even though they are handled and wrapped carefully, things might still break while being moved. Although there is a lower chance of breaking when using a professional mover, accidents still occur. You'll be compensated if an expert mover drops your antique dishes and breaks them. You won't receive anything if your brother-in-law drops and damages your antique crockery.
Better time management with professionals
You know that all moves are straightforward, like from point A to B. Sometimes, moves include state borders and country borders. A leading international moving company has the resources and knowledge to coordinate everything to suit the nuances of your situation. You know that this benefit is truly vital in international moves when you need to navigate customs and multiple transportation methods.
These are the top seven reasons to choose the best international relocation services. International Van Lines is a leading name in long-distance and international moving. It is one of the highest-rated moving companies and has been in the domain since 2000. Being the fastest-growing mover in the United States, it handles more than 20,000 movers yearly. International Van Lines is a licensed carrier (USDOT# 2293832) that owns and operates a fleet of trucks and perfectly manages in-house crews.