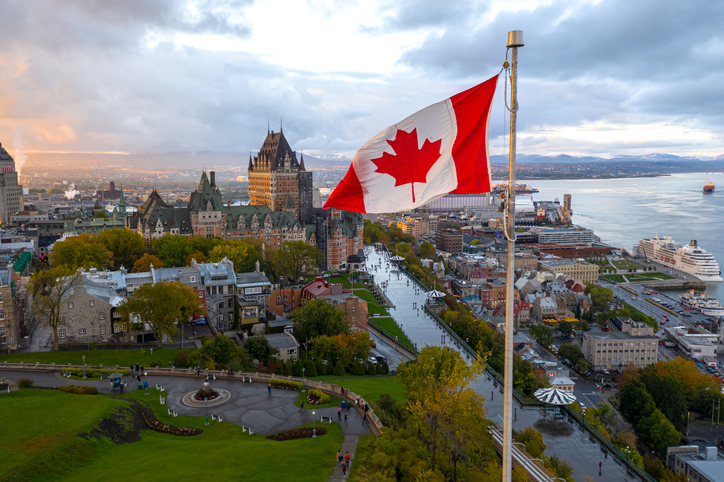 Over the past couple of years, Americans have been flocking to Canada in record numbers. The turmoil in the United States has caused many American's to consider the change, which is understandable.
International Van Lines had a chance to speak with Nicole Hunter, a 23 year resident of Florida. Hunter went on to tell us that "Canada just seems like a more peaceful environment than the U.S. and a better place to raise children." Her story has become common.
We've seen an increase of approximately 200% in moves from the U.S. to Canada. Due to the demand, the cost of moving from Florida to Canada has increased. However, it's not as significant as domestic moves have been.
What's the average cost for moving from Florida to Canada?
Quick Answer: The average cost for moving from Florida to Canada is $3900 to $6500. The weight or size of your move is the most significant cost factor. However, the mover, time of year, and service can also affect your moving price.
You should always get three moving quotes to compare. However, the cost of moving from Florida to Canada should generally be the same, give or take. More importantly, it would be best to look for a quality international moving company instead of cheap. Moving to a new country requires knowledge, skill, and experience.
If you're moving during the summer, you can expect higher moving costs. The summertime is peak moving season, so rates generally go up by about 20%. Lastly, professional packing can also add to your moving price but may be worth it. It would help if you always weighed the pros and cons of self-packing for a move.
1-2 Bedrooms
2000-3000lbs
$

3200-5200

All in

Door to Door
2-3 Bedroom
5000-7000lbs
$

4300-7000

All in

Door to Door
3-4 Bedrooms
3-4 Bedrooms
$

7500-9000

All in

Door to Door
4-5 Bedrooms
1100-15000lbs
$

8500-12000

All in

Door to Door
How much will it cost to ship a car from Florida to Canada?
Quick Answer: The average cost to ship a car from Florida to Canada is $1500 to $2100. Trucks and SUVs will be more expensive than a compact cars. You will also have the option of an open or enclosed trailer.
The process for shipping a vehicle to Canada is pretty straightforward. Your car will be transported by trailer to a bonded yard in Canada. It will proceed with a customs inspection. Once your vehicle clears customs, it will be delivered to your final destination. It would be best if you also educated yourself on the import rules ahead of time.
Insurance for your car is included. An inspection will be done upon pickup and delivery with a report. However, it's always best to take before and after photos for your safety. The typical transit time is about a week from the date of pickup. The cost of moving from Florida to Canada is relatively cheap to most international destinations.
Also checkout: Will I end up paying more for my move?
How long will my move take from Florida to Canada?
The average transit time from Florida to Canada is 12-15 days from the date of pickup. However, transit times can vary based on the company and time of year. The summertime is the busy season for movers, so that you may experience later than regular transit times.
In addition, the size of your move can effects how long it takes. It may take longer if you have a small move because the mover will need to fill a consolidation. That's not always the case, but you should check with your mover. The cost of moving from Florida to Canada may also vary if you request a specific delivery date.
A mover is not responsible if an act of God or something beyond their control causes a delay. It's always best to speak with your mover ahead of time regarding the details.
Are there ways of saving money on my move?
The easiest way of reducing your moving cost is by getting rid of unwanted or unused items. We're all guilty of hoarding stuff we don't need. Go room by room and create a list of everything you can live without—any local non-profit like The Furniture Bank Network can pick up your items for free.
Any great option to reduce your moving bill is to self-pack. Self-packing will help save about 15%. You can purchase packing supplies at any local Home Depot, Walmart, or even online. Also, consider putting out a social media post to see if any of your friends recently moved; they may have leftover boxes you can use.
Last, make sure you do some research and pick the right mover. The biggest mistake people make is looking for the cheapest option. The least expensive mover may cost your move in the long run. Your cost for moving from Florida to Canada should generally be the same across the board.
What questions should I ask my mover?
Anytime you're moving and looking to hire a moving company, you must ask the right questions. Not asking the right questions can lead to confusion, misunderstandings, and a significant headache. Below you will find the top 10 questions you should ask a mover before you reserve a date.
What is your Department of Transportation's lisenced number?

Are you the actual mover, or do you subcontract?

Can I have a virtual tour to confirm accuracy?

Is insurance included in my cost?

Can I self-pack certain items?

How long will my move take?

Do you have a bonded warehouse in Canada?

What are your payment terms?

How long have you been in business?

What's the cost of moving from Florida to Canada?
These fundamental questions are essential. It will help you understand who you're dealing with and their processes. You should always feel comfortable with the mover you choose.
What is the process of customs in Canada?
Moving to Canada from another country is relatively easy in terms of Canada Customs. You can import your used household goods without having to pay duty. However, you will have to pay duty on any brand new, never-used items. A duty fee is charged by the government on certain goods when you enter the country. You should also check out the cost of moving from the US to Canada.
You don't have to pay duty on:
books

linens

clothes

jewelry

antiques

furniture

silverware

musical instruments

gifts worth CDN $60 or less each

hobby tools and other hobby items

private collections of coins, stamps, or art

appliances, such as a stove or refrigerator
You do have to pay duty on:
farm equipment

equipment you plan to use in:

contracting

construction

manufacturing

vehicles you plan to use for business

items you have bought on your way to Canada

items you have leased or rented

we don't consider leased or rented items things that you own
If you're not sure if you have to pay duty on some items, bring sales receipts and registration documents with you.
How does moving insurance work?
Most moving companies don't include insurance in their cost, so it's vital to ask your mover. If you opt out of insurance, you will default to limited liability coverage, 60 cents per lbs per article. Another option is to check with your homeowner's insurance, which may cover your move.
The cost of insurance is approximately 3% to 4% of the goods declared value. If you have a value of $10,000, you will pay roughly $300. You will need to provide a list of items along with values. If a particular item gets damaged, the insurance company will refer to the value you placed on your list.
The cost of moving from Florida to Canada will not be highly affected by insurance. However, it's always essential to ask your moving company ahead of time.
Conclusion
Before moving from Florida to Canada, you should spend time and research mover, but don't go overboard. Get up to 3 moving quotes and go with your gut; not the least expensive. International moving requires a set of skills that most national movers don't have. Ask all the right questions, and you have a seamless moving experience.
International Van Lines specialized in moves to and from Canada. Feel free to contact us with any questions about your move.