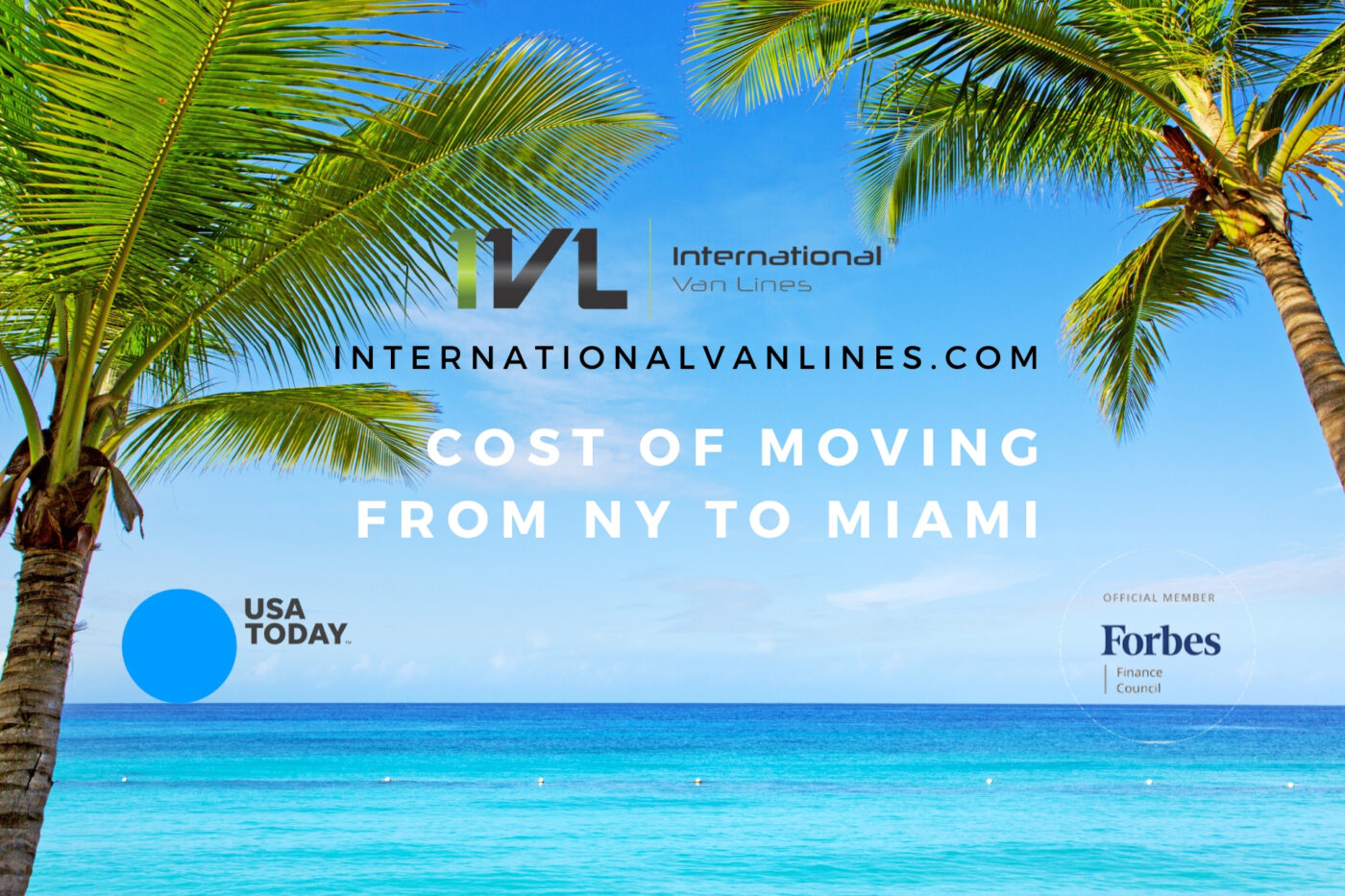 Here's The Exact Cost of Moving from NY to Miami
According to Business Insider, Florida is the number one destination for Americans. Between 2016 and 2017, over 145 thousand people moved into the Sunshine state. Additionally, we've recently seen an influx of moves from NY to Miami, FL. This article will provide a complete breakdown of the cost of moving from NY to Miami.
Cost of Hiring a Professional Mover
The cost of hiring a professional mover will vary based on size, service, move date, and company. The below prices are associated with International Van Lines only and are for budgeting purposes. It's always best to speak with a relocation coordinator to discuss the details of your move. Additionally, everyone's move is different, so please keep that in mind. Below we provide different scenarios for precise moves. If you don't see your weight/size listed the below prices will at least give you some insight into the cost. Check out these ten long-distance moving tips.
Cost of Moving from NY to Miami
| Weight/Size | Professional Packing | Pickup/Delivery |
| --- | --- | --- |
| 2000lbs/285cuft | $356.25 | $1638.75 |
| 3500lbs/500cuft | $625.00 | $3125.00 |
| 6000lbs/857cuft | $1071.25 | $4070.75 |
| 9000lbs/1285cuft | $1606.25 | $6103.75 |
| 13000lbs/1857cuft | $2321.25 | $8821.00 |
Accessorial Charges
The above prices include a standard door to door move. However, if you'll require storage, insurance, crating,, or a shuttle, the cost will increase. A shuttle service is mainly used for metropolitan areas that can't fit a tractor-trailer. It's best to discuss the details of your move with a professional so they can give you all the costs associated with your move. The more detailed you are, the better chance you have of not getting surprised with additional charges.
Storage: 1st month free and 25 cents per cuft per month after. Storage always includes delivery when ready.
Long-Carry: A long carry is when the truck has to park 75ft or more away from your front door. It's a one time cost of $75.
Shuttle: A shuttle is when we transfer your goods from a semi into a smaller truck for delivery to tight places. The charge is 50 cents per cuft.
Insurance: Your move is always protected through limited liability coverage. However, if you want premium insurance, the cost will be 4 percent of the value.
Crating: Crating cost is based on the item, but averages between $150-$300 per item.
Cost of Moving with a U-Haul
U-Haul is always an option to look into if you have the time, knowledge, and money. It's automatically assumed that renting a truck is a cheaper option than hiring a mover, but that's not always the case. If you're moving a three-plus bedroom home, then the cost of hiring a mover would be more affordable, and everything is done for you. A couple of things to consider are packing material, truck rental, time, and labor. Also, keep in mind that you will not be insured if something gets damaged. Below is the breakdown of renting a truck and the cost of moving from NY to Miami.
Cost of Moving from NY to Miami
| Home Size | Rental | Gas and Materials |
| --- | --- | --- |
| 1 bedroom (10′ Truck) | $2620.00 | $200-$450 |
| 2 bedroom (15′ Truck) | $2761.00 | $400-$600 |
| 3 bedroom (20′ Truck) | $3033.00 | $600-$900 |
| 4 bedroom (26′ Truck) | $3446.00 | $800-$1100 |
| 5 bedroom (26′ Truck) | $3446.00 | $1000-$1300 |
***The numbers listed above are directly from the U-Hual website***
Botton Line
The bottom line is that it's less expensive to hire a moving company then rent a truck. A professional mover will make sure your goods are adequately protected and ensure then for damage. They will also handle all labor involved included reassembly of furniture. Some people like to the do-it-yourself method, but if your anything like me, hiring a professional moving company is best, and the cost of moving from NY to Miami will be less expensive.