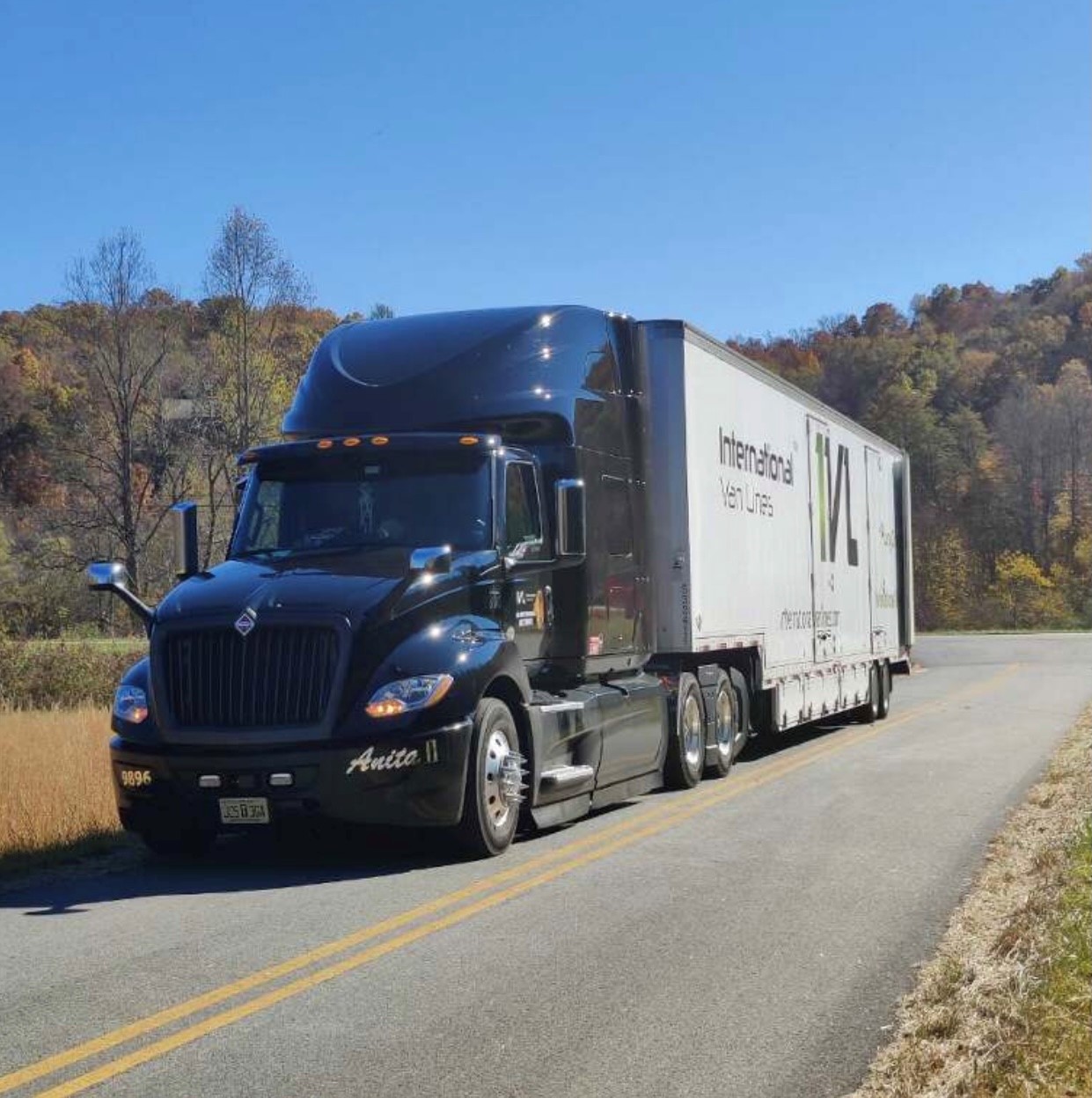 Moving overseas is a huge step, whether relocating permanently or temporarily. You want to know that your belongings are in the hands of a trustworthy moving service that will take care of everything from packing and shipping your stuff to unpacking and organizing it at the other end. Some of the best international moving companies in Chicago provide door-to-door services; let's explore some companies to help make your move abroad as stress-free as possible.
1. International Van Lines – Best Full Range of Services
If you need to arrange a move that requires more than just packing your belongings in boxes and arranging them on a moving truck, then International Van Lines might be the right choice. The company prides itself on outstanding customer service, ensuring the smoothest experience possible. Sites like Forbes, US News, and Newsweek rate International Van Lines as the country's number one international moving company.
Pros
Domestic and international insurance

Operates in 180 countries

Excellent customer service

Free quotes over the phone

Sets you up with relocation coordinators to help you plan your move ahead of time

Brokering services for places they don't cover

If your move is canceled, International Van Lines refunds one of the deposits paid up to 48 hours before the moving date
Cons
A 25% upfront deposit required

Some customers have reported inconsistent quotes

Not many local branches
Services
Local, long-distance, cross-country, and international moves in 180 countries

Auto Transport

Corporate relocations and office moves (commercial moves)

Ocean and air freight for international moves

Access to vetted subcontractors

Storage solutions

Online move calculator
What Customers Say:
Maggie of Northbrook, IL | Consumer Affairs Verified Reviewer | 5 stars
"Day of the estimate, Tony was on time and very professional. He gave me the lowdown, and I felt comfortable that his quote was accurate. The moving men were on time and got to work right away on the move day. They wrapped everything. I was happy to see it because I didn't want any of my furniture dinged/scratched. I highly endorse and will use International Van Lines again."
Robert of Chicago, IL | Consumer Affairs Verified Reviewer | 5 stars
"I chose them based on reviews, reputation, and knowledge. My account manager Justin was great! He asked me to leave feedback about my experience, so here I am. Their mover went above and beyond to ensure all packing was done to perfection. Justin was with me the whole way through and followed up multiple times. The move took about two days, door to door, and I got everything with no damage. They're stand-up people and did well. I would use them again if I had to hire a mover!"
2. Allied Van Lines – Nationwide Coverage
Allied Van Lines is a reputable moving company that offers full-service and basic packages for local, interstate, and international moves. They partner with moving experts worldwide, allowing them to facilitate moves almost anywhere. AVL is known for its professionalism and organization. They provide excellent service at competitive rates, so you can be confident that your move will go smoothly no matter where it takes place. Allied is one of the best international moving companies in Chicago and the US.
Pros
Very experienced

Free moving quotes

Accommodate special requests
Cons
No 24/7 claims service

High costs for most moves
Services
International Moving

Packing and crating

Moving supplies

Storage services
What Customers Say:
Andrew of Chicago, IL | Consumer Affairs Verified Reviewer | 3 stars
"Movers were careless in the packing. An entertainment cabinet fell apart when they were disassembling. On the receiving end, they couldn't fix it. Carton labeling was poor. They broke two lamps; I had to fix a coffee table. The piano was moved properly, though, so I was glad for that."
Rachel of Chicago, IL | Consumer Affairs Verified Reviewer | 5 stars
"Excellent experience with Martin. He and his crew arrived on time, protected large pieces of furniture, and moved it down three flights of stairs. Very, very careful on both the move-out and move-in. Would recommend to anyone moving to the Chicago area."
3. Hollander Storage & Moving Co. – Best for Storage Needs
Hollander has been around for more than 120 years in Chicago. They assign a move coordinator to each customer to help them consider all the requirements for a successful international move. Hollander Storage & Moving offers door-to-door services and support to ensure the entire process goes smoothly.
Pros
Assigns an international move manager

Certified International Pro-Mover

Offers destination services
Cons
Works with subcontractors for most services

Customers report inconsistent pricing
Services
Pre-move planning

Full or partial packing and unpacking

Crating and specialty packing

Property protection

Customs documentation

Online tracking

Storage options
What Customers Say:
Damaris of Chicago, IL | Yelp Verified Reviewer | 5 stars
"Moved from a large home and made a move in 2 days. The team came to load the truck on day 1, unloading at two stops (apt and storage unit) on the second day. Our estimator was fantastic in assessing needs/estimating/offering solutions/he very accurate, and he was a professional. Hollander was the best customer service/best pricing."
Kim from Oak Park, IL | Yelp Verified Reviewer | 5 stars
"This is the second time we have used Hollander United. Last summer, we had furniture shipped from Storage in Chicago to Montreal, Canada. It was done as an add-on load since we were not time constrained on delivery. They did a great job packing and handling delivery via customs and in Canada. They are very polite, professional packers. We also had high-value inventory that we declared for special packing, and all arrived perfect."
4. Mid-West Moving & Storage – Best Problem Solvers
With 40 years of experience, Mid-West Moving & Storage is a respected and popular international moving company in Chicago. They are known for assigning international moving customers a personal relocation coordinator. Our experienced coordinators have excellent knowledge of international customs and other required paperwork.
Pros
Assign a relocation coordinator per account

Provides free estimates

Includes storage solutions
Cons
Operates with other companies for relocation services

Pricing can change due to subcontractor changes
Services
Local and long-distance moves

Residential and commercial moves

Student and senior moves

Winter moves

Packing and packing supplies

Piano, antique, and delicate art moves

Free online estimates by signing a form

Renting eco-friendly moving boxes

Junk removal
What Customers Say:
Michael from Chicago, IL | Verified Yelp Reviewer | 5 stars
"Midwest Moving & Storage Inc. handled our move and did a phenomenal job despite our booking being on a shortened timeline, our move being on a high profile move date (June 1), and our move day having terrible weather. As a result, we highly recommend them to anyone looking for fast and professional moving service."
Aaron from Chicago, IL | Verified Yelp Reviewer | 3 stars
"While my moving experience with Midwest Movers worked out fine in the end, thanks to a great crew, there were many frustrating moments along the way. Choose them if you want something affordable, but if you value organization and certainty, look elsewhere."
5. Blackhawk Moving & Storage – Best for Packing
Starting their operations in 2014, this is the youngest moving company on the list, but that hasn't stopped them from making a splash. They've already been recognized as one of the Top 10 Movers in Chicago and received an Angi Super Service Award in 2021.
Pros
Work with agents overseas to guarantee a smooth transition

Schedule all modes of transportation

Experience in customs clearance

Provides free estimates
Cons
Engage with third-party contractors for relocation services
Services
Virtual estimates

Specialized moving

Storage solutions

Logistics support
What Customers Say:
Meng from Chicago, IL | Verified Yelp Reviewer | 4 stars
"Moving was very stressful, and they did a fine job moving from Chicago to Boston. They came on time and were courteous and professional. There were a few things here and there that we didn't bother to submit paperwork for. Stayed within estimate as well."
Wisco from Chicago, IL | Verified Yelp Reviewer | 5 stars
"From my first phone call until the last piece of furniture was put in place, this company and its staff were superb! I moved from Chicago to Wisconsin, and the movers went above and beyond taking my possessions out of a vintage high-rise with very narrow halls and out a very long driveway without any mishaps. I've had several moving companies over the years and experienced every moving nightmare you can imagine. This company has perfected the "art of moving"…thank you!"
6 Tips to choose an international moving company in Chicago
A professional international moving company in Chicago can help you with all aspects of your relocation, from packing your belongings to unloading them at their destination. When choosing the right moving company, don't forget to consider these factors.
1. Check its reputation
Find out if they have been in the business for a long time. Make sure their users are authentic and not paid to say certain things. Go through their Facebook, Twitter, and other social media pages to see what people say about them.
2. Look for experienced moving staff
Your international moving company should be staffed by experienced movers who are knowledgeable about moving internationally. For example, if you have valuables such as jewelry or electronics that need special care during transit because they're fragile or costly items, make sure the movers know how to pack them properly so they don't get damaged in transit.
3. Search for a wide range of services
A good international moving company should be able to offer you a wide range of services. They should be flexible, adaptable, and able to provide you with whatever kind of help you need. It's also a good idea if they can offer you a variety of options, like different payment methods or different ways that they can take care of items during the move.
4. Look for quick and efficient services
You should also look for a moving company that provides quick and efficient service. A good international moving company will be able to handle all logistics of the move, from packing and transporting your belongings to unpacking them at their destination. A good international moving company should be able to provide you with a quote, and an estimate for the move, provide customer service throughout the moving process and assist you in finding storage space if needed.
5. Learn about their customs expertise
Ask the international mover that you are interested in to tell you what they do in case of any customs delay. Do they send a customs agent ahead and handle all formalities on-site, or do you have to deal with a lot of leg work?
6. Get multiple quotes
One of the best tips for choosing an international moving company (that you can find in Chicago) is to ask for different quotes. Get at least three additional quotes. The company you choose should charge competitive rates while providing top-quality services. Those could be red flags if they charge too much or too little.
Moving from Chicago? Hire Trusted Movers!
When you are moving internationally, selecting a professional international moving company for your relocation can be daunting since there are many choices and companies with similar names and websites. If you have yet to experience international relocations, it may be challenging to know what questions to ask and which factors are most important in choosing an international mover.
There are a couple of things to look for and compare when comparing estimates:
Estimate length – How many days does the move take?

Cost per mile – What does it cost per mile (or kilometer) from point A to point B?

Extra costs – What are some of the costs associated with this move? Are there any additional fees that may come up during or after my relocation (such as packing supplies or parking fees)?
Taking the time to choose an international moving company that is right for your needs will help make your move successful. With the tips above, you should be able to find a professional international moving company that offers all the services needed to make your relocation easy and stress-free.
To get started, contact International Van Lines today and request a free quote. Our international expert movers are here to help you every step of the way. We have expertise in packing for international moves, ensuring everything is according to international codes and standards. We also count on our extensive network of agents to guarantee a stress-free move, no matter what.