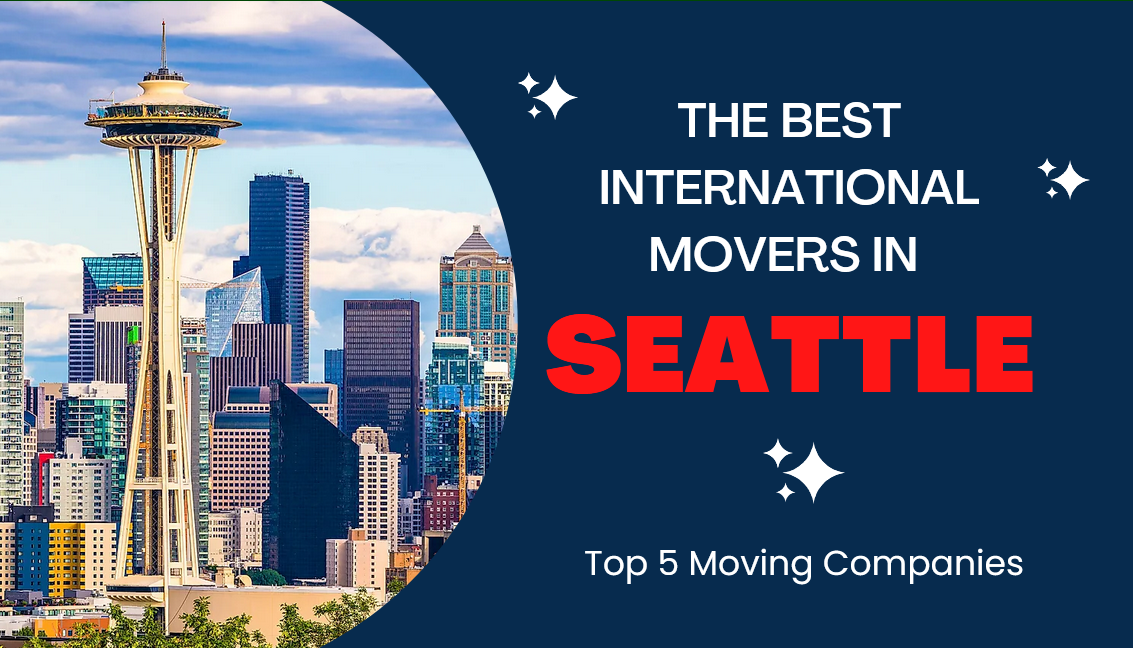 Best International Moving Companies in Seattle
Moving, whether it's across the town or the ocean, can be a real drag. Many international moving companies in Seattle can help you with your cross-country or overseas move. But not all are considered the best in the market.
If you live in Seattle and are planning to move internationally, you need to make informed decisions every step of the way. These are some of the best international moving companies in Seattle to help you plan a smooth overseas relocation.
1. International Van Lines – Best Full Range of Services


International Van Lines is considered the best international moving company operating in the U.S. at the moment. It's an all-in-one moving solutions company specializing in international and long-distance national moves and offers local services. They're international moving specialists with outstanding customer service and even the option to transport your vehicle overseas. Groups such as Forbes, US News, and Newsweek rate International Van Lines as the country's number one national moving company.
Pros
Local, long-distance, cross-country, and international moves

Freight and air moving solutions

Domestic and international insurance

Operate in 180 countries

Great customer service

Free quotes

Sets you up relocation coordinators to help you plan your move ahead of time

Brokering services for places they don't cover

If your move is canceled, International Van Lines refunds one of the deposits paid up to 48 hours before the moving date
Cons
No simple pricing online. You have to call them to get a free quote

A 25% upfront deposit is required

Some customers have reported inconsistent quotes
Services
Local, long-distance, cross-country, and international moves in 180 countries

Auto transport

Corporate relocations and office moves (commercial moves)

Ocean and air freight for international moves

Access to subcontractors

Storage

Online move calculator
What Customers Say
Dan of Seattle, WA | Verified Reviewer on Consumer Affairs | 5 stars
"I'm not one to post reviews, but I'm compelled to share that our experience with IVL went well. As someone that has moved a few times, I've had good and bad experiences. I was very pleased with the performance of IVL, their movers, drivers, and sales rep (Justin). Our move was for a 4-bedroom house from New York to Seattle. In the midst of all the chaos, they came through. They were on time, we had no damage or any surprises. We're pleased customers here and would use them again!"
Tammy of Seattle, WA | Verified Reviewer on Consumer Affairs | 5 stars
"My wife and I recently moved from San Fransico to Seattle. We moved from a 2 to a 3 bedroom house. Had interviewed 3 companies and decided on IVL because of our sales rep Justin, and their overall reputation. Prior to this we never hired movers and had no clue about all the scams out there. Justin did a good job of being transparent, straightforward, and giving us the scoop. We got all of our stuff in one piece, and the whole experience was pretty easy."
2. Atlas Van Lines – Best Tracking Services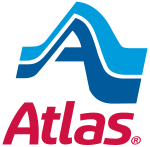 Another great international moving company with excellent online reviews, boasting an impressive 4.7 in Fobes Home. They have more than 430 agents throughout the U.S. and Canada and have a wide variety of packing options for their clients. They're well known for their innovative tracking options that allow customers to keep up with their belongings in real-time throughout their move.
Pros
Available nationwide through local agents

60+ years of moving experience

Atlas agents present in 17 countries

It has a mobile app, AtlasNet, which allows you to track your belongings in real-time

Discounts for AAA customers

Free in-home moving estimates

Auto transport (cars, motorcycles, and boats)

ProMover-certified
Cons
No brokering services. Atlas agents operate independent businesses but attend standard moving courses

Won't move household cleaning chemicals, live animals, guns, or fireworks. Ask your agent about items you are unsure of

Quality of service may vary by location

Difficult quote process
Services
Local, long-distance, cross-country, military, government, and international moves

Storage services

Ocean and air freight for international moves

Car, motorcycle, and boat transportation

Storage

Real-time tracking through the AtlasNet app
What Customers Say
Donna of Anacortes, WA | Verified Reviewer on Consumer Affairs | 5 stars
"They were efficient, and the move went smoothly and safely. Everything arrived in one piece. Our move was coast to coast. Our belongings arrived in a little over a week. I would use this company again. The packers did a great job."
C of Rockville, MD | Verified Reviewer on Consumer Affairs | 3 stars
"Very professional, careful with property, just a bit expensive. I would shop for a cheaper company next time but would use them again if needed. I also like that they travel coast to coast; that's a plus."
3. Allied Van Lines – Best Customer Service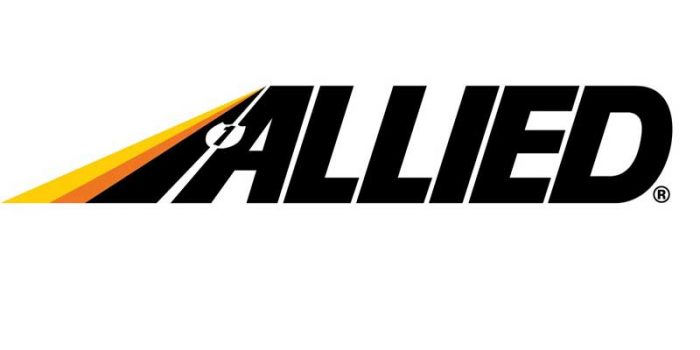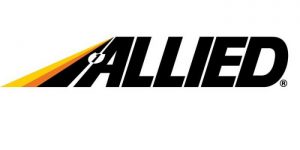 Named US News' 3rd Best Moving Company in their 2022 rating, Allied Van Lines is a large moving and transportation company headquartered in Chicago that operates nationally. They have about 400 hundred North American agents and serve 45 countries. They provide a wide range of services and include online shipment tracking. Overall, they're a great choice for most people, but quotes tend to be pricier than other companies. While an excellent overall moving company, their specialty is commercial moving.
Pros
Active since 1928. Almost 100 years of experience

Highly-customizable services

An extensive national network of movers

Brokering services
Cons
No 24/7 number for claims

Comparatively high costs for local moves

Quotes are comparatively higher
Services
Local, long-distance, cross-country, and international moves on

Basic and full-value insurance

Full-service packing

Short- and long-term storage

Furniture disassembly and reassembly

Online shipment tracking

Auto transport

Virtual or in-home inspections
What Customers Say
Robert of Tallahassee, FL | Verified Reviewer on Consumer Affairs | 5 stars
"I had a great experience. The people I coordinated with were extremely professional and helpful. I will definitely use this company again. They kept me updated throughout the whole process. They were very easy to work with. The team worked hard and diligently."
Kelly of Chapel Hill, NC | Verified Reviewer on Consumer Affairs | 4 stars
"This was a big move for our family, from TX to NC, and we have a lot of stuff. The movers on both ends were great – super professional and communicative. The only issue is that some of our items didn't make it to the new house, even though we saw them get loaded onto the truck, and we didn't realize it until everyone had left and all the paperwork was signed. Lesson learned: make sure all your inventory is there before signing anything."
4. Hansen Bros – Best for Commercial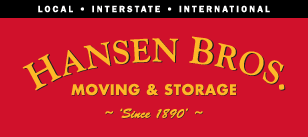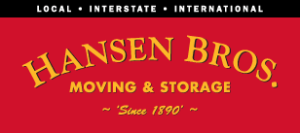 Hansen Bros. Moving & Storage is a well-established residential relocation company with extensive experience conducting all types of moves.
While they're popular for their local moving services, they also provide international moving services for corporate relocation. In Seattle, they also count on local storage services to help make your moving experience more accessible.
Pros
Local, long-distance, and international moves

Multiple locations in Seattle

Provide free quotes

Offer specialty services
Cons
No international moving services for residential

Uses another company to handle international moves
Services
Interstate moving and storage

Corporate relocations

Commercial moving

Moving management

Specialty moving services

Senior moving
What Customers Say
Renee F | Verified Reviewer on BBB | 5 stars
"I've used Hansen Bros. twice now one for a commercial move and the most recent for a personal move. I was extremely satisfied with the services and would recommend them to anyone! Very professional and responsible service."
Keri B | Verified Reviewer on BBB | 5 stars
"Were professional and very organized. Our HHG's were treated with care and even though it was a local move, they took time to pack with care the items they moved for us. Great crew, highly recommend this team."
5. Jordan River Moving & Storage – Best Local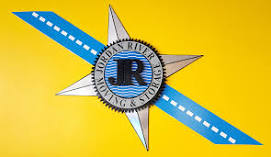 Jordan River Moving is a Seattle-based moving company that offers premier international moving services. They operate with a global network of agents to guarantee a smooth move. If needed, they provide door-to-door shipping solutions with white glove services to expedite your moving overseas. They're well-known for their add-on services at no additional cost, including weekend pick-up and delivery, fuel and mileage, and disassembling services.
Pros
Employs only professional, skilled movers

Friendly, fast, and affordable experience

Helps with inventory lists

Ensures your goods meet customs regulations

Transparent quotes

Excellent customer service
Cons
Fluctuating reviews about their services

No online quotes

Pricing difficult to understand
Services
Local, long-distance, and international moves

Professional inventory

Door-to-door overseas moving

Loading and unloading services

Furniture disassembling

Pickup and delivery
What Customers Say
Lee C | Verified Reviewer on BBB | 5 stars
Jordan River Moving Company helped us after we learned another moving company, would not deliver our furniture as promised. Jordan River is professional, honest, and reliable. We highly recommend using this company."
Alex K | Verified Reviewer on BBB | 5 stars
"I was thoroughly impressed with JR from start to finish. They were incredible at communication and all movers involved were timely, professional, and quick. David was reassuring and lovely. The movers that moved me into my place- Aaron, Carlos, and Casey were so quick and polite. Highly recommend!"
Tips for choosing International Moving Companies in Seattle
Many options are available when deciding which international moving company in Seattle to use. Here are some tips for finding the best international moving company for your needs.
Get a free in-home estimate

When you're searching for a Seattle international moving company, there are a few things to keep in mind. First, you'll want to get an in-home estimate from at least three companies before making your final decision. An in-home assessment will ensure you get the most accurate quote for your move.
Look for reputable international moving companies in Seattle with plenty of experience
Look for a company that's been in business for a long time. This is especially true if you're moving internationally because the world of international movers is highly competitive, and companies tend to come and go quickly. The longer a company has been around, the better it will know how to handle any problems or unexpected issues that may come up during your move.
Look into their reputation—on Yelp or other review sites, Facebook groups related to relocating overseas (if applicable), and make sure they have positive reviews from customers like yourself who have used their services before.
Make sure they offer a wide range of services
Not all companies provide the same services. Try to find one with full-service packing & unpacking; partial packing & unpacking; door-to-door/port pickup and delivery options; consolidation/disassembling/reassembly services (furniture assembly); storage facilities, and other services.
Verify their licenses
Most US-based moving companies are required to maintain specific licenses to operate. The Federal Maritime Commission is the agency responsible for regulating overseas moving. Make sure the company you hire has active and current licenses to prevent any issues down the line.
Ask the right questions
If you take the time to ask the right questions, you could avoid losing a lot of money and spending more than expected.
Here are some things to ask:
Does this company charge hidden fees?

Does this company have a good reputation?

What is included in my quote? (Many moving companies will include basic services like packing and unpacking, but there may be more fees if you need extra help.)

Is there an insurance fee? (It's important to check insurance coverage before hiring a mover).
Moving from Seattle? Hire the Best International Moving Companies in Seattle Today!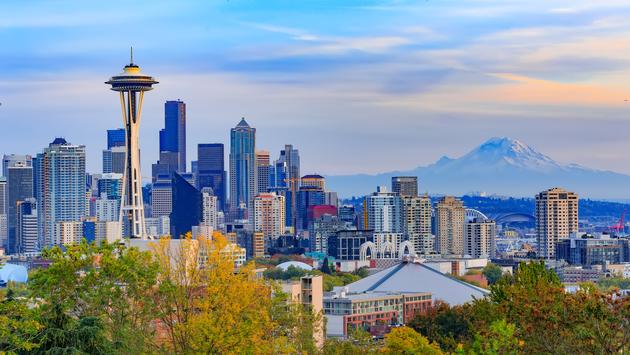 With these tips, you'll be ready to find Seattle's best international moving company. You can also use them to help you get a better understanding of how much it will cost and what you can expect from your move.
It may seem like a lot of work through all these steps but remember: your international move is important, and being prepared will make it smoother for everyone involved.
If you are ready to start, contact International Van Lines in Seattle today to request a personalized quote for your overseas move. Our experts are here to answer all your questions and help you make the best decision for your international move.
Useful links in Seattle:
City of Seattle Official Website