Moving Companies in Sacramento
Need to hire a reliable and trustworthy company for a long distance move? Certainly you can start searching "Sacramento moving companies near me," and odds are you will get a ton of movers. Here is why we're different…We treat your belongings as though they were or own. Seriously, the sign of a good moving company: the care they take, the attention to details, the way they handle your items with kid gloves.
Our process is meticulous and that is because we demand perfection from all of our expert long distance movers. Your stuff will arrive safe, in pristine condition and in the most timely manner possible. This is why when searching for Sacramento interstate or cross country moving companies, there really is no need to look any further—you've come to the right page!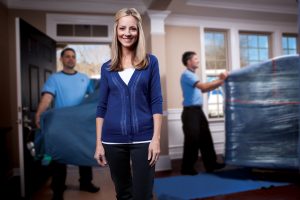 Long Distance Move? No Problem At All!   
From supplying all that you need as far as packing materials, to include boxes, crates for specialty items, blankets and even packing tape, to assisting you in packing up your house or business, we are a true full service long distance moving company. This is our business, this is what we know and what we take pride in doing. Our customers' utmost satisfaction is all that we strive for.
During transport, you can rest assured that extreme care is taken in making sure that nothing shifts or gets damaged. We are also fully licensed to move state to state. And as we are fully insured, you can rest easier knowing you've chosen the best moving company in the Sacramento area.
How Much Does Cross Country/Long Distance Moving Cost?
This is a question we get frequently. Unfortunately, it is hard to say without knowing all of the details involved with your interstate or cross country move.  Distance certainly factors in, as does the amount of stuff you have in conjunction with any specialty items or requirements. When you call to schedule your move, our representative will review all details, ask you for a complete list of your belongings and then we can provide you with a custom-tailored quote.
When Preparing for Your Long Distance Move From Sacramento
The other question we get asked often is, how do I prepare for my long distance move? Keep in mind, there are things you can do and steps you can take to make the process even easier. One thing you can do is to keep a file or notebook in which you make note of what has been done versus what still needs
to be taken care of. Additionally, you want to be sure and change your address with all relevant companies, utilities, post offices and other such entities from which you get mail. Also, this might be a good time to clean out the closets in a manner of speaking. Here is a perfect chance to declutter and get yourself more organized.
When you are ready to schedule your long distance or interstate move, we would love to hear from you. Our clients are assured a high quality, reliable moving experience! If you have any questions please feel free to contact us at anytime. You can also read about us here.