Moving Companies in Santa Barbara
Whenever you're anticipating a long distance move, there is a certain process to it.  And one of the first things you need to do is to find a good long distance moving company in the Santa Barbara area.  Certainly, you can turn to google and search for "Santa Barbara movers near me," but you want to make sure that you are hiring a high quality moving service that is invested it in the utmost care of your belongings. If you're looking for moving companies in Santa Barbara, International Van Lines can help.
There are many fly by night interstate and cross country moving companies out there; that is why you need to ask questions.  You need to carefully analyze and evaluate what a particular moving company is offering in terms of your long distance relocation.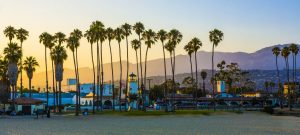 Questions to Ask Santa Barbara Movers
So what are some of the specific questions you should ask when looking into long distance California based movers…
How long have been in business? This will tell you a good deal about their track record, about their reliability, and about the level of trust that customers have with this particular company.
Are you fully insured? Remember, we're dealing with your belongings, some incredibly valuable.  You want to make sure that whatever long distance moving company you work with, they have the proper insurances already in place.
What is your process? Any move, any good move, will involve a detailed and thorough process.  From the way in which they help pack, to how they load the truck or van so that nothing is in danger of shifting, to what happens when they get to your final destination.  Will they help you unpack, will everything be put in its place?
Preparing for Your Long Distance Move
Any move can be stressful—especially a long distance move.  So, wherever you might be moving too, whether it is in the state of California, to another state, even across the country, you want to make sure that you prepare whatever possible beforehand.  Have you changed your address?  Is the new house ready for you to move into it?  Had you organized your belongings according to room thereby making it much easier when you do get to that new location.  These are just a few helpful suggestions.  We would be more than happy to provide more specific and guided advice given the distance you are traveling, and the amount of items you are bringing.
Santa Barbara Movers with Years of Experience
If you're looking for moving companies in Santa Barbara, we have been doing this for a while now, which means we know what to expect and we can anticipate any exigency. Of course, you want your move to go smoothly—this is what we want too!  Our success depends upon our customers' satisfaction—every single time.  This is why we stay in communication throughout the duration of the move.  This is why we take the time to ensure that all of your possession are secured and thus remain safe and undamaged. We don't take long distance moves lightly, this is why we are so trusted throughout Santa Barbara.
International Van Lines has been ranked #1 for long distance moving by moving.co. You can read some of our reviews here.