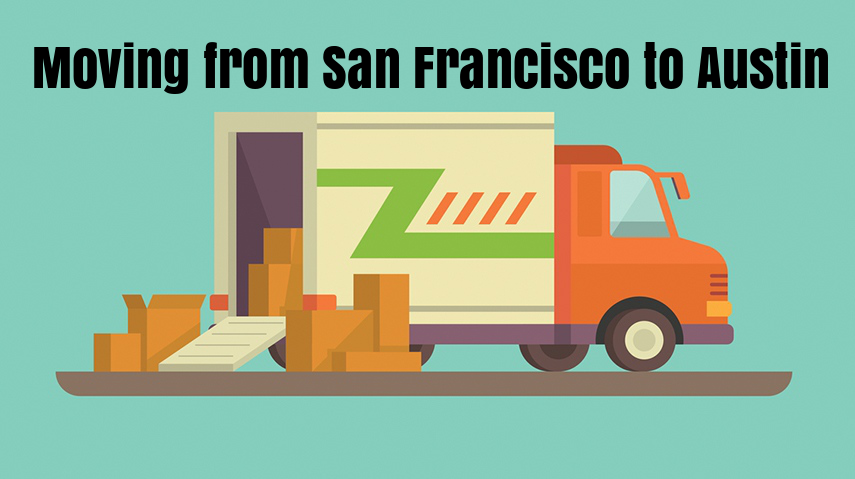 Moving from San Francisco to Austin
Austin, TX is one of the nations fastest growing cities, with over 150 people moving in daily. Centered in the heart of the state, Austin is growing rapidly with arts & crafts, activities and a great business community. Over the past 10 years it's grown from an over-sized college town to one of America's largest cities. There are many large companies that now call Austin their home and it keeps growing. If you're planning on moving from San Francisco to Austin, it's important you take the right steps in scouting the best moving companies.

Scouting Moving Companies
There's no doubt that the cost of living in Austin is more affordable then San Francisco. However, you still don't want to get trapped in a moving nightmare. If you're planning on moving from San Francisco to Austin it's important that you find a moving company that's familiar with the route. Under no circumstances should you submit your information on a "get 10 free moving quotes" website. These websites don't have the customer in mind and will sell leads to anyone that's willing to pay – even scammers.
When planning a move you should do your own research. Once you locate 3 moving companies that you feel comfortable with, you should then check their online reviews and DOT record. You can check the SAFER website for a moving companies history and credentials. If you come across a company that has a history of complaints such as "hostage loads" then run. After all, moving is already stressful and the last thing anyone wants to deal with is getting scammed for more money.

Are online reviews reliable?
Guys, it's 2019 and just like anything else, online reviews can easily be manipulated. Most people, especially in San Francisco, go to Yelp to verify whether or not a company is in good standing. Here is why that doesn't work. Number one there are websites that actually sell 5 star reviews, so you will never really know what you're getting. Secondly you can't compare a company that does 200 moves a year to a company that performs 20,000. The larger company will naturally have more complaints, but that doesn't mean they're a bad choice.
There are some great websites such as Moving.co and ProMoverReviews who check companies credentials before they're listed. It's also important to go with your gut. If you get a price quote that is significantly cheaper then others, chances are you're being "low balled". All moving companies incur similar costs, don't forget that. So if you're moving from San Francisco to Austin do your research! Here are some FAQ's that can help.

What are some questions to ask my mover?
Moving quotes are based on what you bring, and moving companies either work on cubic feet or weight. Either one is fine as long as you find a reliable company. However, if the movers show up and you end up having more then you will pay more. First and foremost make sure to narrow down what you're bring then create and inventory list before you call a mover. Try and be as detailed as possible. If you're planning on self-packing make sure you can handle the job. If you need require more packing on the day of pick up, you will be charged more.
Since you're moving from the Bay area it's important you ask about shuttle fees. A shuttle is when a moving company can't fit their truck by your residence and will need to bring a smaller truck to transfer your household goods.
Why move to Austin?
Food: The food scene is unparalleled to most cities in the states. Some highlights are BBQ & TexMex and they do it right.
Affordable: No state income tax in Austin and housing is affordable. You can actually live alone and in a very nice area! This will change, but for now it's affordable, one of the many reasons young professionals move here.
Outdoor Activities: Many various hiking trails and water activities on the lakes include wake boarding, paddle boarding, kayaking, etc. Active people run along the river and go on day trips to hike in surrounding area. Tons of outdoor musical festivals (SXSW, ACL, Fun Fun Fun) & Zilker Park draws large crowds in summer for weekly blues festivals.
Friendly People: The people are a large part of what make a city's culture and everyone is SO nice! I moved not knowing a soul and made friends easily. Very friendly vibes.
Road Trips: San Antonio (1 hr), Dallas (2.5 hrs), Houston (3 hrs), and fun small towns surrounding Austin are easily accessible. OK, I admit, there's a plus to owning a car!
General info about moving from San Francisco to Austin
So you've made the final decision, congratulations! We want to stress the importance of making the right choice when hiring a moving company. I truly hope that this article helps, but remember you can contact us at anytime if you have any questions or concern. You can also visit our BLOG and or resource page to find out more information. We thank you again and good luck with your new venture. We know you will enjoy Austin as much as we do.