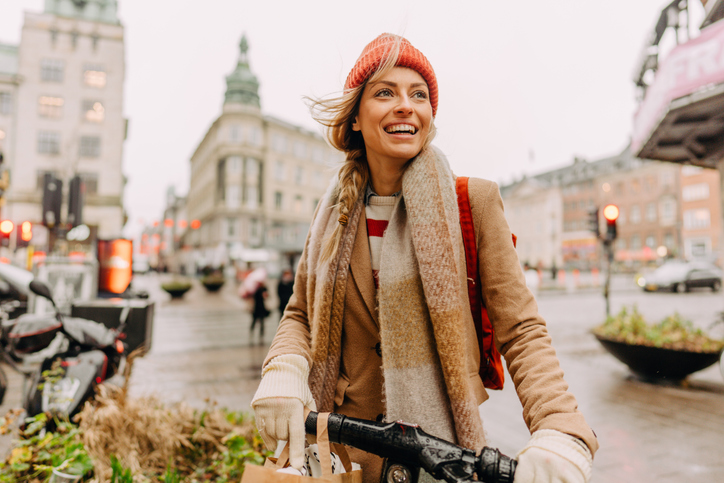 You might consider moving to Denmark, perhaps after some trips to Copenhagen. Maybe you have concluded that the Danish way of life appeals to you more than your current way of life. Perhaps you have been continuing to explore the Scandinavian region for a while. Therefore, you may want to experience the ways of life of some of the world's happiest people.
Denmark can be an excellent choice for relocating families wanting to settle down. Its Scandinavian neighbors, Finland and Norway, guarantee everything from outstanding work-life balance to a high standard of living and excellent opportunities for career advancement. Denmark now has over 4 million residents, which may not appear like much if you come from the United States. Notwithstanding its reasonably small size, the country dazzles visitors from all over the globe with unending sights and experiences. Here is how to move to Denmark from the US.
Also, check out: How much does it cost to move overseas
Understand your legal options
Moving to Denmark is not as simple as it may appear for United States citizens or other parts of the globe. You must document the appropriate legal application forms if you choose to move to Denmark (an international move) and are not European citizens. The shift to Denmark is simple for dwellers of the EU and other Nordic countries such as Sweden, Norway, and Finland. Nordic nation residents can quickly relocate to Denmark. Non-residents must have a registration certificate within one month of their move.
UK citizens, as of now, have similar privileges as EU citizens, but it may change at any time now that the UK has disconnected ties with the EU. Americans and Australians, on the other hand, must submit complete applications.
If you want to move to Denmark from the US, the most straightforward approach is to marry a native or come on a student visit. Students only have to obtain a student visa, which is easy to do if they have received a letter of approval from a Danish university.
As a US resident, your three best alternatives for relocating to Denmark are:
Enroll as a student
A student visa is much easier to acquire than any other visa for living in Denmark. Spending your education in the country will also allow you to become acquainted with the lifecycle and meet the types of individuals required to find employment. Such a visa will enable you to work for a given duration.
Seek employment
Moving to Denmark to select the most suitable job can be challenging. It would help if you located an organization prepared to sort out a few complex required documentation on your behalf. Smaller companies will often avoid hiring someone from outside the Nordic region because it is costly and time-consuming.
Get married to a Dane
Undoubtedly, you will need to locate someone to hook up with in Denmark first. Many expats relocate to Denmark after meeting a Danish partner and deciding to raise a family. The best part is that you can still relocate to Denmark regardless of who you fall in love with. The minimum age before considering this option is 24 years old, and your partner must have a home large enough to accommodate both of you. Your companion must also demonstrate their ability to support you.
What it costs to move to Denmark
For a range of factors, relocating to Denmark can be a costly undertaking. The application fee for most Danish visas, which include a residence permit, is approximately $480. You might also have to consult a lawyer to guarantee everything is for your relocation. If you are moving from the US to Denmark without employment, you should know that the cost of living can be very high. Residing in Denmark as an American or a resident from another EU country can be distressing. Denmark has quite stringent tax obligations.
You pay high taxes on your earnings and transactions. Nevertheless, it implies "free" healthcare and education for Danish residents. Exploring the cost of housing, taxes, and living expenses in the location you are considering moving to is essential. Please remember that capital cities such as Copenhagen will likely be more costly for an American relocating to Denmark. Even so, because these areas are more likely to attract many expats, you may come across people who speak English, just like you.
Getting your budget under control is also a good idea before moving to Denmark. Opening a bank account as a non-resident is usually a simple procedure. All you need is a confirmation of identity, verification of address, and proof of student or work status. You will also need your tax identification number (CPR) that you will receive with your resident permit.
Shipping Cost
Shipments to Denmark are admittedly not challenging, as many ports can more than accept substantial cargo ships.
Here is a handy table with the typical shipping charges from either New York or Los Angeles to assist you in getting an estimate of the shipping cost to Denmark. The amounts listed in the following table are from CEVA Logistics and are centered on the port-to-port shipping of a 20-foot container of used furniture valued at $40,000. Please remember that these are only projections, and do not promise that your shipment will arrive within the timeframes outlined below.
| | | |
| --- | --- | --- |
| Route | Charges | Period |
| New York to Aarhus | $800 | 17-31 days |
| Los Angeles to Aarhus | $2,450 | 30-50 days |
Remember that these container shipping rates rarely include standard add-ons like door-to-door delivery, proficient packing/unpacking, or primary insurance coverage. Shipping companies usually have these services at their cost. As such, anticipate variations between the prices listed here and the quotes you receive. Such projections should only be used as a guideline. You should also learn more about different international moving services.
Cost of flying goods from the United States to Denmark
If you must get your items to Denmark quickly, flying may be your right approach. However, as is customary with extra comfort, you should anticipate paying more than if you transport your goods via shipping. With international moving, moving to Denmark from the US is a cost. The following table shows the rates for flying goods from the United States to Denmark. These numbers, like the shipping costs, come from CEVA Logistics and are predicated on 250 kg of household items (commonly valued at around $40,000). It is the average shipping charge for items from New York to Copenhagen.
| | | |
| --- | --- | --- |
| Route | Charges | Period |
| New York to Copenhagen | $675 | 9hrs 25mns |
| Los Angeles to Copenhagen | $865 | 11hrs 40mns |
| Houston to Copenhagen | $725 | 10hrs 53mns |
Denmark's healthcare system
The country's healthcare system is world-class, with all Danish residents having access to high quality, primarily free alternatives. Such alternatives are open if you have a state health insurance card, also identified as a "yellow health card." It is also fully available to expats, but you should get health insurance just in case.
Denmark's living expenses
The living expenses in Denmark differ based on where you reside, but for the sake of simplicity, use the below Copenhagen outline as a starting point. Remember that this is only a reasonable estimate of what you would be paying in the country.
| | |
| --- | --- |
| Commodity or Service | Price |
| Furnished accommodation in city center (900 sqft) | $2000 |
| Meal for two at a typical restaurant in city center | $90 |
| Monthly ticket for public transport | $90 |
| One pint of beer | $8 |
| One liter of milk | $1.5 |
| 12 large eggs | $5.5 |
| A monthly gym subscription | $38 |
Getting a Job
If you are relocating to Denmark from the United States, you will have limited opportunities as a typical EU or Nordic ex-pat. As previously stated, your three options are to study in Denmark and eventually get a job or marry a Dane.
The third alternative is frequently chosen. It entails finding work and relocating with the help of your boss.
How effortless is it to find work and relocate to Denmark?
There are some obstacles. To work in Denmark, you must first know how to speak Danish. Most professions will involve a bit of language ability, especially when interacting with clients.
On a positive note, the Danish economy is in good shape, and as a Danish specialist, you can earn lots of money. Denmark's unemployment level is below 5%, suggesting a solid requirement for expertise.
IT, life sciences, health services, medicine, and engineering specialists are often in short supply. But avoid taking the risk of moving to Denmark without employment.
In summary, you should find a job before making the shift. You could use the time you spend looking for work to improve your linguistic competence.
Place to live
If you have a guaranteed job in Denmark, you are on your way to a beautiful life there. Even so, there are a few more measures to be followed. For example, you will have to determine where you want to live. Before relocating to Denmark, you should visit the country several times and explore various areas. The area you reside in will determine the type of civilization and opportunities you want to enjoy. The best part is that getting around Denmark is simple no matter where you go.
You can devote your free time to exploring and discovering other areas as you reside there. It is also simple to travel to another area of Scandinavia, such as Stockholm (Sweden). Overall, the Danish housing industry can be costly. The majority of people rent before they purchase. Such is especially true in major cities such as Odense, Aarhus, and Copenhagen. The capital's north is more costly than the south, and you will almost certainly require your residency permit everywhere you go.
Search for leje-lejlighed if you are on a limited income. Because of the pricing, these comparatively small rentals are frequently in high demand. Some have decided to share communal areas as well. Another rental alternative is Raekkehus. It has additional space, privately owned lawns, and another rental alternative. Several property owners in Denmark will require you to pay three months' rent in advance as a down payment.
Though other sections of Denmark can be costly, this is comparable to living in some areas of the United States. Residences in New York's city center may charge approximately $3,000 to rent, whereas a similar house in Copenhagen may cost around $2,200.
Remember the high tax rates on your earnings when determining what you can pay.
Obtaining Danish citizenship
After understanding how to move to Denmark from the US indefinitely, you will inevitably have to register as a Danish resident. United States residents do not need a visa to visit Denmark and stay for up to three months (90 days). Nevertheless, if you intend to stay longer, you must apply for a non-permanent residence permit before entering the country. Such a residency permit allows you to reside in Denmark for up to five years. You will also pay taxes and use the healthcare system in this country.
If you intend to stay long-term, the Danish administration's ICS service gives more details on how to begin applying for Danish citizenship. In this country, if you have a citizen parent, you must gain citizenship by naturalization, which requires five years as a permanent resident. A student visa is one of the simplest methods of getting citizenship. The time you spend in the nation will add to the additional time you will need to devote to obtaining Danish citizenship when you move to Denmark. If you marry somebody in this country, you will still need to verify your citizenship.
If you are relocating to Denmark as the partner of a Dane, the state will provide you with a language ability test in less than six months of your arrival. It implies you will have to learn Danish fundamentals before considering relocation. The best part is that most people find Danish relatively simple to learn. There are numerous training and available apps to cope with these challenges. Almost every Danish resident will have to be able to speak the language, so the sooner you gain knowledge, the better.

Final Thoughts
Relocating to Denmark as an American has lately become a contentious issue; you will frequently hear from Americans who want to immigrate to Denmark. Americans can move to Denmark in one of three ways: as a student, worker, or companion of a Dane. Regardless of how you feel about the current political atmosphere, applying for asylum as a refugee, the other way non-EU citizens resettle in Denmark, is not an option for Americans. Countless Americans wonder if they can relocate to Denmark from the United States. The response is that it is doable, but it is not simple.