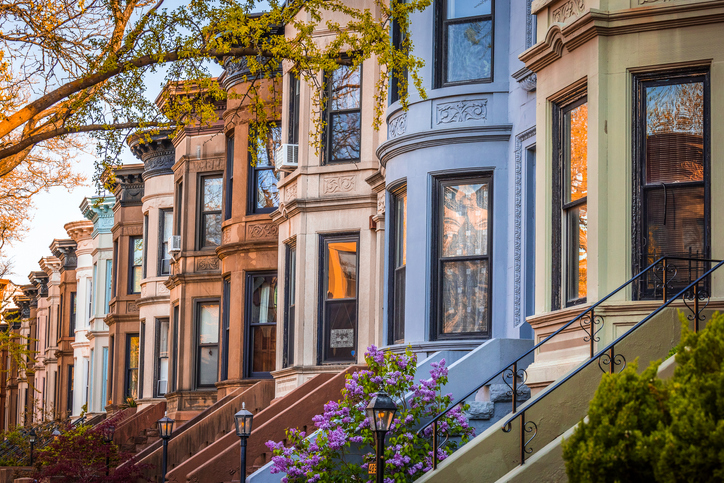 Suppose you're tired of paying exorbitant rent or housing costs, or maybe you want to relocate permanently to another part of the country, why not go to the East Coast? There are several fantastic options for cities that offer significantly more affordable neighborhoods without sacrificing the quality of life.
With every passing year, more and more people are relocating to the best East Coast cities searching for better job opportunities, getting closer to family, taking up different lifestyles, or just retiring.
Moving in itself is hard enough; knowing what to expect when picking up and moving your whole life is crucial in the smooth transition to your new home.
The following list is not arranged based on specifics. Still, it simply gives information about the town, hoping to help you make a wise decision on what area will be best for you and your family—also, highlighting which ones are the best for retiring and those best for families.
1. Chesterbrook, Pennsylvania
Population: 4,800
Median home value: $323,000
rent: $1,832
household income: $130,000
resident age: 44.6 years
Being ranked the best place to live in Pennsylvania, this suburban community in Chester county is loaded with excellent schools. There is also an abundance of job opportunities for new families moving into the neighborhood. 77% of the residents are homeowners, with a small percentage of people renting.
This community is designed to encourage quiet living, a great place to raise a family, and retirees to enjoy the many restaurants, parks, and coffee shops in the area. It is at a great location with easy access to all major regions. So much so, this is the best place for retiring and also having families and kids.
2. Clemmons, North Carolina
Population: 20,313
Median home value: $226,600
rent: $866
household income: $70, 659
resident age: 41 years
With a crime rate 37% lower than the state average, Clemmons is safe to live your golden years or raise a family. If you are into the outdoors, there are things for you to do, from shopping, restaurants, and Museums to being exposed to mile after mile of hiking trails.
The annual average household income is high, with low home values enabling 74% of its residents to own homes. This is one of the most affordable places to live on the East coast.
3. Ashburn, Virginia
Population: 49,848
Median home value: $493,400
rent: $1,897
household income: $132,331
resident age: 37.6 years
Ashburn, originally called Farmwell, is a suburb in Washington DC. It has a lot of data centers and is widely known as the data center of the World. Located only 30 miles northwest of Washington DC, ash-burn is home to many high-tech businesses like Verizon and Telos.
Ashburn is home to many families, young professionals, and retirees with access to academic, athletic, and personal opportunities. There is a high regard for public schools, and students have a great time learning.
4. Springfield, Massachusetts
Population: 167,051
Median home value: $118,100
rent: $744
household income: $36,856
resident age: 33.4 years
Springfield is a large city and is the birthplace of basketball, birthed in 1891 by Dr. James Naismith. Residents enjoy the option to walk or ride around the city with ease and comfort, and everything you might need is within a 40 minutes radius across town. Springfield is home to Forest Park, one of the largest urban parks in the United States.
It is a great place to live with everything you need with a large and growing job market, excellent schools, world-class healthcare, And all the entertainment and culture trappings of a big city. Springfield's housing costs are considered the best in terms of cost of living.
5. Myrtle Beach, South Carolina
Population: 32,700
Median home value: $216,10

Rent: $913
household income: $43,200
resident age: 45.2
Myrtle Beach has over 60 miles of beautiful caroling coastline with a wide range of fun and family-friendly activities everyone will enjoy. It is an excellent place to raise a family. It is considered one of the best beach towns with its first hotel built in 1901 and still lures people back to the Carolina coast a century later.
With good living standards and all the amenities you could ever need, Myrtle Beach is among the best places to live on the East coast.
6. York County, Pennsylvania
Population: 445,565
Median home value: $177,100
rent: $957
household income: $66, 457
resident age: 41 years
York offers residents a dense suburban feel, and 62% of them rent their homes. York is a charming town with multicultural and welcoming people and is small compared to other cities close to it. A wide range of stores and entertainment options around the area is open for everyone.
To safeguard the safety of their population, they have police or guards stationed around stores and banks. Most cities around York have a higher cost of living and on the whole, living in York affords a comfortable living for everybody who chooses to live there. Overall, York is a pleasant and one of the best places for families with kids, especially if a small town suits your personality.
7. Savannah, Georgia
Population: 145,403
Median home value: $156,500
rent: $1,019
household income: $43,307
resident age: 32.6 years
Savannah is a beautiful, historical East Coast city with numerous activities. This location offers everything from boating to sitting and more. There are also excellent schools and universities like Georgia Southern University, Savannah State University, and Savannah College of Art and Design, to name a few.
This is a sightseeing hotspot with warm temperatures for the majority of the year and some cold weather. Savannah is simply a lovely location to live and one of the best places to retire on the East coast.
8. Wilmington, North Carolina
Population: 120,194
Median home value: $246,400
rent: $998
household income: $47,580
resident age: 36 years
With a moderate growth rate, Wilmington is one of the fastest-rising cities in terms of job generation. The cost of living is lower than the rest of the country, with a surplus of good-paying employment.
There are lovely beaches, some friendly locals, and an overall affordable place to live. The battleship North Carolina, Airlie Gardens, and Bellamy mansion museum are worth seeing.
9. Virginia Beach, Virginia
Population: 450,201
Median home value: $280,800
rent: $1,367
household income: $76,610
resident age: 36.2 years
Virginia Beach is an excellent option for relocating to the best East Coast cities. Also, it's one of the best beach cities in the country. Virginia Beach has all of the amenities that a city dweller could need.
It is one of the most sought-after neighborhoods in the region with excellent dining options, a diversified population, fantastic local beaches, and outdoor activities like kayaking and dolphin tours.
Take away
Having the opportunity to watch the sunset from any of the above locations is a privilege that you can enjoy when you relocate to one of these cities. They're all warm, inviting, and bustling with activities, which you'll find appealing once you settle in. They are indeed the best place to live on the East Coast.