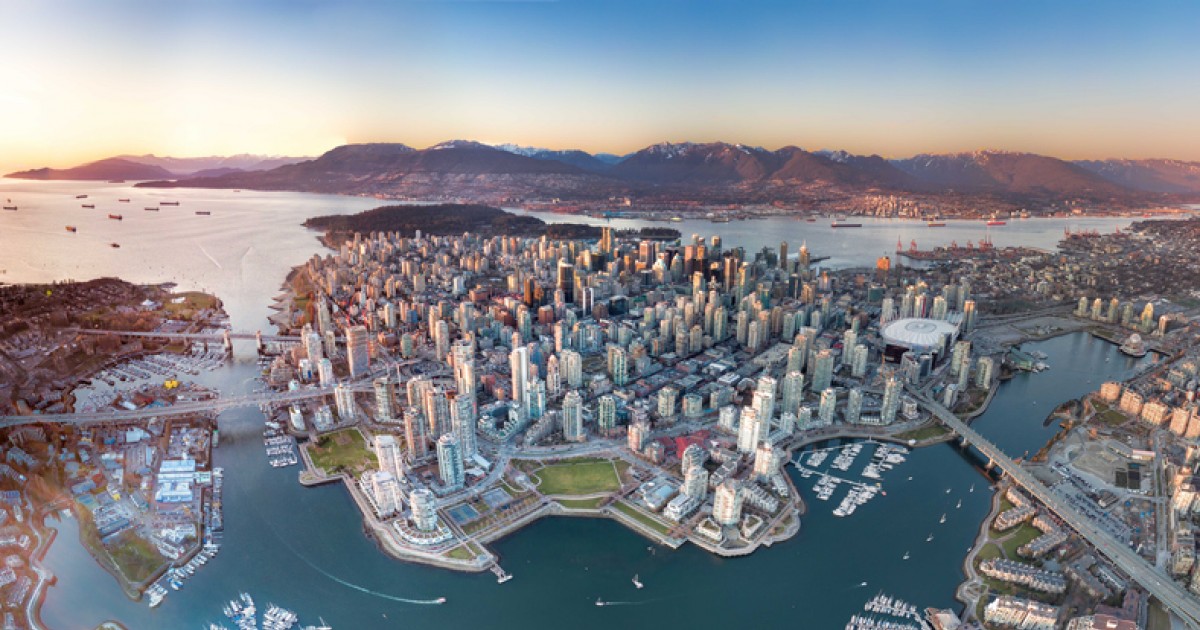 If you are one of the thousands of Americans relocating to Canada, you might wonder about the costs involved with this international move. As of September of 2021, at least 20% of people were leaving California, a record number for the state that continues to see population declines since COVID-19. Many Californians are looking to places like Vancouver, British Columbia, and Canada to call their new home.
Cost of moving from California to Vancouver
The cost of moving from California to Vancouver averages $4,700 and $7,000. The size of your move and mileage are the most significant cost factors. Additionally, the time of year and mover you chose can affect the cost.
Here are some estimates for moving from California to Vancouver:
1-2 bedrooms:

Starting at $3,800
2-3 bedrooms:

Starting at $4,700
3-4 bedrooms

Starting at $5,400
4-5+ bedrooms:

Starting at $7,500
Checkout: The cost of moving from the US to Vancouver
How much will it cost to ship a car from California to Vancouver?
Many people choose to drive the 1,087 miles between California and Vancouver when relocating. It takes on average 17 hours and 26 minutes to get there. Most people prefer to ship their car with a vehicle transport company. This way, the company takes care of most processes and licenses needed to complete the process. The cost of moving from California to Vancouver with a car will not break the bank.
The typical cost of shipping a vehicle to Canada is $700 and $2,500. However, it's best to request a personalized quote to get an exact price point.
Here are some essential points to consider when shipping a car from California to Vancouver:
Your automobile must be registered with the Canadian Registrar of Imported Vehicles before being sent from the United States (RIV).

Your car must comply with all applicable safety and emissions regulations. Canada has stringent safety and pollution regulations, which must be met by the vehicle you import.

If your car is on a safety recall list, you won't be allowed to import it to Canada. Determine your vehicle's VIN and check with the manufacturer to see if it has any recalls.

Verify the warranty's coverage. Verify your vehicle's warranty coverage terms with the manufacturer.

Vehicles that are 15 years old or older can be imported into Canada without having to register or pay duties to RIV.
Read more: Transporting Your Car From the US to Canada
How long will my move take from California to Vancouver?
Expect between two to three weeks. However, the time it takes for all your household goods items to arrive in Canada will vary. Weather and customs delays are the most common causes of delays when relocating from the US to Canada.
If you are relocating from a US state to Canada, there is much more to do, affecting your move's timeframe. There is paperwork to prepare and fill out and customs declaration forms. All home items and personal possessions shipments must be registered to enter Canada. We recommend you start planning at least six months to a year.
Read more: Checklist to Getting Ready For Your Move to Canada
How can I save money on my move?
The cost of moving from California to Vancouver is not cheap. Consider asking friends and neighbors who have just relocated or are planning to move to preserve their boxes and any extra relocation goods for you. You can also inquire about packages left behind from recent delivery at specific retail sites, such as supermarkets, furniture, or appliance stores. Make the most of what you already have by being resourceful.
Knowing how much your relocation should cost in general can assist you in avoiding overpaying by accepting a proposal that is, unknown to you, considered too costly. Online moving calculators are an excellent method to estimate how much your relocation will cost. This is a fantastic place to start before contacting several moving firms for quotations because it will provide a precise average. Remember to get at least three different quotes from reliable international moving companies to compare your options better.
Running a yard sale generates money and helps you save money on your relocation. By creating the time to get rid of unused clothes, furniture, or other goods before your move, you may reduce the number of movers you will need. Plus, it helps you avoid paying additional taxes for unwanted items when you relocate to Canada.

What questions should I ask my mover?
When you are getting ready to relocate, a lot is happening. Choosing the best moving company is a crucial decision. Here are some questions to ask before selecting a moving firm once you've established that you're working with authentic movers:
How long have you been in operation?

Do you have any testimonials for your work?

Is your moving business bonded, insured, and licensed?

What kind of paperwork will I get before my move?

How can you figure out how much it will cost to relocate?

Is this a firm or a speculative estimate?

Will there be a surcharge if the moving truck comes before I do?

Who will be responsible for loading and unloading?

Are you able to provide liability insurance? What alternatives do I have?

Do you have experience with moving from California to Vancouver?
Also, read Top 10 Tips for An International Move.
What is the process of customs in Canada?
International products are routed to the Canada Border Services Agency (CBSA), which conducts a visual examination and verifies your documentation.
The customs clearance process in Canada can take about 20 minutes. However, the process can take up to 48 hours in some cases. You'll see the longest waiting time if you're importing goods during the holiday period.
Ideally, you want to work with an international moving company that understands the logistics and processes of customs in Vancouver. The right logistics partner can help you navigate the customs process, help you obtain all documentation, and most importantly, wait until your household goods get customs clearance.
Many international moving companies also offer door-to-door delivery services, so you don't have to worry about waiting for your household goods in customs.
Moving from the US to Canada
Moving from California to Vancouver, British Columbia, is a lengthy process. Ideally, you want to start working with an accredited, licensed international moving company. They can help you better navigate the different shipment options, find ways to cut down costs of moving expenses, and help you navigate insurance, customs, and other document-heavy processes revolving around moving.
At International Van Lines, our relocation specialists can help you oversee the entire relocation journey. With decades of experience, our specialists can see and prepare for things that you might not know about., from documentation, visas, and permits, to the best times to move to Vancouver to save money and more. Contact us today to get started and request a free moving quote.