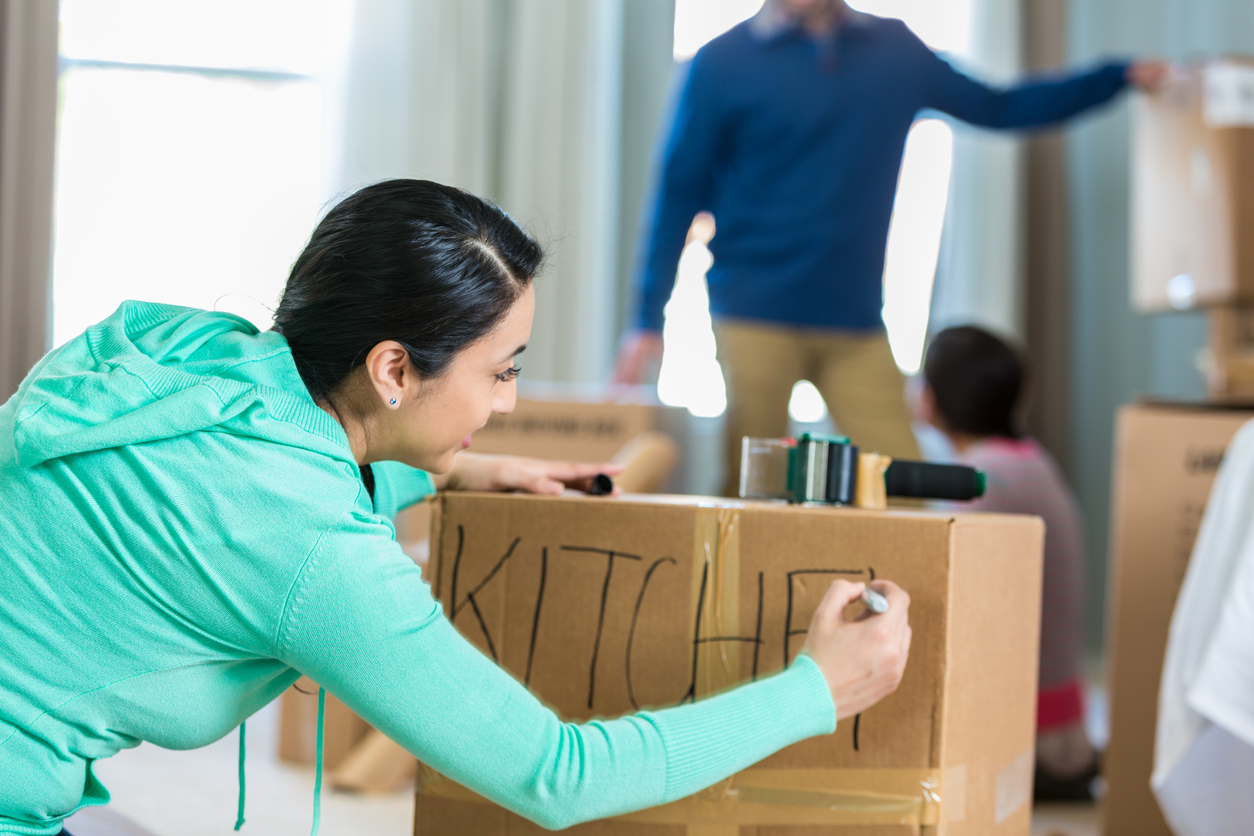 9 Tips on How To Label Moving Boxes Like a Pro
If you've never worked for international moving companies — and we wouldn't be surprised if you haven't — you might be feeling anxious about your upcoming move overseas. Not only do you have to decide what to take with you, but you also have to pack your life into a bunch of boxes!
Trust us, we get it. And as one of the most globally recognized international moving companies around, we've learned a few tricks along the way when it comes to how to make the process of packing and labeling boxes easier.
So instead of keeping all of these secrets to ourselves, we've come up with a list of five things to do when you want to label moving boxes like a pro.
1. Create a List of What's Going
Before you can just start labeling boxes, you have to develop a system for how you'll actually pack. We recommend making a list of everything that you plan to pack and organizing it into categories that make sense to you: Kitchen stuff, clothes, shoes, books, etc.
You might be thinking, "Sure, it's great to keep my stuff organized, but won't just put it all in labeled boxes do the trick? Why make a list?" While it may seem tedious to write everything down, you will quickly forget what items are where once you start putting everything into boxes.
On top of that, when you're moving overseas, all of your stuff will go through customs — also known as the gauntlet of security checks! Customs agents in many countries require itemized lists in case they need to open and check a box's contents. If you pack everything up without creating an itemized list and then realize later that you need it, it won't be so much fun to play the real-life version of the memory game!
2. Prepare Your Supplies
Okay, now that you know why it's crucial to follow a system and make an itemized list, you're ready for the next step. Something else that helps a lot with packing is to ensure that you have all your labeling supplies ready before you actually start boxing stuff up. Knowing how to pack for a move is life-changing, especially for an out-of-state move.
Here are some supplies that international moving companies recommend having on hand:
High-quality waterproof permanent markers in various colors
Pre-printed labels with room names and phrases like "fragile"
Even if you get pre-printed labels, it's still a good idea to have some permanent markers handy — you never know if you'll run out of certain labels.
3. Choose Your Method of Labeling Boxes
As any organization guru knows, there are multiple ways to get the same results, even if you use different methods. When it comes to labeling boxes like a pro, there are a few options to choose from that are popular with international moving companies. Decide which one works best for you (and stick with it).
4. Label Boxes with Contents
Remember that itemized list you created back in step one? Why not take that well-organized piece of work and use it to help label your boxes? You may not want or need to include literally every single item in every single box, but the list can help you to add some more specific details on the outside of each box.
Again, doing this upfront will save you a lot of hassle when you arrive at your new abode and see the huge stacks of boxes everywhere. It will also allow you to prioritize which boxes to unpack first because — let's face it — at least a few of them will sit in a corner for a while.
5. Color Code Boxes
If you took our advice and invested in some high-quality permanent markers, props to you! Now, you have the option to use those different colors to coordinate with various rooms of your house. We like to use pink for the bedroom, green for the living room, and blue for the kitchen — but hey, that's just us.
Out of state moving can feel overwhelming. However, knowing how to label moving boxes can go a long way.
No matter which color scheme you decide on, once your boxes arrive at your new location, it will be easy for anyone to know where each box needs to go. If you want to make it even easier on the eyes, you can also add the same color tape to the boxes for some extra flair.
6. Label Room by Room
This option is the most obvious one…it also corresponds with a lot of the pre-printed labels out there. Since your house is naturally organized by room, why not carry over that method to your boxes? Each person in the house can be responsible for packing up certain rooms, and they can add those labels to their boxes. Easy peasy. You can also learn more about how to create a moving inventory list.
7. Number your Boxes
Much like the color option, this one is pretty straightforward. If you assign a number to each room of your house, once you start packing, all you have to do is add that number to that room's boxes. This option also creates efficiency in that you don't have to keep writing something like "living room" over and over. You can replace a bunch of letters with a single digit, depending on how many rooms there are in your house.
If you have many boxes or many rooms, you can also combine a label like "living room" with a number to count how many boxes there are for each room. You can then add those numbers to your itemized list, too!
8. Label with High, Medium, or Low Priority
This piece of advice goes right along with a lot of the ideas above. Quite simply, as you are packing each box, decide if the items going into it are high, medium, or low priority when it comes to unpacking them.
All you have to do is add an H, M, or L to the box to know if the items in it are things you use daily, weekly, or only on occasion, and you can unpack them accordingly.
9. Label All Six Sides — The Dice Check
Now, this one might seem a little extreme, but international moving companies will be forever grateful to you if you do it. Sure, when you packed your boxes, they were all standing upright with a clear top and bottom side. Now that your moving company has transported them halfway across the world, though, down might be up, and left might be right!
Whatever labeling method you choose, it's best to add it to all six sides of the box. That way, no matter how the "dice" get rolled, the correct number will come up every time.
If you're planning an overseas move and need an international moving company you can rely on, let International Van Lines be your go-to choice for high-quality service. You can contact us any time for a free quote!