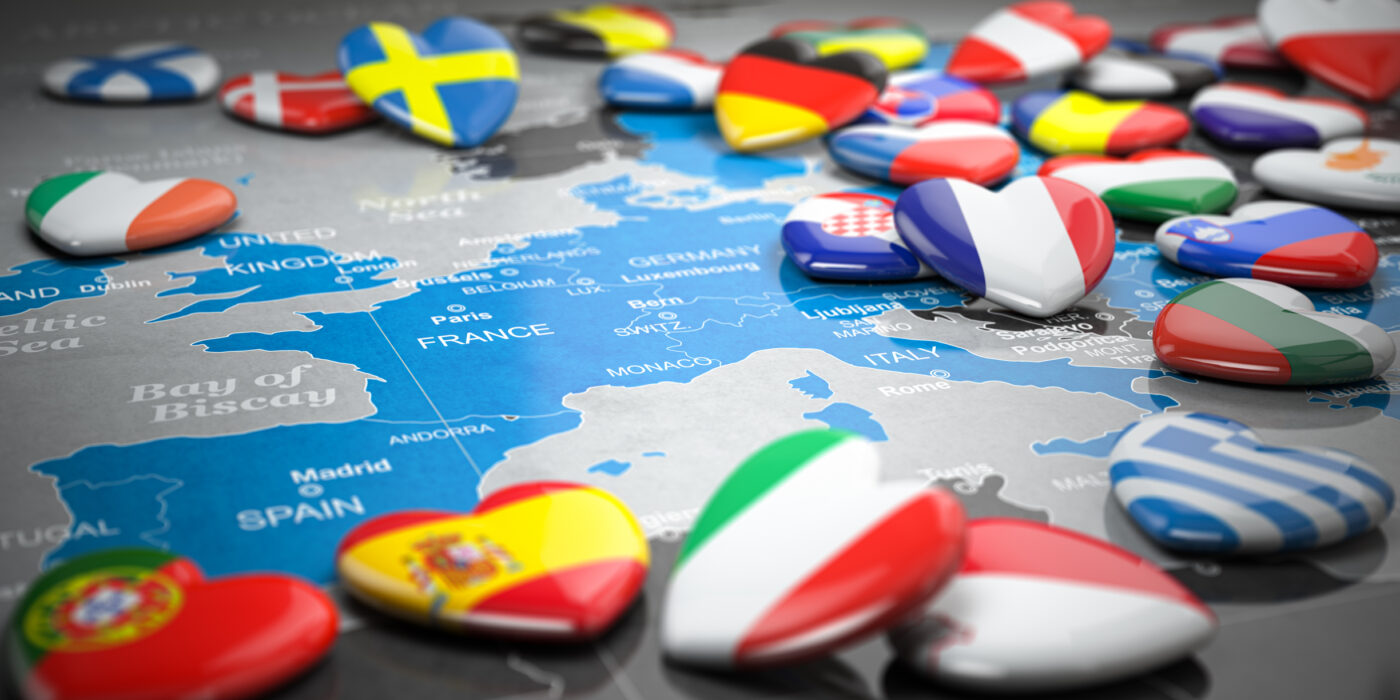 Top Ten International Cities To Move To According To International Moving Companies
The world is your oyster—truly available to you—and yet what does that really mean? As one of the top international moving companies, International Van Lines knows a lot about the world. We think it's more like an all-you-can-eat buffet than a single oyster.
Whether you're tired of your current surroundings, are considering a new job, or need a new lease on life, moving overseas is a great way to change things up. For some people, taking the jump and deciding to live abroad is the easy part. The challenge comes with choosing where to live—that's why we like the endless buffet analogy.
Also, before you consider moving you should check out your shipping options when moving overseas.
But fear not, you don't have to use that second-grade strategy of spinning a globe and going wherever your finger lands, although that is an exhilarating way to make a decision. But what happens if you land on Oymyakon, Russia, the coldest inhabited place on Earth, or Flaming Mountains, China? No explanation is needed!
Instead, check out this compilation of the top ten international cities to move to according to international moving companies.
Vienna, Austria
Nummer Eins (that's German for Number One) on just about all the international moving companies' lists is Vienna, Austria. And it's not because of their sausages, although they are scrumptious. This Austrian capital often tops many lists due to its livability, infrastructure, cultural experiences, pleasant weather, and healthcare system.
In fact, Condé Nast Traveler gave it a score of 99.1 out of 100 the last couple of years. And while German is the official language, close to 75 percent of Austrians know English, along with multiple other languages, so you stand a chance to communicate with others easily. One of the best reasons to move to Vienna—the relatively low cost of living!
Sydney, Australia
If the idea of living in the southern hemisphere version of another former British colony sounds appealing, your best spot is likely Sydney, Australia. As another capital city, Sydney boasts a wide variety of cultural experiences to enjoy, like the famous Sydney Opera House. It has a government that provides for its people in terms of infrastructure, healthcare, and education. It is also in the process of becoming as green and sustainable as possible before 2030.
Learning a new language isn't necessary for Australia, although adjusting to the "down under" accent may be challenging for some. For many people, the biggest adjustment to moving to Sydney is the reverse of seasons. Celebrating Christmas at the beach and feeling chilly in July can play some mental tricks on you. It's all part of the adventure!
Vancouver, British Columbia, Canada
Going to the opposite side of the globe is just another day at the office for international moving companies. However, we realize not everyone will want to move as far away as Sydney, so our next two spots are much closer to home for the Americans out there.
First up is Vancouver, British Columbia, on Canada's west coast. This city provides the perfect balance of comforts in the city and gorgeous scenery outside of the city. Even though we put it third, Vancouver has topped many lists in the past decade, after its revival for the 2010 Winter Olympics. This period brought many new cultural scenes to the city, most notably culinary options that will please your palate for days. The shopping, museums, and parks throughout the city also make it a great final destination for the young and elderly alike.
Toronto, Ontario, Canada
If going to Canada's west coast isn't your thing, you can always try out Toronto's diverse and welcoming city. It still has all the perks that Canada offers, such as quality education, affordable healthcare, and overall stability. Plus, its ethnic makeup is an impressive sight, with almost half of its three million residents being foreign-born. Torontonians aren't fans of that "f-word"—they prefer the term "newcomers" for those not originally from Canada.
In addition to excellent restaurants for just about every cuisine globally, Toronto also has all the best attractions of any major city, like the CN Tower, Ripley's Aquarium, and Toronto Island Park. As an experienced international moving company will tell you, you want to land in a city that offers the right balance of entertainment and convenience, and Toronto won't do you wrong.
Tokyo, Japan
There is no better spot for those looking for a change from east to west than Tokyo, Japan. This city has been around for centuries, and with it comes an amazing history among the backdrop of a famous natural landmark, Mt. Fuji. As one of the most highly populated cities globally, with the Greater Tokyo Area topping 37 million people, you won't have to worry about not socializing there.
Tokyo consistently earns high rankings for its healthcare, education, and infrastructure, something sure to increase due to the upcoming Summer Olympics. Another list Tokyo is constantly appearing on is Michelin-starred restaurants, as it has 226 restaurants with Michelin ratings, making it the most regarded food city in the world. Japan as a whole has 446 Michelin-starred restaurants, plenty more than one for each day of the year if you're feeling adventurous.
Copenhagen, Denmark
Are you looking to ditch your car and live somewhere where you can get around on your bicycle every day? Then Copenhagen, Denmark, is the place for you. Luckily, international moving companies know how to pack-up and transport bikes worldwide, so you don't even need to buy a new one!
While Copenhagen's cost of living may be on the higher side than some other cities on this list, you get what you pay for here in terms of comfort, quality, and security. All the free museums and impressive public parks allow you to enjoy the city without breaking the bank. Plus, much like Sydney, Copenhagen is seriously committed to sustainability.
Berlin, Germany
Having a city in Germany on the list may have been almost unheard of 75 years ago. These days international moving companies have regular routes to various parts of the country because of its offerings. Germany is often seen as the leader of all the EU countries, as it has a large population and land area. It is also very centrally located, making it easy to travel to neighboring countries by car, train, bus, and plane.
Berlin itself is a city in revival over the last few decades, and they have the infrastructure and culture to prove it. You could easily spend days, if not weeks, venturing out to all of its museums, with everything from the somber yet informative Holocaust memorials (yes, there are many) to Museum Island, a complex of some of the most important museums in Europe. If you tire of the museums, trips to the German countryside are ideal for relaxation and unwinding.
Seoul, South Korea
This city is one where old meets new from one block to the next. Not only is Seoul home to major global corporations like Hyundai and Samsung, but it also boasts some of the most magnificent Buddhist temples in the region. With a city population of almost 10 million, Seoul competes with Tokyo to skyscrapers, public transportation, and density.
If you're looking for a respite from the city, all you have to do is travel to Bukhansan National Park, where you can hike the trails and enjoy the scenery. Once you're back in the city, you can shop until you drop at the Myeong Shopping district, the first modern commercial area in Seoul. Seoul is also considered to be a very safe country, an impressive feat given its size.
Paris, France
If sipping on coffee and eating a fresh croissant while taking in the sights and sounds of Paris has always been a dream for you, why not make it a reality? International moving companies understand why so many people flock to this city each year. Sure, the traffic can be a mess at rush hour, but once you're settled in, Paris offers shopping, museums, cafes, restaurants, and some of the best bread in the world. Everything's better with a baguette.
Paris finds itself on the top ten lists for attractions as famous as the Eiffel Tower and as historic as Notre Dame Cathedral, which is in the process of being rebuilt after the unfortunate fire in April 2019. Until the cathedral is complete, there are plenty of others to tour, such as Sainte-Chapelle, Montmartre, and Sacre-Coeur. And of course, a visit to the Louvre Museum can happen any time when you live in Paris!
Singapore, Republic of Singapore
Top Ten International Cities To Move To -To finish off the list, let's talk about Singapore. Just about everyone has seen the inside of Singapore's famous airport, even if you've never flown to the country before. Not only does it have thousands of plants and trees, but it also has a visually impressive waterfall. Talk about an amazing welcome to the country!
Singapore can be an interesting place to live at times as it is truly a blend of eastern and western culture. This mix makes certain that cultural norms and expectations will be confusing, but if you're looking for a place unlike anywhere else, Singapore will do the trick. Plus, with beautiful beaches and fantastic attractions like Universal Studios Singapore and Adventure Cove Waterpark, you can easily still enjoy slices of home.
International Van Lines Moving Company Will Take You There
Out of all the international moving companies out there, International Van Lines was rated "The Best Moving Company" of 2020. Feel free to contact us or request a free quote for your next transition, wherever it may be!
Top Ten International Cities To Move To were put together by the various overseas mover.