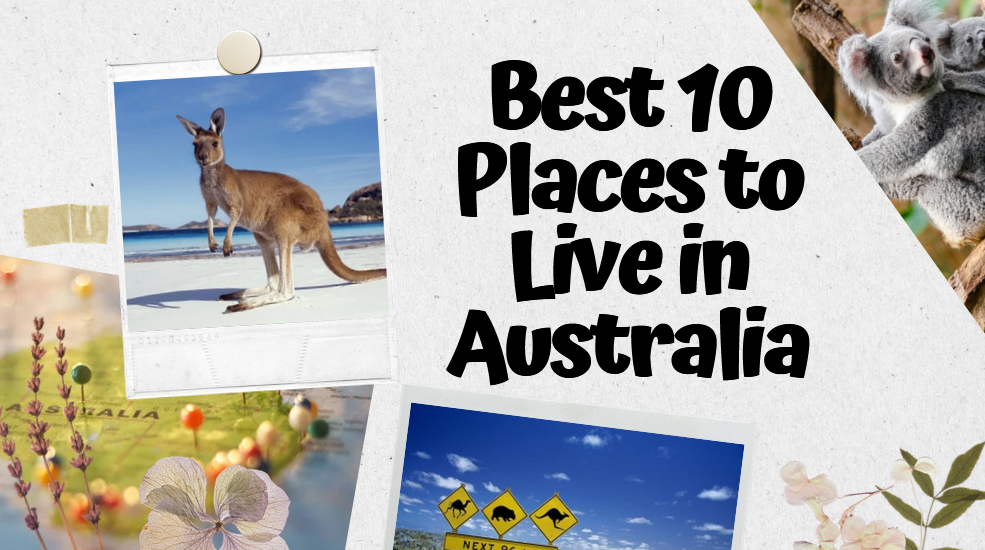 Best 10 Places to Live in Australia – Here are the best places in Australia you can consider when moving overseas from the US.

Are you considering a move to Australia? With its stunning natural beauty, vibrant cities, and laid-back lifestyle, it's no wonder that many people dream of calling this country home. But with so many incredible places to choose from, how do you decide where to settle down?
In this article, we've compiled a list of the top 10 places to live in Australia based on factors such as job opportunities, quality of life, affordability, and more.
Whether you're looking for a bustling city or a peaceful coastal town, there's something on this list for everyone. So sit back, relax, and let us guide you through the best places to live in Australia.

1. Melbourne – Best for Culture
Melbourne is widely considered the cultural capital of Australia for several reasons. Firstly, it has a thriving arts scene, with numerous galleries, museums, and theaters showcasing various artistic and cultural expressions.

In addition, Melbourne is home to a diverse population with a strong emphasis on multiculturalism and inclusivity. This has contributed to the city's reputation for being a melting pot of cultures and ideas, fostering a dynamic and innovative cultural scene.
Finally, Melbourne is known for its architecture and design, with many iconic buildings and landmarks that reflect the city's rich history and cultural heritage. Melbourne's architecture is a testament to its cultural significance, from the Victorian-era buildings in the central business district to the modernist structures of the Docklands area.
Read Here: All about moving to Australia from the US
2. Sydney – Best for Workers
Sydney is a great place for workers to live for several reasons, particularly those moving from the US to Australia. Here are a few reasons why:
Strong job market: Sydney has a strong and diverse job market, with many opportunities across various industries. The city is home to many international companies and startups, offering career growth and advancement opportunities.
High salaries: Salaries in Sydney are higher than in other parts of Australia, particularly for skilled workers. This makes it an attractive destination for those seeking better pay and career prospects.

Work-life balance: Australians are known for their relaxed and laid-back lifestyle, which is reflected in Sydney's working culture. With plenty of outdoor activities, beaches, and green spaces to enjoy, workers in Sydney can enjoy a healthy work-life balance.

Cultural diversity: Sydney is a melting pot of cultures, with a rich and diverse community of people from all over the world.

Read Here: Tips for Moving to Sydney from the US
3. Brisbane – Best for Rural Adventurers
While Brisbane is a major city, it's also an excellent place for those who love rural adventures. Brisbane offers the best of both worlds to nature lovers who still want the comfort of urban living.

The year-round warm weather makes it the perfect location to enjoy outdoor activities, like jogging by the river or sailing. Brisbane has a laid-back, friendly atmosphere that reflects the easy-going lifestyle of rural Australia. People here are welcoming and down-to-earth, which makes it easy to make new friends and connect with local communities.

4. Adelaide – Best Overall
Adelaide is often considered one of the best cities to move to in Australia, especially for US immigrants.
It is one of the most affordable cities in Australia, with lower housing costs and a generally lower cost of living compared to cities like Sydney and Melbourne. This makes it an excellent option for those looking to save money while still enjoying a high quality of life.
Also, it has a Mediterranean climate, which means it enjoys mild winters and warm summers with plenty of sunshine. This makes it a great place to enjoy outdoor activities all year round.

Read Here: How to Create an Inventory List when moving overseas
5. The Central Coast – Best for Retirees
The Central Coast is a semi-rural area north of Sydney. It's great for those looking for the comfort of a city without the bustling energy of a metro area. The Central Coast has a mild and comfortable climate, with warm summers and mild winters.

Furthermore, the cost of living on the Central Coast is generally lower than in other major cities in Australia, making it a popular destination for retirees looking to stretch their retirement savings. And it has excellent healthcare facilities, including hospitals, clinics, and specialist medical centers.
6. Perth – Best for Expats
Perth, the capital city of Western Australia, is often considered the best place for US expats to move to for several reasons. In general, Perth has a lower cost of living compared to other major Australian cities like Sydney and Melbourne.

Furthermore, Perth is a growing and dynamic city with a strong economy. It offers a range of job opportunities in industries such as mining, energy, and technology, making it an attractive destination for US expats who are looking to work or start a business.
Read Here: Expat Guides – Best Places to settle abroad

7. Canberra – Best for Families
Canberra, the capital city of Australia, is often considered an excellent place for families to live. First, it has a range of excellent schools and educational institutions, including some of the best public schools in Australia. This makes it a great place for families who prioritize education. It's also known for being a safe and family-friendly city.

The city is also home to numerous parks and nature reserves, making it an ideal destination for outdoor enthusiasts. Overall, Canberra offers a safe, family-friendly environment, high-quality education options, and a range of amenities and activities that are suitable for families with children.
8. Hobart – Best for Affordability
Hobart, the capital city of Tasmania, is generally considered an affordable city to live in compared to other major Australian cities. The second oldest city in Australia sits right on the bank of the Derwent River.
The cost of housing in Hobart is generally more affordable than in other major Australian cities. It also has a lower cost of living compared to other Australian cities. This includes expenses such as groceries, transportation, and healthcare.
And while Hobart may not have as many job opportunities as larger cities, it offers employment opportunities in tourism, agriculture, and healthcare. Additionally, the lower cost of living may make living comfortably on a lower salary easier.
Read Here: International Moving Costs Breakdown
9. The Blue Mountains – Best for Country Living
The Blue Mountains is a mountainous region about 50 km (31 miles) west of Sydney known for its clean, fresh air, fantastic flora and fauna, and comfortable temperate climate.
Living in The Blue Mountains offers a relaxed and peaceful lifestyle that contrasts the hustle and bustle of city living. It's a great place to slow down, enjoy life's simple pleasures, and connect with nature.
It also has a strong sense of community, with many small towns and villages scattered throughout the region. In addition to its natural beauty, the Blue Mountains offer a variety of cultural and historical attractions. The region is home to numerous art galleries, museums, and heritage sites.
Many choose the Blue Mountains for that country lifestyle with easy access to Sydney.

10. The Sunshine Coast – Best for Coastal Living
We haven't mentioned surfing enough on this list, but that's because we were saving the best for last. Sunshine Coast is a semi-rural region in southeast Queensland with enough sunny beaches to satiate even the most voracious swimmers and surfers.
The Sunshine Coast is known for its beautiful beaches, including Noosa Main Beach, Mooloolaba Beach, and Kings Beach. These beaches offer stunning scenery, crystal-clear waters, and great swimming and surfing conditions. It also provides a relaxed and laid-back lifestyle that is a welcome contrast to the fast pace of city living. It's a great place to slow down, enjoy life's simple pleasures, and connect with nature.
Plus, The Sunshine Coast is known for being a family-friendly destination, with various activities and attractions suitable for all ages. All still within easy reach of amenities such as shopping centers, restaurants, and hospitals.
Read Here: How much does it cost to move to Australia
Ready to Move to Australia?
Australia offers a range of exciting destinations for those looking to relocate from the United States. From the culture and cosmopolitan lifestyle of Sydney to the natural beauty and relaxed atmosphere of the Blue Mountains and Sunshine Coast, there is something to suit every taste and preference.
Best International Movers to Australia
Here is a table of the top International Movers to Australia from the US. Ratings are based on Years in Business, Reputation, and Customer Reviews.
If you're considering moving to Australia, International Van Lines can help make your relocation a seamless and stress-free experience. Contact us today to learn more about our relocation services and start planning your move to your dream destination in Australia.
More about International Van Lines