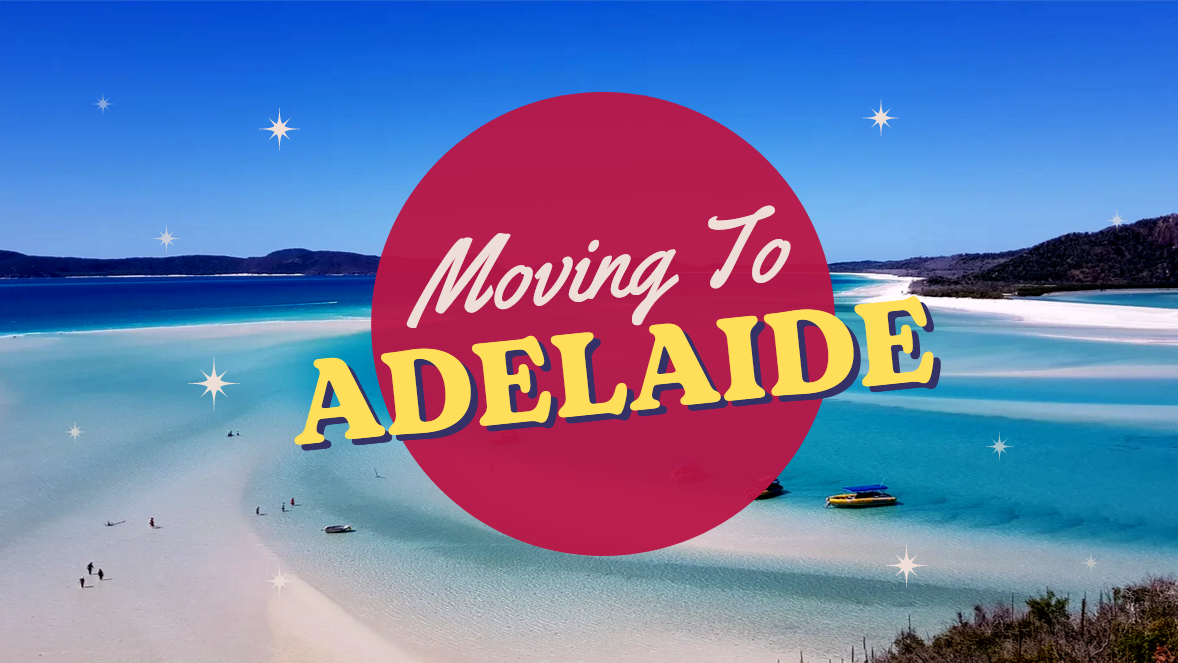 Everything You Want to Know About Moving to Adelaide, Australia, from the US
Adelaide is one of the best places to live in Australia. And for many reasons. From affordable living to excellent work-life balance and beautiful natural areas. No wonder between 1,000 and 4,000 people move to Australia from the US.
But does this mean that Adelaide is perfect for you?
This article breaks down everything you need to know about moving to Adelaide, from shipping and moving costs to the city's cost of living and cultural attractions.
If Adelaide is on your radar for the foreseeable future, the information here is for you.

Moving and Shipping Costs to Adelaide from the US

On average, moving from the US to Australia costs around $10,000 and $20,000. Factors such as the season of your move, the size of your house, and the services your move requires will affect the final cost.
Most people ship to Australia from the US via ocean freight, either with a full container load (FCL, you rent an entire container) or less than container load (LCL, you share the container with another customer). To ship a 20-foot FCL from the US to Adelaide will cost between $3,500 and $ 9,000, depending on your current location.
As for how long it'll take, that depends on shipment speed, weather and other factors, but the general shipping time from the US to Australia is 8 to 12 weeks.
Read More Here: International Shipping Costs
You also have the option of shipping via air. The costs can be high for big shipments such as an entire home. Air shipping is generally reserved for light and valuable items like art and family heirlooms. Discuss your potential shipping partners and ask for multiple quotes from different companies.

Visa(s)
Obtaining the appropriate visa when moving to Adelaide from the US is essential in your planning.
Work visas range from AUD 1,000 ($670) to over AUD 9,000 ($6,000), depending on the best type for your circumstances. If you have them, your children will need visas too, which will cost about AUD 2,790 ($1,900).
If it helps, consulting with migration lawyers about the best visa for each family member can smooth things along for everyone and increase your chances of acceptance. The Australian Department of Home Affairs has information about all other types of visas.
Know More Here: The 10 Best Places to Live in Australia
Top Moving Companies to Adelaide
Here is a table of the top International Movers to Adelaide from the US. Ratings are based on Years in Business, Reputation, and Customer Reviews.
Packing And Moving Your Items To Your Container
The cost of packing at your home, transporting your belongings to your container ship, and packing them into your container varies depending on the size of your moves and whether you pay for door-to-door service.
The average cost to pack a two-bedroom home is $280 to $1,000. A three- or four-bedroom house costs $1,000 to $2,500. The transportation, packing into your container, and potential transportation to your new home in Adelaide is extra.
If you pay for door-to-door service, the costs will be higher, but your belongings will be driven directly to your door at your new location. Door-to-port services are cheaper, but you'll have to transport your things from the port of Adelaide to your new home by yourself. Learn more about the services that international moving companies offer to plan accordingly.
Know More Here: How to Pack for an International Move
Securing a Home in Adelaide after moving from the US



The average rent in Adelaide, Australia, is around $518. Keep in mind that rent prices vary tremendously by suburb. Some of the most expensive Adelaide suburbs have a median rent of $830, while you can also find some cheaper alternatives starting at $345.
Pet(s)
Bringing your pet with you will cost approximately AUD 5,600 ($3,700) for a single cat or dog. That covers related expenses such as microchipping, vaccinations, airline fees, import permit fees, quarantine fees, and travel gear for your dog.
Costs for domestic pets other than cats and dogs may be different. Animals like turtles, birds, and mammals other than cats and dogs may need to undergo different importation processes with additional paperwork.
This price is generally a broad estimate for Australia and varies depending on the arrival location. Moving your pet to Adelaide may be cheaper or more expensive than in other cities. Talking to an international moving company with experience in pet transport services is important.
Know More Here: How to Transport Pets Internationally
Cost of Living in Adelaide once you move

Adelaide is Australia's most affordable capital city at about two-thirds the cost of living of Sydney, the most expensive city. On average, a family of four will have monthly estimated costs of $4,400 without rent. For a single person, the estimated monthly cost of living in Adelaide is around $1,300 without rent.
Know More Here: All About Moving to Australia

Healthcare in Adelaide



Medicare is Australia's public universal healthcare insurance policy. It's available to Australian and New Zealand citizens and also visa holders. It fully covers or subsidizes treatment by general practitioners and hospitals. If you're a temporary resident, you don't qualify for Medicare.
For expats, private health insurance is about AUD 157 ($105) monthly. If you look at it yearly, that's roughly AUD 1880 ($1,300) for hospital treatment coverage.
Transport System in Adelaide



Adelaide's excellent public transit system includes a metro bus, tram, and train network. The monthly cost of public transport in Adelaide is around AUD 100 ($67), almost half as much as you'd pay in Sydney.
Education in Adelaide



South Australia has a public education system with three levels: preschool, primary, and secondary. There are public, catholic, and independent schools to enroll your children in, each progressively more expensive.
A report by the Futurity Investment Group estimated the average annual costs of schools in Adelaide is about $14,577 in tuition and ancillary fees. Ancillary fees include things like the cost of uniforms, outside tuition, electronic devices, and other needs.
A bachelor's degree in Adelaide has an average tuition cost of AUD 15,000-33,000 per year ($10,000 – $22,000). That's almost 70% cheaper than in the US.

Cost of Living in Adelaide vs. Major Cities in the US
According to Numbeo's cost of living index as of April 2023, Adelaide is less expensive than Los Angeles, New York, and Miami but slightly more expensive than Chicago. Here are the comparisons:
Adelaide vs. Los Angeles: Adelaide is 27.24% lower in cost of living than Los Angeles.
Adelaide vs. New York: Adelaide is 36.12% lower in cost of living than New York.
Adelaide vs. Chicago: Adelaide is 0.57% higher in cost of living than Chicago.
Adelaide vs. Miami: Adelaide is 17.03% lower in cost of living than Miami.
It's important to note that these comparisons are based on an average of many different factors, and individual experiences may vary based on specific circumstances.

Where to Live in Adelaide
Adelaide has many great neighborhoods, depending on your preferences and needs. Here are some popular areas to consider:
For Work: The central business district of Adelaide is where most of the work is. Plenty of apartments and townhouses are available, and you'll have easy access to public transport and amenities like cafes, restaurants, and shops. Another option is Kent Town; this suburb is located just east of the CBD and is known for its office buildings and commercial centers.
For Families: Unley is an inner-city suburb with many parks, playgrounds, and good schools. It's close to the city center and has a range of cafes, restaurants, and boutique shops. Another option is Colonel Light Gardens, a suburb located about five miles south of the city known for its quiet streets and leafy surroundings. It has a range of good schools and is popular with families.
For Singles: North Adelaide and Glenelg are the best places to live in Adelaide for single people. They offer a lively atmosphere and proximity to attractions like the Adelaide Oval, Botanic Gardens, and restaurants and bars.
These are just a few suggestions for neighborhoods in Adelaide based on different categories. It's essential to do your own research and visit different areas to find the one that best suits your needs and preferences.
Frequently Asked Questions when Moving to Adelaide

Is Adelaide a good place to live?
Adelaide can be a great place for Americans to live, with a high quality of life, affordable cost of living, and friendly locals. However, it's important to consider the distance from the US, limited job opportunities, and cultural differences before making the move.

Which US city is most like Adelaide?
The City of Adelaide has a sister city relationship with Austin, Texas, and they have many similarities, such as being centers for music, culture, and innovation. Both cities are known for their live music scenes, festivals, and outdoor recreation. Additionally, both Adelaide and Austin have a strong focus on sustainability and environmental initiatives. So, Austin, Texas, can be considered as the US city that is most like Adelaide.
How expensive is it to live in Adelaide, Australia?
Living in Adelaide can be affordable compared to other major Australian cities, but living costs depend on individual circumstances. Factors affecting Adelaide's cost of living include housing, transportation, food and drink, and healthcare.

Getting Ready for Your Move to Adelaide
Being one of the Australian cities with the highest quality of life, Adelaide is on the radar for many Americans considering moving overseas. Moving to Adelaide from the US can be a thrilling and life-changing experience.
It's important to do your own research and plan accordingly. Adelaide offers a high quality of life, stunning natural surroundings, and a welcoming culture. And whether you're moving for work, family, or adventure, International Van Lines can help make your relocation as smooth and stress-free as possible.
Our team's experience in international moving and commitment to customer satisfaction is here to help you navigate the process and enjoy your new life in Adelaide. Contact International Van Lines today to get started on your move to Adelaide!
More about International Van Lines