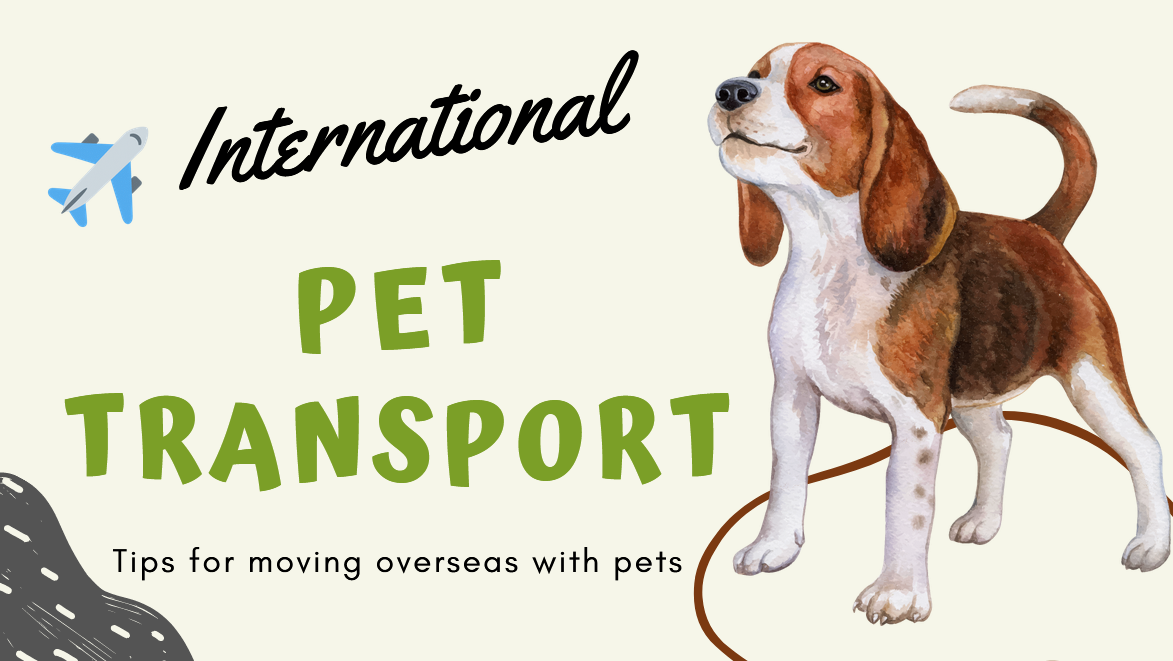 International Pet Transport – Guide to moving pets overseas from the US

As more Americans choose to relocate overseas, finding the best ways to relocate your four-legged best friend is a must. But international pet transport can be challenging and complex, especially if you don't know what to look for.
Because of vaccination requirements and all paperwork involved, you should start planning your pet's relocation at least six months before departure. Schedule vet appointments within 7-10 days before your travel date. But most of the paperwork can take weeks or months to prepare, so plan accordingly.

This article will cover everything you need to know about international pet transport. From how to start planning to the best way to prepare your pet for the move and other tips on ensuring everything goes smoothly.
Read Here: The Best Timeline to start your International Packing
Everything to Know About International Pet Transport from the US

There are multiple legal considerations to make before getting ready to relocate your pet internationally. You have to account for international regulations and consider the logistics at the origin and destination. Let's break down the most important things you should consider.
How Does International Pet Relocation Work?
The physical process of moving your pet internationally is similar to moving people. When you hire a pet relocation company, the process will usually work like this:
They pick up your pet from your home.

They drive it to the airport and check it in.

Your pet flies in an airplane, which may or may not be the same one you're traveling in.

The relocation company clears your pet through customs at the destination.

Depending on the country's laws, your pet may be quarantined even with the appropriate health certificates. If not, the relocation company will move it to your new home.
Learn About Your Pet's Chances Of Suffering Complications In Traffic
Regardless of circumstances, relocating your pet has risks, especially over long distances. For the most common pets, cats and dogs, specific breeds have higher chances of suffering respiratory issues and heat strokes and injuring themselves.
The dog breeds considered at higher risk include Boston terriers, Boxers, Brussels Griffons, Bull Terriers, Dutches, English Bulldogs, English Toy Spaniels, French Bulldogs, Japanese Chins, Japanese Pugs, Lhasa Apsos, Pekinese, Pugs in General, and Shih Tzu.
For cats, it's the Himalayans and Persians.
If your pet may suffer complications in traffic, talk to your vet to find the safest way to relocate your pet overseas.
Understand International And National Standards And Laws during pet transport

Look at laws and regulations well in advance because they can vary significantly depending on the country you're moving to. Some of the main points you should consider are:
Which animals does the destination country consider "pets"? In the US, for example, the Animal and Plant Health Inspection Service considers "pets" the following domestic animals: dogs, cats, ferrets, rabbits, rodents, hedgehogs, reptiles, amphibians, and birds.
What can you do if your pet is not legally considered a pet in your destination country? Any animal not considered a pet faces restrictions, regulations, or outright bans. In the US, certain birds like turkeys and doves don't count as pets and must be imported as poultry, which is a different set of permits and regulations. Exotic and uncommon pet animals may not be allowed at all.
What countries has your pet been in recently? Some countries flag other countries as "high-risk" for rabies and other diseases animals can pass on to humans. Your pet may be restricted from entering the country if it's been in one of those within the past few months.
Will your pet have to go through quarantine? In some counties, pets must undergo a mandatory 14-day quarantine before being allowed to be sent to their new home.
Preparing Your Pet for International Travel
Unlike us, our pets aren't as excited to board a plane. There are a lot of preparations involved that need to start at least six months before your move date.

1. Visit Your Veterinarian's Office
Take your pet to a veterinarian and inform them about your plans to travel internationally. You can plan and set schedules for the following months/weeks as you prepare for the move. With your veterinarian, you can coordinate the following:
Blood tests.

Vaccinations.

Microchips for ID and tracking.

Permits.

Health certificates.
2. Train Them To Be Ready For Traveling
You'll need to train your pet to handle the stresses of traveling. Start preparing your dog to feel comfortable in the carrier. Expect your dog to spend 8 to 10 hours in their carriers the day of the flight, sometimes even more, if you have connections.
Here are some tips for training your pet for traveling:
Buy a crate that's large enough for your pet to move freely inside. Make sure it fits traveling regulations (more on that later).

Ask your pet to go inside the crate and give them a treat.

Then, ask them to go inside the crate and wait 10 minutes before giving them a treat.

Continue to increase the time they spend inside the crate until you get to 30 minutes to an hour.

Then, once they're in the crate, leave them alone to see their reaction. Wait a couple of minutes before you give them a treat.

Continue to increase the time they're alone in the crate.

Finally, leave your pet in the crate for the same time you expect them to be in the crate the day of moving.
On the day of the move, you should also try to:
Walk them right before leaving home and before checking in.

If they're allowed in the cabin, check in as late as possible to avoid stressing them unnecessarily.

If they are transported as cargo in the same plane as you, check in early so they can get used to it.

Choose a flight with the fewest possible connections.
Know More Here: 5 tips for moving overseas with animals
3. Get All Necessary Documents and Items
When relocating your pet, you'll have to request specific documents to ensure they can go through customs without an issue. Here's what you need to get before your move:
Import Permit. Every country has different rules. Pet relocation services can make this step much less complicated by advising you on the relevant paperwork.
IATA-Approved Crate Or Carrier For Your Pet. You'll need to research the measurements and materials approved by IATA and communicate with providers to ensure they have the ones you need.
Pet Insurance. Research pet insurance providers where you live or your destination country (determine which one serves you better). Read online reviews and get multiple quotes before deciding.

The Pros and Cons of International Pet Transport
When considering whether or not to relocate your pet, you have to look at the pros and cons of international pet transport.
Pros:
You get to keep your pet overseas, reducing stress for you and your pet.

You get to maintain the support of your pet, especially as you adjust to a new environment and routine.

Peace of mind of not having to leave them in a shelter or coordinate an adoption.

The company handles all documentation, insurance, and travel arrangements, saving you time and money.

You can rest assured your pet will be cared for throughout transportation.
Cons
Pet relocation can be expensive.

It can make you nervous about entrusting your pet to people you don't know.

Certain breeds can be more likely to suffer health complications during the trip.

If your pet has an anxious personality, it'll be more likely to panic at some point during the journey.

It takes a lot of time, preparation, and paperwork.
Top International Moving Companies
Here is a table of the top International Movers. Ratings are based on Years in Business, Reputation, and Customer Reviews.
Choosing the Right Pet Transportation Service for International Moves
Trying to relocate your pet by yourself can take time and effort. For the most part, we recommend working with a pet transportation company that fully understands the process and can help you with any questions or doubts you have throughout the process.
1. Make Sure They're Qualified
Reputable pet relocation services are part of the Independent Pet and Animal Transportation Association (IPATA). Many veterinarians, companies, freight forwarders, and customs officers are part of IPATA. They have an extensive network of professionals who ensure your pet is safe during their travels.
2. Ask About Their Experience
Preferably, choose a pet relocation company with many years of experience and enough time to understand what's required and perfect their processes. Relevant licenses and insurances are a must, too. If they cannot answer your questions, this might be a sign that you aren't talking to an experienced company.
3. Ask About the Different Options Available
The logistics of the move will make or break your pet's experience, so definitely ask them the following questions to get a read on their overall procedure:
What's your process for moving pets internationally?

Considering the country we're moving to, how long will it take for my pet to reach my new home?

How will you feed my pet while they travel?

What should I pack for my pet? What will they need during traffic?

Will they fly in cargo or the cabin?

Is there oxygen in the cargo compartment?
4. Read Reviews and Testimonials
When trusting a company with your beloved four-legged friend, you must check reviews and testimonials. Look for review sites like BBB, Google, Yelp, and more to ensure the company has no outstanding negative reviews or complaints.

The Importance Of Planning For International Pet Transport
Moving internationally is stressful enough, but coordinating your pet's departure, arrival, vaccinations, and other legal requirements can take it to the next level.
While you can attempt to get all documentation ready for your pet's international relocation, we recommend hiring an international moving company to help with these services. Regulations about pet relocation change all the time. It's best to work with accredited companies to guide you through the process and ensure it goes smoothly – for you and your pet!
More about International Van Lines