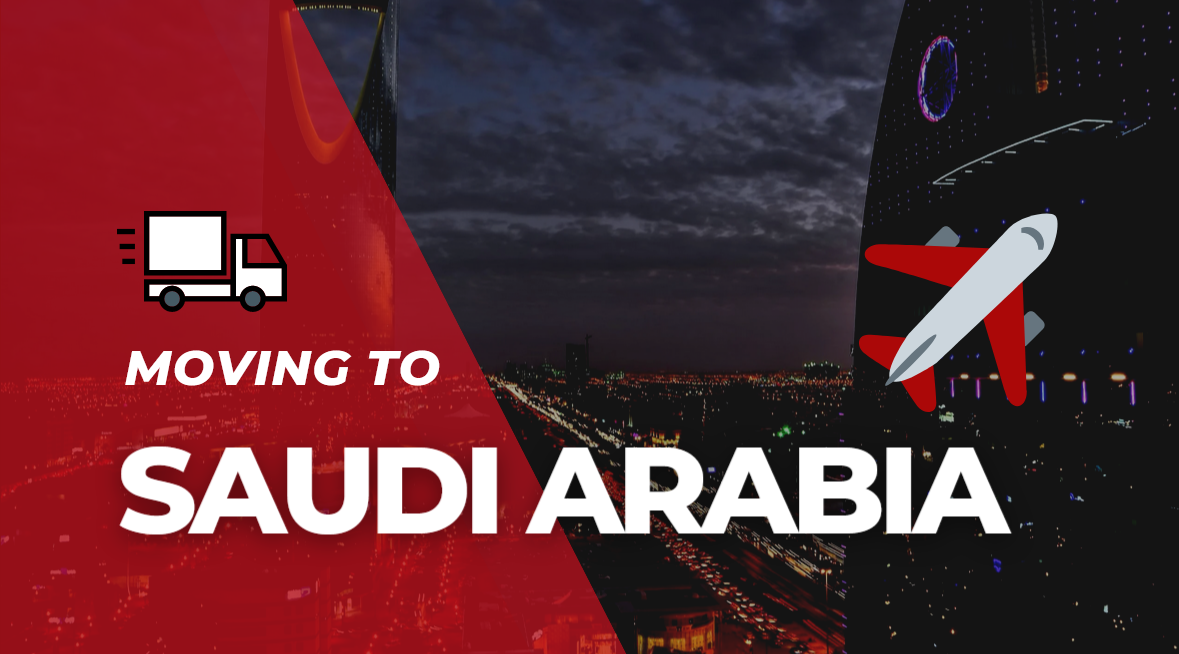 Moving to Saudi Arabia From the US – How to move to Saudi Arabia

Whether you're looking for new adventures, career opportunities, or a chance to immerse yourself in a different way of life, moving to Saudi Arabia from the US is an experience like no other.
Saudi Arabia has prioritized urban development, as evidenced by the tall buildings, skyscrapers, and massive and modern commercial centers that distinguish it. Many monuments and popular markets represent the Kingdom of Saudi Arabia's history.
How to Move to Saudi Arabia
Keep things organized and manageable during this exciting time by creating an international moving checklist. Keep notes for each task you must handle, such as updating your address, enrolling in school, finding work, gathering essential documents, or packing up your home.
Here are some key things to focus on before moving to Saudi Arabia from the US.
Obtain a visa: This is a crucial step when moving to Saudi Arabia. Ensure you understand the requirements and restrictions of the type of visa you need, and plan ahead to have enough time to complete the application process.
Research the cost of living: Research the areas where you're considering living and make sure you have a realistic budget for housing, food, transportation, and other expenses.
Secure housing: Start your housing search early so you have time to find a suitable place to live before you arrive. Consider factors like location, safety, and cost.
Plan for healthcare: Make sure you have adequate health insurance coverage, and research local hospitals and clinics in case of an emergency.
Plan for transportation: Research the local transportation options in your new city, including public transportation, taxis, and ride-sharing services.
Pack appropriately: Consider your new location's climate and cultural norms when packing. Pack essential documents, such as passport, visa, and medical records.
Familiarize yourself with the culture: Read about the customs and traditions of the Saudi people.
Prepare for cultural differences: Be open to new experiences and cultural differences, and be prepared to adapt to a new way of life.

Remember, moving to a new country can be both exciting and challenging, so it's important to be well-prepared and flexible. Seek advice from friends, family, or professional resources, such as a visa specialist, an international moving company, or an immigration attorney, to help ensure a smooth transition.
Read Here: How to prepare for an overseas move
How Long Can I Stay in Saudi Arabia after moving from the US?
An online Saudi visa from the USA is a multiple-entry visa that allows multiple stays of up to 90 days in Saudi Arabia. There are two types of residency you can apply for: permanent and renewable temporary residence. The application is submitted together with several documents.
Work Visa for US nationals moving to Saudi Arabia

Getting a work visa in Saudi Arabia requires you to perform a few steps and gather several documents. First, secure a job offer from a Saudi company. Your employer will then be responsible for sponsoring your visa application. Once the visa application is submitted, your processing time can vary. Expect it to take up to several weeks to finalize. Consulting with a visa specialist or an immigration lawyer before applying will help your application process go smoothly.
Retiring in Saudi Arabia



While there is no specific retirement visa for Saudi Arabia, you can apply for a permanent or temporary renewable visa for long-term stays.
Studying in Saudi Arabia



To secure a Saudi Arabia student visa, you must first get accepted into an educational institution in the country. The university or college can then apply on your behalf to the Ministry of Foreign Affairs for your Student visa authorization.
Information for Digital nomads moving to Saudi Arabia from the US



Saudi Arabia doesn't currently offer a digital nomad visa. Also, freelancing is only permissible by Saudis.
Getting Your Stuff to Saudi Arabia from the US

You'll have a couple of options for getting your stuff to Saudi Arabia. The first and fastest way is to send your belongings via air. Airfreight is the way to go if you want your items to arrive quickly. However, you'll spend more for the luxury of speed. Expect a travel time of between three and eight days.
Sending your goods via ocean freight involves shipping your possessions in a container on a ship. The process can take up to 54 days to complete. However, the cost is significantly lower than shipping by air.
To help you decide the best method to get your belongings to Saudi Arabia, speak with a relocation company customer representative for the best advice. They can also offer packing advice or include packing your stuff for you as one of their standard services.
Whichever way you choose, you may also require temporary or long-term storage for you possessions, which just happens to be another service some moving companies can supply. Many people use storage solutions as part of their long-distance moving strategy to keep things organized and controllable.
Top Moving Companies to Saudi Arabia
Here is a table of the top International Movers to Saudi Arabia from the US. Ratings are based on Years in Business, Reputation, and Customer Reviews.
How Much Does it Cost to Move My Belongings to Saudi Arabia?
Moving overseas typically costs between $7,200 and $24,000. The cost of moving to Saudi Arabia depends on how much you take and how fast you need it to get there.
How Can I Save Money Moving to Saudi Arabia?
International moving is a significant investment. But there are several steps you can take to lessen the impact on your moving budget.
Less is more. The adage of pack light is crucial for any move and doubly so when moving internationally. Purging and downsizing are crucial for meeting a limited moving budget.
Your mover should offer professional packing services. However, it should also offer you the opportunity to save money by packing your own possessions.
Unloading your own container at your destination is an excellent way to save money if you don't mind giving up a little elbow grease.

If your moving date is flexible, let your mover know in exchange for a discounted rate.

Use an international moving cost calculator to discover where else you can save a few dollars.

Compare individual moving companies based on price and the services they can provide.

Don't be shy about asking for discounts from your mover. A reputable moving company understands that flexibility is a good business strategy.

Can I Ship my Car to Saudi Arabia from the US?
Yes, you can ship your car overseas to Saudi Arabia. However, several requirements are necessary to complete your transaction. Your international moving company can help provide all of the information you need, starting with the following documentation.
Your car's title and current registration

Proof of purchase in your name including a bill of sale or invoice

Your photo identification

Your valid driver's license from a state in the US
Read Here: Best International Car Shipping Companies of the Year
Navigating Saudi Customs when moving from the US

Part of your move to Saudi Arabia will include navigating Saudi customs. Your moving company will be happy to assist you through this process. Saudi Arabia restricts imports for religious reasons, including zero tolerance for bringing in alcohol or pork products. Take extra precautions and seek counsel when importing more than one Bible or any medications.
If you have any items that may require special clearance, be sure to talk that over with your moving company. It is always good to leave liquids, cleaners, food, and corrosives behind during your move.
Should I get moving insurance to Saudi Arabia?
Moving insurance is a wise investment when moving abroad as it provides protection for your belongings during transit. It offers you peace of mind knowing that your belongings are protected and you have a plan in place in case of any unforeseen circumstances.
Purchasing additional international or marine insurance costs an average of 3% of your shipment's declared value.
Know More Here: Do you need International Shipping Insurance?
Can I Take My Cat or Dog to Saudi Arabia?
Yes, you can take your furry friend to Saudi Arabia with you, but prepare well in advance and make sure you understand the regulations thoroughly.
Under Islamic law, dogs are considered dirty and dangerous, but you can import them if you, the owner, have received residency in Saudia Arabia. Remember that the heat can be excessive and problematic for pets to handle. Also, be sure that the compound or area you will be living in allows pets.
Read Here: Moving Overseas with Animals

How Much Does it Cost to Live in Saudi Arabia?
The cost of living in Saudi Arabia varies depending on factors such as location, lifestyle, and personal spending habits.
According to Numbeo:
The estimated monthly costs for a family of four are $2,707 without rent.

The estimated monthly living costs for a single person are $755 without rent.

The overall, average cost of living in Saudi Arabia is 30.5% lower than in the United States.

Rent in Saudi Arabia is, on average, 74.2% lower than in the United States.
How Much Money Should I Take when moving?
The amount of money you should take with you to Saudi Arabia will depend on various factors such as your housing arrangements, lifestyle, and financial goals. Some expenses include moving, rental deposits and monthly rent, food, transportation, insurance, and entertainment. A general guideline is to save about three to six months of living expenses before moving.
Know More Here: 10 Brilliant ways to save money on an overseas move
Living in Saudi Arabia
Living in Saudi Arabia can offer a range of new experiences and challenges. It can be an adventure, from navigating a different language and culture to discovering new cuisines and landmarks. Be prepared for intense heat and desert environments. You may be in for a bit of a climate shock if you're more accustomed to cooler temperatures.
Moving to Saudi Arabia demands a high degree of flexibility and adaptability if you are not used to living in a restrictive society. Gender segregation is common in almost all public places, and women in general, are restricted in their freedom of movement and expression.
Finding a Place to Live in Saudi Arabia
Dammam, Jeddah, and Riyadh are the cities most popular with expats. Many westerners prefer living in Western compounds, which are self-contained, walled townships insulated from the mainstream.
Here, you can dress how you like and move around without restrictions, but only within the premises of the compound. You'll have access to a host of facilities, including swimming pools, community parks, restaurants, convenience stores, and so on. These facilities are all state-of-the-art and more expensive than standard neighborhoods.

Finding a Job in Saudi Arabia
Most expats working in Saudi Arabia were contracted while still in their previous city of residence. If that's not your situation, consider working with a recruiter who finds jobs for foreigners in Saudi Arabia. They can help you navigate the job market and connect you with potential employers.
Careers in engineering, IT, healthcare and medicine, banking and financial services, teaching, telecommunications, or construction typically provide the most opportunities.
Remember to be persistent and flexible, as finding a job in a foreign country can take time.
Getting Around

In Saudi Arabia, there are several ways to get around, including public transportation, taxis, ride-sharing apps, and personal vehicles. Trains and smaller planes are great options for traveling between cities like Riyadh and Dammam.
Understanding Healthcare in Saudi Arabia before moving from the US

In the past Saudi Arabia offered free healthcare for nationals and expats alike. However, that's no longer the case. The program became unsustainable after an influx of immigrants used the service.
Currently, providing your own health insurance coverage is mandatory for all non-nationals entering the country. Proof of a private health insurance policy is necessary for you to receive a work or student visa.
Education in Saudi Arabia
Getting a higher education in Saudi Arabia as an international student can be a unique and enriching experience.
Saudi Arabia is emerging as a strong hub for higher education, particularly in STEM subjects. Many universities offer generous scholarships to international students, in some cases full tuition waivers.
Most courses are taught in English, and many Saudi Arabian universities already enroll numerous international students. Studying abroad in Saudi Arabia allows you to make friends with locals and students from all over the world.

How do I Find an International Moving Company?

Finding the right international moving company for you is a necessary step in making your adventure as seamless and stress-free as possible. Ensure your mover is up to the task by meeting the following criteria.
The company is listed and in compliance with FMCSA
Listed and complies with the Federal Maritime Commission standards

Is appropriately licensed and insured

Offers additional moving insurance protection

Can provide checkable referrals from past customers
Get an International Moving Quote

To get an international moving quote to Saudi Arabia, start by researching reputable moving companies. Provide accurate information about the amount and type of items you plan to move, as well as your desired moving dates. Consider factors such as insurance, customs clearance, and storage options, and ask the movers about their experience with moving to Saudi Arabia.
Contact your international moving company and request a moving quote today.
More about International Van Lines