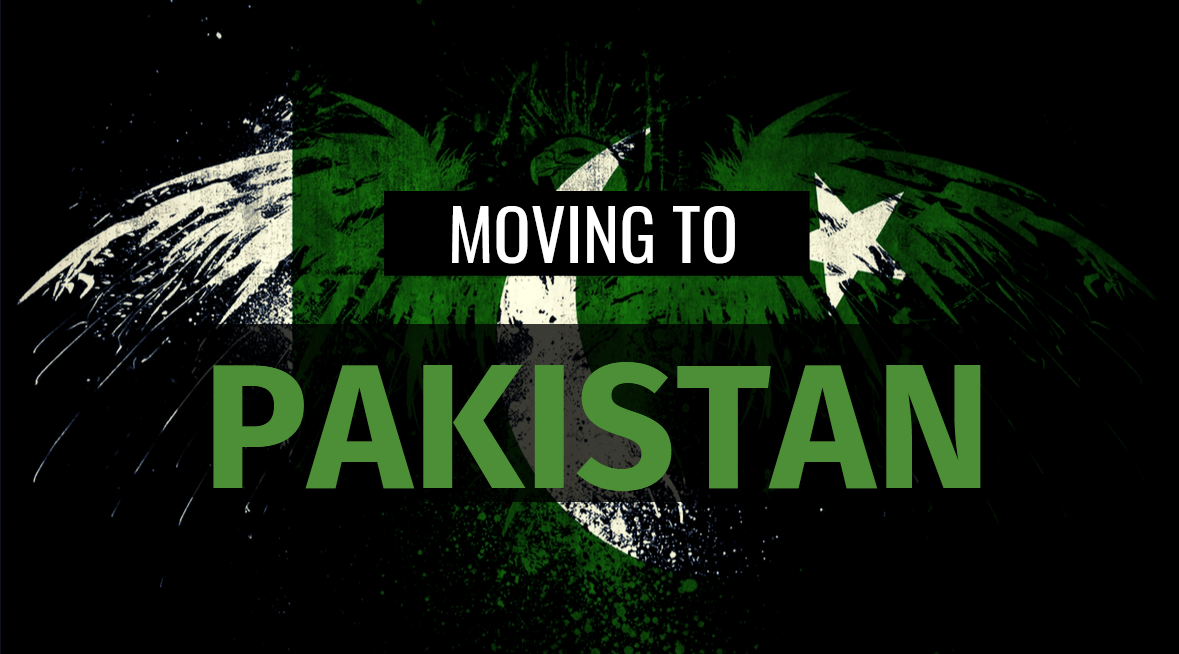 Moving to Pakistan From the US – How to move to Pakistan
Pakistan is the sixth most populous country in the world and features a fascinating mix of traditional lifestyles and modern city living. Home to six UNESCO World Heritage Sites, including Moenjodaro, Rohats Fort, and Shalimar Gardens. Moving to Pakistan from the US puts you in touch with its rich history as you create new memories.
How to Move to Pakistan
The excitement of moving to Pakistan can be overshadowed by the vast amount of tasks that need to accomplish before and during your journey. Here are a few tips to get you on your way to getting and staying organized.
Make an international moving checklist, including a rough timeline for each task that you must complete before, during, and after the move.

Sort your belongings and decide what to take with you and what to sell, donate, or store.

Research and compare the best international moving companies and choose one that fits your budget and needs.

Keep essential documents, such as passports, visas, and moving contracts, in a secure and easily accessible place.

When it's time to pack, label all your boxes clearly and keep an inventory list to help keep track of your belongings.

Things to Do Before Moving to Pakistan
Moving to Pakistan from the US is a multi-step process that requires careful planning and preparation on your part. The earlier you can start making arrangements, the better. Here are several to-dos that you can get started on well before your moving date.
Obtain a Pakistani visa: The reason you're moving to Pakistan will dictate which visa you're likely to need. Apply for a work, student, or resident visa according to your plans. Regardless of the visa type, you'll need to provide documentation such as your passport, educational qualifications, and proof of employment or financial support.
Make housing arrangements: Start early choosing a living destination and make living arrangements for your arrival. Rental apartments and purchased properties are popular choices to consider.
Organize your finances: You'll need to open a bank account in Pakistan if you wish to transfer funds from the US to Pakistan.
Make a plan to ship your belongings: The number of possessions you bring will affect the cost of your move. Your moving company can provide services to help you make important decisions regarding how to get your stuff to your destination.
Take care of healthcare: Familiarize yourself with the Pakistani healthcare system and consider taking out health insurance in Pakistan. You may choose to obtain travel and international health insurance initially.
Read Here: The Best Timeline to start your International Packing
How Long Can I Stay in Pakistan after moving from the US?
For first-time visitor entry, you may obtain a single entry visa valid for up to three months. You may apply for an extension of up to six more months, subject to approval. Pakistan doesn't offer a visa on arrival for US citizens, so you must obtain your travel visa for the country before you depart via the Embassy of Pakistan in Washington, DC. For longer stays, you'll need to secure a more permanent arrangement.
Work Visa for Pakistan



To stay in the country on a work visa, US citizens can only receive approval if they've obtained employment with a Pakistani employer before applying for the visa.
Retiring in Pakistan



While no official retirement visa program is currently available in Pakistan, several other visa types will allow you to stay in the country for extended periods.
Studying in Pakistan



If you pursue higher education in Pakistan, you can apply for a 2-year Student Visa before entering the country.
Information for Digital nomads moving to Pakistan from the US



While not an official digital nomad visa, the Pakistani government makes it easy for travelers to apply for an e-visa online. Foreigners can easily apply and add extensions online. The cost of an e-Visa depends on your nationality or passport. A US Passport can qualify you for five years of multiple entries plus 90 days of residency.
Top Moving Companies to Pakistan
Here is a table of the Top International Movers to Pakistan from the US. Ratings are based on Years in Business, Reputation, and Customer Reviews.
Getting Your Stuff to Pakistan when moving from the US



Getting your possessions to Pakistan can be done in a couple of ways. Shipping your goods by airfreight is the way to go if you want your items to arrive quickly. Sea freight is a more budget-friendly option, with the trade-off being that your move will take some time.
Expect travel times of three to eight days by air and 50 to 54 days for ocean freight to arrive. To help you decide which is best for your moving situation, talk to a moving specialist at your relocation company to get the details that matter to you.
Whichever shipping method you choose, you may also have a need for temporary or long-term storage options. Using storage solutions is a common way for people moving long distances to organize and stage their move. It also works well if you're uncertain of what you may need in your new home.

How Much Does it Cost to Move My Belongings to Pakistan?
Moving overseas typically costs between $7,200 and $24,000. The cost of moving to Pakistan depends on how much you take and how fast you need it to get there.
How Can I Save Money Moving to Pakistan?
There's no question that moving to Pakistan costs cold hard cash. However, you can command some control over your moving invoice and lessen the strain on your budget. Here are some practical ways to cut your costs.
Less is more. Packing light is crucial for any move. The bottom line is that the less you bring with you, the less your move will cost. Purging and downsizing are the rules if you need to meet a limited moving budget.
Packing your own possessions is another effective way to reduce your moving cost. Although your moving company can expertly pack your stuff, they should also offer you the chance to do it yourself.
Unloading your own container at your destination is another excellent way to shave a few dollars off your cost.

If your moving date is flexible, let your mover know in exchange for a discounted rate.

Use an international moving cost calculator to discover where else you can save a few dollars.

Compare individual moving companies based on price and the services they can provide.
Can I Ship my Car to Pakistan?
Yes, you can ship your car overseas to Pakistan. However, specific procedures and regulations are in place and must be followed, including obtaining the necessary permits and paying import duties and taxes. Research the regulations and requirements thoroughly before deciding to bring an automobile into the country.
It's always best to speak with an international moving company about shipping a vehicle to help understand what is involved.
Read Here: Best International Car Shipping Companies
Navigating Pakistani Customs
Part of your move to Pakistan will include navigating Pakistani customs if you plan to take household furnishings, vehicles, or items that won't travel by your side. Your mover can assist with meeting the requirements, but leaving behind cleaners, food, firearms, and corrosives are a good start. If you have any items that may require special clearance, be sure to talk that over with your moving company.

Should I get moving insurance when moving to Pakistan from the US?
Purchasing additional international or marine insurance costs an average of 3% of your shipment's declared value. As a must-have when moving internationally, including to Pakistan, it's a small price to pay for peace of mind. Moving insurance can reduce stress levels simply by knowing that if something does happen to your shipment, your wallet will remain safe.
Read Here: Do you need International Shipping Insurance?
Can I Take My Pets to Pakistan?
Yes, you can take your dogs or cats to Pakistan, but they must meet the import requirements set by the Pakistani government. Documentation includes a valid health certificate and proof of rabies vaccination.
Before bringing a dog or cat to Pakistan, you'll need to obtain an import permit from Pakistan's Ministry of Food and Agriculture. Each pet will also need a microchip implanted before arrival, as it's the only acceptable form of identification.
Read Here: 5 tips for moving overseas with animals
What is it like to Live in Pakistan
Karachi, the financial hub, Lahore, the cultural hub, and Islamabad, the capital, are by far the best cities to live in during your stay in Pakistan. These are also the cities where you'll find many foreign nationals already settled and living comfortable lives.

How Much Does it Cost to Live in Pakistan?
The cost of living in Pakistan varies depending heavily on location and lifestyle. However, the overall cost is considerably lower than in the United States. The estimated monthly costs for a family of four are $828 before rent. Rent in the country averages nearly 93% lower than what you'd pay in the states. Overall, the average cost of living in Pakistan is roughly 75% less than what you're used to in the US.
How Much Money Should I Take to Pakistan?
The amount of money you should take if you move to Pakistan from the US depends on several factors, such as your living expenses, lifestyle, and personal preferences. However, a rough estimate is between $10,000 – $15,000 to cover the initial moving and settling-in costs.
Consider how much you'll spend on things like housing, furniture, household items, transportation, and other essential expenses for the first few months, and leave some additional funds set aside for unexpected expenses.
Read Here: How much will it cost to move overseas
Finding a Place to Live in Pakistan when moving

Although most Pakistanis are fluent in English, having at least a small grasp of Urdu can prove helpful in your housing search. Securing the services of a real estate agent for assistance in finding a rental property is always a good idea to help you in your search as well. Also, having a realtor could help you avoid signing a contract that's not legal or heavily bent in the owner's favor.
Home rental prices in the country range from just $100 per month to over $2,000 for lavish luxury digs.

Finding a Job in Pakistan
Another helpful place to put your Urdu language to use is in your job search. Finding a job as a US foreign national in India can be challenging, but it's certainly not impossible if you bring a relevant skillset and qualify for the appropriate work visa and permits.
Networking and reaching out to companies directly, leveraging online job platforms, and utilizing professional recruiters are excellent ways to line yourself up for job opportunities. Additionally, researching cultural differences, laws and regulations, and local job market trends can help you better understand the nuances of working in Pakistan.
Getting Around in Pakistan
Getting yourself to various destinations within Pakistan is pretty straightforward. Trains are popular throughout the country with the Pakistan Railways operating a network of trains connecting different parts of the country. Remember to book your reservation for an air-conditioned spot well in advance of your travel.
For speedier transport, you can choose to travel by air, as several domestic airlines offer flights to major cities and regional centers.
To move around your city, buses are a standard mode of travel, operating within and between major cities. For shorter distances, auto-rickshaws and taxis are widely available. However, hiring a driver is one of the best and safest options for getting around in the city.
How is Healthcare in Pakistan
Healthcare in Pakistan has made progress in recent years, but there is still room for improvement in accessibility and affordability for all citizens and foreign nationals. Securing international healthcare policy is advisable for the best available care, should it become necessary.
In major cities, healthcare facilities and services are adequate, with varying standards and resources. Emergency response is poor, and ambulances are limited. Generic medication is available, although branded, specific ones are few and sometimes unavailable. Cash payment is more common before treatment, and most hospitals won't accept credit cards.
Education in Pakistan
One of the benefits of studying in Pakistan is that the cost of education in the country is much lower than in the US. As a US student, you'll need to apply through an embassy in the states. International students are exempt from entry tests and application fees, and there are no age restrictions.
How do I Find an International Moving Company to Paksitan?
Moving to Pakistan has all the earmarks of being a true adventure into history and culture. However, having the right international moving company assist with the specifics of your move is crucial for success. Ensure your mover checks the following boxes so you know you're putting yourself in good hands.
The company you choose is listed and in compliance with FMCSA
It's also listed and in compliance with the Federal Maritime Commission

It has the appropriate licensing and insurance

Offers additional moving insurance protection

The referrals it offers are verifiable and legitimate
International Moving Quote to Pakistan
After some research, the right moving company for you will make itself known. To get a price estimate, provide accurate information about the amount and type of items you plan to move, as well as your desired move dates. Consider factors such as insurance, customs clearance, and storage options, and ask your potential movers about their experience with moving to Pakistan. Then, simply request a moving quote and get your journey started.
More about International Van Lines