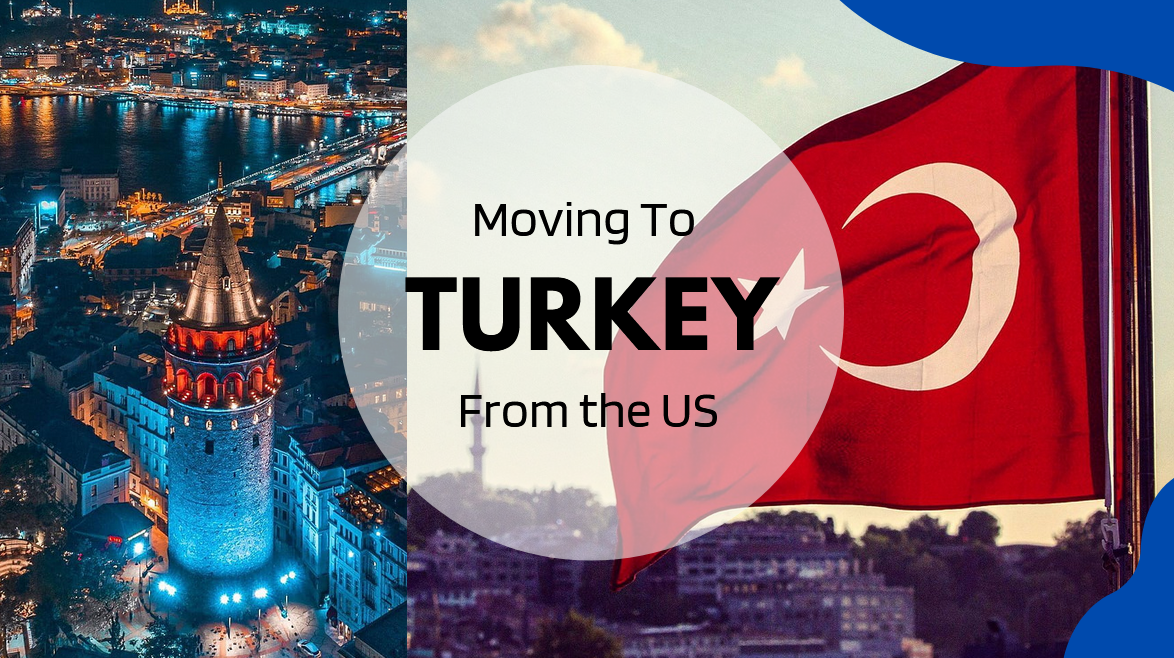 Moving to Turkey From the US
Whether you're looking for new adventures, career opportunities, or a chance to immerse yourself in a different way of life, moving to Turkey from the US is an experience like no other.
Turkey is a massive country with vast cultural diversity and traditions, famous for its incredible wonders like Capadoccia or the Pamukkale cotton castle.
From kebabs and other tasty food to its fabulous bazaars, tea, and Turkish baths, this adventure is hard to beat.
How to Move to Turkey from the US

Start your journey by creating an international moving checklist. You can make notes for each task you must handle, such as updating your address, enrolling in school, finding work, gathering essential documents, or packing up your home. It'll be a valuable tool as you move closer to moving day. To keep everything organized and under control, focus on the following essential aspects.
Obtain a visa: Make sure you understand the requirements and restrictions of the type of visa you need, and plan ahead so that you have enough time to complete the application process.
Research the cost of living: Take time to learn about costs in areas you're considering living and make a realistic budget for housing, food, transportation, and other expenses.
Secure housing: Ensure you have time to find a suitable place to live before you arrive by starting your search early. Consider factors like location, safety, and cost.
Plan for healthcare: Make sure you have adequate health insurance coverage, and research local hospitals and clinics in case of emergency.
Plan for transportation: Research the local transportation options in your new city, including public transportation, taxis, and ride-sharing services.
Pack appropriately: Consider your new location's climate and cultural norms when packing. Pack essential documents like your passport, visa, and medical records.
Familiarize yourself with the culture: Read about the customs and traditions of the Turkish people, and try to learn some basic Turkish phrases to help you communicate with the locals.

Moving to a new country can be both exciting and challenging, so it's important to be well-prepared and flexible. Seeking advice from professional resources, such as a visa specialist, an immigration attorney, or your choice of the best international moving companies, will help ensure a smooth transition.
Know More Here: How to prepare for an overseas move
How Long Can I Stay in Turkey?
To travel to Turkey from the US, American passport holders can now get an electronic visa (e-Visa) instead of a traditional visa. Applying online from the US is easier and faster than applying upon your arrival in Turkey. The Turkey e-Visa for US citizens can be used for both tourist visits and business travel. The e-Visa grants US Travelers a stay of up to 3 months, with multiple entries.
Work Visa
A Turkey Work Visa is the authorization to move to Turkey for employment purposes. You'll need to acquire your work visa in conjunction with a work permit, without which foreign nationals can't work in Turkey. After securing a job offer from a Turkish company, your employer will be responsible for sponsoring your visa application.
Retirees
Turkey doesn't have a visa specifically for retirement, so you must apply for a residence permit instead. This requirement applies to anyone who intends to remain in the country for over three months.
Student
To apply for a visa to study in Turkey, start in the US at the Turkish consulate. You must have an acceptance letter from a Turkish university to begin the process. The consulate can guide you through the steps. It may take several weeks from the time you submit the application until you're approved,and you receive your visa.
Digital Nomads
There is no such thing as a digital nomad visa in Turkey.
However, you can apply for a Residence Permit and long-stay visa to stay in Turkey long-term.
Top Moving Companies to Turkey
Here is a table of the top International Movers to Turkey from the US. Ratings are based on Years in Business, Reputation, and Customer Reviews.
Getting Your Stuff to Turkey from the US

You have a couple of options for getting your stuff to Turkey. Shipping by air is the way to go if you want your items to arrive quickly—The process can take as little as three to eight days. However, sea freight is the more budget-friendly option if you need to meet a budget. Shipping by sea takes some time, though. Expect delivery times from 50 to 54 days.
Remember that your relocation company is on your team as you plan, organize, and execute everything necessary to make your move as seamless as possible. They can also help you decide which shipping method might be best for you and offer plenty of how-to advice.
However you decide to get your stuff overseas, you may also consider taking advantage of long or short-term storage options. Your mover can tell you everything you need to know about this popular method of staying organized for long-distance moving.

How Much Does it Cost to Move My Belongings to Turkey?
Moving overseas typically costs between $7,200 and $24,000. The cost of moving to Turkey depends on how much you take and how fast you need it to get there.
How Can I Save Money Moving to Turkey?
International moving is a significant investment. But, there are numerous ways to take a bite out of your overall moving cost.
Downsizing and getting rid of as much stuff as you can and packing light is the single best way to save money on an overseas move.
Your mover can pack your possessions for you. However, you can save considerable money by packing your own possessions.
Unloading your own container at your destination can save a few bucks over having your mover perform the task.

If your moving date is flexible, let your mover know in exchange for a discounted rate.

Use an international moving cost calculator to discover where else you can trim some costs.

Compare individual moving companies based on price and the services they can provide.
Can I Ship my Car to Turkey from the US?
Yes, you can ship your car overseas to Turkey. However, it can be a complex and expensive undertaking with only limited options. In fact, your car can only remain in the country for two years, at which time you'll need to ship the car back out. During that time, the owner of the car must be in the automobile anytime it's driven. Before deciding to take your car, consider the costs and benefits to see if it's a good fit for your situation.
Know More Here: Best International Car Shipping Companies of the Year
Navigating Customs when moving to Turkey

Part of your move to Turkey will include navigating Turkish customs if you plan to take household furnishings, vehicles, or items that you're not carrying on your person when you arrive. One of the services your international moving company provides as part of your move is assisting you with the paperwork and compliance requirements for clearing Turkish customs.
To move your Household Goods duty-free into Turkey, you'll need a work permit and a notarised housing lease contract for at least two years. Lease contracts in Turkey are typically for one year so make sure to specify that you need a two-year lease contract during negotiations. Talk over any items you may have concerns about bringing across the border with your mover.

Should I get moving insurance?
Purchasing additional international or marine insurance costs an average of 3% of your shipment's declared value, a small price to pay for peace of mind. Moving insurance protects your possessions during transit and covers some or all of the replacement cost of your goods should something happen to them.
Know More Here: Do you need International Moving Insurance?
Can I Take My Pets to Turkey from the US?
Yes, you can take your furry friend to Turkey with you, but prepare well and ensure you understand the regulations thoroughly.
Turkey requires cats and dogs to be vaccinated for rabies between 30 days and 12 months before entry. A rabies titer test is also necessary for all cats and dogs entering the country. The test must be taken within 90 days of your move and at least 30 days after your pet receives its rabies vaccine. If you fail to provide an acceptable test result, your pet may have to quarantine for three to four months when they arrive.
Read Here: Tips for moving overseas with animals

How Much Does it Cost to Live in Turkey?
Your cost of living in Turkey will vary depending on your location, lifestyle, and personal spending habits.
Numbeo suggests the following data regarding living costs in the country.
The estimated monthly cost of living for a family of four, before rent, is $1,373.

A single person's estimated monthly costs are $392 without rent.

The cost of living in Turkey is, on average, 59.0% lower than in the United States.

Rent in Turkey is, on average, 83.2% lower than in the United States.
Compared to many Western countries, the cost of living in Turkey is low, making it an attractive destination for expatriates looking for a high standard of living at a lower cost.
How Much Money Should I Take to Turkey?
The amount of money you should take with you to Turkey will depend on your housing arrangements, lifestyle, and financial goals. Some significant expenses include the cost of moving, rental deposits and monthly rent, food, transportation, insurance, and entertainment. A general guideline is to bring about three to six months of living expenses.
Read Here: 10 Brilliant ways to save money on an overseas move

Living in Turkey after moving

Living in Turkey can offer a range of new experiences and challenges. It can be an adventure from navigating a different language and culture to discovering new cuisines and landmarks. You may find that some things are quite different from what you're used to in the US, but that's part of what makes living in a foreign country so unique and enriching. Whether you're based in a bustling metropolis or a quieter, more rural area, you're sure to have plenty of opportunities to learn, grow, and have fun.
Finding a Place to Live in Turkey when moving from the US

A great way to start finding housing is by researching the different cities and areas in Turkey where you may be interested in living.
Reaching out to reputable local real estate agencies is important for renting or buying property within the country. You can also consult online resources for information on rental options and pricing. It's also a good idea to connect with other foreign nationals who have already made the move, as they can offer valuable advice and recommendations. With a little bit of effort, you'll be able to find the perfect place to call home.
Finding a Job in Turkey
Unemployment in Turkey is quite high. Learning to speak at least some Turkish will increase your chances of finding employment. In larger cities, you can find employment agencies and recruiters that can assist you in your job search. Coupled with online job searches and some networking, finding employment is certainly possible in the country.
Getting Around in Turkey
One can get around Turkey can via many modes of public transportation. Being able to communicate in Turkish will greatly help on buses and minibusses.
Right now, the train system is being overhauled, and a new high-speed network is underway, which will connect 15 cities. A number of the routes are already in operation.
Rental cars are always an excellent option in the short term as well.
Understanding Healthcare in Turkey before moving from the US

Turkey has universal and private healthcare. If you're under 65, purchasing coverage from a health insurance company is mandatory. It's necessary to have medical coverage to receive a work permit or residency. After living in Turkey for an entire year, you'll become eligible for universal health insurance and can register for it at any social security center in the country.
While public healthcare services cover a wide range of treatments, many people often prefer to maintain private health insurance, as it offers more benefits than universal care. Private healthcare offers the highest quality of care, shorter waiting times, and fewer unexpected expenses. You'll also find more English-speaking medical professionals in private hospitals.
Know More Here: How to find the Best International Movers
Education in Turkey
Getting a higher education in Turkey as a foreign national can be a unique and enriching experience. Many universities in Turkey rank among the best in the world, and numerous scholarships are available for international students wishing to study in Turkey. Universities in the country offer more than 20,000 English-taught degree programs.
How do I Find an International Moving Company to Turkey?
Finding the right international moving company for you is crucial for making the adventure to your new home as straightforward as possible. Make sure your mover can handle the job by checking these criteria.
The company is listed and in compliance with FMCSA
It's listed and complies with the Federal Maritime Commission

Is appropriately licensed and insured

Offers additional moving insurance protection options

Can provide verifiable referrals.
Get an International Moving Quote to Turkey
To get an international moving quote to Turkey, start by researching several reputable moving companies. Provide accurate information about the amount and type of items you plan to move, as well as your desired moving dates. Consider factors such as insurance, customs clearance, and storage options, and ask the movers about their experience with moving to Turkey. Then, contact your international moving company and request a moving quote today.
More about International Van Lines